Best Cymbals for Worship Music
My Picks for Church Cymbals
There are a few different types of church music styles. The two main ones would be gospel and Christian contemporary. These are the two styles that heavily rely on the drums and their sound. Cymbals are vitally important as they help build suspense and are equally important in intimate moments. We're going to have a look at some of the best cymbal packs for worship drummers. 
What Makes a Great Cymbal for Church?
Depending on the song, church music can be very delicate or have high intensity. So, a great cymbal should be able to fit both roles. Gospel settings require bright tones that cut while contemporary settings require warmer cymbals that blend. 
Bigger cymbals work better in contemporary settings since they tend to fill the sound instead of overpowering it. Auxiliary cymbals like splashes and stacks work well in gospel settings as they're great tools for accents. Any cymbal along these lines is a great cymbal for church. 
The 5 Best Cymbals for Worship Music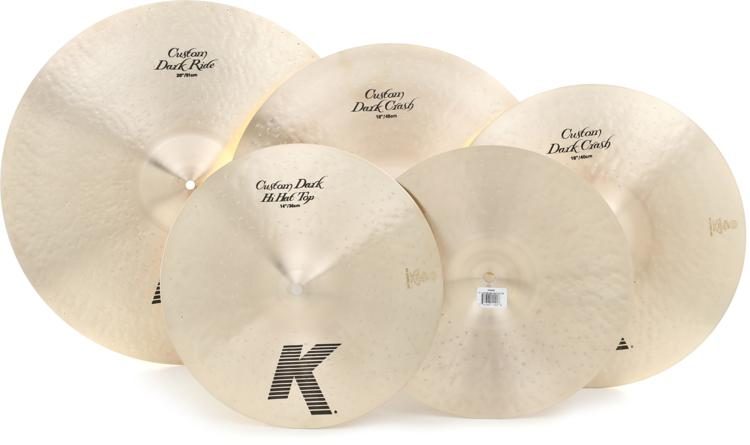 K Customs are Zildjian's most famous line of high-quality cymbals. When thinking about playing drums in church, the K Custom Dark series will always come up as a topic of conversation. These cymbals have a mellow tone with a fast decay that makes them perfect for that Sunday morning session. 
Included in the cymbal pack is a pair of 14" hi-hats, 16" and 18" crashes, and a 20" ride. Each cymbal is made from a cast bronze that gives them a distinctly dark tone. They're subdued without sacrificing any tone or richness. 
The crash cymbals take mallet rolls very well, producing a warm swell that subtly increases in volume. They're not too loud when crashing hard which is great for any venue where sound is an issue and you still want to play with high energy. 
The hi-hats have a distinctly warm tone and mix within grooves. Their open sound is very washy, creating a great platform for choruses where you don't want to play the crash cymbals. 
The ride cymbal is the best in the set and has such a beautiful tone that you're going to want to play it all the time. It produces a great sound when being crashed. This is great as crash riding is a staple in contemporary Christian music. 
Overall, these cymbals will work perfectly for playing all the famous church songs. They're a bit too subtle for high energy gospel settings. You won't hear them clearly in praise breaks and shout choruses.
PROS: THINGS WE LIKED
Beautiful dark tone
Blend well within a mix
Ride cymbal sounds great when crashed
CONS: THINGS WE DIDN'T LIKE
Not ideal for high energy gospel settings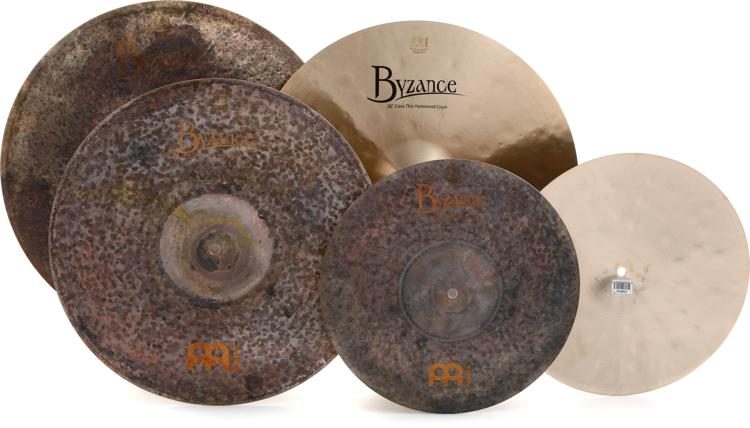 This cymbal set was developed by Meinl along with Mike Johnston, a world-famous drum educator. Every cymbal has been specifically chosen to create a musical array of tones throughout the set. The main theme is dryness, with every cymbal having a short sustain. 
Coming inside the box is a pair of 14" hi-hats, an 18" extra-dry thin crash, a 20" extra-thin crash, and a 21" Transition ride. Each cymbal is from the Byzance series which is Meinl's top cymbal line. 
The hi-hats have a full-bodied tone with a strong chick sound. They sound seriously dry when played open, meaning they're not too loud. The 18" crash has a lot of similar qualities. Not everyone is a fan of Meinl's 18" extra dry crash, but it does its job well.
The 20" crash is what Mike Johnston calls "thunder butter". It has such an affective sound that is deep and looming, great for finishing off drum fills or crashing in big choruses. The Transition ride is Mike Johnston's signature cymbal. It's extremely versatile in its tone and sounds great when crashed on. 
Similar to the K Custom Dark cymbals, these cymbals are a great choice for playing contemporary Christian music. They might seem a bit too dry for some drummers while others will love them.
PROS: THINGS WE LIKED
Distinct dry tone across every cymbal
20" extra-thin crash and 21" Transition ride are fantastic
Not too loud
CONS: THINGS WE DIDN'T LIKE
Not ideal for high energy gospel settings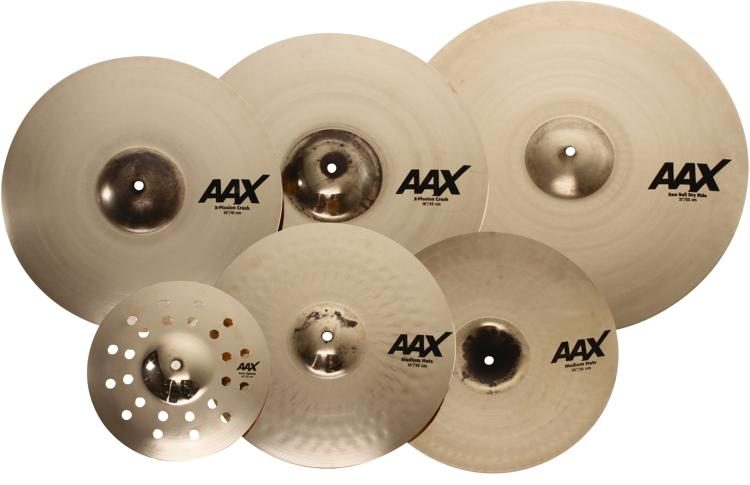 Moving onto some more classic sounding cymbals, the Sabian AAX Praise and Worship cymbal set is loaded with some great cymbals that will work wonders in any church setting. The set includes a pair of 14" hi-hats, a 10" splash, 16" and 18" crashes, and a 21" ride. 
The 10" AAX Aero splash is a huge benefit of this set as it isn't common for cymbal sets to include splash cymbals. It has a trashy tone thanks to the holes drilled into it. It's a great tool for quick accents within drum fills. 
The hi-hats have a great balance of power, speed, and projection. They have a cutting chick along with a great washy open sound. They're fairly dark and complex thanks to the hammering on the surface. 
The crashes are both very quick and powerful. They're dynamically responsive, producing a full tone when played softly. The ride has a woody ping with an earthy atmosphere. It also washes powerfully when crashed.
These cymbals will work great in a gospel setting as their dynamic power gives them an edge. They're slightly more affordable than the previous packs on this list, meaning you won't need to spend as much.
PROS: THINGS WE LIKED
Great for gospel settings
Good balance of speed, power, and projection
Excellent price to value ratio
CONS: THINGS WE DIDN'T LIKE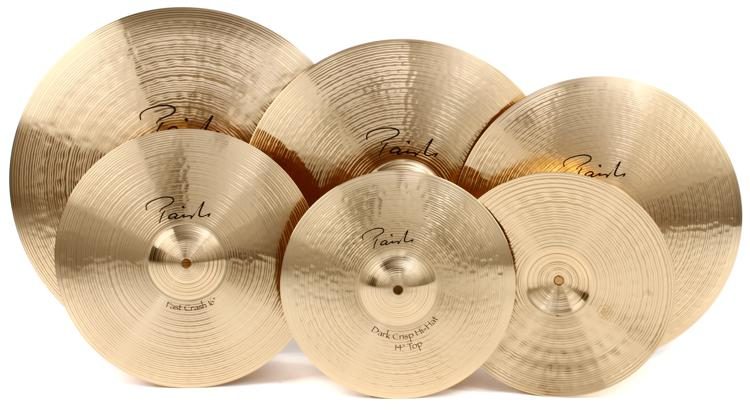 Paiste's Signature series is one of the highest quality lines of cymbals. Coming with the set is a pair of 14" Dark Crisp hi-hats, a 16" fast crash, 18" and 20" full crashes, and a 22" full ride. 
The 14" hi-hats have great wash and tight stick articulation. Pair this with their dark and complex tonal character and they're ready to take on any grooves. 
The 16" fast crash provides a powerful sound that is great for accenting hits. The 18" and 20" crashes sound a bit bigger and provide a full feeling to your overall cymbal setup. The 20" crash will fit right in within a worship setting. 
The 22" full ride is fairly heavy. It has wonderful stick definition and great durability. Unfortunately, it can't be crashed. However, the 20" crash can work as a second ride for that use.
These cymbals are very expensive, but they're highly worth the cost. 
PROS: THINGS WE LIKED
Excellent Paiste craftsmanship
Includes 3 crash cymbals
20" crash can double up as a ride cymbal
CONS: THINGS WE DIDN'T LIKE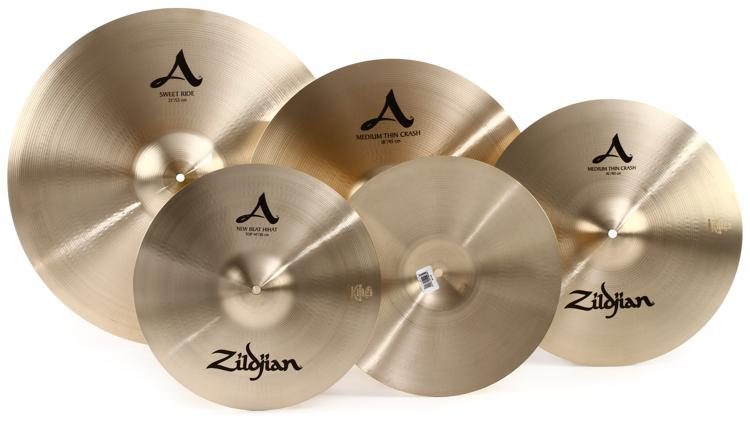 If you don't want to spend as much and need a brighter tone, the Zildjian A cymbal set is a great option. Zildjian's A cymbals fall just under the K lines in terms of quality and have higher-pitched tones for more common use. 
Included in this set is a pair of 14" New Beat hi-hats, 16" and 18" medium thin crashes, and a 21" sweet ride. 
The 14" New Beat hi-hats are arguably the most famous and versatile hi-hats on the market. They can be used for almost every musical style including church music. Their tight chick and heavy foot pump make them a valuable asset to this cymbal set. 
The crashes have a bright tone that is fairly loud and both feel great to play. The 21" sweet ride is the standout feature and has a great tone. 
These cymbals will work great in a high energy gospel setting. The bright tones will cut through mixes easily. They may be too bright for quiet church venues.
PROS: THINGS WE LIKED
Bright tone
Great for high energy environments
Most affordable set on the list
CONS: THINGS WE DIDN'T LIKE
Too loud for quiet venues
What are the best cymbals for church?
The best cymbals for a church will depend on the size of the church. If the church is small, dry cymbals with minimal sustain will work wonders. If it's big, larger cymbals with a dominant sound would be good. Warmer tones are often preferred, but it always comes down to the size of the venue.
What are the best sounding cymbals?
Cymbals that are dark with complex tones generally sound the best. However, it comes down to personal preference and some drummers prefer bright cymbals. Any cymbal that is made with higher-quality metal will sound better than entry-level cymbals. 
What are the best Zildjian cymbals?
The K line of Zildjian is the most popular high-quality series of cymbals. Every cymbal in that line has a beautiful tone that is loved by pros and beginners alike. There's a Zildjian K cymbal for every situation. Check my Zildjian Cymbals buying guide. 
Conclusion
When choosing cymbals for your church, make sure that they fit the venue. There's nothing worse than a drum kit that overpowers the rest of the band. The congregation will want to hear the vocals and not only the drums. Dark and warm cymbals work best for contemporary music while bright cymbals work best for gospel. 
It's a great thing to play drums in church. Never forget the value of serving!