Rock is one of the most popular styles of music to play on the drums. Nothing feels better than smashing out some beats to anthem songs with heavy guitar riffs and powerful vocals. Whether you want to play like John Bonham or Chad Smith, you need a good snare drum to help you on your rocking journey. 
Since rock music tends to get quite loud, the snare needs to have a lot of power and authority. Luckily, most snare drums do.
What Makes a Great Snare Drum For Rock?
One of the most important aspects of a good rock snare drum is the rimshot sound. If the snare doesn't have a great rimshot sound, it's not going to cut it in a heavy rock setting. 
So, great snare drums for rock will have rimshot sounds that cut and echo through the room. 
Another key aspect is the depth of tone. Great rock snares have deep tones with a lot of weight behind them. You need to be able to feel the force of the snare drum when you play it. 
The 5 Best Snare Drum For Rock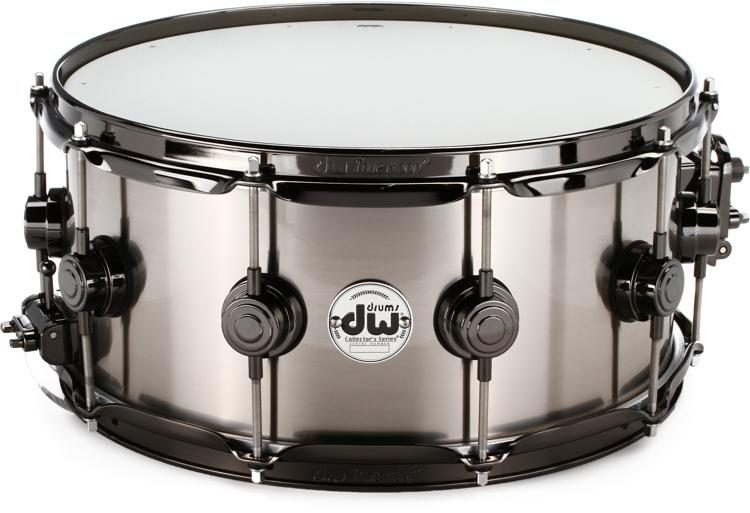 The Collectors Series titanium snare is one of the top snare drums from DW. DW has some fantastic snare drums on offer and this one is right up there with the competition. The first thing to notice about it is the black hardware and mirror-polished finish. 
The aesthetic choice of coloring appeals to many drummers, looking great when set up with the rest of the kit. When it comes to sound, this snare drum sounds less metallic than a lot of other metal snare drums. This is largely thanks to the warmer tone of titanium. 
The snare comes with all the goods you'd expect from a top-tier DW snare drum. This includes the MAG throw-off and the True-Pitch tuning rods. It's easy to tune and easy to turn the snares on and off again. 
Unfortunately, the snare is incredibly expensive. It's well worth the cost, though!
PROS: THINGS WE LIKED
Sleek looking black hardware
Sounds less metallic than other metal snare drums
MAG throw-off and True Pitch tension rods are great
CONS: THINGS WE DIDN'T LIKE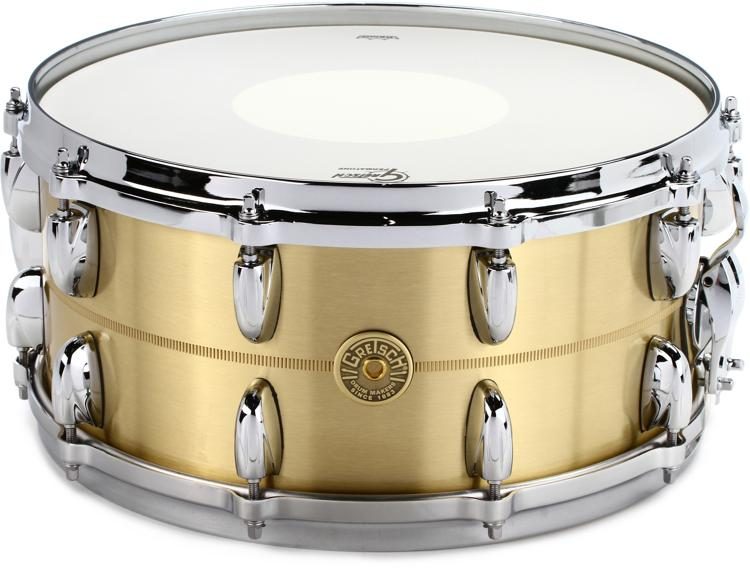 Sticking with high-quality expensive snare drums, the Gretsch USA Bell Brass is a massive heavy-hitter. It's perfectly suited for rock music thanks to the fact that it produces a loud and slapping tone. 
Firstly, it weighs a large amount, meaning you're going to need a very sturdy snare drum stand to keep it safe in place. Once it's secure, you're going to have yourself a beautiful snare drum that is warm, full, and focused. 
One of the defining features of this snare is the 42-strand snare wire. A large number of wires makes the snare drum incredibly sensitive and responsive. The subtlest of ghost notes will be heard very clearly. 
Overall, it's a powerhouse snare drum with a bell-like sustain. Perfect for drummers who play rock music. 
PROS: THINGS WE LIKED
Incredibly sensitive and responsive
Massive sound
Powerful projection
CONS: THINGS WE DIDN'T LIKE
Very Expensive
Requires a heavy-duty snare drum stand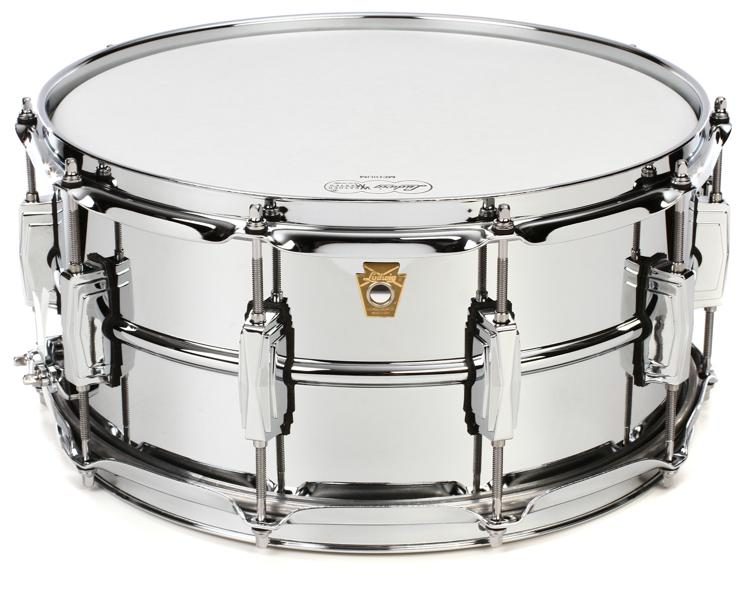 The Supraphonic was the favorite snare drum of John Bonham, one of the most famous rock drummers of all time. If Bonham used it with Zeppelin, you can definitely use it with your rock band. 
The tone it produces is cavernous, sounding very big in any environment you put it in. The snare is also extremely versatile, working well in many other styles as well. It's for this reason that it's one of the most recorded snare drums in history. 
The overtones sound really nice if you tune the snare right. They're a great change of pace from other snares that have awful overtones no matter how well they're tuned. This means you don't need to muffle the snare at all to get a great sound. 
The one downside is the stock drumhead that the snare comes with. Replace that and you'll be good to go! 
PROS: THINGS WE LIKED
Most recorded snare drum of all time
Highly versatile
Beautiful sounding overtones
CONS: THINGS WE DIDN'T LIKE
Tama's S.L.P. drums are designed to offer drummer more affordable products from Tama that still have several high-tier design qualities. This snare is slightly cheaper than the others, but it holds its own against them. 
It's made of brass and it has a sound that is very warm, loud, and deep. The shell is thick and supported by Tama's Steel Mighty Hoops. These allow the drum to have a wide open sound that cuts easily through most mixes. This makes the snare a great option for rock music with distorted instruments. 
It's one of the loudest snares on this list, so you don't need to hit too hard to get a seriously punchy sound. It's also incredibly heavy! Similar to the Gretsch snare, it also has 42 wires underneath. This makes it responsive to soft dynamics. 
The heaviness of the snare drum might be a turn-off for some drummers. Other than that, there isn't much to complain about. 
PROS: THINGS WE LIKED
Extremely loud
Wide open tone
Responsive to subtle dynamics
CONS: THINGS WE DIDN'T LIKE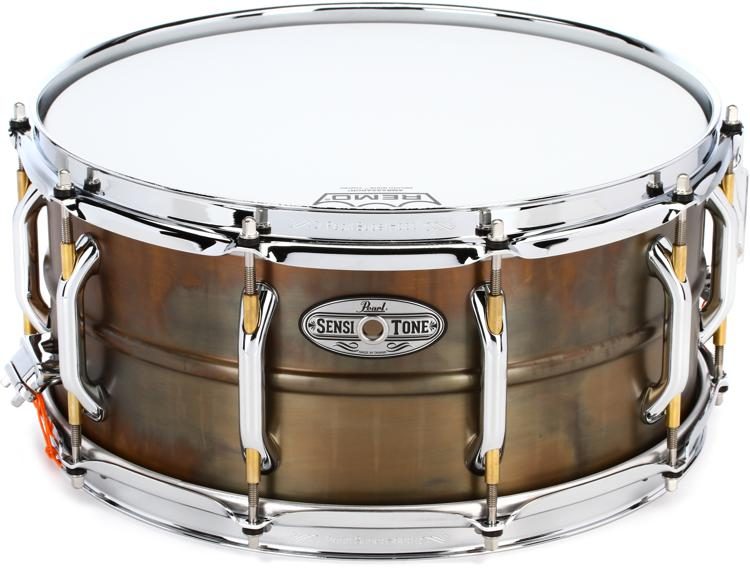 Speaking of loud snare drums, the Pearl Sensitone Premium Beaded Brass snare competes strongly with the Tama S.L.P when it comes to volume. The things that set it apart are the beautiful finish and hardware features. 
This snare has a strong punch with a wide tuning range. It's as sensitive as you need it to be while still maintaining that strong impact needed for heavy rock music. The coolest thing about it is the click lock on the snare throw-off. It clicks on and off very smoothly. 
The finish gives it the aesthetics of an old worn-out brass drum. It's incredibly cool to look at and fits in well with most single-colored drum sets.
The lugs are designed in a way that allows the snare to resonate more freely, giving you a ringing snare drum that sounds very effective. Overall, it's a great snare drum with some cool hardware features. 
PROS: THINGS WE LIKED
Beautiful rustic finish
Strong punchy tone that will easily fill a room
Versatile enough for most musical styles
CONS: THINGS WE DIDN'T LIKE
It may look strange when mixed with drum sets that have vibrant finishes with multiple colors
What is the best snare drum for rock?
While the answer to this is highly subjective, the snare drum on the above list that has been used by many famous rock drummers over the years is the Ludwig Supraphonic. 
With so many rock drummers choosing to use it, it gives the impression that it's one of the best snare drums for rock. 
It's an incredible sounding snare with a rich history and fantastic build quality. 
What is the best sounding snare drum?
The quality of sound on a snare drum depends on how well you've tuned it and what drum head you've equipped it with. Every snare drum on this list sounds extremely good. 
However, we personally think the DW Collectors Series Metal snare sounds the best out of all of them. Many drummers love the sound of a DW Collectors Series snare. 
What size snare drum is the best?
The size of the snare you get should depend on what you need it for. If you want a huge sounding snare with a deep growling atmosphere, a 14" snare with an 8" depth would work well. The larger the depth, the deeper the snare will sound. 
If you want a tight snare with a high cracking attack, a shallower snare would be better. Most snares are 14". However, a few are 13" or 12". Anything smaller than that would be considered as an auxiliary snare drum.
How much does a good snare drum cost?
Most of the best snare drums on the market cost between $500 and $1000. Anything that costs below that would be considered as an intermediate snare drum. Custom drum companies make snares that are over $1000. However, those are very personal to the buyer and aren't sold in large quantities. 
Although good snare drums cost a large amount of money, they're well worth the investment seeing as the snare drum is the drum you hit the most. 
Conclusion
Every snare drum on this list sounds beautiful and is backed by extremely efficient design qualities. They can all be tuned low to sound fat and beefy. They can also all be tuned high to produce a significant amount of crack. 
If you pair these snare drums up with some bright cymbals, you'll have yourself a drum kit ready to take on the biggest rock stages you can think of.