Learn How To Play Punk Drums for Beginners
Since we're winding down towards christmas I thought I'd hit you with something a little easier this week. This lesson takes another look at punk drumming with twelve more grooves to work on. If you are new to drumming this is a great place to start but if you're old hat then this will be a good opportunity to tighten up on things you already know.
Exercises
Take a look at the PDF. You'll see twelve grooves, of which the first six are demonstrated in the video (4 bars each). See if you can follow along and when you are ready give it a go. Start really slow (50bpm) even if you are capable of going faster and build up the tempo from there. This helps you to develop a lot of control over your limbs.
There are four empty bars on the PDF. Try to come up with some variations of your own.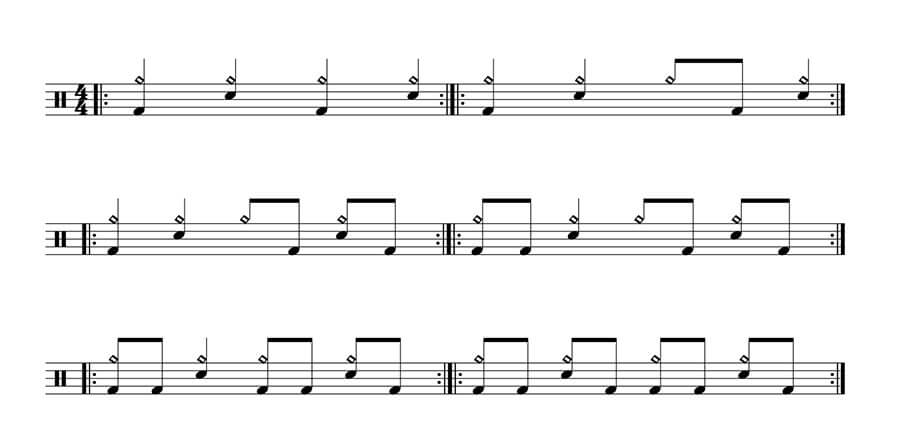 Download The PDF
Attitude
I've said it before and I'll say it again, punk drumming is all about the energy and the attitude. You've got to put a lot of intent behind the notes you play or it just won't sound or feel right. You can even play a little looser and sloppier than usual because the music moves around quite a bit. A clean session sound won't work and if you auditioned for a punk band with a precise approach the chances of you getting the gig are pretty slim. With punk it's a case of play hard or go home!
Recommended Listening
The Sex Pistols – Never Mind The Bollocks
The Clash – London Calling
Ramones – It's Alive
The Who – My Generation
Green Day – American Idiot
Now Kill It! DN