Electronic drum kit companies are continuously trying to replicate the sound, feel, and authenticity of electronic kits. They've come a seriously long way in recent years and many electronic kits can stand head-to-head with acoustic kits. 
The VAD506 is the latest innovation from Roland. It's an electronic kit that has the look, feel, and sound of an acoustic kit. On top of that, it adds all the benefits of electronic drumming. We're going to take a deep look into everything this kit offers.
Key Features:
The kit has several iconic features that set it apart from many other electronic kits on the market. The most notable feature is the drum sizes. They're large acoustic shells with electronic pads on top. Even the bass drum is the full size of an acoustic bass drum. 
The other defining feature of this kit is the TD-27 drum module. It has several useful tools and many unique and wonderful sounds that we'll expand on later. The defining selling point of this kit is that you get the look of an acoustic set with the applications of a high-tier electronic set.
PROS: THINGS WE LIKED
Acoustic drum kit visuals with electronic kit sounds and features
Uses standard acoustic drum kit hardware
Powerful TD-27 drum module
Extremely accurate and sensitive drum pads
CONS: THINGS WE DIDN'T LIKE
Every version of the kit is fairly expensive
 Roland Vad506 Review:
What To Expect from This Kit
Construction 
The kit has proper drum shells that are made of wood and are neatly covered with a sparkling finish. The outcome is a drum set that looks great to the eyes. The shells even have metal hoops and lugs that allow you to tune the drum pads that are attached to them. 
The TD-27 is a powerful drum module that pulls many design features from Roland's flagship TD-50  odule. The sounds are incredibly authentic and there are plenty of editing features that let you tweak the sounds to your heart's content. 
You can even choose different microphone placements for the preset kits, giving you unique sounds to play around with. Overall, the kit is constructed incredibly well with pro features that will benefit all kinds of drummers. 
Hardware
The kit uses heavy-duty hardware that could also be used with acoustic kits, just like the Roland Vad706. This is a fantastic feature as most electronic drum kits lose the appeal with their uninspired racks and flimsy hardware. The double-braced stands used to hold the toms and cymbals are superb. 
Unfortunately, the kit doesn't come with a hi-hat stand, snare stand, and pedal. Although you need to buy these separately, it's also a huge benefit that the hi-hats mount onto a standard stand. All of this makes the kit feel a lot more authentic. 
This kit is also offered in a bundle with a double bass pedal.
Price to Value Ratio
The kit is incredibly expensive compared to other electronic drum kits on the market. It does pack a lot of value with all the features and uses. However, it will only be worth the price if you're specifically looking for a high-quality electronic drum kit. 
If you're considering whether to get this kit or an acoustic drum kit, you could get one of the highest-tier acoustic kits for the same price. So, make a careful decision when deciding to buy. The VAD506 definitely won't let you down, but you could invest your money in better drum products and get more for less. 
Roland V-Drums Acoustic Design VAD506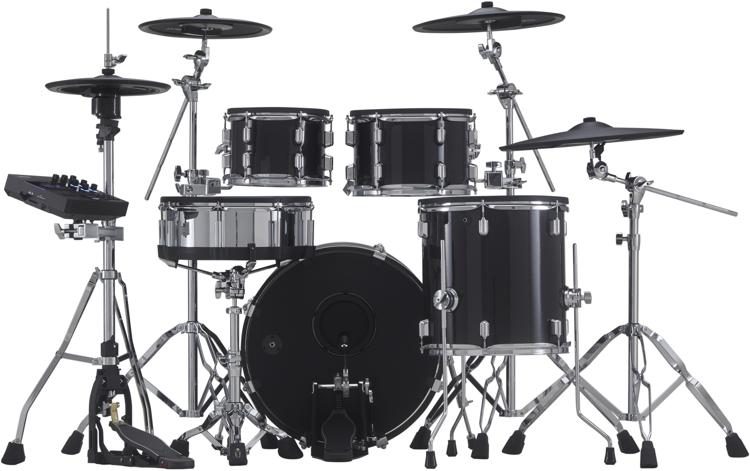 The VAD506 is the most popular version of this kit available. It's your standard drum kit setup with a snare, two rack toms, a floor tom, a kick drum, two crashes, a pair of hi-hats, and a ride cymbal. 
If you want the optimal version of this kit that will work wonderfully in every situation, the VAD506 is the one for you. The great thing about this setup is that you can add or takeaway drums and cymbals as you wish. 
There are inputs in the module that allow you to add more drums later down the line. This version costs just under $5000 which is a hefty price to pay. 
Roland V-Drums Acoustic Design VAD503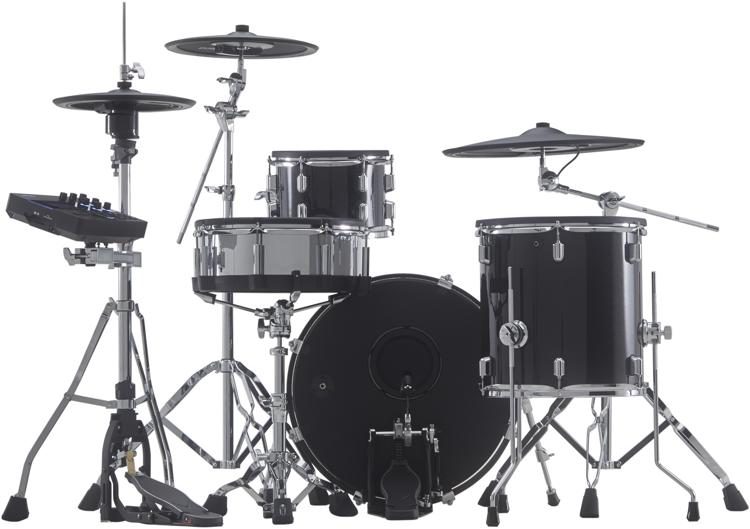 The VAD503 is the more affordable version of this kit. It offers all the same sounds and features. However, it has one less rack tom and one less crash cymbal, making it a 4-piece drum kit. 
The reduction of the crash cymbal and middle tom lowers the cost by about $1000. This is a great choice for people that don't feel they need the extra tom or crash and want to save a bit of money. 
Similar to the VAD506, the drums are incredibly responsive and authentic feeling. The missing middle tom allows you to play the ride cymbal closer. It also leaves space to add in something like a Roland SPD-SX between the rack tom and floor tom. 
Roland V-Drums Acoustic Design VAD506 Monitor Bundle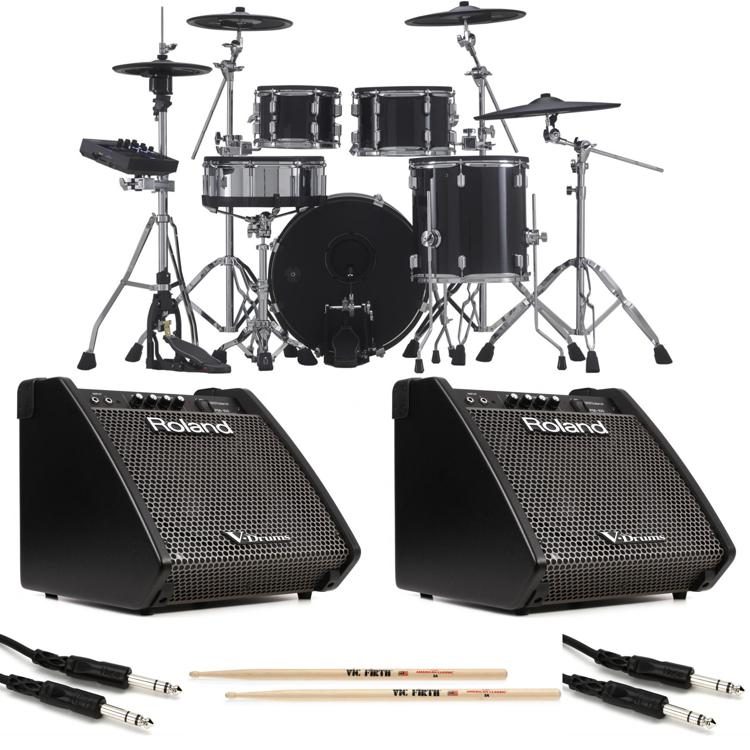 This bundle includes 2 Roland PM-100 monitors. The VAD506 kit doesn't have built-in speakers, meaning you need to plug the kit into monitors or headphones to be able to hear it. 
These PM-100s are fantastic as they accurately reflect all the ranges that a drum kit produces. Most monitors specialize in the high or low range. The PM-100s give you the best of both worlds. 
This bundle also comes with a pair of Vic Firth 5A sticks and cables to connect the monitors to the drum module. It comes in at a great price considering all the added extras. It's not much more than the standard Roland VAD506 kit alone.
Roland V-Drums Acoustic Design VAD506 Dual Floor Tom Bundle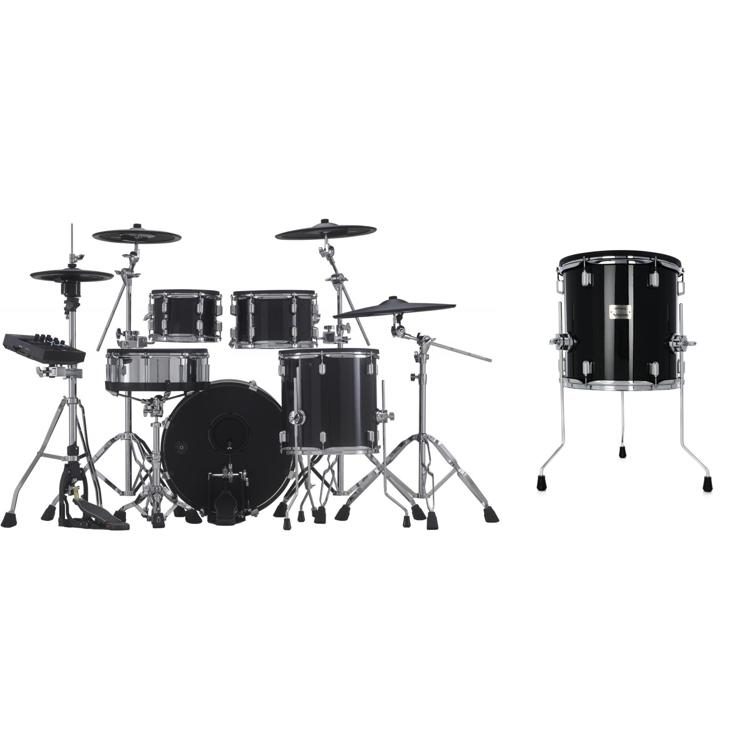 This version has the same specifications as the standard VAD506. However, it comes with an extra floor tom. It's a fantastic version of the kit that is aimed at all the drummers out there that play with two floor toms. 
An extra floor tom for this kit would typically cost around $500. So, you save a fair bit of cash if you get this version that has two floor toms. Many drummers prefer to play with one rack tom and two floor toms. Unfortunately, Roland doesn't sell a version that has a setup like that. 
The drummers who play one up and two down would need to get this kit and then not use one of the rack toms. 
Competitors for The Roland VAD506
Pearl e/Merge e/Hybrid Electronic Drum Set
The Pearl e/Merge has a very similar setup to the Roland VAD506. However, it doesn't have two crash cymbals and the drum shells aren't deep, stopping them from fully reflecting an acoustic kit. 
One great thing about the Pearl kit is that the drum pads are the same sizes that you would find on most acoustic kits. This gives you a familiar feel when playing on them. Even the cymbals are fairly large for an electronic kit. 
The MDL-1 sound module uses samples from Korg and has many customization options that are similar to the VAD506. Overall, the kit offers a bit more for a lower price, but it doesn't look as visually appealing as the VAD506. 
Alesis Strike Pro Special Edition Electronic Drum Set
Alesis aims to provide pro-level electronic drum kits at very affordable prices. The Strike Pro is their flagship kit. It's a huge e-kit that costs about half of what the other kits in this review cost. 
With 5 cymbals and 6 toms, this kit is an absolute monster setup. It looks exactly like an acoustic kit, but the drum heads are mesh pads. It feels great to play on and gives you the same feel of acoustic drumming. 
The downside is that the sampled sounds on the module aren't as good as the ones from the other kits. You can get around this by connecting the module to a computer and using virtual plugin drum sounds. 
Roland Vad506 in the Studio
The kit would work well in a studio thanks to the fact that you don't need to set up microphones. This means that anyone without mic and EQ knowledge would be able to get a fantastic drum sound for recordings. 
The kit would also work well for getting electronic sounds that an acoustic kit wouldn't be able to produce. 
Roland Vad506 

for a live Gig
The visual aspect of the kit makes it a great choice for live performances. The crowd would think you're playing on acoustic drums. It would also take the stress of getting a good mix away as you'd just need to plug it into a PA instead of running microphones through it. 
However, nothing will ever beat the feeling of playing an acoustic drum kit on a stage. This kit won't let you feel the bass drum as you hit it like an acoustic kit would. 
Helpful Resources
Roland VAD506 Review
Performance

Build Quality

Value
Final Thoughts
Roland has nailed it out of the park with this kit. If money isn't an issue for you, you should definitely consider getting one. The price point is the biggest limiting factor of the kit. However, it's well worth all the time and effort that went into making it. 
Pair this kit with a good amp and check this guide on amplification. 
It's a great kit for studio and live applications and it will inspire anyone who plays it. Overall, the Roland VAD506 is a strong contender for being the best electronic drum kit that is out at the moment.