How to Play Back In Black on Drums
In this lesson we'll be learning how to play the rock classic Back In Black by AC/DC which appeared as the first track on side two of their 1980 album of the same name. The track peaked in the U.S. at No. 37 on the Billboard Hot 100 chart in 1981 and was No. 51 on Billboard's Top Tracks chart, which debuted in March 1981. In 2009 It was named as the second greatest hard rock song of all time by VH1.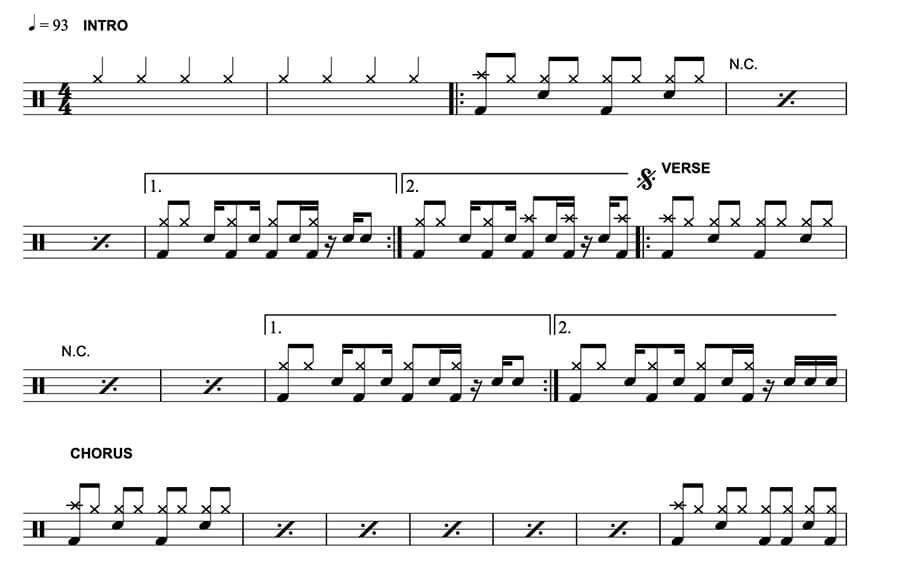 Download The PDF
Back In Black is quite a laid back rock tune but it packs a massive punch. It features one of the most recognizable guitar riffs ever written and Phil Rudd compliments this with a heavy eighth note rock groove played on dirty hi-hats.
On the verses you'll find a straight ahead groove, eighth notes on the hi-hats, one and three on the bass drum, two and four on the snare drum. There is a broken sixteenth note fill (starting on beat two) on bars four and eight which you can pick up the rhythm for quite easily by listening to the track a few times.
The groove continues through the chorus but this time there is a crash on beat one of every bar. On bar eight there are eighth note triplet hits and a snare flam on beat four which leads you back in to the verse.
This is one of those tracks that everyone knows but doesn't play quite right. Get familiar with the transcription, drill it out a few times and you'll be able to gig it better than 90% of the drummers out there who ruin it in pubs and clubs every weekend.
Now Kill It! DN