When it comes to drumming, your crash cymbals are some of your most important tools. Every crash cymbal has different qualities. Certain qualities are great for certain things. So, it's important that you have a great crash or two with qualities that will improve your drum sound. 
These are Our top Picks Summarised For:
19th October 2021
What Makes a Great Crash Cymbal?
A great crash cymbal is one that adds flavor to your drum setup. Drum kits sound extremely similar, meaning it's your cymbals that give you your unique voice as a drummer. 
A great crash cymbal is going to reflect your playing style. It's also going to sound good to your ear. Everyone has different tastes, meaning some people will like the sound of a crash while others won't. It's up to you to decide what type of sound you like. 
There are many great crash cymbals out there. You have to choose what fits for you and the style of music you play.  Hopefully with this buying guide we'll make your life a little bit easier.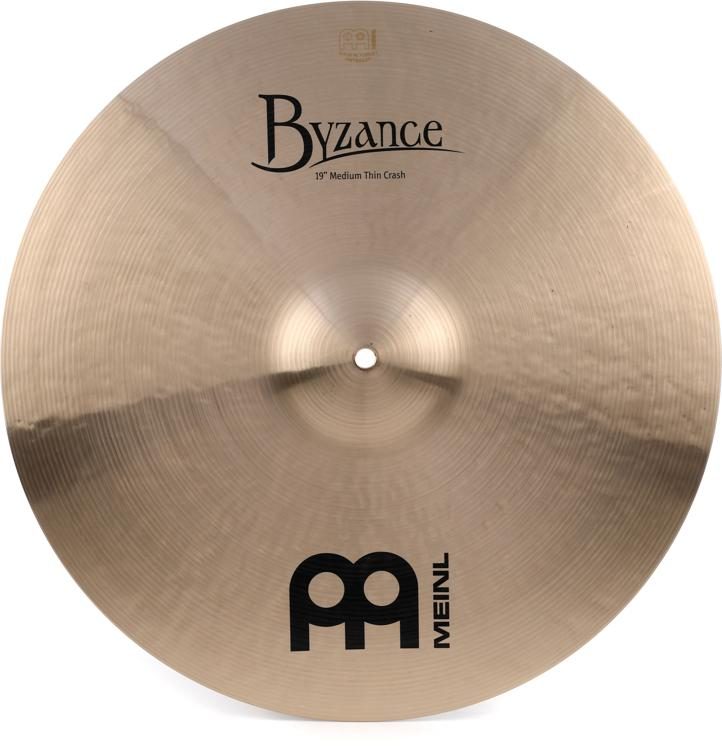 The Byzance line is Meinl's most high-quality cymbals. This tells you that any cymbal with the Byzance name is going to sound really great. The Medium Thin Traditional 19" crash screams musicality. It's a dark cymbal that provides a washy sound and musical tone. 
It has a warm sound that blends with your other cymbals when you play it. It's not the loudest crash around, but it isn't the softest either. It sits somewhere in the middle, giving you medium volume and sustain. 
It's highly versatile, working well in many styles of music. You could play with this cymbal in a rock gig as well as a jazz gig. 
The only downside to it is that it's not made for constant heavy crashing. If you're going to constantly hit this cymbal hard, it may develop some cracks. However, it does depend on your cymbal hitting technique. 
The Meinl Byzane Medium Thin Traditional 19" is a great crash if you need a musical tone that has a warm blend. 
For more about the Meinl Byzance Thin Crash, check out customer reviews.
PROS: THINGS WE LIKED
Very musical tone
Versatile
CONS: THINGS WE DIDN'T LIKE
Can crack if you crash/ride a lot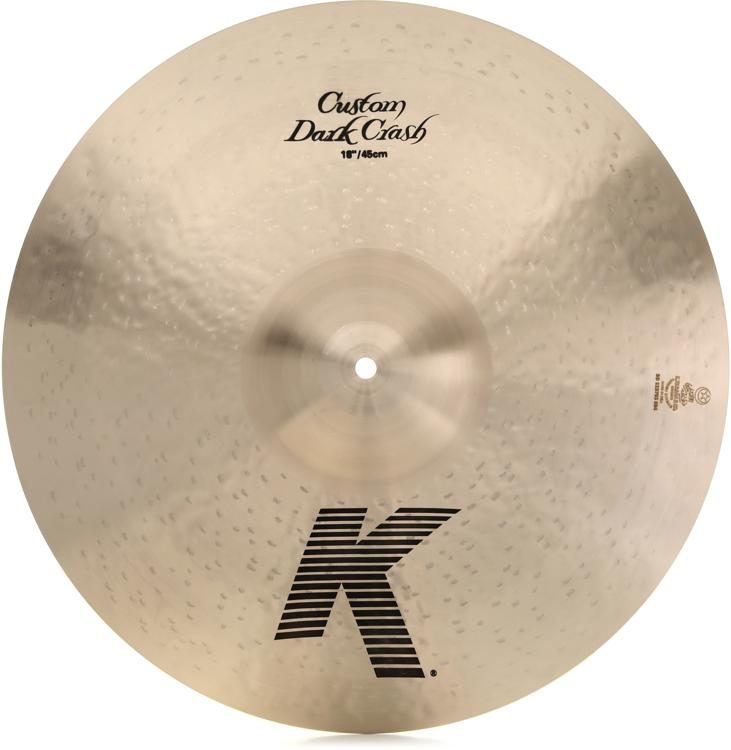 This Zildjian K Custom Dark crash has a full-bodied tone that is dark and dry. It has plenty of overtones and a quick decay. This cymbal offers a deep sound that works well with many different styles of music. 
It's made of cast bronze, giving it the high build quality that you should expect from a Zildjian K cymbal. The decay of this crash is quicker than you'd expect. It has an effective sound that gets out the way a few seconds after you hit it. 
It's highly responsive to dynamics, giving out just as much as you put into it. This makes it a great option for playing softer styles of music and still having a good cymbal tone. 
You can't go wrong with Zildjian K cymbals and the K Custom 18" Dark crash is one of the best crash cymbals around.  
For more about the Zildjian K Dark Crash, check out customer reviews.
PROS: THINGS WE LIKED
Musical
Quick decay
Dynamically responsive
CONS: THINGS WE DIDN'T LIKE
Much darker than the matching K Custom Dark ride cymbal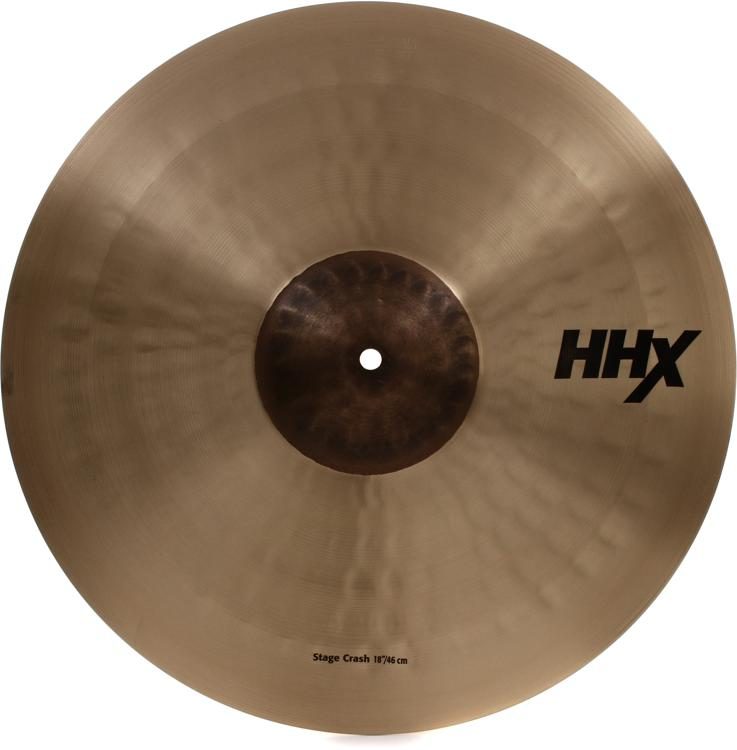 The Sabian HHX 18" Stage crash is a dark cymbal that has a warm and penetrating response. Although it's warm, it still gives quite an aggressive attack, making it great for smoothly as well as hard. 
The HHX line is one of Sabian's top cymbal lines, meaning this crash cymbal has seriously high build quality. It's one of the best crashes in the HHX line thanks to its beautiful crash sound, natural release, and organic wash. 
One of the best environments of this crash is in a church setting. The musicality and smoothness of it blends well with worship music. It's great for crash-riding as well as accent hitting. 
If you want a dark cymbal that is also aggressive, the Sabian HHX Stage 18" crash is the way to go. 
For more about the Sabian HHX Crash, check out customer reviews.
PROS: THINGS WE LIKED
Aggressive attack
Penetrating response
Great for church drumming
CONS: THINGS WE DIDN'T LIKE
Many people aren't fans of the new Sabian logo
Best Crash Cymbal for Metal
The Meinl Classics Custom Dark series of cymbals are made to be loud and harsh. Their aggressive sound makes them a perfect option for metal drummers. They do work with different styles. However, they fit best within a metal setup. This 19" Classics Custom crash cymbal has the perfect amount of aggressiveness and musicality. 
It's incredibly loud, meaning it will stand out in a mix. It's great for crashing on accents and making a statement. If you need a heavy sound in a chorus, this cymbal will do the job. It has a dark tone with plenty of stick definition. 
It's not the most versatile cymbal out there since it isn't sensitive. It's going to sound loud even if you play it softly, meaning it's not great for gentle styles of music. 
Overall, it's an affordable crash cymbal that is one of the best choices for metal drummers. 
For more about the Meinl Classic Custom Dark, check out customer reviews.
PROS: THINGS WE LIKED
Great for metal
Affordable
CONS: THINGS WE DIDN'T LIKE
Best Crash Cymbal for Beginners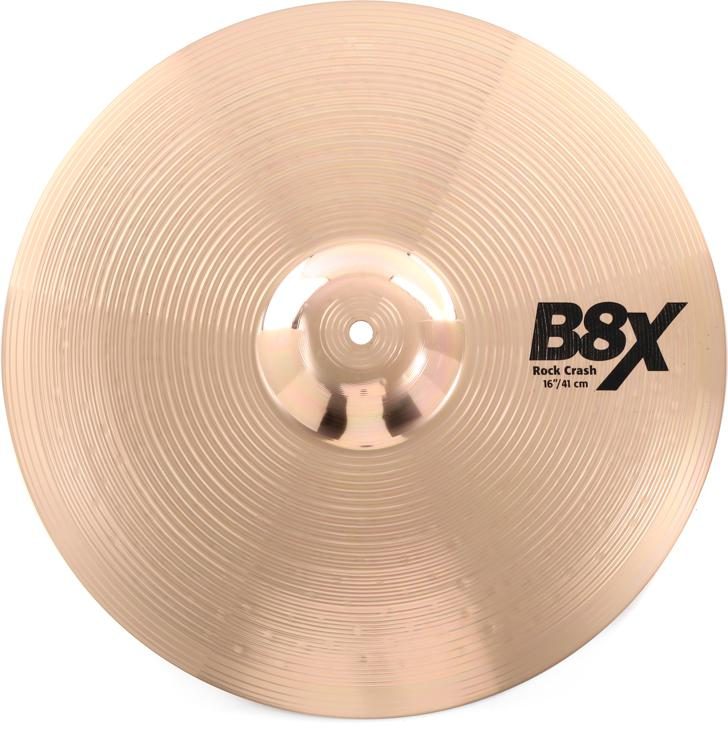 Sabian B8s have been some of the most popular cymbals for years. This is because they are affordable entry-level cymbals that come with a lot of low-priced drum kit packages. The B8X series of cymbals have recently replaced the B8s as Sabian's entry-level cymbal. They're an upgraded version with a better manufacturing process. 
The B8X 16" Rock crash is a bright cymbal that has an explosive attack and intense cut. It has a heavy sound that is high-pitched and will cut through a mix seriously easily. It's great for beginners because it provides a classic crash cymbal sound that everyone knows and loves. 
It's one of the most affordable cymbals on the market, allowing beginners to get a quality cymbal at a good price. Intermediate and advanced players won't like this crash. It has sound qualities that just won't hold up for more experienced drummers. 
If you're a beginner looking for a new crash cymbal, the Sabian B8X 16" Rock crash is a great option for you. 
PROS: THINGS WE LIKED
Highly affordable
Bright sound
Great for beginners
CONS: THINGS WE DIDN'T LIKE
Many people aren't fans of the new Sabian logo
What is the ideal Crash Size?
Crash cymbals range from 14" to 20". Any of those sizes would be ideal depending on the situation. If you need a large sound, a 20" crash would be a good fit. If you need a short attacking sound, a 16" crash would work. Most drummers need all kinds of sounds, leading them to have two or more crash cymbals in their setup. 
If you have a 16" and an 18", you will have a decent variety of sounds and effects to use in your playing. If you can only have one cymbal, 18" would be the ideal crash size. However, we encourage you to use more than one. 
What's the difference between bright and dark cymbals?
Cymbals have many different qualities, bright and dark being some of them. A bright cymbal is usually quite heavy and high-pitched. It has a sound that is loud and will cut through a mix of instruments. Bright cymbals are used in rock, pop, and metal. 
Dark cymbals have a smooth tone that is low-pitched. They have a musical sound that blends within a mix instead of cutting through it. They are used in jazz a lot. 
They do crossover with each other often. Many drummers will mix bright and dark cymbals together no matter what style of music they're playing.
What are the best cymbal brands?
There are 3 main players in the cymbal world. They are Meinl, Zildjian, and Sabian. None of them are better than the other, but these are the companies that constantly deliver high-quality products. If you're not too sure on what to get, then definitely pick from one of these. 
There are a few other cymbal brands that are well-established such as Istanbul, Paiste, Soultone, TRX, Anatolian, and Wuhan. Cymbals from these brands tend to be a bit cheaper. So, it's with checking them out if you're on a tight budget.
Conclusion
As you can see from the list above, there are many great crash cymbals to choose from. If you're a heavy drummer, get yourself a bright cymbal that you can lay into. If you're a sensitive drummer, get yourself a dark cymbal that will reflect your musicality.
You need to have cymbals that will help you play the style of music that you like. It would also be a good idea to get different types of crash cymbals for different situations.
Every drummer should have a selection of cymbals at their disposal. This should include ride cymbals, crash cymbals, hi-hats, splash and chinas and even low volume cymbals if you need to practice at night. You don't get one perfect cymbal. So, go out and get a few to make the perfect cymbal set!