One of the biggest aspects of drumming that separates drummers from each other is their cymbal setup. There are so many unique and wonderful cymbals out there, allowing drummers to mix and match different sounds to create their own voice. 
Every style of music demands a certain drum sound. The same can be said for cymbals. So, we're going to go through some of the best cymbals for playing metal. 
What Makes a Great Cymbal for Metal?
Metal is an aggressive style of music. It's loud and heavy, meaning a great cymbal for metal needs to be loud and heavy. Bright cymbals work well because they cut through the mix of distorted guitars and heavy vocals. 
Metal drummers tend to play on the bells of cymbals often, meaning a great cymbal for metal should have a distinct bell sound. Great metal cymbals will also sound great when crashed on constantly in heavy choruses. 
The 5 Best Cymbals for Metal
Best Cymbal pack for Metal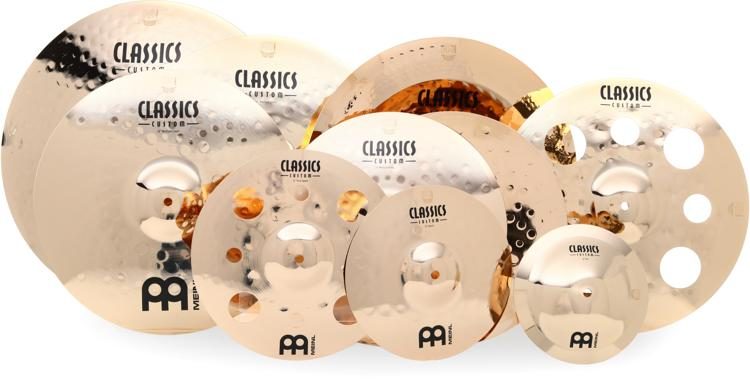 The Meinl Classics Custom Triple Bonus cymbal pack is probably one of the biggest cymbal packs on the market. It comes with 9 cymbals! Luckily for metal drummers, the Classics Custom cymbals are bright and work great for heavy playing. 
The 14" hi-hats produce a solid chick sound along with a heavy open wash. The 16" and 18" medium crashes give a significant crash sound that fades away quite musically. The 16" trash crash delivers a loud pop with a quick decay. 
The 20" medium ride is the highlight of the pack, producing a strong projection and bright bell sound. The 18" china produces a trashy tone that is perfect for metal. 
Finishing off this cymbal pack is 3 splash cymbals. Included is an 8" bell that gives a long ringing sound, perfect for playing just before a breakdown is about to start. The other splashes are 10" and 12". They both produce a cutting tone that quickly fades. 
If you're looking to buy all your cymbals in one pace, this cymbal pack is a great option. 
For more about the Meinl Cymbal Set check out customer reviews.
PROS: THINGS WE LIKED
9 cymbals with one purchase
Bright tone
Durable
CONS: THINGS WE DIDN'T LIKE
You may need to buy more cymbal stands to fit all these cymbals
Best Ride Cymbal for Metal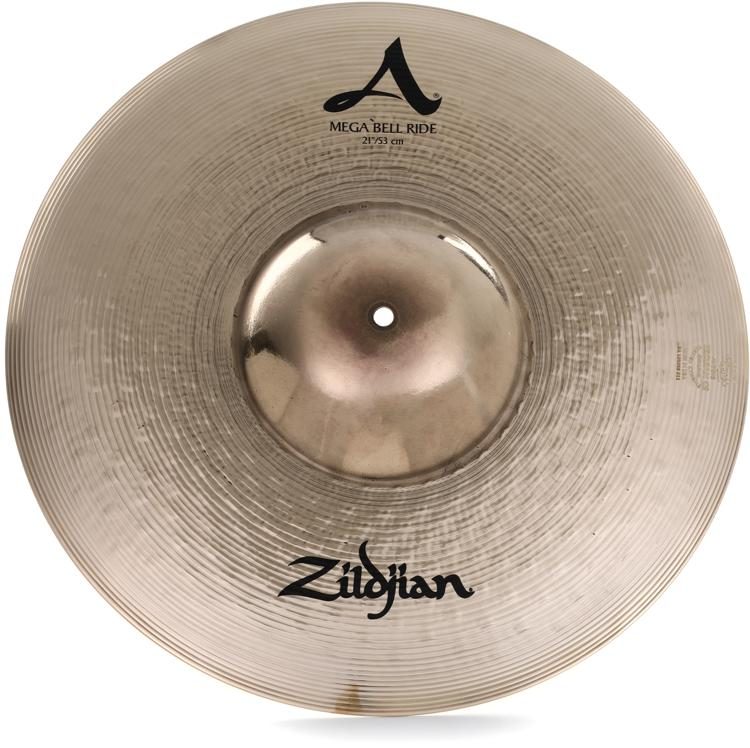 Unsurprisingly, this ride cymbal has a giant bell. It's an extra-heavyweight cymbal that offers a huge sound that will fill out your overall cymbal sound. Both the bow and bell of this ride will cut through any mix with ease, giving you a great cymbal option for a metal setup. 
The weight of the cymbal gives it plenty of sustain, allowing it to ring throughout drum fills and grooves. It's extremely articulate, meaning every note will be distinctly heard. This is great for intense high-speed metal grooves. 
It has almost no wash, meaning you can't crash on it. If you're a drummer that likes to crash on your ride, the 21" Mega Bell ride won't be your best option. 
For more about the Zildjian A Ride check out customer reviews.
PROS: THINGS WE LIKED
Has a giant bell
Very loud
Articulate
CONS: THINGS WE DIDN'T LIKE
Best Hi Hat Cymbals for Metal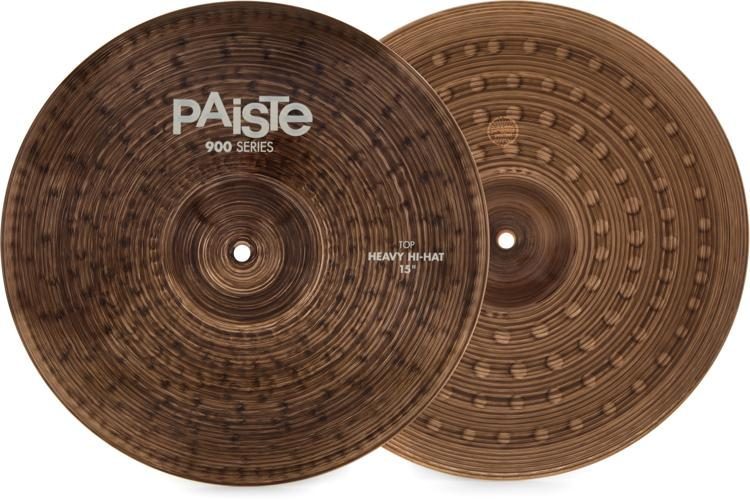 When choosing cymbals for metal, it's important that your cymbals aren't all just loud and heavy. There will be times when you need to be sensitive in a soft chorus. This is where the Paiste 900 Series 15" Heavy hi-hats come in. Although they're heavy, they react well to sensitivity. 
They sound best at medium to high volumes, making them great for metal music. They have a great stick response with a solid chick. A standout feature is the sound they make when you bark the hi-hats. It's effective as well as sounding musical. 
They have a long sustain when played half-open, making them great for heavy choruses. 
The darker finish may not suit everyone's taste. However, these hi-hats are durable, musical, and heavy. A great choice for a metal drummer!
For more about the Paiste Hi Hats check out customer reviews.
PROS: THINGS WE LIKED
Solid chick sound
Long sustain when half open
Durable
CONS: THINGS WE DIDN'T LIKE
Not everyone will like the darker finish
Best Crash Cymbal for Metal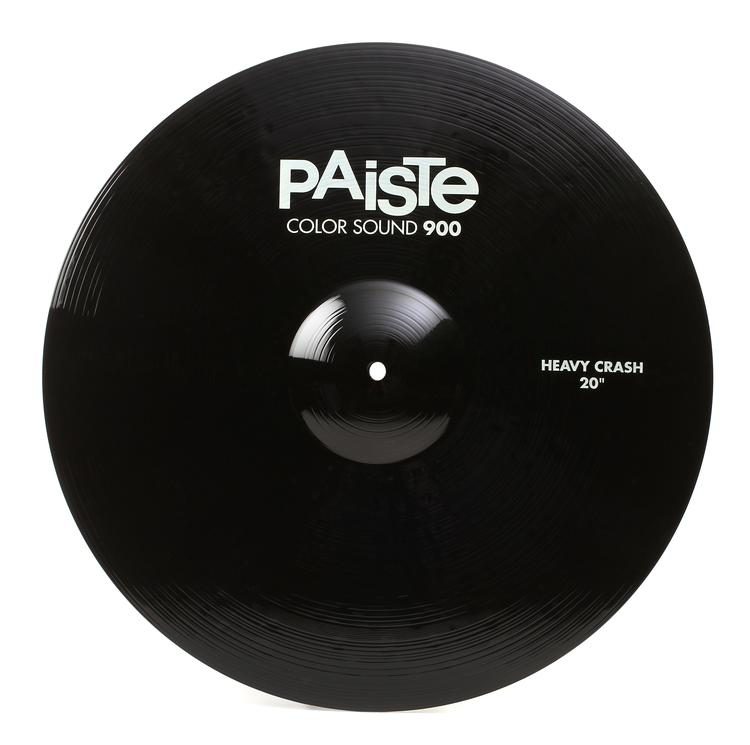 Cymbals have always had a gold/brownish color. So, the Paiste 900 Series Color Sound cymbals have sparked some attention in the drumming world thanks to their bright red finish. The 20" Heavy crash is a particularly good cymbal in the line, which is why it's been added to this list. 
It has a sharp tone that is very controlled. It exhibits touch sensitivity but is at its best when played medium or loud. It has one of the quickest decays that we have ever heard on any 20" crash cymbal. This makes it a great option for some hard-hitting as it will never become overwhelming no matter how hard you hit. 
It has a bell that can be utilized to play blast beats. The bell has a bright ping that will cut through mixes. 
Overall, this crash cymbal projects extremely well and is a great option for a metal drummer. The bright red finish may not be everyone's cup of tea though.
PROS: THINGS WE LIKED
Solid chick sound
Long sustain when half open
Durable
CONS: THINGS WE DIDN'T LIKE
Not everyone will like the darker finish
Best China Cymbal for Metal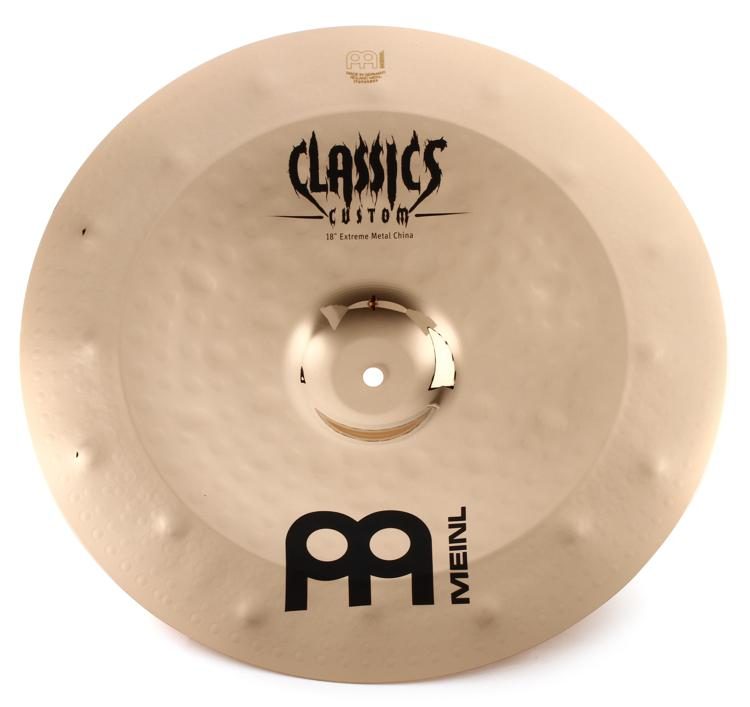 Alright metalheads, this is the one you've all been waiting for. The china is arguably the most important cymbal in a metal setup. We've chosen the Meinl Classics Custom Extreme Metal 18" china for this list. As the name suggests, this china was designed specifically for metal music. 
It's extremely loud with an explosive attack and quick decay. It provides a sense of aggressiveness that will stand out when you're playing break downs or any other types of grooves that need the china. 
It cuts through mixes with ease, becoming a seriously present sound in your drum setup. It's not the most sensitive cymbal out there. However, you're probably not going to need sensitivity when playing a china in your metal band. 
It's the most affordable cymbal on this list, making it a great option for anyone that's on a budget. 
PROS: THINGS WE LIKED
Sharp tone that is very controlled
Great for hard hitters
Projects well
CONS: THINGS WE DIDN'T LIKE
Some may not like the bright red finish
What cymbals do metal drummers use?
Metal drummers use cymbals that are loud. This is because they need to be able to cut through the mix of the band and make an impact in songs. Loud cymbals are generally heavy, making them durable. Durability is key in metal since metal drummers love to bash.
What kind of metal are cymbals made of?
Cymbals are made from different alloys of metal. The most common alloy includes bronze metal. Some cymbals are also made from copper. Each cymbal company has a different name for their copper alloy, but most of them use the same methods to make the cymbal.
Some cymbals are made from brass. Brass cymbals are generally cheaper since they don't have the sonic qualities that the other metals offer. Most entry-level cymbals are made from brass.
Which is better Zildjian or Sabian?
This comes down to personal preference. Zildjian and Sabian have been the top two competing cymbal brands for decades. Each company offers a variety of cymbals that are aimed at different demographics and that suit different styles of music.
Zildjian has become slightly more popular in recent years thanks to their effective social media presence.
What is the best cymbal brand?
The top 4 brands of cymbals are Zildjian, Paiste, Meinl, and Sabian. Each company has its strengths and weaknesses. Zildjian is arguably the most famous cymbal brand. However, that doesn't make it the best. Meinl has grown in popularity in recent years while Paiste and Sabian have consistently put out great products.
Conclusion
As a metal drummer, it's important that you have a decent set of cymbals. Most cymbals do work well for metal since they are loud and bright. However, if you have thin and dark cymbals, they are going to fall short of the metal sound the band needs. 
You can also check my buying guides on metal drum sets and snares.
So, get yourself some heavy cymbals and get blast beating.