China cymbals are those weird upside down cymbals that drummers sometimes use. They're not the most common thing you'll see around. They're a staple for drummers who play heavier styles of music such as rock or metal. They can be a great addition to any cymbal setup, adding flavor and dynamic sound options. We've put together a list of our favorite china cymbals, so that you can read through it and make a decision on what would be best for you. 
If you are in a Hurry these are Our top Picks For:
18th October 2021
What Makes a China Cymbal Great?
A great china cymbal will be one that fits into your cymbal sound. Each drummer has a unique taste in cymbals and will have a set of cymbals that reflects their playing and tastes. A great china cymbal will add to your voice. 
It also depends on what style of music you're playing. You'll need a loud, heavy china for metal and a soft nuanced china for jazz. Chinas range in tonality, size and quality. So, you'll need to decide what you want and go from there. 
The Meinl Byzance 20" Brilliant Heavy china was developed with the help of Matt Garstka, the drummer from Animals as Leaders. It's made from a B20 alloy, which gives it a heavy attack, with a trashy wash. 
This china is very loud, meaning it will cut through any mix of distorted guitars and heavy vocals. The sustain is pretty short, making it good for accents and aggressive dynamics. It has a bright, high pitched tone. 
It has heavy hand hammering that gives it dark undertones. It doesn't respond too well to dynamics, meaning it won't be the best option for soft playing. 
This china is quite expensive, so it's not for beginners. It is definitely worth the price though. If you're looking for a big china to play some loud music with, the Meinl Byzance 20" Brilliant Heavy china is a great option to consider. 
PROS: THINGS WE LIKED
Good for loud and aggressive styles of music
Highly durable
CONS: THINGS WE DIDN'T LIKE
Doesn't respond well dynamically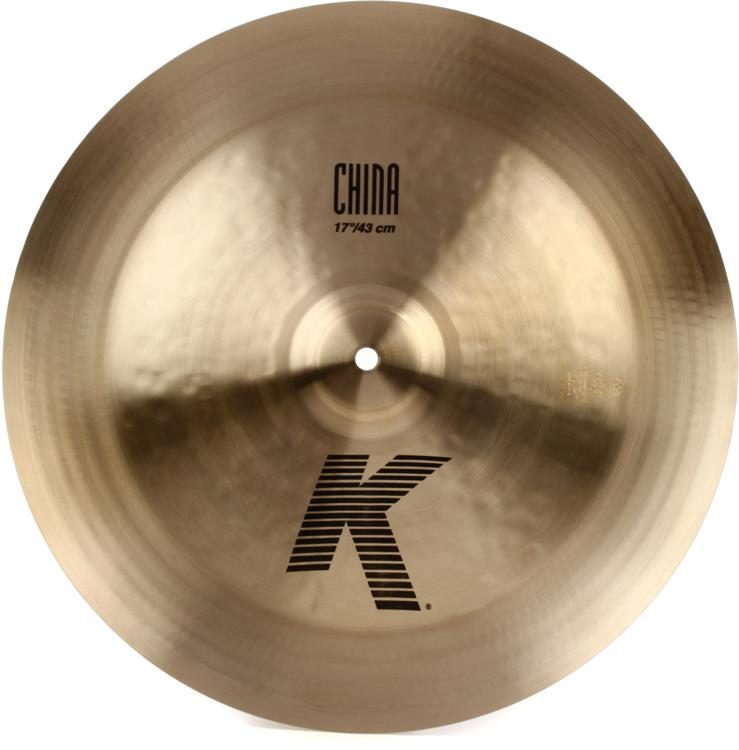 The Zildjian K Custom 17" china has a dark and dry sound. The dark sound means it is low-pitched. It blends into a mix, without being overbearing. The dryness means it has a trashy attack, with a quick decay. 
This china might not fit well in metal, since it blends into the music instead of standing out. It would work well in jazz though, since it is dynamically responsive. It would also work well in a recording studio.
K customs are well built, meaning the 17" china will last you a long time without cracking. 
This china is quite thin, meaning it will be a great option for a cymbal stack. The dark tone would give a stack a unique sound. 
PROS: THINGS WE LIKED
Dynamically responsive
Highly durable
CONS: THINGS WE DIDN'T LIKE
Won't work well in heavy styles of music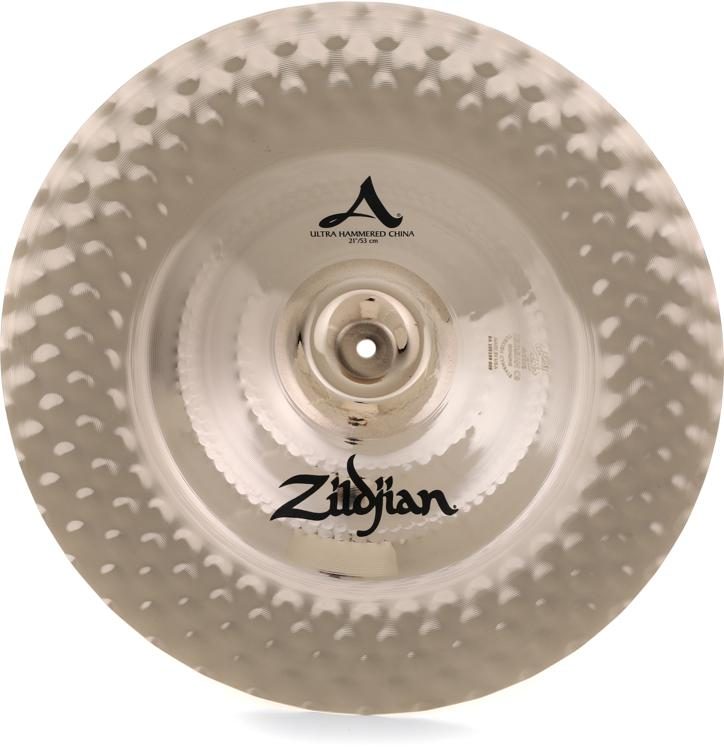 The Zildjian A customs were designed with the help of legendary drummer, Vinnie Colaiuta. They are a tier under the K customs. The A customs are meant to be versatile, bright cymbals that are good for many musical settings. 
The A custom 21" china has a loud, piercing sound. It is bright and gives you the trashiness you'd expect from a big china. 
You need to play this thing hard to get a good sound, meaning it doesn't respond too well to dynamics. It also isn't as durable as other chinas in the same price range. 
The sound makes it a good option for metal. This china will make a huge impact in metal breakdowns and when used for aggressive accents. It won't work too well in softer styles. 
It has a brilliant finish, giving it a really clean cymbal look in your setup. 
PROS: THINGS WE LIKED
Great for metal
Loud, piercing china sound
CONS: THINGS WE DIDN'T LIKE
Won't work well in heavy styles of music
The Sabian AA Holy chinas were designed with the help of Chad Smith, the drummer from the Red Hot Chili Peppers. They have to be some of the loudest china cymbals on the market. We've put the 19" version on this list to add some variety to our choice of sizes. 
This china has holes drilled all around it. 51 to be exact. These holes give it a unique sonic quality that adds to the trashiness you'd want from a china. It has a large raw bell and a wide lip which makes hitting it an easy process. 
The sound is bright and explosive. This will definitely be the loudest cymbal you own. So, if you're looking to play high energetic styles of music like metal, rock or funk, this cymbal is perfect for that. If you're looking to play softer styles like jazz or alternative, this cymbal is going to be way too harsh and loud. 
It's made from B20 bronze, meaning it is really durable and will last a long time. It will also sound better with age. 
For more about Sabian cymbals check this article. 
PROS: THINGS WE LIKED
Loud, explosive sound
Durable
CONS: THINGS WE DIDN'T LIKE
Sabian's B8X series of cymbals were designed to give beginners an affordable option of high quality sounding cymbals. They obviously don't sound as good as higher priced cymbals, but the are some of the best sounding entry-level cymbals on the market. This is especially the case with the B8X 18" china.
Since china cymbals are meant to sound trashy, the B8X china actually doesn't sound like it's a low-priced cymbal. 
It has a bright sound that is aggressive and edgy. It also has that trashy rawness that is great for a china cymbal. 
This china is pretty much made for beginners to play any style of music. It's really versatile. So, if you're looking for a highly affordable china cymbal, but you don't want to spend too much, this is a great option. 
It's not going to break easily and it's also a great inexpensive option to use as part of a cymbal stack. 
PROS: THINGS WE LIKED
Inexpensive
Durable
Versatile
CONS: THINGS WE DIDN'T LIKE
Doesn't sound as good as higher priced chinas
What is a china cymbal used for?
Chinas are effects cymbals. They're a bit too harsh to be played constantly like a ride or crash. So, you'll hit them every now and then for a dynamic sound effect. They're used for when you want an aggressive sound. 
The exception to this is in metal music. Chinas are commonly used in metal breakdowns. The trashy sound opens up the groove and creates a heavy atmosphere from the drums. 
You're also going to need a double pedal to play metal, so check out our list of the best ones.
Why are China cymbals upside down?
They're designed that way because they are influenced by the Chinese Bo cymbal, which looks similar. The shape of the china also gives it the trashy sound that chinas are known for.
Many chinas are designed uniquely though. Some have rounded edges, while others have thin edges that are a bit sharp. Chinas are probably one of the most unique types of cymbals.
How do you make a Chinese cymbal sound better?
Technique is huge when it comes to cymbals. If you have good cymbal hitting technique, the china cymbal will produce the best sound it can. Have you ever noticed how experienced drummers will sound better when playing on the exact same drum kit that a beginner played on? It's all in the technique. 
Most china cymbals will also improve their sound with age. Older cymbals always sound better than brand new cymbals. 
Cymbals have price values for good reason. Higher priced chinas are manufactured in a way that gives them better tone and qualities. So, a higher priced china will sound better than a lower priced china. 
Where do you put China cymbals?
This comes down to personal preference, but most drummers place their chinas to the far left or far right of their drum kits. You'll need to place it in a way that is comfortable to reach. 
You could also put other cymbals on top of the china to make a stack. Cymbal stacks are a great way to create your own unique sound. You could get a quick accent sound or a long sustained effect. You can also place a cymbal stack wherever its most comfortable to play!
Conclusion
Chinas are a great way to expand on your cymbal setup. They add a unique dynamic to your sound and will allow you to play aggressive accents when needed. They work for most styles, but mainly metal. If you play metal, you have to have a china cymbal.
If you liked this article please share it. You can check my other guides on electronic cymbals and cymbals for rock and metal.