Double bass drum pedals are pieces of equipment that not every drummer needs. However, having a set of pedals will allow you to play notes on the bass drum that you otherwise wouldn't be able to. They're required for fast and intricate patterns, especially in the world of metal music. 
What Makes a Great Double Bass Drum Pedal?
A great double bass pedal should feel very comfortable at your feet. It should have a smooth feeling that isn't too loose or too rigid. The best double pedals have many customization options to suit the drummer that plays them. It should have high value for money as well as a decent sound when the beaters hit the bass drum. 
All the best double bass drum pedals become essential tools for metal drummers that they use for years. So, a great double pedal should be one that you can see yourself playing for a very long time. 
The 7 Best Double Bass Pedals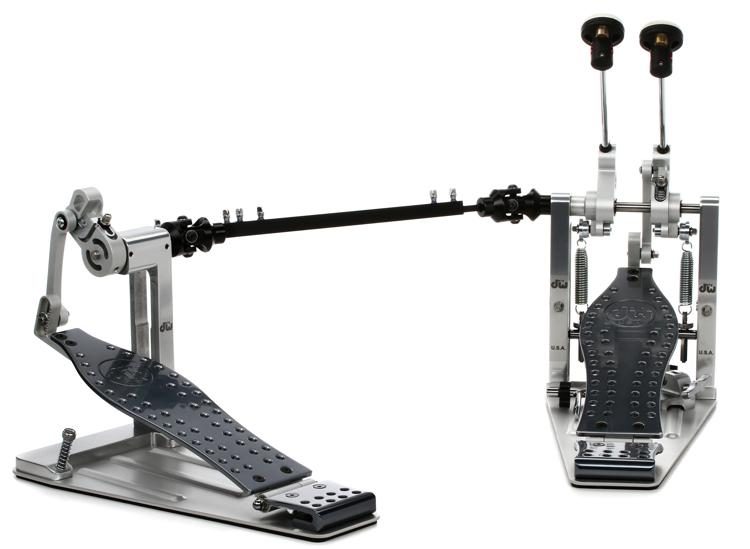 DW's MDD Machined direct drive pedals are loaded with great design features. The action is very smooth thanks to the innovative technology from DW. The footboards are perforated aluminum and have contoured heel plates, creating a solid base to play from. Everything else on the pedals is a minor detail that can be adjusted. 
These things are surprisingly heavy. However, you don't feel the weight when you play, making the heaviness a huge bonus as they'll never move around. They have a robotic aesthetic thanks to the aluminum footboards with holes. This is quite unique and loved by many drummers. 
Overall, they're a great choice if you're looking for a pair of direct drive pedals. If you haven't played on some before, these are where you should start. 
PROS: THINGS WE LIKED
Solid and heavy
Many customization options
Good option for a direct drive pedal
CONS: THINGS WE DIDN'T LIKE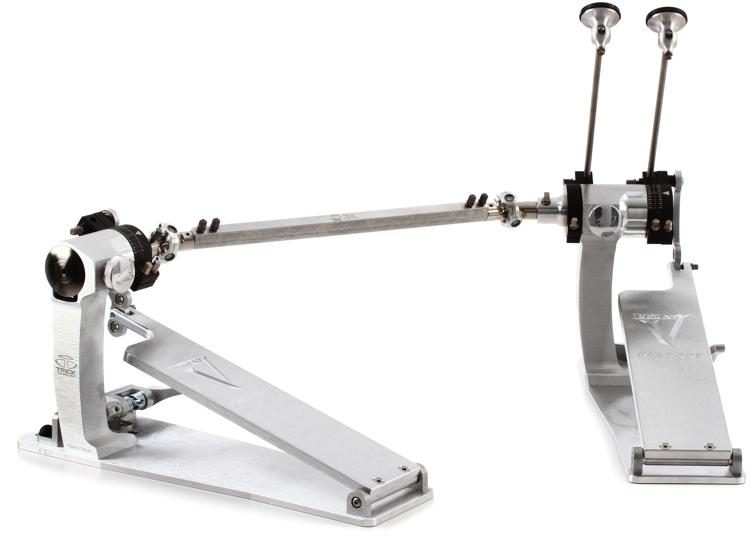 The Bigfoot pedal is an excellent product from Trick Drums. It has so many innovative design features that are beneficial to drummers of all levels. One standout point is the internal compression-spring mechanism. It's a lot smoother and quieter than expansion-spring pedals. 
It has a split-cam design that allows you to adjust the angle of the beaters and angles independently. This is not something that you see on many double pedals, so it's a great feature. 
In terms of build, playability, design, and comfort, these pedals are a fantastic choice. One downside is that it will take a fair amount of time to learn how all the adjustments work. 
PROS: THINGS WE LIKED
Split-cam design allows independent adjustment of beaters and pedals
Compression-spring mechanism is very smooth
Very comfortable
CONS: THINGS WE DIDN'T LIKE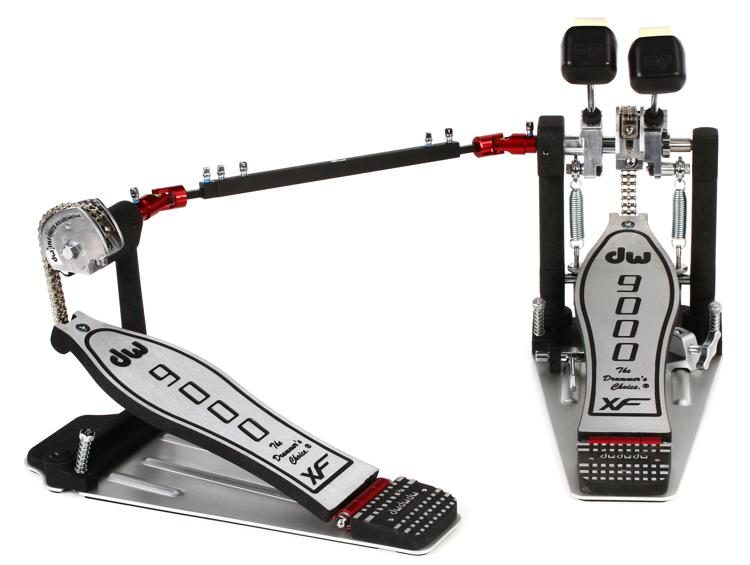 Moving onto the double pedal that we all know and love, the DW 9000 Series. However, this particular version has an extended footboard, going you more room at the feet. The 9000 Series is arguably one of the most well-known pedals in the world, and this version packs all the same features. 
I also picked the 9500D from DW as the Best Hi hat stand in our buying guide. These two complement each other perfectly. 
With its Tri-Pivot toe clamp system, EZ adjust cam, and steady rubber base plate, this pedal is ready to take on the fastest double bass patterns out there. The pedals play like butter, having a super smooth feel that will make any drummer comfortable. 
Longboard pedals aren't everyone's cup of tea. So, if you love the features but aren't a fan of longboards, consider getting the standard DW 9000 double pedal. 
PROS: THINGS WE LIKED
Unique version of the popular DW 9000 pedal
Very stable
Comfortable to play
CONS: THINGS WE DIDN'T LIKE
Some drummers may not like the longboard pedals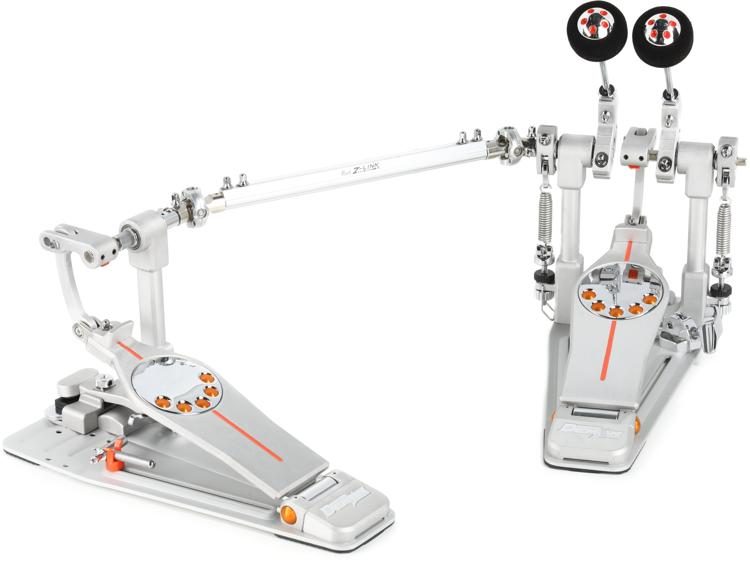 Another classic double pedal to add to the list, Pearl's Demon Drive pedals are highly popular amongst double pedal drummers. The most unique thing about them is that they use Ninja bearings that are mostly designed for skateboards. These bearings lower the friction of the pedals significantly, meaning they're some of the fastest pedals on the market. 
Another great feature is the ability to convert the footboards from shortboards to longboards. Overall, this is a solid double bass pedal that would be a great option for anyone. It even comes with a carry case. You'd just need to disassemble to pedal to make it fit in the case. 
PROS: THINGS WE LIKED
Fast thanks to low friction
Convertible footboards
Includes carry case
CONS: THINGS WE DIDN'T LIKE
Pedal needs to be disassembled to fit the carry case
(Best Double Bass Pedal Under $500)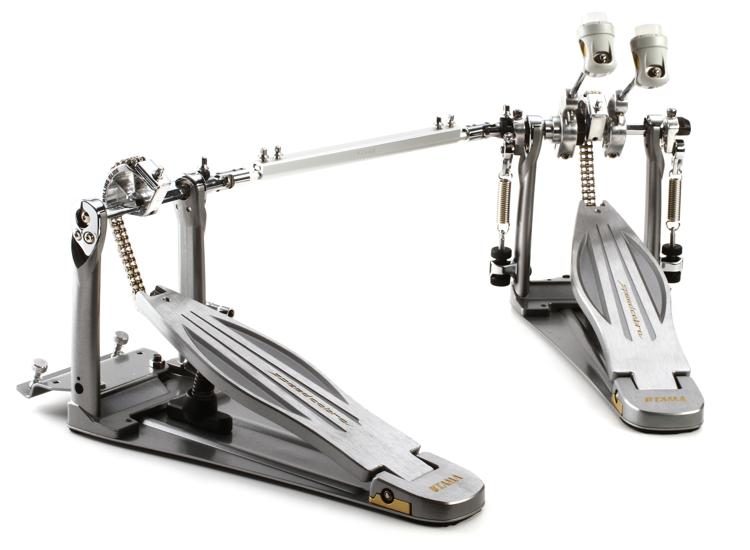 The Tama Speed Cobra double pedal is a great intermediate option for someone needing a double pedal that costs a bit less than the previous products. It has Tama's Cobra Coil mechanism which shifts the pedals back to their original position after being played. As it says in the name, it's great for speed. 
This double bass pedal is not only durable, it also offers great opportunities for intermediate and professional level drummers to spice up their drumming skills due to a high level of versatility.
It's packed with plenty of customization options to make every drummer comfortable. One downside is the bass drum beaters. You'll often see drummers swap out the beaters from these as they just aren't as comfortable or effective as other ones. 
PROS: THINGS WE LIKED
Great intermediate option
Cobra Coil mechanism
Great for speed
CONS: THINGS WE DIDN'T LIKE
Bass drum beaters are weak
(Best Double Bass Pedal For Electronic Drums)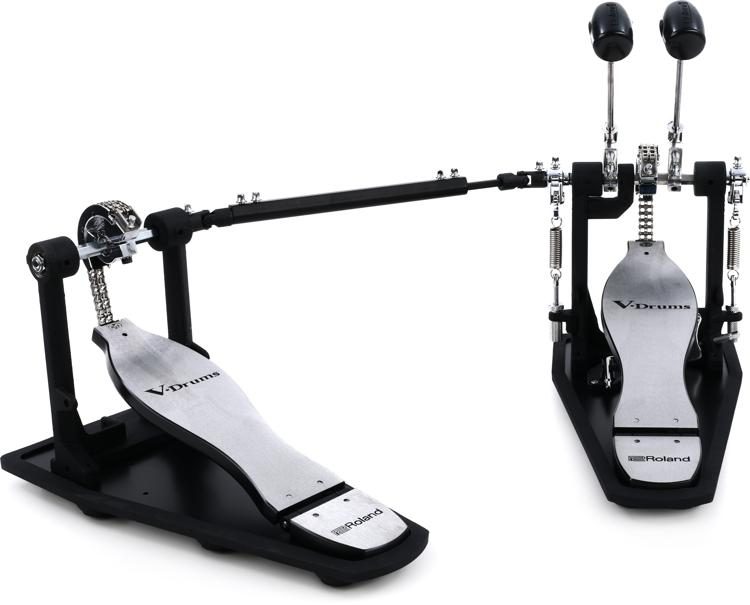 The Roland Noise Eater is a double pedal that is specifically designed to work on electronic drum kits. It mostly works on Roland kits, but it will work on others if you do some adjusting. It's a great pedal that keeps the noise levels down. Double pedal playing can make a huge noise even on e-kits. So, this pedal is a great option for drummers with noise complaints. 
Unfortunately, you can't use it on acoustic drums as it won't make a loud enough noise. Just bear that in mind!
PROS: THINGS WE LIKED
Quiet double pedal option for electronic drum kits
Works on most e-kits
Durable
CONS: THINGS WE DIDN'T LIKE
Doesn't work well on acoustic kits
(Best Double Bass Pedal Under $300)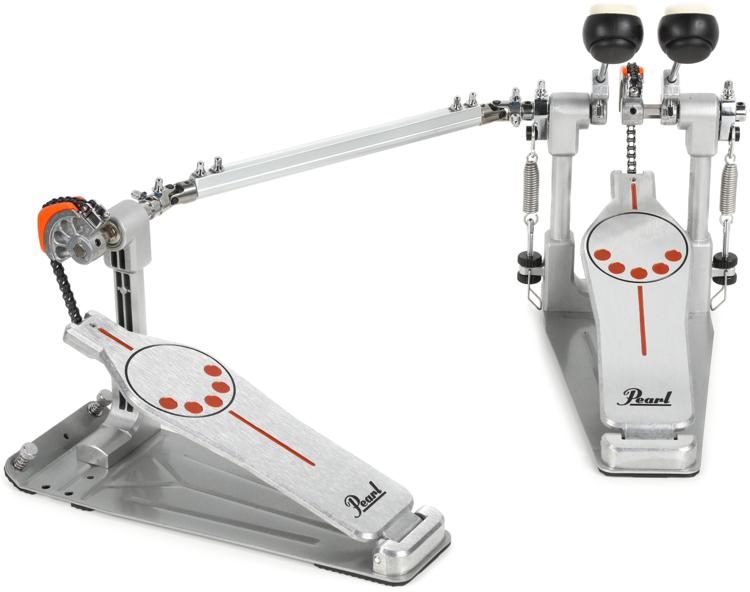 Ending off the list is a budget double pedal option from Pearl. The P932 is a single chain pedal that will allow beginners and intermediate drummers to work on their double pedal playing without buying a pricey pedal with an overwhelming amount of adjustment settings. 
Although this pedal is a lot cheaper than most, it still provides a great platform for double pedal playing. The beater is highly adjustable, allowing you to place it in a position that is comfortable for you. 
You can't go wrong with this pedal, especially if you're on a tight budget. 
PROS: THINGS WE LIKED
Very affordable
Smooth single chain
Good for beginner and intermediate drummers
CONS: THINGS WE DIDN'T LIKE
Doesn't have as many adjustment settings as the other pedals on the list
What is the best double bass pedal?
Drummers will argue over this question for hours and hours. However, the best double pedal from the list above would arguably be the DW MDD Machined pedal. It has so many great features and will last several years of heavy playing. 
What is the best double bass pedal for the money?
The best double bass pedal for the money is arguably the Tama Speed Cobra. At around $400, you're getting a lot of adjustment options as well as smooth action and longboard pedals. 
Are double bass pedals worth it?
Before buying a double pedal, you should consider what you actually need it for. There are many bass drum patterns that can actually be played with a single pedal, you'd just need to put in the work and effort to get to a point where you play them well. 
The only time a double pedal will be worth it is if you need to play patterns that are impossible to play with a single pedal. If you're going to be playing drums to metal music, the double pedal will be your most important piece of gear. 
If you're not going to be playing metal and you still want a double pedal, it will be worth it if you play patterns that require it. Think of the drummer, Benny Greb. He uses a double pedal occasionally, but he's not a metal drummer. 
How do I increase my double bass control?
You need to create a practice routine that focuses on playing patterns slowly with the pedals. This will improve your technique. Then speed the patterns up slowly. Playing rudiments with your feet is a great exercise to do. 
HOW DOUBLE BASS PEDALS WORK?
Basically, double bass pedals work in the same way as single bass pedals, but there are certain differences. By applying pressure to the footpad, the drummer triggers the spring mechanism, which results in the beater motion.
Simply speaking, the main method of operation of double bass pedals is the same, with the addition of another pedal, hence another beater. Each pedal is responsible to a single beater. The pedals are connected, but the method of operation relies on physics alone — pulling the weight downward results in pushing the beater outward.
ADJUSTING AND SETTING UP THE DOUBLE BASS PEDAL
Even though most double bass pedals come with a set of instructions or a manual which explain the process, some beginners simply don't find them helpful.
Why is that? Due to the fact that there are various ways to adjust and setup your double bass pedal, most people don't get it right the first time. Anyhow, we will provide a short walkthrough on how to do it easily.
SETUP
Different double bass pedals require a different setup process. This process is usually defined by the manufacturer in the "instructions manual" or the "user's guide".
If you're not interested in reading how to setup your double bass pedal, you can always skip to the video lesson here:
RECOMMENDED ADJUSTMENTS
AND SETTINGS
Try to keep the beaters pretty far back for example about a sixty-degree angle. To give a really defined beat. If you try to cheat keeping the beaters really close to drum head you'll lose a lot of tension-producing a weak beat.
Another great setting is to use a max spring tension to get the fastest response time on your pedal. We're trying to maximise on the return of each stroke.
If you have super loose tension your beater is going to pull back after each stroke with less energy. The higher your spring tension the faster and farther back your beater is going to get.
Which means with each successive hit you're going to have a consistent power with each stroke
A lot of drummers don't know this super simple technique. The main thing you should try to achieve is matching the tension on your primary pedal to the tension on your slave pedal. Because you need to compensate for all the extra mass.
All you need to do to catch your bearings or see if you're in a good place is make sure your pedals are secure to the ground and are not going to shake around and soak up any of that extra movement. Then bring your beaters to the head with the same hand and then just release them at the same time.
Take your feet off the pedals and they should recoil pretty in sync.
The longer you can keep them in sync the closer together your spring tensions are. Your right pedal is always going to last longer, the slave is always going to die out faster for all the extra mass. As long as you have the first four or five recoil swings in sync you're going to be in good shape.
If they don't match just tightening up the tension to get them even.
With these settings, you can definitely be sure you're going to have a comfortable pedal to play with.
Conclusion
Be very careful when selecting a double pedal. Some drummers will love a pedal while others will absolutely hate it. So, make sure you know what you like and then stick to that. A lot of the qualities of a pedal are reflected in its customization options. 
Double bass drum patterns are a lot of fun to play. So, you won't regret getting yourself a great double pedal.
If you enjoyed our guide be sure to check our articles for Electronic Drum kits, Beginner Drum Sets, Drum thrones and Cymbal packs.