Drums are one of the hardest instruments as far as the learning curve is considered. Starting your drumming journey you should consider a beginner instrument that goes with your skills.
Beginner drum sets are specifically designed to offer a pleasurable drumming experience to both youngsters and adults. These sets are usually equipped with 3 to 5 pieces, and they are often supplied with a bass drum, a snare, and a single tom.
There are various benefits of beginner drum sets but for now, all you need to know is that these drums are usually quite cheap, and they're perfect for drummers in the making.
We've compiled a list of the top 7 best starter drum sets for you so that you don't have to search far and wide. Let's begin!
These are Our top Picks Summarised For:
19th October 2021
How To Choose a Drum Set for Beginners?
First of all, you need to be clear on one thing – there's a huge difference between "standard drum sets" and "beginner drum sets". This difference can be seen in the number of pieces, but you can also see it in the price of the particular model.
Simply put, you don't want to overpay your first drum kit, as you probably don't even know what you need. For starters, you'll only need the most basic parts, such as a hi-hat, a couple of toms, a bass drum, and a snare drum.
These parts are sometimes called the "vital components" of drum sets, as all other parts are just "extensions". Once you've understood the basics, you can upgrade your set with as many toms and cymbals as you like, but make sure to look for 3 to 5-piece drum sets if you're completely new to the whole thing.
Also you need to decide if you prefer entering the drumming world with an acoustic drum like our list right here or with electronic drums that brings lots of different aspects to the table, not better not worst, just different.
Top 5: Best Beginner Drum Set
Pearl is a synonym for superb drums, and the Export series is a perfect product for enthusiast and beginners. This drum kit comes in five color variations, each equipped with 22″ bass drum, 10″ tom, 12″ hi-hat, 16″ and 14″ cymbals. The drum set includes a premium Demonator pedal if you're up to some fast-paced kick action.
Most people ask "why is Pearl so good for beginners", and the answer is quite simple. These guys rock making drum sets, with a huge experience their products accommodate from beginners to pros like Chad Smith (Red Hot Chilli Peppers) in a perfect way. 
If you can afford the Pearl Export you can expect a drum set that can follow along your learning curve for a long time before you find limitation and you need to step up to a pro drum kit. 
BUILD QUALITY AND DESIGN:
Well, Pearl's drum sets are famous for their impeccable durability and reliability, and the same goes for this model. The standard design is classy and fashionable, so it's safe to say that this drum kit has a great performance and hardiness.
PROS: THINGS WE LIKED
Extremely Durable
Great Colors
A complementary feature is included
Exceptional features
CONS: THINGS WE DIDN'T LIKE
Mapex Mars 5-piece Crossover is somewhat better when compared to "Mars Fusion" and "Mars Rock", as the configuration allows beginners to easily get acquainted with the basics of drumming. Anyhow, there are plenty of things to like on this drum kit – superb durability, state-of-the-art technology, a configuration that's ideal for youths, beginners and adults. You get the point.
BUILD QUALITY AND DESIGN:
The design of Mapex Mars 5-Piece Crossover is the thing that makes it so valuable. It's comprised of a 22″ bass drum, 14″ snare, 12″ mounted tom, 14″ Floor toms, 16″ Floor toms, and 12″ hi-hat. On top of that, the material used in the construction process is 100% Birch, which not only provides durability, it makes Mapex Mars look exquisite and elegant.
If you got the budget this is a really intelligent pick. This set will follow all the way when you gain drumming experience and will keep up all the way to a semi-pro drummer.
For more about Mapex Mars Series, check out customer reviews on Amazon.
PROS: THINGS WE LIKED
Superb construction and configuration
Durable materials
Several finish options
Just Beautiful
CONS: THINGS WE DIDN'T LIKE
Not for the beginner on a budget
If you know anything about drumming you've sure heard about the brand. In our opinion we are used to see very quality sets for the different price points from them. And with this model they definitely did an awesome job.
This is the kind of set that you can count on to start learning as a beginner and that will also give you enough freedom to keep playing it as a more experienced drummer.
It is definitely in the beginner-intermediate sweet spot.
Although the cymbals are a little bit low quality they come included in the kit as well as the cymbal stand. For someone who's just starting this is a very welcomed feature.
BUILD QUALITY AND DESIGN:
It has a classic design with a perfect size for both teens and adults and the holders are made of chrome
This set has very good build quality for it's price point. Poplar is the wood of choice and you can appreciate an overall high quality feel.
We love the snare drum on this drum kit it sounds so much better than other beginner drum sets.
The kit can be used for traveling when playing on different gigs and doesn't present any issues with the proper care.
PROS: THINGS WE LIKED
Sweet price/value ration
Comes with cymbals
Very good snare drum
Perfect for beginner and intermediate drummers
CONS: THINGS WE DIDN'T LIKE
Would be perfect if the cymbals where better quality
Mapex RB5044FTCDK Rebel (or shortly just "Mapex Rebel) is definitely the best beginner drum set on the market. It's not incredibly affordable, but it's manufactured in such a way that it's capable of producing strong, yet precise sound, and even the big guys at Mapex state that they had beginners in mind when they made it.
Basically speaking, the folks at Mapex intended kids of ages between 8-12 to play on these drums, as the toms, stool, and cymbals' height will best serve them. Of course, teenagers can play enjoy this drum set too, but it's hard to say that adults will find much use of it.
BUILD QUALITY AND DESIGN:
PROS: THINGS WE LIKED
Perfect choice for Beginners
Comes at a very good price
Great design and excellent features
CONS: THINGS WE DIDN'T LIKE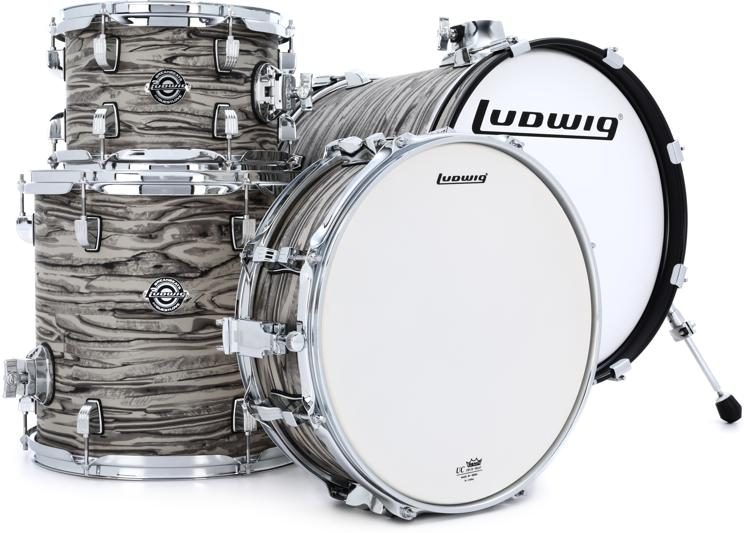 If we look at the best drum set manufacturers, we could find Ludwig sitting right next to Yamaha, Pearl, and others. Ludwig is one of those brands that have reached to many aspiring drummers like Bonham or Ringo star during their earliest days, as they provide nothing short of quality.
The Ludwig Accent Drive drum set is one of their finest works under the beginner category of products, and there's a very special reason why we included it in our review. It's decently affordable, it's functionality is off charts, and it boasts a massive value for the cash.
BUILD QUALITY AND DESIGN:
PROS: THINGS WE LIKED
Medium price
Very valuable for the cash
Perfect for youngsters
CONS: THINGS WE DIDN'T LIKE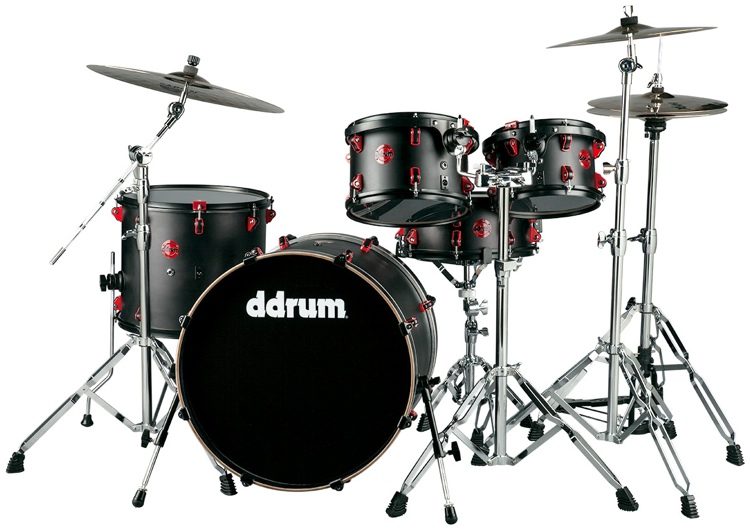 Next on our list is dDrum Hybrid 5-piece drum set. It's one of the best beginner drum set models for immediate beginners, as it's decently affordable, and it comes supplied with five high-quality parts, including two rack toms, a floor tom, a bass drum, a snare drum, a hi-hat, and a ride cymbal.
Whats cool about this set is that it comes with triggers. Nowadays more and more drummers are entering the hybrid setups. And for a modern beginner drummer this kit is an excellent option.
BUILD QUALITY AND DESIGN:
The main materials used in the construction process are basswood and chrome. The wooden pieces (on toms and drums) provide superb sound quality while chromed lugs and flanged hoops provide excellent durability.
All in all, this drum set is very durable, quite attractive, and designed in such a way that it excels in both performance and aesthetics. 
For more about dDrum Hybrid Drum Set, check out customer reviews on Amazon.
PROS: THINGS WE LIKED
Medium price
Very valuable for the cash
Comes with trigger system
CONS: THINGS WE DIDN'T LIKE
The Difference Between Drum Sets for Adults and Kids 

 
This one's easy. First of all, you should always try the drum set you want to buy. If that's not the case (for instance, if you're ordering your drum kit online), you will face some difficulties with determining whether the set is made for adults or for youngsters unless you know what to look out for.
Primarily, the size of the parts should be considered above all else. If you're an adult, you won't have any room to manoeuvre with your hands and feet if you're sitting behind a kid's drum set. That's a two-way street, as kids will find too much room when they try playing adult beginner drums.
Next, you'll need to know the parts. If you've been paying attention so far, you could have noted down the "vital" parts and "upgrades and extensions". Just in case you've forgotten, let's see what are the basic parts of beginner drum sets.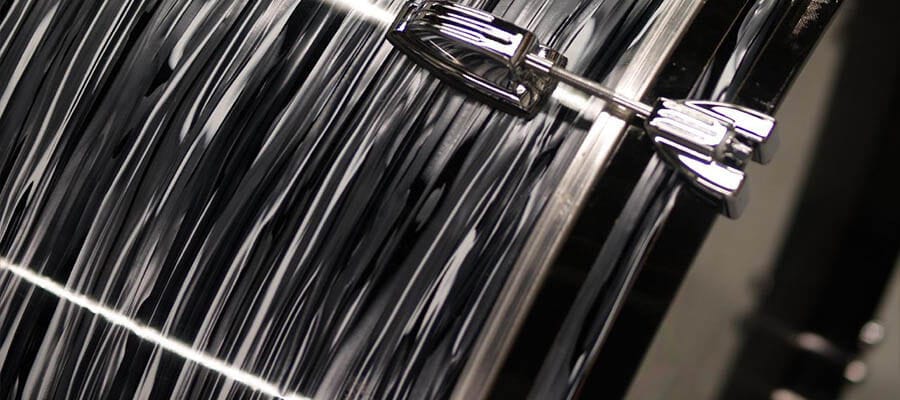 BASS DRUM
The bass drum is the largest part of any drum set. This part is sometimes referred to as the "kick", as it's the only part that's operated by legs. Anyhow, "the larger, the better" doesn't apply here, as the materials and durability are far more important.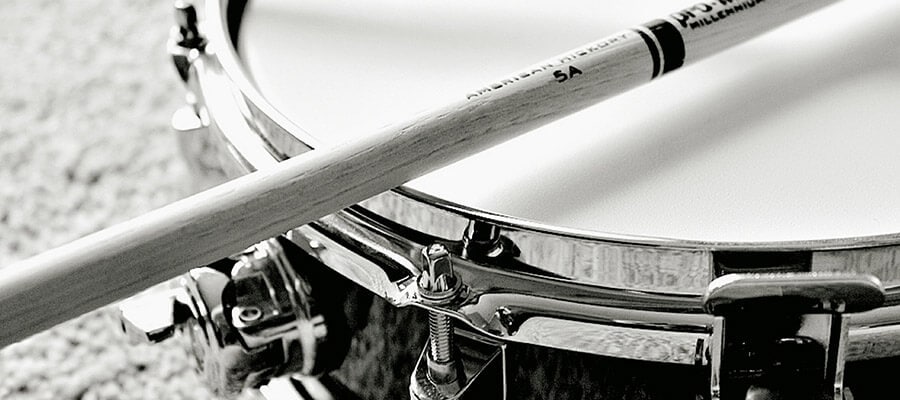 SNARE DRUM
If you don't know how a snare sounds, just playback any rock song. Do you hear that "punching" sound? It's hard to express how a snare drum sounds, but it's even harder to accentuate it's importance to any beginner drum set. Basically, you will be practicing your rhythm skills on this drum part. Needless to say, this is one of the most crucial drum parts.
TOMS
Toms are sometimes referred to as "timpani" or "timpans". The origins of their name is quite obvious, as the sound they make resemble "tom" and "tim". You should have at least one tom (floor or high) in your set, as drumming will be fairly difficult with snare and bass drum alone.
Toms are also considered to be both vital components and extensions, as you can have as many timpans as you like. Some professional drummers are literally surrounded by a dozen of toms while on stage.
CYMBALS
Even though cymbals are not considered to be "vital" to a drum set, they're always welcome. Immediate beginners might find it difficult to coordinate between hitting the drums and cymbals simultaneously. Just like toms, you can have as many cymbals as you like in your drummer's arsenal.
Conclusion
Beginner drum kits come in various shapes and sizes, from various manufacturers. Look out for important names such as Pearl, Mapex, and Ludwig, and make sure to search for sets that come with all "vital" parts.
If you follow these instructions, you'll find your perfect drum kit for beginners in no time.
On top of all, make sure to keep the price in mind. If you've never hit a drum with a stick, you don't want to overpay your set. If you're down on ideas, you can always consider the models we've reviewed for you.
If you enjoyed this buyinge guide be sure to check our Cymbals Buying Guide, Our Picks for the best double bass pedals and percussion articles.