Drum hardware is a vital part of a drum kit. You can't have a drum kit without the stands to hold all the drums and cymbals. So, it's important that you have some high-quality hardware to create a stable base to play from. 
When buying a drum kit, you'll find that most high-quality kits are sold in shell packs. This means that they don't include stands. If you get a shell pack, you'll need to get a drum hardware pack as well. So, we're going to help you decide on which hardware pack will be the best for you. 
These are Our top Picks Summarised For:
19th October 2021
What Makes a Great Drum Hardware Pack?

A great drum hardware pack will last you a long time. It will have stands that are solid and durable, allowing you to beat on the drums without worrying about wobbly stands.
It should have a variety of stand options as well. 
There are two types of cymbal stands. These are straight and boom stands. Boom stands allow for more maneuverability. However, straight stands can be useful in many situations. So, a great hardware pack will generally have a variety of cymbal stands. 
The 5 Best Drum Hardware Packs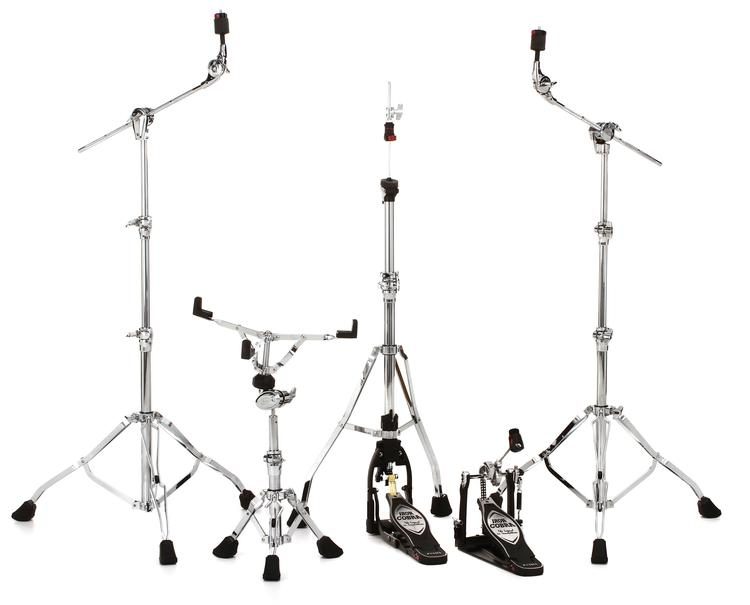 Tama's 900 Iron Cobra Series is their top-of-the-line range of hardware. The Iron Cobra pedal is synonymous with the Tama name. So, this hardware pack includes some high-quality products. 
The pack comes with 2 boom stands, a snare stand, a hi-hat stand, and a kick drum pedal. Most of the stands are double-braced, ensuring that they sit securely in place when you're playing the drums. The hi-hat stand only has 2 legs, allowing you to comfortably position a second pedal if you needed to. 
The highlight of this pack is the Iron Cobra pedal. It's a smooth kick drum pedal that allows for speed and sensitivity. 
The Iron Cobra 900 hardware pack is expensive. However, the price-to-value ratio is high, making it a great choice for any drummer needing a set of hardware that includes a kick drum pedal.
PROS: THINGS WE LIKED
Includes Iron Cobra bass drum pedal
Very rigid
Hi-hat stand allows for easy double pedal placement
CONS: THINGS WE DIDN'T LIKE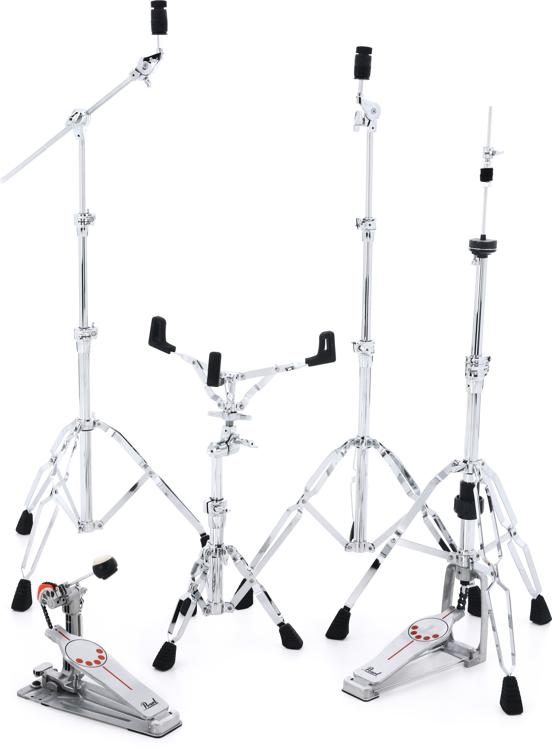 Pearl's HWP-930 hardware has a shiny and sleek look that will catch any eye. The quality of the stands matches the visuals, giving you a sturdy set of hardware that will fit with any drum kit. 
This pack includes a boom cymbal stand, straight cymbal stand, snare stand, hi-hat stand, and a bass drum pedal. Each stand has plenty of adjustability, allowing the hardware pack to cater to all kinds of drum setups. 
The pedal is smooth and stable. It has a metal base that keeps it from moving on the ground. 
Overall, the HWP-930 hardware pack is an affordable option if you want some seriously sturdy hardware. The stands are quite heavy, meaning it's not the best for traveling with. 
PROS: THINGS WE LIKED
Great price for the sturdiness
Includes bass drum pedal
Looks great
CONS: THINGS WE DIDN'T LIKE
Heavy stands aren't great if you transport the hardware for gigs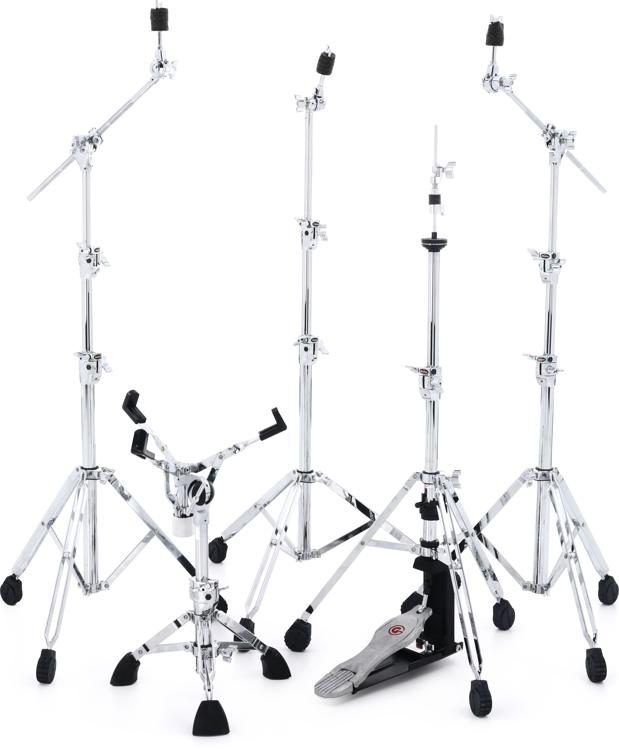 Gibraltar is one of the most well-known hardware companies in the world. This is because they specialize in making drum hardware. They don't make drums or cymbals, meaning all their focus goes into making great hardware products. The 9701PK hardware pack includes some of Gibraltar's top-tier cymbal stands. 
The standout feature of this pack is that it comes with 3 cymbal stands. Most hardware packs only come with 2. The third cymbal stand is a straight stand whereas the other 2 are boom stands. The pack also includes a snare stand and a hi-hat stand. 
These stands are very heavy, making this pack great for a recording studio or practice space where drums are always going to be. They're too heavy to play frequent gigs with. 
For more about the Gibraltar Pack, check out customer reviews.
PROS: THINGS WE LIKED
Very heavy and solid
Includes a third cymbal stand
CONS: THINGS WE DIDN'T LIKE
Doesn't come with a bass drum pedal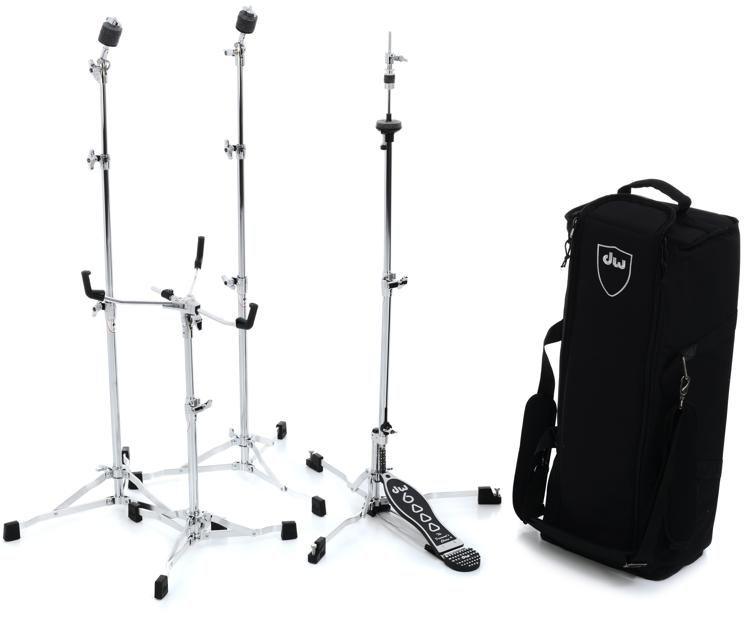 This hardware pack has been specifically designed for drummers to use on the fly. DW has taken all of their high-quality build features and put them into stands that are lightweight and easy to pack into a bag to carry around. 
The pack includes two straight cymbal stands, a snare stand, and a hi-hat stand. The stands are all single-braced and flat at the bottom. The flat legs give them a retro look that appeals to any drummer who loves vintage setups. Although the stands are light, they're quite sturdy and will survive any gig played on them. 
The pack comes with a bag that allows you to pack the stands into and carry over your shoulders. This is super useful for lugging equipment around when playing gigs. 
The pack doesn't come with any boom cymbal stands. This is unfortunate but it's not a dealbreaker!
For more about the DW 6000 Pack, check out customer reviews.
PROS: THINGS WE LIKED
Lightweight and designed for traveling
Comes with a bag to pack the stands in to Retro look
CONS: THINGS WE DIDN'T LIKE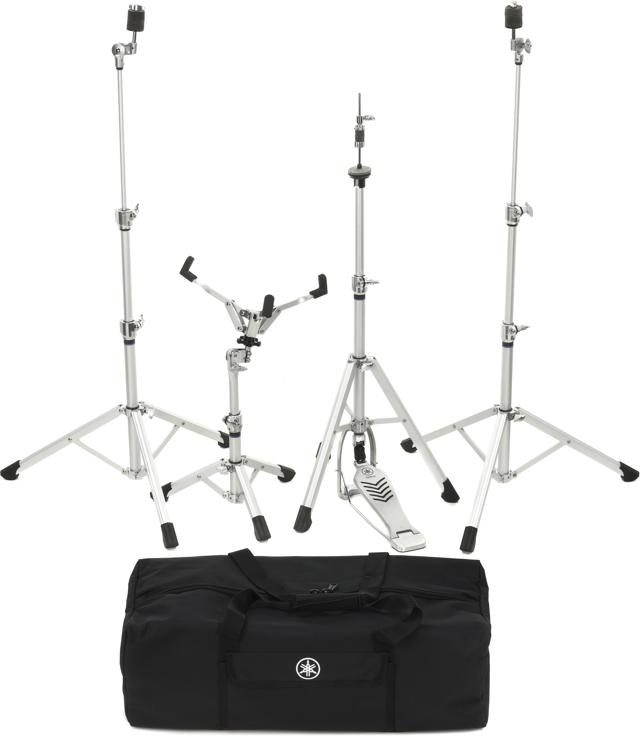 The HW-3 Crosstown pack is Yamaha's take on lightweight gigging hardware. This pack includes 2 cymbal stands, a snare stand, and a hi-hat stand. It also includes a bag to pack the hardware into. The stands can be collapsed to fit snuggly into a small bag that you carry over your shoulder. 
These stands make setting up a quick process. They allow plenty of adjustability and maneuverability. They're a great choice if you're looking to buy a set of hardware just for gigs. 
The one downside is that they don't look like conventional cymbal stands. The legs resemble the plastic legs on most tripods. Some drummers may not like how this looks. 
PROS: THINGS WE LIKED
Lightweight and great for gigging
All the stands fit into a small bag
Plenty of adjustability
CONS: THINGS WE DIDN'T LIKE
Some drummers may not like how they look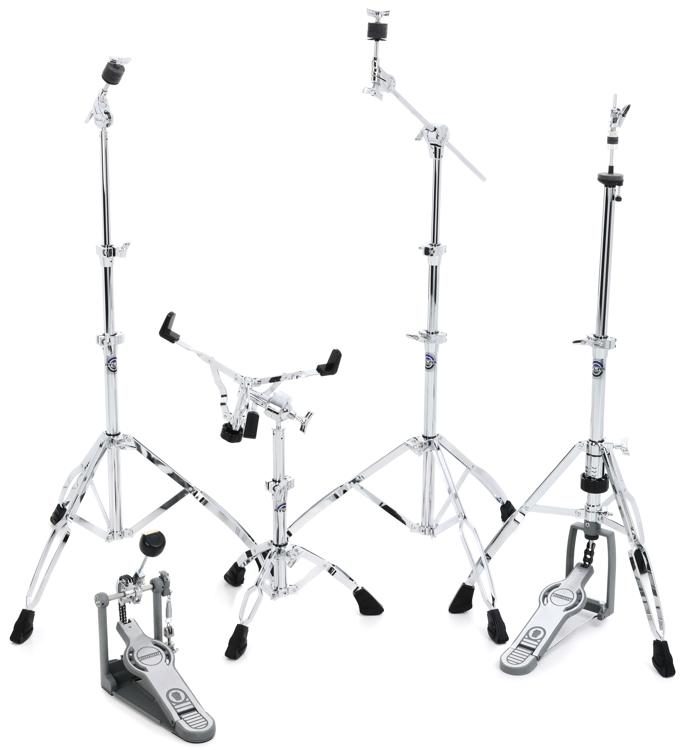 The Atlas hardware pack is a standard heavy-duty hardware pack that is fit for any practice space or studio. It includes all the essentials and features needed in a hardware pack. It has one boom cymbal stand and one straight cymbal stand. It also comes with a snare stand, hi-hat stand, and a kick pedal. 
Ludwig is one of the oldest and most reliable drum companies around. So, a hardware pack with the Ludwig name tells you that it's going to be good. Each stand can be adjusted in several ways, allowing you to have a customized and comfortable setup. 
The hi-hat stand doesn't have as much adjustability as some would like. You can't raise or lower the height of the pedal. However, most drummers won't be affected by this.
PROS: THINGS WE LIKED
Heavy and sturdy
Reliable
Lots of adjustability
CONS: THINGS WE DIDN'T LIKE
Hi-hat stand isn't as adjustable as some would like
What is the best drum hardware?
The best drum hardware will be equipment that caters to your needs. There are different types of hardware packs that are meant for specific situations. There are also hardware packs that work well across all situations. They just don't work as well as the hardware that is specifically designed for one thing. 
If you travel and gig often, the best hardware for you will be lightweight and easy to carry around. If you have a drum setup that never leaves your practice space, the best hardware for you will be heavy-duty. 
Which brand of drums is best?
There are several brands of drums. Drum companies have been around for a long time and there is a fair bit of competition between them. There is no single best drum brand. However, there are some top ones that are popular amongst drummers. These brands include Yamaha, DW, Pearl, Tama, PDP, Mapex, and Sonor. 
Each drum company offers products in different price ranges that cater to all levels of drummers. The best drum company for you will become a personal choice that other drummers may not agree with. 
How do you store drum hardware?
Drum hardware gets stored in bags or cases. There two main types of hardware storage products. These are soft and hard cases. Soft cases are lighter to carry but don't offer a lot of protection when traveling. Hard cases offer secure protection but can get quite heavy. 
There are many companies that sell drum and hardware cases. You'd just need to look around to find some good ones. Some hardware packs even come with their own bags to store the hardware. 
What every drummer should have?

 
There are a few things that every drummer should have. The most important thing would be a drum kit. This is your bread and butter. You will use it to practice on and play gigs with. Along with the drum kit, you'll need a few pairs of sticks. Those are the absolute essentials. Everything else will just make life a bit easier. 
If you're going to gig and travel, you'll need drum bags and a hardware bag or case. This will protect your drums when you're driving around and moving them to different areas. 
Some other things a drummer should have are a practice pad, earphones, and a stick bag. 
Conclusion
Hardware is something that every drummer needs. You can't have a drum kit without hardware, meaning it's important to invest in some high-quality hardware and ensure that it will last a long time. 
If you're going to gig often, get some light hardware. If you have a dedicated home practice space, get some heavy-duty hardware. You could even get both!