Pearl has been a popular drum brand for decades. Even non-musicians associate the name with drums, meaning the company is incredibly well-known. The high quality of their drum sets is the big reason for this. 
Another reason would be the popularity of the Pearl Export set which holds the record for being the most sold drum kit of all time. This feat tells you that the Pearl brand is no joke. So, we're going to look at some of the best kits they have on offer. 
These are Our top Picks Summarised For:
18th October 2021
What Makes a Great Pearl Drum Set?
One of the first things to comes to mind when thinking of Pearl drum sets is the hardware. Pearl makes incredibly heavy-duty and steady hardware and the company even provides that hardware quality in the entry-level kits. This allows drummers to keep the cymbal stands for years without needing to upgrade them. 
Another great thing about Pearl drums is the company's attention to detail. There are so many subtleties in the higher-end kits that separate them from other brands. Lastly, the most important thing that makes a great Pearl kit is the beautiful sound. 
The 5 Best Pearl Drum Sets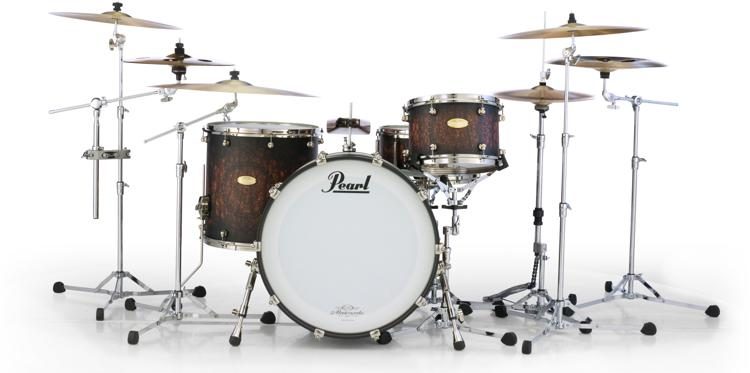 The Pearl Masterworks kit sits right at the top of the Pearl drum kit range. It's the most high-quality kit the company has on offer, making it a highly sought-after drum set. The main points that make this kit so good are the shells, the hoops, and the lugs. 
The shells are made from a mixture of maple and mahogany. While the maple gives the drums a warm and round tone, the mahogany provides a rich-sounding low-end that translates extremely well through microphones. 
The tone of the kit is enriched by the FatTone hoops while the visuals of the kit benefit from the STL swivel lugs. If you ever buy this kit, you'll probably never need to buy another kit again. It sounds incredible in every situation you put it through. 
With that being said, it's incredibly expensive. The shell pack alone costs over $3000. You'd still need to spend more money on cymbals and hardware. However, the high price is justified by the immaculate build quality and tones that are produced. 
PROS: THINGS WE LIKED
Best sounding drum set from Pearl
Extremely high-quality construction
Will last decades
CONS: THINGS WE DIDN'T LIKE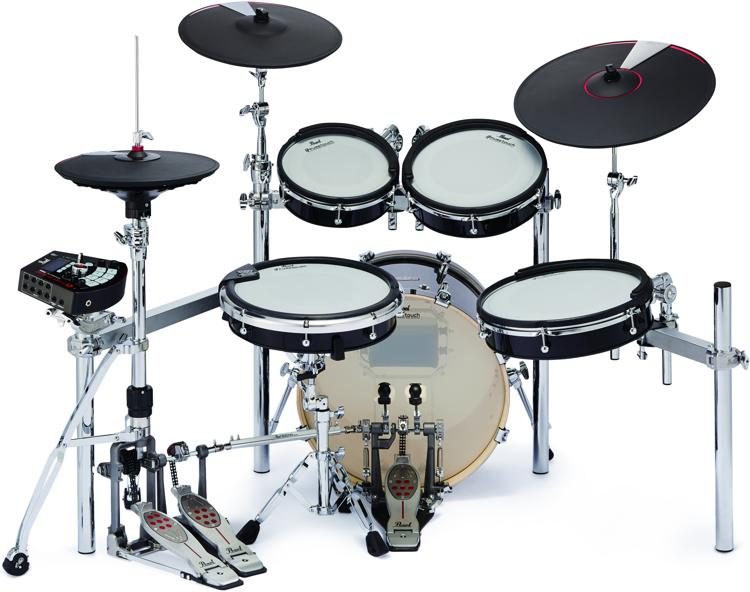 Although Pearl is mainly a manufacturer of acoustic drums, the company has delved into the world of electronic drumming here and there. The Pearl e/Merge kit is Pearl's answer to having an electronic kit that supposedly feels like an acoustic kit. 
There are two things about this kit that arguably put it above any Roland e-kit. The first is the hardware. The kit uses the same standard adjustable hardware that an acoustic kit would use, making it feel incredibly adjustable and secure. 
The second great thing about the kit is the responsiveness of the pads. Electronic pads often feel too bouncy and not reflective of an acoustic drum head. These pads feel very similar to normal drums when playing. 
The drum module has 35 preset drum kits as well as 700 sounds to toy around with. As with all electronic kits, you can make your own kit presets with those sounds. 
With large pad sizes and sturdy lifelike hardware, this kit is a worthy option compared to the higher-tier Roland and Yamaha electronic drum sets. 
PROS: THINGS WE LIKED
Standard sturdy hardware
Authentic feeling drum pads
Hi-hat is mounted on a stand
CONS: THINGS WE DIDN'T LIKE
Difficult to get the hi-hat and drum module to share space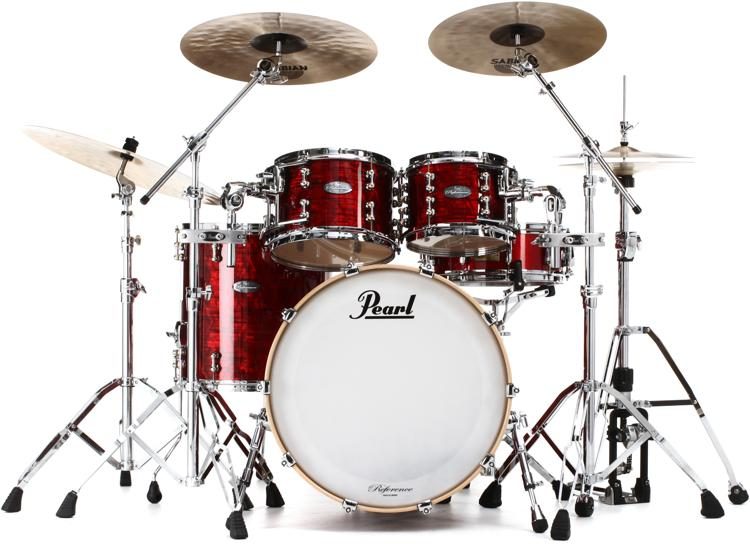 This kit is incredibly unique as all the drums are made up of different wood combinations. The 10" tom has birch and maple, the 12" tom has only maple, the 16" floor tom and 22" kick drum have mahogany and maple. This results in a powerful drum sound that is greatly controlled. 
The controlled tone makes this kit the perfect option for using as a studio drum set. Not as much EQing needs to be done on it as other kits, meaning it's easier to record with. It works well on live stages, but studio environments are its biggest strength. 
We wouldn't be surprised if the hardware of this kit was bulletproof. It's so sturdy, meaning the drums will be so securely locked in place that they wouldn't move even if you fell on them. 
The downsides of this kit are the high price and the fact that the shell pack doesn't come with a snare drum. 
PROS: THINGS WE LIKED
Different mixture of woods creates a unique controlled sound
Great to use as a studio kit
Extremely solid hardware
CONS: THINGS WE DIDN'T LIKE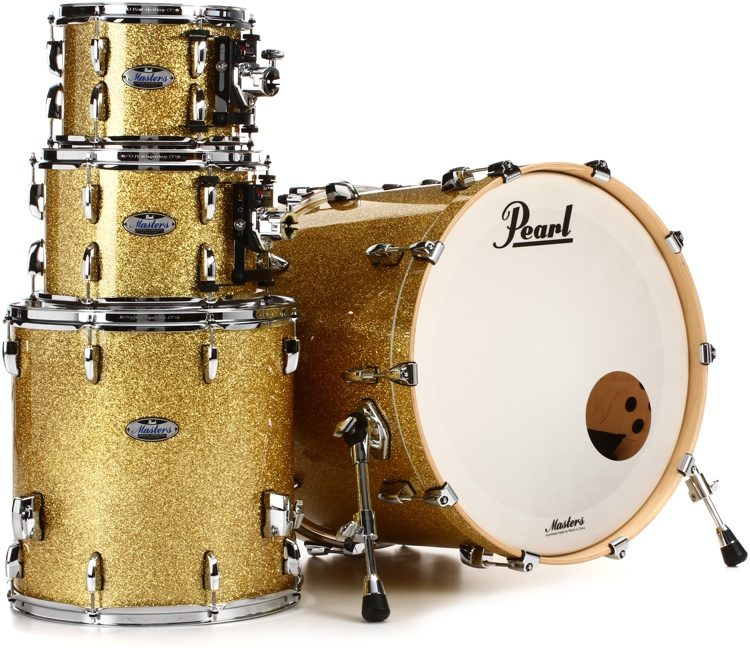 The Masters Maple kit is Pearl's professional drum set that comes at an affordable price. Most people could buy this kit if they saved for a bit and the kit would do a great job in every gigging situation. It's just missing a few luxuries of the top-tier Pearl kits. 
The shells are made from maple and have a warm tone that projects very far. Pair that up with the good amount of sensitivity and you have a musical sounding drum kit. The Optimount suspension system and sleek hardware make the kit look incredible on any platform it's placed on. 
With all the shiny finish options, this kit caters to most drummers on the market. If you're looking for a professional drum kit that won't cost an arm and a leg, this may be the one for you. Similar to the other Pearl shell packs, it doesn't come with a snare drum. 
PROS: THINGS WE LIKED
Professional set at an attainable price
Maple shells pack plenty of projection
Several beautiful finish options
CONS: THINGS WE DIDN'T LIKE
Best Pearl Drum Set for Beginners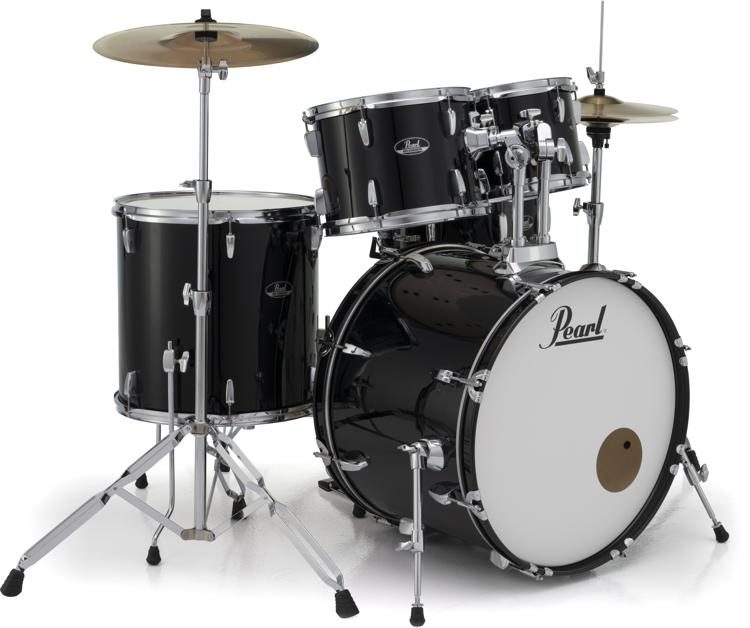 The Roadshow is the most affordable kit that Pearl has to offer. It's designed to be a one-stop shop for beginner drummers and anyone who needs drums, hardware, and cymbals. With regards to sound, it can't be compared to the previous kits as it's nowhere near high-end. 
However, it's a top contender as a beginner kit. The poplar shells sound quite punchy, especially if you replace them with better drum heads. The hardware is also sturdy and will work well for higher-quality kits too. 
The cymbals aren't great. You'd be much better off with a few cheap cymbals from companies like Meinl or Zildjian. 
Overall, it's a great kit for anyone that has just started learning the drums. If you're an experienced player, we'd suggest you look for something better. 
PROS: THINGS WE LIKED
Fantastic for beginners
Heavy-duty hardware
Includes drum throne
CONS: THINGS WE DIDN'T LIKE
Stock drum heads don't sound great
How much is a set of Pearl drums?
There are a wide variety of Pearl drum kits and they all fall under different categories in the buyers market. All the kits that are designed for beginners will range from $250 to $1000 while the intermediate kits will range from $1000 and upwards. 
The highest-quality professional Pearl kits can cost as much as $4000. However, the high price is due to all the customization options. The standard high-quality kits from Pearl typically cost from $2000 to $3000. 
Is Pearl a good drum brand?
Pearl is one of the top drum brands in the world next to Tama, Sonor, DW, Mapex, Yamaha, and Gretsch. They're an incredibly good brand that packs a lot of value into all of their drum kits. 
Most players who use Pearl kits will tell you how happy they are with them. However, you'd need to make sure that you get the right kit for your specific situation, otherwise, you may not be satisfied. 
What is the best Pearl drum set?
The current kit at the top of Pearl's range is the Masterworks kit. It's one of the best-sounding drum kits around. If you're thinking of getting one, you'll need to save up as it's very expensive. 
What is the best drum set brand?
The answer to this question is completely subjective. Some drummers prefer one brand while others prefer another. However, there are a few brands that are popular and mass-produce high-quality kits that are played around the world. These brands are Pearl, Yamaha, Tama, Sonor, DW, Mapex, and Gretsch. 
Some drummers believe that Pearl drums are the best choice out of that list. Others will disagree. The best way to know is to play the drums and make the decision for yourself. 
Conclusion
As you can see from the above list, Pearl is a juggernaut company that makes excellent drum kits for varying types of drummers to play in different scenarios. You'll find high-quality sounds in all the kits from the Masterworks all the way down to the Roadshow. 
If you're thinking of buying a drum kit in the near future, consider getting one of these high-tier Pearl sets. You won't be disappointed!