Meinl cymbals have grown massively in popularity over the past few years. Drummers like Benny Greb, Robert Searight, and Anika Nilles have contributed to boosting their sales. Many drummers love their dry sounds and visual appeals, making Meinl one of the top drum brands around. 
If you're looking around for some new cymbals, Meinl has some fantastic options that may suit your needs. 
What Makes a Great Meinl Cymbal?
Meinl cymbals are known for bringing dry cymbals into popularity. However, they offer hundreds of different cymbals with unique qualities for every situation. Similar to other brands, every one of their cymbals is designed for specific budgets and scenarios. 
Their top line is the Byzance line. Every cymbal in this series is top-quality and used by professionals. They're quite expensive, but highly worth it. 
Meinl's entry-level line is the HCS series of cymbals. These are notorious for being some of the best sounding beginner cymbals on the market. 
From beginner to advanced, every Meinl cymbal is great for the drummers they're designed for.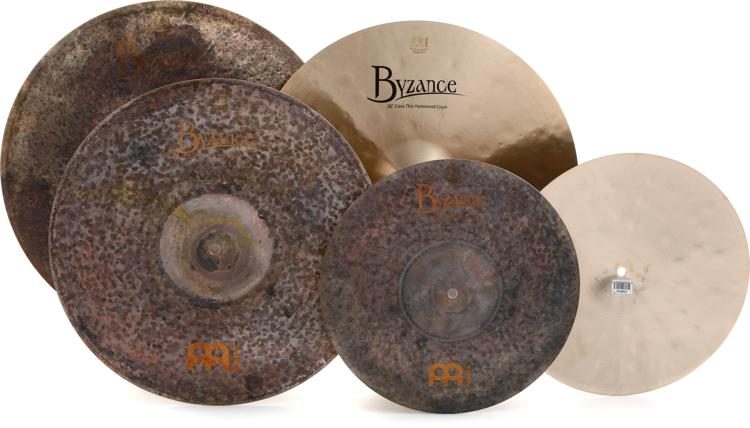 Mike Johnston is one of the leading drum educators in the world at the moment and these cymbals have been specifically picked out to provide a musical array of tones. They're musical and versatile, just like Mike Johnston. 
Included in the pack is a pair of 14" extra dry hi-hats, an 18" extra dry thin crash, a 20" extra thin crash, and a 21" Mike Johnston Transition ride. 
The hi-hats are dark and blend well within a mix without sounding obnoxious. They resemble a shaker sitting within a song instead of overpowering it. The 18" crash is a classic product from Meinl that has an earthy and complex tone. 
Mike refers to the 20" crash as "thunderbutter" because it makes such a powerful sound that is great for finishing off drum fills. The Transition ride is Mike Johnston's signature cymbal with Meinl. It's designed to be versatile and has a beautiful tone. We'll elaborate more on that later. 
Overall, this cymbal pack will work well in many different styles and provides a huge amount of tonal range in one pack. It's fairly expensive, but it's cheaper than buying each one of these cymbals individually. 
For more about the Meinl Byzance Set, check out customer reviews.
PROS: THINGS WE LIKED
Huge tonal range
Versatile sounds
Great value for money
CONS: THINGS WE DIDN'T LIKE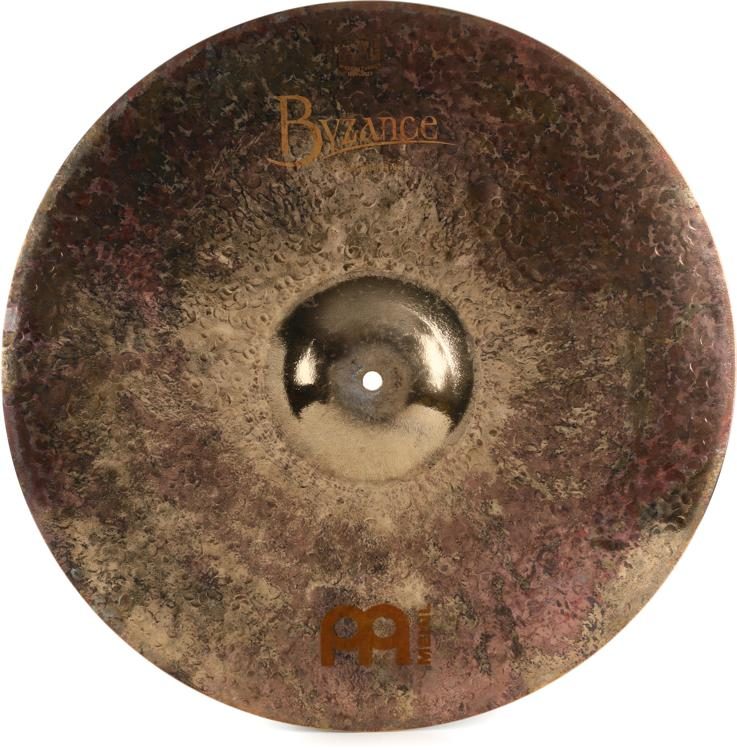 If you were to buy just one product from Meinl, the Transition Ride would be high on the list. As said previously, it's the signature cymbal from Mike Johnston and it's designed to be versatile. 
It has a seriously articulate stick sound that allows you to play all kinds of clear patterns. It also has great wash when you play it near the edge. You can go from playing fast jazz patterns to heavy rock choruses with no problem. 
The bell has a present tone that isn't overpowering, meaning bell-centered grooves tend to sit in a mix and not overpower it. The crash of the cymbal decays fairly quickly, meaning it's not too loud. 
A big benefit to this cymbal is the visual appearance. Its unlathed surface gives a highly complex look that many drummers adore. If you're into that kind of thing then there should be nothing stopping you from getting this cymbal. 
One downside is that it is fairly expensive. The complexity of it makes it not a great option for beginners. 
For more about the Meinl Byzance Ride, check out customer reviews.
PROS: THINGS WE LIKED
Versatile
Articulate stick sound and great wash
Beautiful visual appearance
CONS: THINGS WE DIDN'T LIKE
Expensive and not great for beginners
Best Meinl Hi Hat Cymbals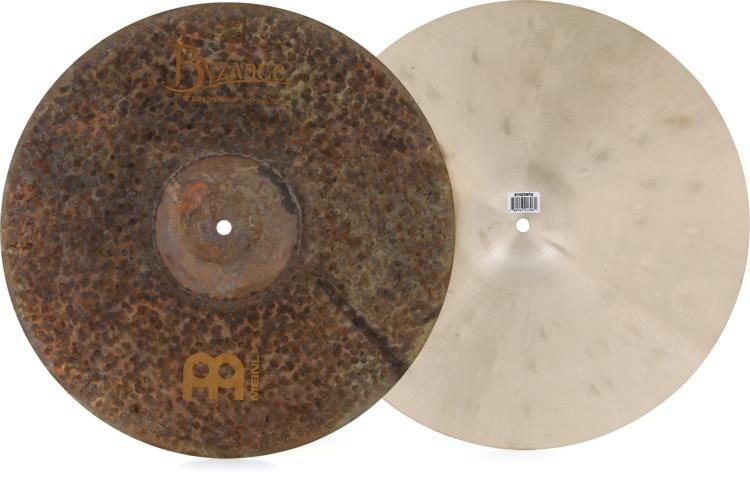 16" hi-hats aren't the most conventional option, but these Byzance Extra Dry Medium Thin hats provide a high-quality sound that can't be overlooked. They're about as dry as dry gets when it comes to cymbals and produce a defined tone that is perfect for grooving. 
They have a lightweight top and heavy bottom, causing them to produce a fat chick sound and have excellent stick response with almost no wash. They provide a nice trashy sound when played open and a solid sound when played closed. 
They're perfect for styles like funk, jazz, and hip-hop as they have a light touch that is great for grooves and improvising. They won't work too well for rock as they're not aggressive enough. 
If you want some giant hi-hats with musical complexity, the extra dry medium thins are ones to look out for. 
For more about the Meinl Byzance Hi Hat, check out customer reviews.
PROS: THINGS WE LIKED
Excellent stick response
Trashy open hi-hat sound
Great for jazz, funk, and hip-hop
CONS: THINGS WE DIDN'T LIKE
Not aggressive enough for rock or metal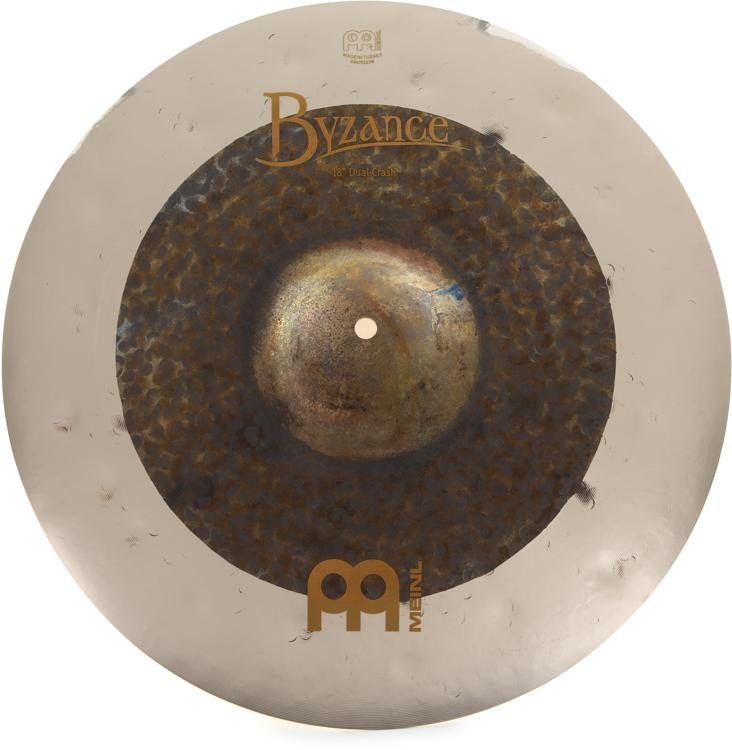 Meinl's Dual series of cymbals are unique in that they combine hammered and lathed surfaces to get a versatile cymbal that has two playing options. This 18" Dual crash can be played as a ride or used for trashy accent hits. 
It has a dark tone with shimmering highs, meaning it will blend in with mixes but start to cut when you hit it really hard. It's fairly quiet with low sustain, making it a great cymbal to pair along with louder options around you. The explosiveness along with the short sustain make this one of the best sounding cymbals you'll hear from Meinl. 
The appearance on the surface will add visual complexity to your cymbal setup. Some drummers will love it, but some may find it too far from the normal look of cymbals. 
Overall, it's a wonderful sounding crash that will work well for any musical style or drummer who uses it. 
For more about the Meinl Byzance Dual Crash, check out customer reviews.
PROS: THINGS WE LIKED
Can be used as a ride or accent crash
Explosive with a short sustain
Versatile
CONS: THINGS WE DIDN'T LIKE
Some drummers may not like how it looks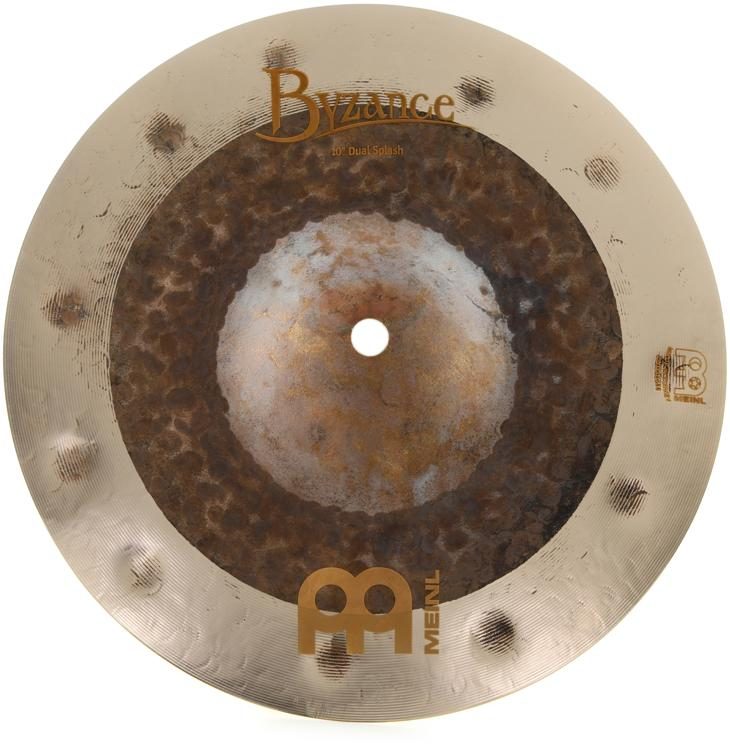 The Meinl 10" Byzance Dual splash has all the tonal qualities of the previous cymbal on the list. However, it comes in a smaller and more explosive package. It has a dual surface that adds tonal complexity and layers of trashiness.
It has a dark tone, but the 10" size means it still has a fairly high pitch. You'll find that it's the splash cymbal of choice for almost every Meinl artist that uses splashes. This tells you that it's loved by many drummers. 
The low volume causes it to blend well within drum fills and add a subtle accent when played. The crispiness of it also works well in several musical styles. 
One great aspect of it is that it works wonders when stacked with other cymbals. If you're a drummer who likes making stacks, the dual splash will add great tone to them.
For more about the Meinl Byzance Dual Splash, check out customer reviews.
PROS: THINGS WE LIKED
Complex tones
Loved by many drummers
Blends well within drum fills
CONS: THINGS WE DIDN'T LIKE
What is the best brand of cymbals?
This is a debated topic that will never have a solution. Every cymbal brand has qualities to it that different drummers love, meaning opinions will differ from drummer to drummer. There are certainly some brands that are more popular than others including Meinl, Zildjian, Paiste, and Sabian. 
Meinl and Zildjian are very good at using social media to advertise their products, making them a popular choice for many younger drummers. 
What cymbals are best for rock?
Rock is a heavy style of music that requires hard playing and frantic energy. To play this style, you need cymbals that will reflect the energy you put in. The best cymbals for rock are ones that are heavy, durable, and have a bright sound. 
The heaviness means they'll be loud and the brightness will cause them to cut through mixes of distorted instruments. Their durability will stop them from breaking after hard hitting.
Are Meinl HCS cymbals any good?
Meinl's HCS cymbals are specifically designed to be entry-level cymbals for beginners. They're highly affordable and are included with a lot of entry-level drum kits. They're great for what they are. They also have a reputation for sounding better than any other entry-level cymbals. 
However, they're not good for intermediate and pro drummers. 
What are the best hi-hat cymbals?
The best hi-hat cymbals for you would depend on your specific situation. If you're a rock drummer, you'll need bright and heavy hi-hats like the Meinl Classics Custom Dark series. If you're a jazz drummer, you'll need musically complex hi-hats like the Byzance Extra Dry series. 
Conclusion
You can't go wrong with Meinl cymbals. Most of their products have striking visual appearances that will make people look twice when you're playing on a stage. The vintage aesthetic is very popular these days. 
Pair your new cymbals up with some great drums and you'll be set.