When talking about the best cymbal brands, Paiste is a name that will come up every single time. Next to Zildjian, Meinl, and Sabian, Paiste cymbals are loved by a vast majority of drummers. They're a Swiss company that has been in the cymbal making game for over a century. Although they're not as accessible as the other cymbal brands, they're still sold in most music stores around the globe. 
What Makes a Great Paiste Cymbal?

The thing that makes a great Paiste cymbal would be the same thing that makes every other cymbal great. It should fit your situation and you should love the sound. Paiste has several lines of cymbals for each budget and style. This means they have several great cymbals to choose from for beginners and advanced players, for jazz drummers and rock drummers. 
There are some Paiste cymbals such as the 2002 series that are highly famous for what they are.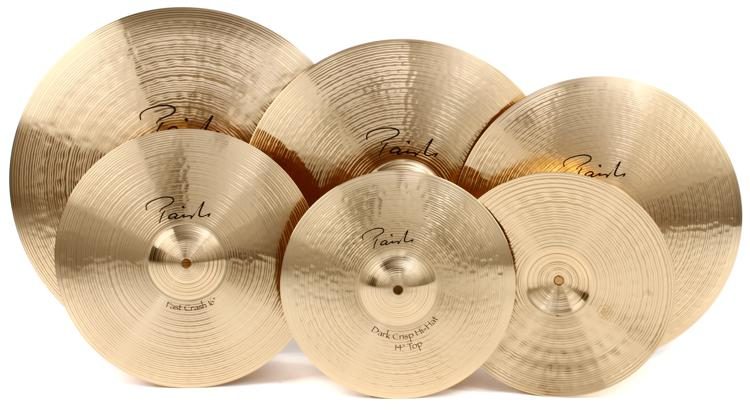 Although this is one of the most expensive cymbal sets on the market, it's highly worth every penny. The Paiste Signatures have been the front cover cymbals for Paiste for many years. These cymbals are bright, loud, and have extremely high build-quality. 
Included in the set is a pair of 14" Dark Crisp hi-hats, a 16" fast crash, 18" and 20" full crashes, and a 22" full ride. 
The 14" hi-hats add some tonal variety to the set with their dark character. They're extremely versatile in their sound, working well for jazz and rock settings. They have great wash and tight stick articulation. 
A highlight of the package is that it comes with 3 crash cymbals whereas a standard cymbal pack usually comes with 2. The 16" fast crash is no slouch, providing a powerful tone that is great for accents. The 18" and 20" crashes complement each other with their tone intervals and both feel great to play on. The 20" crash could be used as a ride if you wanted to have a lighter sound. 
The 22" full ride has a heavy sound with wonderful definition, extreme clarity, and great sustain. It's a full-on rock ride, ready to take a hard beating. 
Overall, these cymbals are great for any rock or pop drummer. They're well worth the price that they come at. However, it is high so you may have to save a little. 
PROS: THINGS WE LIKED
5 cymbals in one purchase
Bright sound that is great for rock and pop
Hi-hats are versatile
CONS: THINGS WE DIDN'T LIKE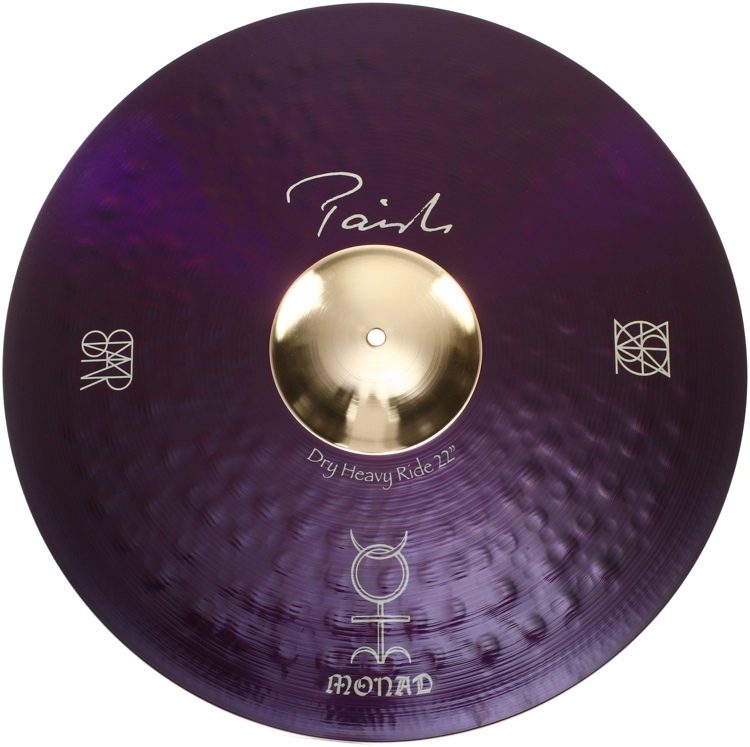 The Paiste 22" Signature Series Dry Heavy ride is a cymbal that was designed for Danny Carey, the drummer for Tool. The purple finish of this cymbal is the first thing that every drummer will notice when they see it. It's unconventional, but it will add character to your cymbal setup. 
It has a heavy attack that is bright with a complex washy sound. All these characters make it one of the best sounding ride cymbals on the market. It's extremely bright and cutting, meaning it will be heard in every heavy mix you throw at it. 
The bell has a fantastic ping sound and feels great to play on. Danny Carey plays a lot of intricate bell patterns for his band, so you can imagine how the bell on this cymbal performs. 
This ride cymbal is extremely heavy which may be a downside for many drummers. However, it's perfect for hard-hitters or anyone wanting a huge ride sound. 
PROS: THINGS WE LIKED
Great for rock
Complex tone
Fantastic bell
CONS: THINGS WE DIDN'T LIKE
Best Paiste Hi Hat Cymbals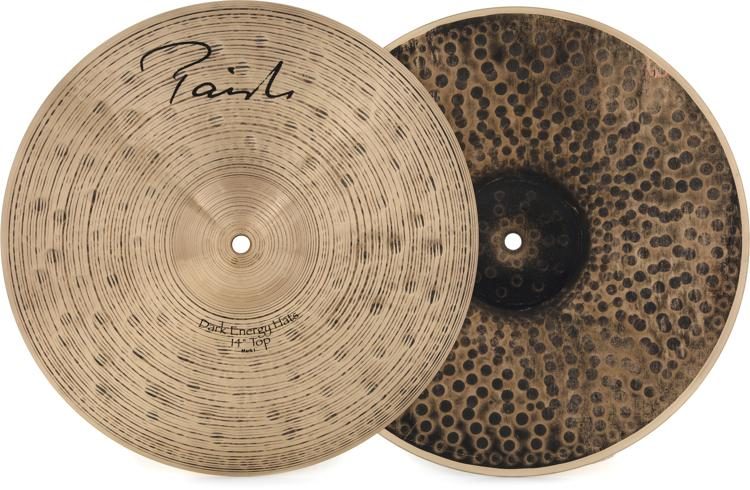 The Paiste 14" Signature Dark Energy hi-hats will make everyone envious of you when you play them. They sound so good in live situations and studios that any drummer will love them. 
They have a complex dark tone with a fairly smoky wash. They sit in a mix, meaning they're great for deep pocket grooves. The complex tone means you get a different sound depending on where you hit. This unlocks a lot of tonal possibilities. 
Although they're dark and complex, they still pack a fair bit of projection, meaning you don't have to hit too hard to get a loud sound. They also won't get completely lost in a mix. 
If you want some of the absolute best sounding hi-hats on the market, these are the ones for you. Unfortunately, they're also the most expensive hi-hats on the market, so you'll be spending a good amount.
PROS: THINGS WE LIKED
Complex dark tone with smoky wash
Great for funk and jazz
Great projection for dark cymbals
CONS: THINGS WE DIDN'T LIKE
Best Paiste Crash Cymbals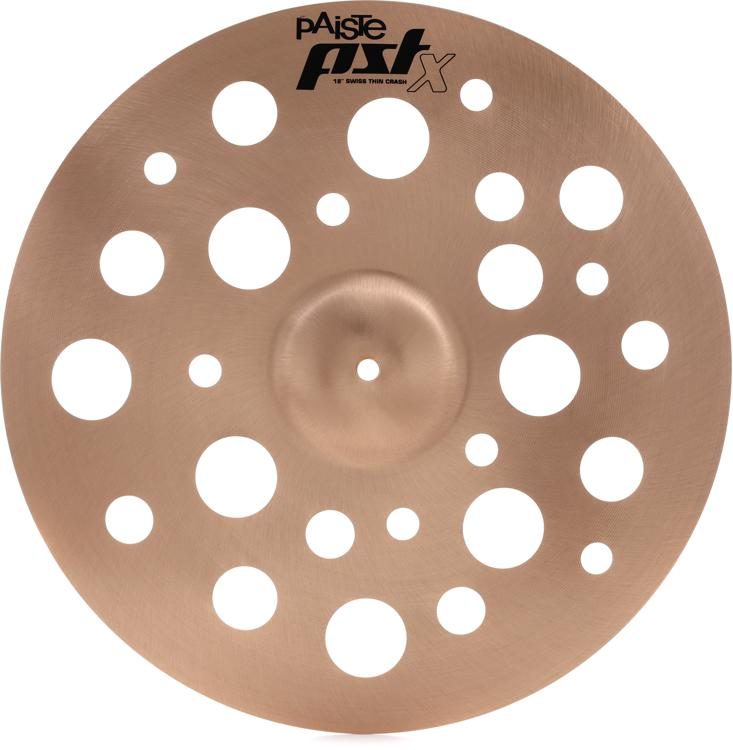 The Paiste 18" PST X Swiss Thin crash is a great option for adding variety to your cymbal setup. It's a crash cymbal with several holes drilled into it, causing it to produce a trashy sound with minimal decay. 
It's dynamically responsive, having a consistent sound from soft to loud. The sound is similar to a china. However, this crash is more versatile and will work in many more situations. 
The standout point with it is the price to value ratio. There are many trash crashes on the market that are priced way higher. The PST X Swiss Thin has a similar sound, yet is highly affordable. It's a great buy for anyone needing that trashy tone. 
PROS: THINGS WE LIKED
Adds variety to your cymbal setup
Very affordable compared to other trash crashes
Consistent tone when played loud or soft
CONS: THINGS WE DIDN'T LIKE
Not a great option to have as your only crash cymbal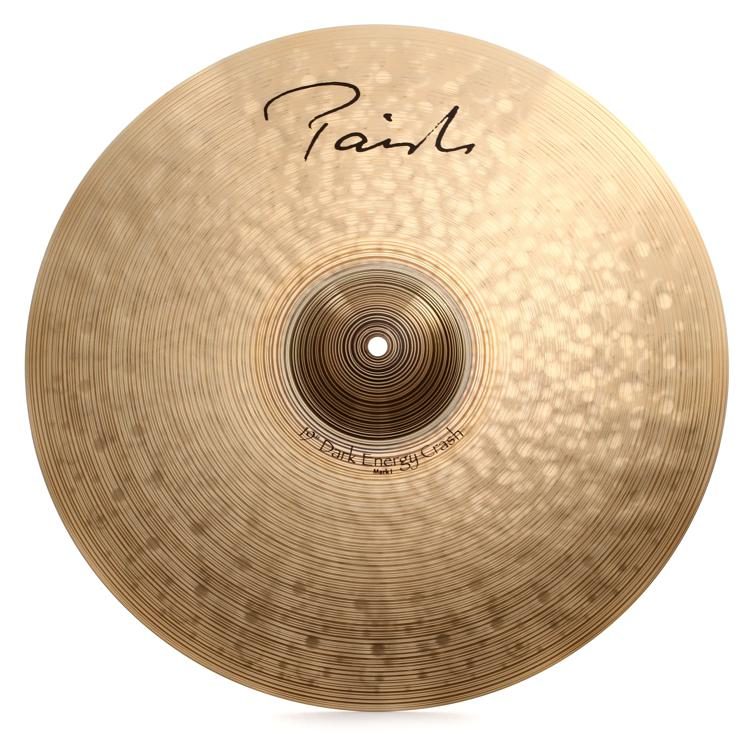 As said previously, the Signature Series is one of Paiste's top cymbal lines. The Dark Energy crash is a light cymbal that is extremely versatile in its applications. 
It has a silvery wash and a long sustain, making it a great cymbal for adding unique textures to drum fills and grooves. It also works wonderfully with mallet rolls and cymbal pings.
It can double up as a second ride cymbal option, especially in jazz settings. This is thanks to its articulate bell and smooth tone when played on the surface. Although it's light, it's highly durable and can take a good beating from a drum stick. 
Overall, it's a great musical cymbal that will work wonders in any setup. Following the trend of most other Paiste cymbals, it's fairly expensive. 
PROS: THINGS WE LIKED
Versatile tones
Great for mallet rolls
Can also be used as a ride cymbal
CONS: THINGS WE DIDN'T LIKE
What are the best cymbals for jazz?
Jazz drumming is intricate and requires cymbals with a dark and complex musical tone. The more washy the cymbals, the better suited they are for the style. However, too much wash on a ride cymbal means you won't hear the swinging patterns. So, you have to find a middle ground. 
From the above list, the best Paiste cymbals for jazz would be the 14" Signature Dark Energy hi-hats and the 19" Dark Energy crash. 
What are the best cymbals for church?
The cymbal sound required in church is very similar to the sound required for jazz. Church music has a lot of open spaces with pads being played in intimate moments. The best cymbals to benefit the situation would be dark and washy cymbals. You'll find that a lot of church drummers use huge cymbal sizes. 16" hi-hats and 20" crash cymbals are fairly normal. 
Why are Paiste cymbals so expensive?
The biggest reason is that taxes in Sweden are very high. Combine that with the US dollar exchange rate and you've got yourself some expensive imports. However, another reason is that the cymbals are all made with superb manufacturing tactics. They come out as some high-quality products, adding to the overall prices. 
What are the best sounding hi hats?
The 14" Dark Energy hi-hats aren't just the best sounding Paiste hi-hats. They're arguably some of the best sounding hi-hats across every brand. They have such an amazing tone that every drummer would benefit from them. 
Conclusion
As you can see from the above list, Paiste makes some seriously high-quality cymbals. Although they don't produce as many cymbals as the competing brands, they're still considered one of the top 4 cymbal brands in the world.
That's really impressive. So, if you're looking around for some cymbals, consider getting some Paiste ones. They mainly produce products for rock and metal drummers. However, there are some great products that will work for everyone.