Rock drumming is arguably the most famous type of drumming. The thought of bashing and grooving along to some Led Zeppelin is what got a lot of people to start playing the drums. 
Although rock music isn't as popular as it used to be, there are still many bands that are thriving in the rock scene. So, if you're in a rock band, you're going to need some decent cymbals to fit the bill. 
What Makes a Great Cymbal for Rock?
Rock music is filled with high-energy playing and hard-hitting.
Great cymbals for rock will be durable, allowing you to hit them hard for extended periods of time. Heavier cymbals usually fare better in a rock setup because they tend to be louder.
When it comes to cymbal tone, brighter cymbals add best to the style since they cut through mixes easily. 
The Best Cymbals for Rock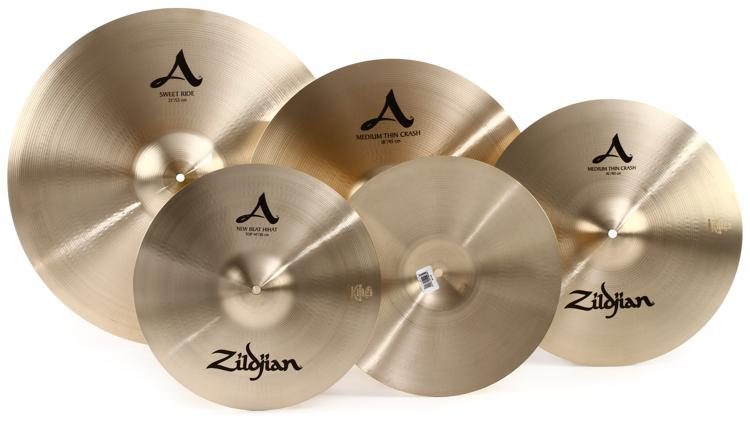 This Zildjian A cymbal set is a one-stop-shop for all your rock drumming needs. The pack includes a pair of 14" New Beat hi-hats, 16" and 18" medium thin crashes, and a 21" Sweet ride. 
Every one of these cymbals sounds bright and crisp. They have a bright tone that sings when they're played. Full of articulation and musicality, these Zildjian A cymbals are perfect for rock drumming. 
The 21" Sweet ride has great wash on it, meaning you can crash ride to your heart's content. The medium thin crashes provide a smooth tone that is great for accenting as well as playing constantly in choruses. The New Beat hi-hats are the standout feature of the pack, providing the high-quality that New Beats are so famous for. 
If you need to buy all your cymbals in one place and at one time, look no further than the Zildjian A cymbal set. 
The 18" crash tends to sound like a gong when hit very hard. Some drummers may not like that.
For more about the Zildjian A Cymbal Set, check out customer reviews.
PROS: THINGS WE LIKED
Full set of cymbals with one purchase
All the cymbals sound bright and crisp
Articulate and musical
CONS: THINGS WE DIDN'T LIKE
18" Medium Thin crash sounds like a gong when hit very hard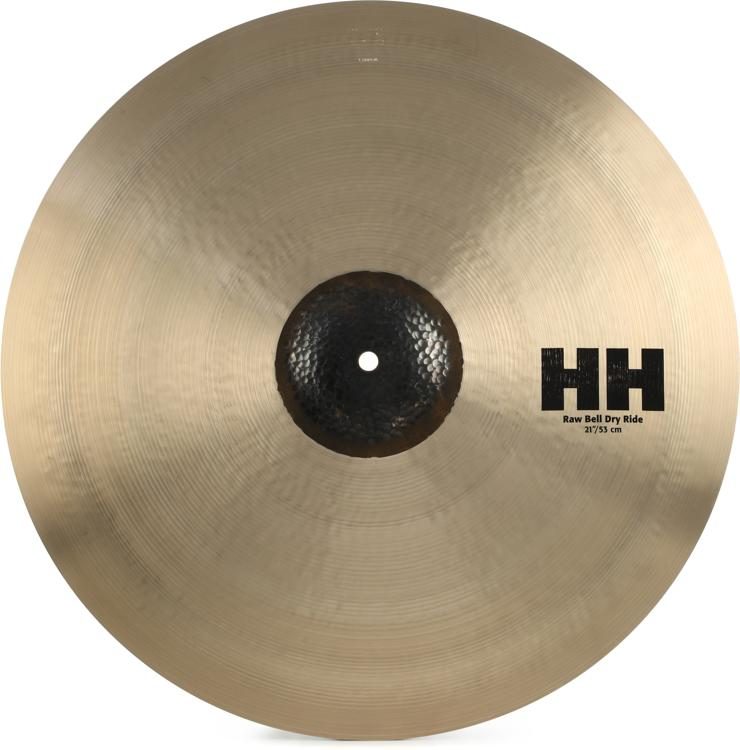 The Sabian 21" HH Raw Bell Dry ride is one of Sabian's high-end ride cymbals. It provides a vintage tone that will bring you back to bands like Led Zeppelin, Iron Maiden, and Journey. This is combined with a modern projection that is needed in the cymbals of today.
This cymbal has a bright and defined ping that cuts through mixes with relative ease. It also has a warm wash when played near the edge, giving you the best of both worlds. 
The standout feature is the unlathed bell. It produces a cutting tone that makes it a great option for rock drumming. 
Overall, this cymbal is a great option for a rock drummer. It has a versatile sound that will make it fit in softer styles of music as well. The one downside is that it is quite pricey.
PROS: THINGS WE LIKED
Versatile
Define ping and warm wash
Unlathed bell produces a cutting tone
CONS: THINGS WE DIDN'T LIKE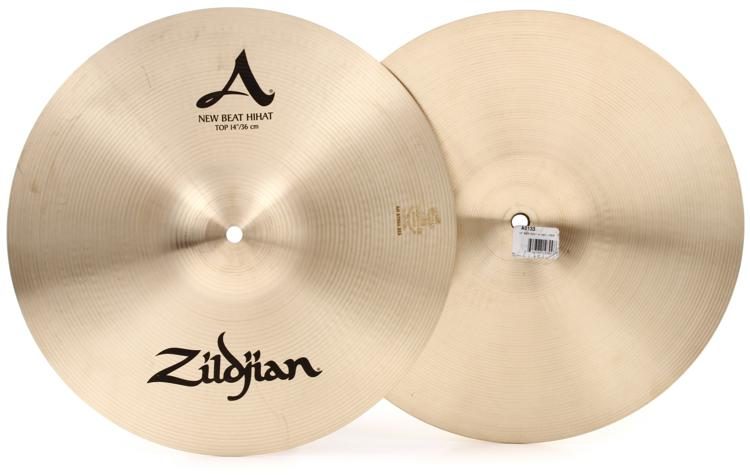 The Zildjian A New Beats are arguably the most popular hi-hats on the market. They've been around for decades, with Zildjian constantly adding subtle improvements over the years. The reason they're so popular is that they're highly versatile. 
These hi-hats produce a crisp chick that is bright and cutting. They also deliver a great sound when played open which tends to blend in a mix instead of overpowering it. They have a heavy bottom hat and a medium top hat. This mixture of weights is what makes the chick sound so distinct. 
Overall, they're a great pair of reliable hi-hats that will fit perfectly in a rock setup. 
For more about the Zildjian New Beat Hi Hat, check out customer reviews.
PROS: THINGS WE LIKED
Versatile
Define ping and warm wash
Unlathed bell produces a cutting tone
CONS: THINGS WE DIDN'T LIKE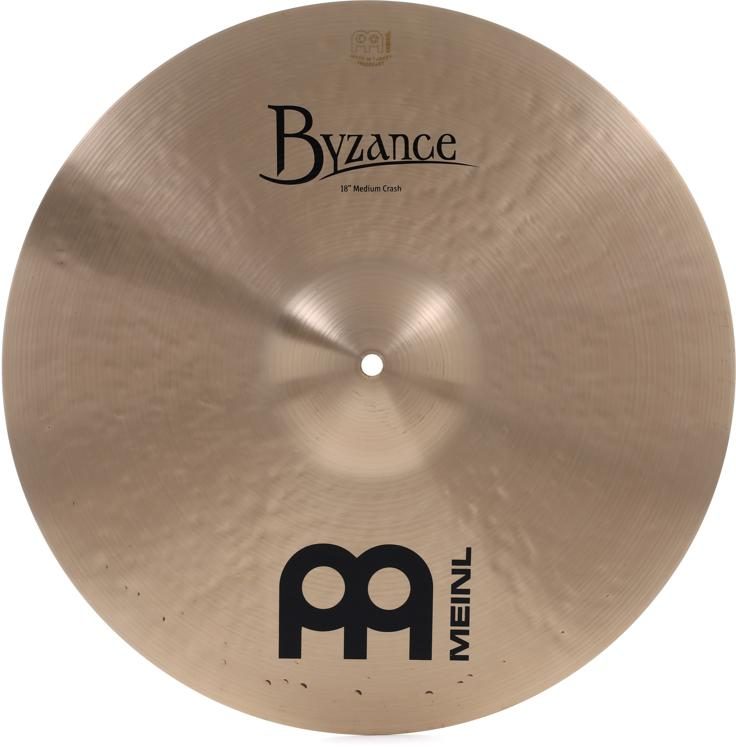 The Meinl 18" Byzance Traditional Medium crash is one of the loudest medium-weighted cymbals around. It has a lot of warmth with a traditional cymbal sound, making it perfect to use as your main crash cymbal. 
It responds extremely well to dynamics, giving you a full tone when played softly and an explosive accented tone when played hard. It truly makes a huge impact when played on a rocking stage. 
It's fairly versatile, allowing you to use it with many styles of music. It sounds especially great when rolling with mallets. However, the reason we've put it on this list is because of the over-the-top crash it makes when hit hard. Perfect for rock! 
The fact that it's medium-weighted means it may crack if you don't use good cymbal-hitting technique. 
PROS: THINGS WE LIKED
Makes a huge impact when hit hard
Versatile
Traditional sound
CONS: THINGS WE DIDN'T LIKE
May crack with bad cymbal technique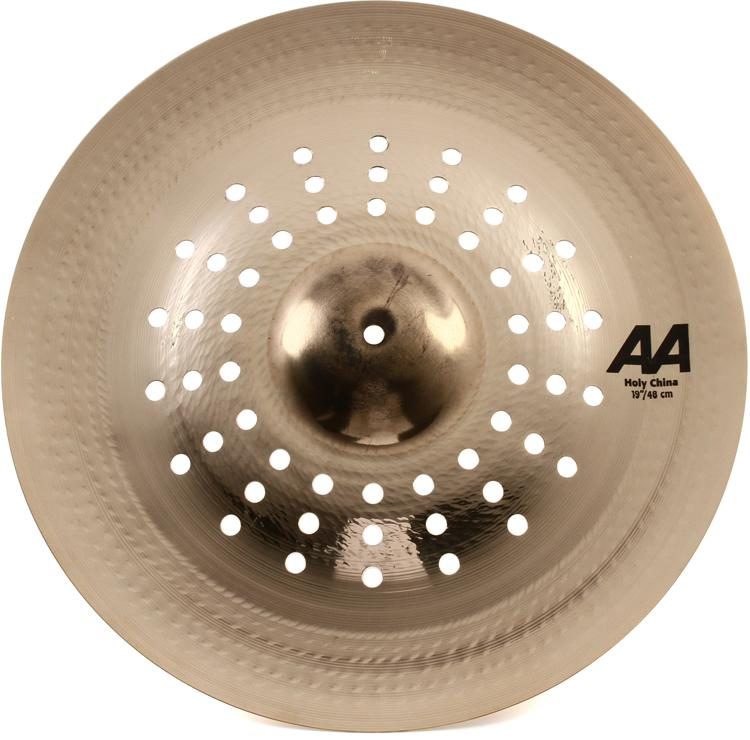 The Sabian 19" AA Holy china is advertised as being one of Sabian's loudest cymbals. Perfect for rock music! This china has 51 small holes, a raw bell, and a wide lip to hit your stick on. It was designed with the help of Chad Smith, the drummer for The Red Hot Chili Peppers. If you've heard Chad Smith, you'll know he's a hard-hitter. 
This china has an explosive sound that is very trashy. It's extremely bright, meaning it will cut through a mix with absolute ease. In a rock context, this cymbal will be great for when you need to make a huge statement on stage. 
It doesn't respond too well to dynamics, making it only good for loud playing. However, that's generally all that chinas are used for in rock setups. 
For more about the Sabian China, check out customer reviews.
PROS: THINGS WE LIKED
Very loud
Explosive sound
Cuts easily through a mix
CONS: THINGS WE DIDN'T LIKE
Doesn't respond well to dynamics
What are the best cymbals for rock?
A typical rock setup will consist of a pair of hi-hats, 2 crash cymbals, and a ride cymbal. Some rock drummers like to use a china cymbal, which is why we added that to the list above. 
In terms of cymbal properties, the best cymbals for rock will be bright and heavy. These cymbals will make an impact on stage and support the music by adding depth to the aggressive sound. 
A great ride cymbal for rock should be able to be crashed on. This will provide you with a deep sound option when you want to crash on a heavy chorus. 
What is the best Zildjian cymbal line?
Zildjian have been in the cymbal making game for a seriously long time. They've made several different lines of cymbals, each with unique qualities to offer. Zildjian's top-of-the-range cymbals mostly fall within the K and K Custom lines. Some of the K cymbals are especially good for rock music. 
However, this is subjective to whoever is playing the cymbals. One line of cymbals won't be as good as another for certain styles of music. 
What is the best brand of cymbals?
There are several cymbal brands to go along with all the drum brands. The top players in the cymbal world are Zildjian, Sabian, Paiste, and Meinl. Each of these companies offers high-end cymbals as well as budget cymbals. You'll find that no drummers agree on which brand is the best. It all comes down to personal preference. 
Other smaller cymbal brands would be Soultone, Istanbul, TRX, Anatolian, and HeartBeat. 
Which is better Zildjian or Sabian?
This is a great debate that will keep going for years to come. Zildjian and Sabian have been the two most popular cymbal companies for decades. Zildjian cymbals are slightly more popular in recent times thanks to Zildjian's social media marketing. However, Sabian is still going strong and bringing out new and innovative products. 
We can't say which one is better, but you can decide which works better for you. 
Conclusion
Cymbals are one of the best investments you will make as a drummer. It's easy to make a cheap drum kit sound good. You can't change the sound of cheap cymbals. A high-quality set of cymbals will boost your drum sound.
Check out my guide for the best cymbals for metal. 
If you're playing rock music, get yourself some bright and heavy cymbals. They will be a great investment that will keep you playing them for years.