Best Drum Sets Under $1000
Drum kits have a reputation for costing a lot of money. It's something that chases away people who are thinking about learning. However, that doesn't have to be the case. There are some highly affordable drum kits out there that sound really good. In this article, we're going to look at some great kits that are under $1000. 
These are Our top Picks Summarised For:
19th October 2021
What To look for in a Drum set Under $1000?
A great drum set is going to be one that will last a long time. Drums are an investment, so it's good to get one that won't break or rust. You'll be playing on it a lot, so it needs to be durable. 
Another thing that makes a great drum set is the sound. It needs to sound good. More expensive drum sets are going to sound better. It all depends on what type of wood it's made from and the quality of the shells. As an adult, you need to decide what your budget is and get the best sounding drum set that you can afford.
. 
The 5 Best Drum Sets under $1000
Gretsch has been making drums for decades. They have some really good kits ranging in prices. This Catalina is a shell pack that includes a 14" snare, 8", 10" and 12" rack toms, 14" and 16" floor toms, and a 22" kick drum. 
The fact that you're getting 7 drums for under $1000 makes this a really good deal. The maple shells make the drums sound very musical, being able to fit in with many different styes of music. 
The rack toms have great resonance while the floor toms and kick drum have a lot of depth. The snare cracks and sounds great when tuned low or high. 
The great thing about 7 piece kits is that they give you different setup options. You could set the whole thing up and have a big drum kit, or you could choose which tom sizes you want for a smaller setup. 
The stock drumheads aren't great though, and it will cost a fair bit to replace all of them.
For more about the Gretsch Catalina, check out customer reviews.
PROS: THINGS WE LIKED
Musical tone
7-piece kit gives you many setup options
Great for studio recording
CONS: THINGS WE DIDN'T LIKE
Stock drumheads aren't great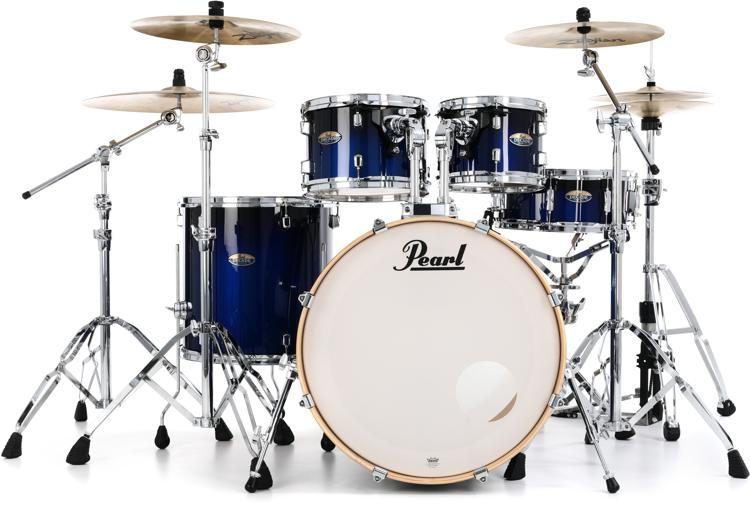 The Decade Maple is one of Pearl's intermediate kits that offers a lot of professional qualities. This shell pack comes with a 14" snare, 10" and 12" rack toms, a 16" floor tom and a 22" kick drum.
The maple shells are very responsive, giving you a musical tone that works well with loud and soft dynamics. 
The toms can be quite difficult to position. However, the kit feels great once you're comfortable.
The highlight of this drum kit is the snare drum. It has a tight sound that sounds especially great when playing rimshots.
If you're looking for an intermediate kit that sounds great at live gigs and in a recording studio, the Pearl Decade Maple is a good choice. 
For more about the Pearl Decade, check out customer reviews.
PROS: THINGS WE LIKED
Great snare drum
Good for live and studio
CONS: THINGS WE DIDN'T LIKE
T Toms are difficult to place nicely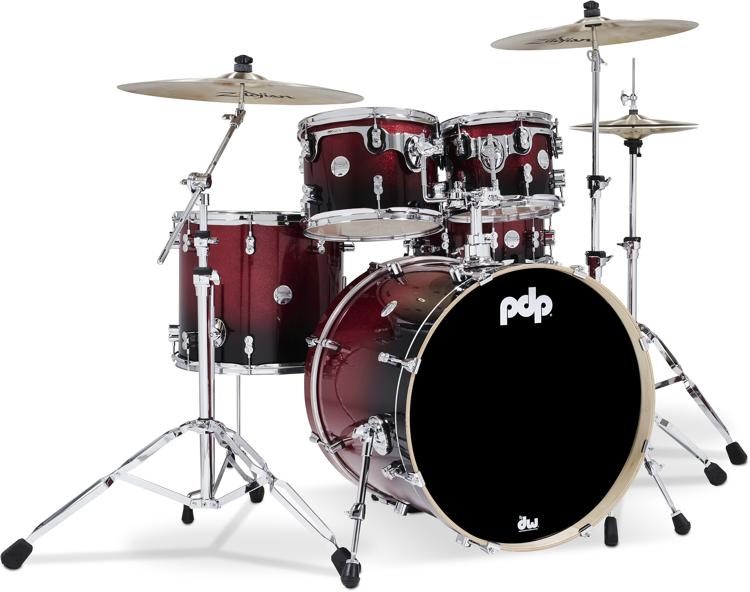 The PDP Concept Maple 5-piece is a kit that is designed by DW. The shell pack includes a 14" snare drum, 10" and 12" rack toms, a 16" floor tom, and a 22" kick drum. 
With this kit, you get DW quality construction at an affordable rate. DW is known for making nice expensive kits and PDP is their branch of affordable kits. 
The toms have a very quick response, not having too much resonance. The kick is beefy and makes you feel it in your body every time you play it. 
The best part of this kit is the snare drum. It utilizes DW's MAG throw-off, making it easy to turn the snares on and off between songs. It has an aggressive sound that cuts through music very easily. 
PDP Concept Maple kits have many different finish options. So, you can choose your favorite color and have it on your drum kit. 
For more about the Pdp Concept Maple, check out customer reviews on Amazon.
PROS: THINGS WE LIKED
Fast responsive toms
MAG throw-off on snare drum
Affordable
CONS: THINGS WE DIDN'T LIKE
Best Electronic Drum Set Under $1000
Roland is at the very top of the electronic drum kit game. However, most of their good products are quite expensive. This is where the TD-1DMK comes in. They designed it to cater to drummers who want a high quality e-kit without paying too much money. It's affordable because it has a simple layout.
The drum module has 15 preset kits and 15 play-along tracks. That's it. It doesn't have any fancy features to play around with. It's designed to be a simple practice kit that drummers of all levels can use. All the drums have mesh heads, making them feel like real acoustic drums. The mesh heads will help you keep good technique when switching from an acoustic to an electric drum kit. 
If you need a great sounding and feeling drum kit, the TD-1DMK is a great choice. It's the perfect practice option for someone who lives in an apartment and can't make a big noise. You can plug headphones in and jam all day.
It comes with everything you need except for a bass drum pedal. You'll have to buy one of those separately. 
For more about the Roland Td-1DMK, check out customer reviews.
PROS: THINGS WE LIKED
Mesh heads
Great for not making noise
Good practice tool
CONS: THINGS WE DIDN'T LIKE
Doesn't come with a bass drum pedal
The Tama Imperialstar is a great budget option. It comes with drums, cymbals and hardware all in one package. It includes a 14" snare drum, 10" and 12" rack toms, a 16" floor tom and a 22" kick drum. It also includes a pair of 14" hi-hats, a 16" crash cymbal and a 20" ride cymbal. The cymbals are from Meinl's HCS line. 
The shells are made from poplar which is an inexpensive shell used in a lot of entry-level drum kits. The drums have a full-bodied tone with a quick decay. They can be easily tuned, allowing beginners to learn about tuning drums. 
The Meinl HCS cymbals are quite harsh sounding and ring for a long time. They're perfect for beginners. However, more experienced players won't like them. 
The included cymbals and hardware make this kit a great option for someone buying a drum kit for the first time. 
For more about the Tama Imperialstar, check out customer reviews.
PROS: THINGS WE LIKED
Comes with cymbals and hardware
Can be tuned easily
CONS: THINGS WE DIDN'T LIKE
Cymbals aren't great for experienced drummers
Which is the Best Drum Set for the Money?
The best drum set for the money from the above list would probably be the Roland TD-1DMK. Electronic drum kits can get really expensive, especially when they have mesh heads. The TD-1DMK is one of the best affordable e-kits on the market and it works well for beginners and professionals alike. 
If you want to get a great drum kit for what a huge bargain, the Roland TD-1DMK is a great option.
Which is the Best Drum Kit for a Beginner?
The best drum kit for beginners from the above list is the Tama Imperialstar. It comes with drums, hardware and cymbals. It has everything you need to get playing straight away. Beginner drummers are usually buying a drum kit for the first time. So, it's great that it has everything you need whereas the other kits on the list only have drum shells. 
Which is the Best Drum Kit for an Intermediate Player?
The best drum kit for intermediate players would be the PDP Concept Maple. It has many advanced build qualities for an affordable price. You will commonly see this kit being used in many professional situations. The Maple tone from the drums will allow intermediate players to have a great sound and express themselves. 
If you want some more options, here's our list of some of the best intermediate sets. 
How Can I Make Cheap Drums Sound Better?

There are a few things you can do to improve the sound of a drum kit. The first thing to look at is the drumheads. Most cheap kits come with low quality heads. If you replace the heads with some high quality ones from dedicated drumhead companies like Evans or Remo, the sound will improve drastically. 
The next step would be to add muffling. Cheap drums tend to have harsh overtones. If you put tape on the drums, the overtones will go away. 
Once the drums sound good, you should look at the cymbals. Cheap cymbals are usually made of brass which doesn't sound great. It's actually more important to have good cymbals rather than a good drum kit. You can't do anything to improve the sound of a cymbal, so you'll need to invest in some good ones. 
Conclusion
As you can see from this list, you don't actually have to spend a lot of money to get a great drum kit. Many companies design kits to be affordable and practical. With a bit of muffling, tuning and tweaking, all drum kits can sound great. Cymbals are where you need to spend a fair bit of money. 
So, go and buy yourself a great kit, even if you're on a budget!