How Much does a Drum Set Cost?
From Beginners to Professionals
Playing music can be an expensive hobby. Instruments tend to cost a fair bit the higher their quality. Drum kits are no exception, having many kits on the market that will definitely break your bank. However, there are many drum kits that are affordable and designed to deliver a great sound. 
We categorize drum kits into beginner, intermediate and professional products. 
These are Our top Picks Summarised For:
19th October 2021
How Much does a Drum Set Cost?
A good drum set will typically cost between $400-$2000 depending if you are just starting out or you are looking for a more professional set. 
What makes good a drum set in such a price difference is that a budget drum kit for total beginner will provide everything they need. While someone with more experience should look for higher-end options with better sound quality. 
Understanding the Difference Between Drum Sets for Beginners to Intermediates to Professionals.
Beginner drum kits are aimed at people who are new to playing drums. They are products that include everything you need to set up and start playing. They provide a standard set up that is easy to to tune and easy to play. A beginner drum kit will include hardware and cymbals, allowing you to learn to play the drums. Beginner kits are temporary things since you'll want better quality drums when you're not a beginner anymore. 
Intermediate kits have a better tone than beginner kits. They're usually made from a better wood such as maple or birch. Intermediate kits come in shell packs, meaning they don't include hardware or cymbals. Intermediate kits work well for playing live gigs or recording in studios. When kitted out with great drumheads, they will sound great and last you a long time. 
Professional kits have better build quality than beginner and intermediate kits. The way the drums are made and held together makes them sound and look fantastic. They will stay in tune longer and be more versatile. Once you have a professional kit, you don't really need to buy another drum kit for decades. 
How Much Does a Beginner Drum Set Cost?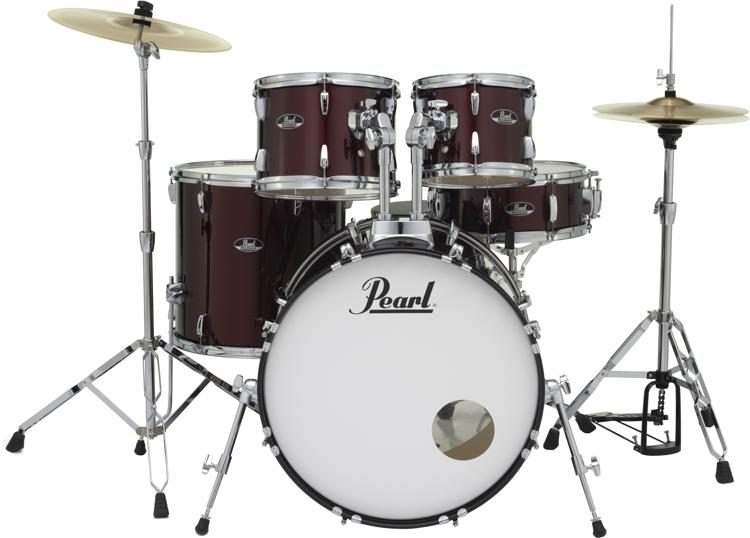 The Pearl Roadshow is an entry-level kit that is designed specifically for first time drum kit buyers. It's an all-in-one drum kit package that comes with drums, cymbals, and hardware. 
This particular model includes a 13" snare drum, 10" rack tom, 14" floor tom, and an 18" kick drum. These sizes are compact and great for children or anyone that doesn't want their drum kit to take up too much space. The drum shells are made from poplar wood, giving them a distinct beginner tone. Poplar is the wood that is used for most beginner kits. 
The kit includes a pair of 14" hi-hats and a 16" crash cymbal. These cymbals don't sound great, but they'll work fine for a beginner who doesn't need to have great cymbals just yet. You'll have to upgrade your cymbals down the road if you get this kit. 
The best part of this kit is the included hardware. Pearl makes extremely sturdy hardware and the parts you get with this kit will last you a very long time. 
The stock drumheads don't sound great, meaning you'd have to replace them to get the best sound out of the kit.
This entire kit costs around $400, meaning it's hugely affordable. 
For more about the Pearl Roadshow, check out customer reviews.
PROS: THINGS WE LIKED
Great for beginners
Comes with hardware and cymbals
Affordable
CONS: THINGS WE DIDN'T LIKE
Cymbals and stock drumheads aren't great
How Much Does an Intermediate Drum Set Cost?
The Gretsch Catalina Maple is a shell pack that includes a 14" snare, 10" and 12" rack toms, a 14" floor tom, and a 20" kick drum. This kit is an intermediate option that is great for doing live gigs and recording in studios. 
The shells are made from maple wood, giving them a warm tone that is highly versatile. The toms resonate beautifully while the kick drum produces a hard thud. The snare has a vintage tone, sounding great when buzzed with drum sticks. 
The one downside to this kit is that the tom mount makes it quite difficult to position the toms comfortably. Gretsch has this problem with a few of their kits. It's not the worst thing in the world but it can get quite irritating if you're constantly setting up your kit. 
This kit costs about $800, making it more expensive than a beginner kit, but less expensive than a pro kit. 
For more about the Gretsch Catalina, check out customer reviews on Amazon.
PROS: THINGS WE LIKED
Versatile tone
Snare is responsive
Toms have wonderful resonance
CONS: THINGS WE DIDN'T LIKE
Toms are difficult to position comfortably
How Much Does a Professional Drum Set Cost?
DW is a company that is known for making seriously high-quality drum kits. Because of this quality, most of their kits are very expensive. The DW Design Series is a kit from DW that borrows build qualities from their higher-end kits, but is sold at an affordable price. It's a pro kit that is still quite pricey, though. 
The shell pack includes a 14" snare, 10" and 12" rack toms, a 16" floor tom, and a 22" kick drum. These drums have a maple shell that delivers attack and punchiness. The toms are warm while the kick drum booms. The snare drum has a crisp sound that is incredibly responsive. 
The build quality of this kit is what makes it a professional kit. It has DW's True-Pitch tuning rods that let you tune it very easily. The snare drum has DW's MAG throw-off which lets you turn the snare off extremely smoothly. 
This kit costs about $1600. It's a big investment that will last you a very long time.
For more about the DW Design Series, check out customer reviews.
PROS: THINGS WE LIKED
DW's True-Pitch tuning rods
MAG throw-off
Drums are incredibly responsive
CONS: THINGS WE DIDN'T LIKE
You have to buy mounts for the toms separately
Should I Start with an Expensive or a Cheap Drum Set as a Beginner?

 
If you're a beginner, it's better to start with a cheap drum set. As a beginner, you're not going to know if you are going to play drums for a long time. It could be something to try out and then discover that you don't like it that much. This means that you would have spent a lot of wasted money if you got an expensive kit. Beginner kits are very easy to sell online if you don't want it anymore. 
Entry-level drum kits also come with hardware and cymbals. So, it's better to get a cheap drum kit because it's going to come with everything you need to set up and start playing. 
It's better to buy an intermediate or professional drum kit when you're not a beginner anymore. 
What to Expect from Each Category of Drum Sets?
Beginner drum kits aren't going to sound amazing. They're going to have low-quality drumheads and cheap-sounding cymbals. Beginners won't even notice the tonal qualities though. It might actually sound good to you if you're a beginner. You can change the drumheads on a beginner kit to make it sound better. Toms are quite easy to get a great sound from. However, a beginner snare drum is always going to sound like a beginner snare drum. It's something that you will have to replace if you want a better sound that is more responsive. 
Intermediate kits are going to sound pretty good. They have the potential to sound amazing if they're tuned well. This can be hard to do though since the build quality isn't as good as a professional kit. Intermediate kits will sometimes come with hardware such as cymbal stands and snare stands, meaning you'll just have to buy cymbals separately. 
Professional kits have a high build quality that you will feel when you play on them. When setting up a professional kit, you're going to feel in how it's structured that it is a premium product. Professional snare drums will have more lugs than intermediate and beginner snare drums, allowing for a wider tuning range. You're going to have a versatile drum kit that will work well for many different styles of music. It will be solid and durable, lasting you and extremely long time. Professional kits don't come with hardware or cymbals. You're just going to be buying drum shells. 
Conclusion
As you can see from the reviews above, there is a drum kit for everyone. If you're a beginner, you should get a beginner drum set. If you're great on the drums, but only play as a hobby, you should get an intermediate set. Intermediate sets also work in professional environments, making them great for gigging drummers on a budget. If you want to invest in the best product and sound, you should get a professional kit. 
There are many different brands of drums, each one with their own unique touches. It's up to you to choose which brand of drum set you want to get.
Playing drums is one of the best things in the world. It can be an affordable hobby or a profitable job. There's a drum kit out there for everyone. Go and get yourself one.