For Live and Studio Recording
When it comes to recording and amplifying drums, the most important microphones will always be your overheads. These are the mics that pick up the overall sound of the drums and cymbals. They will reflect the true sound of your drums and provide a solid platform to mix and master from.
What Makes a Great Drum Overhead Mic?
A great overhead mic will be able to pick up the full range of sounds coming from any drum setup. It should accurately pick up the tones from cymbals as well as drums. It obviously won't pick up the depth of the drums, but it should provide a solid base to work with. The depth of tone will come from the close mics added afterward. 
If you can do a recording with just the overhead mics, then those are some great overhead microphones. They should be easy to use and easy to mix. Nothing is worse than a microphone that makes mixing and EQing a difficult process. 
The 5 Best Drum Overhead Mics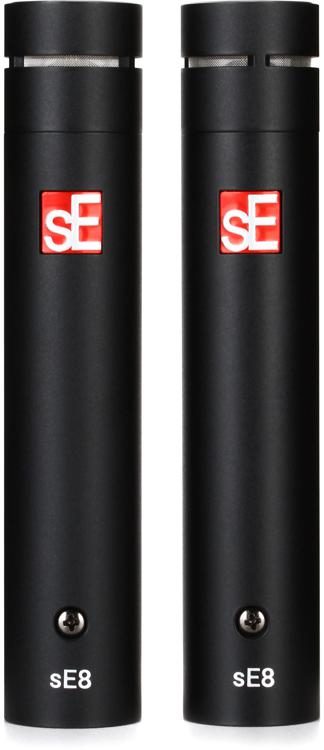 The sE Electronics sE8s are small-diaphragm cardioid condenser mics that work exceptionally well for live performances. Their tone is lively and easy to mix, creating a great on-the-go product.
A standout feature is the way they capture cymbal sounds. They capture incredible nuances from each cymbal, allowing the crowd to hear all those fast hi-hat notes as well as the overtones from crashes and rides. Double time swing patterns on the ride cymbal will come out strongly and clearly. 
They come with a storage case that has a very professional look with solid reinforcement, meaning they'll be protected when you're traveling. 
The quality you get is great for the price they're at. You won't find many products with these features at an affordable cost. So, if you need some overheads for live performances, the sE8 Stereo mics are a great choice.
PROS: THINGS WE LIKED
Great sound from cymbals
Solidly reinforced carry case
Good price-to-value ratio
CONS: THINGS WE DIDN'T LIKE

The Earthworks company has a solid reputation for providing some of the absolute highest quality drum microphones on the market. These TC25mp mics work wonders as overheads. They're small-diaphragm omnidirectional condenser mics that scream clarity. 
They're extremely accurate in the tones they produce, bringing out the absolute best sounds from your drums. The clarity along with the extended frequency response make them one of the top choices as overhead mics. They're so good that you could just use this matched pair with no other mics and get a fantastic drum sound. 
The biggest downside to all Earthworks microphones is that they're very expensive. However, you're getting exactly what you pay for, so this matched pair will be a great investment. 
PROS: THINGS WE LIKED
Extremely clear and accurate
Extended frequency response
Will produce a great drum sound without any other supporting microphones
CONS: THINGS WE DIDN'T LIKE

The first thing you'll notice about these microphones is their visual appearance. They have a sleek black finish topped off with a gold coating at the top, giving you a professional visual aspect that matches the quality sound they produce. They're cardioid small-diaphragm condensers that work fantastically as drum overheads in all environments. 
They're extremely versatile and have a balanced sound that isn't sterile or boxy. They have a warm tone and a high-end that sparkles in a pleasing way. 
The stereo set comes with 2 mic cables, shock mounts for the mics, windscreens, and a dual-mic zipper carry case. Microphones don't typically include cables when you buy them, so it's a great touch. 
These mics work great for live gigging and studio recording situations. One downside is that they're a bit sensitive to humidity, so they need to be stored in cool places. They're also fairly expensive. 
PROS: THINGS WE LIKED
Stunning visual appearance
Includes microphone cables
Very versatile
CONS: THINGS WE DIDN'T LIKE

If you're looking for affordable high-quality drum mics, look no further than Shure. With their SM57 being one of the most popular drum microphones on the planet, you can bet that they have some good overhead mic options. The KSM141s are small-diaphragm dual-pattern mics that can switch between cardioid and omnidirectional patterns. 
The ability to switch patterns makes them very versatile and ready to take on different recording situations. They have excellent transient response thanks to the thin Mylar-plated diaphragms. 
Their carry case is solid and they come with microphone adapters. Overall, these mics are a great option if you don't want to spend a huge amount of money. They'll work well in the studio as well as at live gigs. They just won't sound as good as the higher-priced options on this list.
PROS: THINGS WE LIKED
Can switch between cardioid and omnidirectional patterns
Versatile
More affordable than the other mics on the list
CONS: THINGS WE DIDN'T LIKE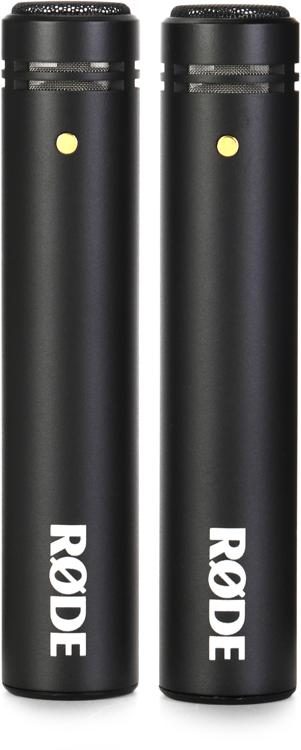 No list would be complete without a budget option. The Rode M5s are small-diaphragm cardioid condenser mics that do a great job and come in at an extremely affordable price point. 
They produce a clear sound on stage and in the studio and work well as overhead mics for drums. The low price just means that you'll have to do a bit more mixing and EQing than you would for the other mics on the list. 
They produce a clean high-end, meaning cymbals will have a great sound. You'll be able to hear all the subtleties from grooves. The low-end is okay, but you'll need to add extra dynamic microphones to get a beefier tone from the drums. 
Overall, you won't easily find better overheads at this price. These mics are the perfect choice for anyone who is on a tight budget. 
PROS: THINGS WE LIKED
Great budget option
Clean high-end
Good sound from cymbals
They require a lot of mixing and EQing to get the best sound
CONS: THINGS WE DIDN'T LIKE
What are the best overhead mics for drums?
Condenser mics work best for use as overheads. They pick up a broad range of sounds, meaning they will accurately reflect the tones from the cymbals and the drums. Some popular brands to choose from would be Rode, Shure, Telefunken, Earthworks, and sE Electronics. 
When deciding which mics would be the absolute best for drums, it comes down to personal preference. However, many drummers will agree that Earthworks has been making some seriously high-quality products that work wonders for drum kits. The TC25mp microphones are so good that you don't really need to use any more close mics to get a great sound. They are very expensive though!
What are the best drum mics?
When thinking about drum mics in general, it's good to go with a mixture of condenser and dynamic microphones. Condensers will be used as overheads and dynamic mics will be used as close-up recording options. Some popular brands for dynamic microphones would be Shure, Audix, Telefunken, and sE Electronics. 
The most popular drum microphone would arguably be the Shure SM57. It's mainly used as a snare mic, but it can be used to mic toms as well. 
Where do overhead drum mics go?
They get placed in a way that will allow them to pick up all the sounds of the drums. They would typically go somewhere between the cymbals on each side of the drum kit. Their placement can change depending on how the drum kit is set up. Some recoding engineers will even add an extra overhead for the hi-hat. 
How do you mic overhead drums?
The placement of the overhead microphones is extremely important. If they're placed wrongly, you could get what they call phase issues. This means that sound will travel to the mic at different times and cause a delay. So, you need to place the mics equidistant from each other and in relation to the snare drum. 
Overhead microphones will also need phantom power, so make sure that you have that coming from whatever recording interface you use. 
Conclusion
As said previously, you could get away with only using overhead mics for your recording setup. So, it's important to have some really good ones. They'll allow you to get a great tone and bring out the best from your drums and cymbals. 
Mixing and recording drums is a skill that will improve over time. The better you get at it, the better your drum kit will sound. Just get some microphones that will help with the process.