Best Drum Mics for Live Sound
Although drums are loud, they often need to be amplified when playing live gigs. Drum mics will give the crowd a clear sound of the drums and make them feel the rhythms instead of just seeing them being played. In saying that, drum mics can be a complicated topic. There are so many pieces of a drum kit and sometimes each piece needs an individual microphone. 
What Makes a Great Drum Mic For Live Sound?

A great live mic will allow the crowd to hear everything extremely clearly. When playing live, anything can happen. Live performances are their own beasts, meaning a good live mic should give the sound engineer a lot of control over the drum sound. 
It shouldn't be difficult to achieve a great drum sound. You're not going to have a lot of time to mix and EQ, making it vital to have a good sound from the get-go. 
The 5 Best Drum Mics for Live Sound
Best Drum Mic Kit for Live Sound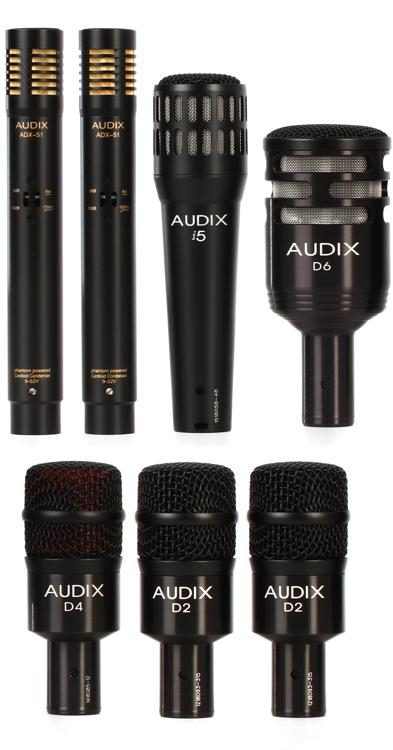 The Audix DP7 drum mic pack provides you with absolutely everything you need to get a full and complete drum sound. Every mic in this pack will pick up subtle nuances from your drums and give you an overall sound that is perfect for any live stage whether it be a club or stadium.
Included in the pack are a pair of ADX51s for overheads, a D6 kick mic, an i5 snare mic, a pair of D2s for the rack toms, and a D4 for the floor tom.
The D6 kick mic is one of Audix's widely popular products and for good reason. It has a cardioid pickup pattern and produces an incredible sound from any kick drum. It isn't dependent on finding a sweet spot to get a great tone, something that a lot of kick mics require.
The i5 is often compared with the Shure SM57. It's a workhorse dynamic microphone that is going to pick up every little detail of your snare drum. It has a high sound pressure level, meaning no rimshot will be too hard for it to handle.
The D2 mics for the rack toms bring out punchiness and cut out any unnecessary boom and super low frequencies. They emphasize attack, providing you with a great tool for reflecting the effectiveness of drum fills.
The D4 brings out more low end which is perfect for floor toms. It has a flat linear responsive that will cause an effective "oomph" sound.
The ADX51 overhead mics will easily pick up the overall tone of your kit. They have a smooth response and typically work well in all situations.
Overall, this mic kit has everything you need for live gigging. It just costs a fair bit, so start saving.
For more about the Audit Drum Mic Package, check out customer reviews.
PROS: THINGS WE LIKED
Full mic setup in one purchase
Includes popular Audix D6
Works wonderfully on live stages
CONS: THINGS WE DIDN'T LIKE
Best Drum Overhead Mics for Live Sound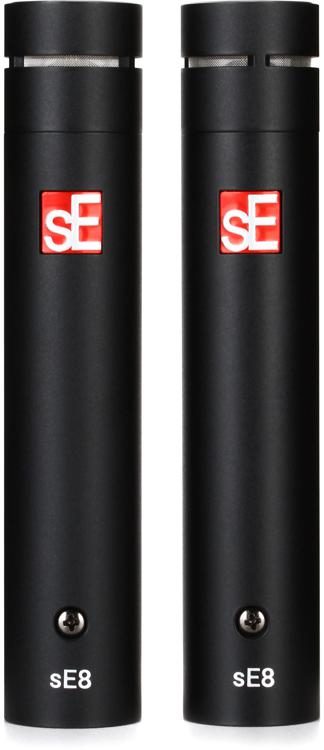 The sE Electronics sE8s are small-diaphragm cardioid condenser mics that work extremely well as overheads for drum kits. They have an accurate sound that reflects the tones of drums well, making them great mics for live gigging. 
The highlight of these mics is the way they capture cymbals. They pick up an amazing amount of nuance, allowing the crowd to hear all the subtle playing you do on crashes, rides, and hi-hats. If you're playing fast jazz, everyone will distinctly hear your swinging patterns on the ride. 
They come in a smart-looking metal storage case, keeping them protected when you're traveling. They're also fairly small, making it easy to place them around the drums. 
You won't find many overhead mics with this price-to-value ratio. These things are affordable and they provide amazing sound. 
For more about the sE Electronics SE8, check out customer reviews.
PROS: THINGS WE LIKED
Pick up cymbal sounds wonderfully
Includes a sleek carry case
Great quality at an affordable price
CONS: THINGS WE DIDN'T LIKE
Best Kick Drum Mic for Live sound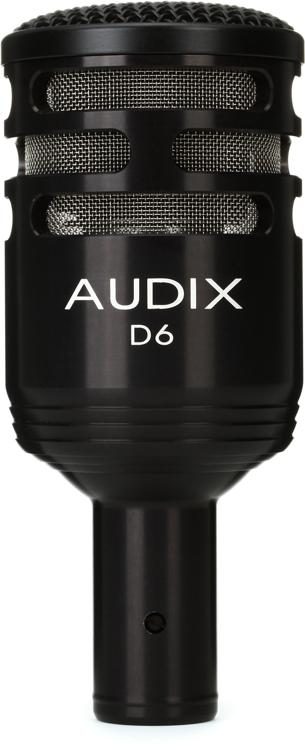 As said previously, the Audix D6 is one of Audix's most popular products for drummers. When shopping around for bass drum mics, the D6 will undoubtedly come up as an option. It has a cardioid pickup pattern that produces solid kick drum sounds. 
It's specifically designed to work with low-frequency instruments. So, it tends to work better with larger bass drums. If you're going to use this mic, you'll get the best sound from a bass drum that is 20" or larger. 
It has a VLM diaphragm that allows it to respond quickly to all the notes you play. It ensures that no attack is lost. This means that you'll hear a decent boom from the bass drum along with a solid attacking sound from each note. 
The highlight of this mic is that it doesn't rely on sweet spots around the kick. You can place it anywhere and still get a great tone. This feature puts it above most other kick mics that require placement on sweet spots. 
We wouldn't suggest using this mic if you have a compact kit with a tiny bass drum. Other than that, it's the perfect option. 
PROS: THINGS WE LIKED
Affordable
Great for big bass drums
Doesn't rely on sweet spot placements
CONS: THINGS WE DIDN'T LIKE

Overhead mics typically pick up the sound from all your cymbals. However, your hi-hat often tends to get lost in that sound. The hi-hat is your most important cymbal that is used for grooving and moving. So, drummers will often need a dedicated hi-hat mic. Look no further than the Shure SM81. 
It's a small-diaphragm cardioid condenser mic that has several useful features such as a 3 position low-frequency response switch, a lockable pad, and a swivel adaptor. Its flat frequency response is perfect for hi-hats, replicating tight chick sounds and heavy washes. 
It does have fairly low sensitivity that will take some time getting used to.
PROS: THINGS WE LIKED
Great for hi-hats
3 position low-frequency response switch
CONS: THINGS WE DIDN'T LIKE

The Shure SM57 is arguably one of the most famous microphones in the world. It's undoubtedly the industry-standard mic for snare drums. Why is that, though? 
The biggest reason for this is its price. It's seriously affordable, costing less than $100 in most places. The amount of quality that it provides for the price is unmatched. 
This dynamic cardioid mic provides a clear and present sound that accurately reflects the nuances of a snare drum. It will pick up flams, drags, buzz rolls, and ghost notes, allowing the crowd to easily hear them. 
It's highly durable and you'll find that many drummers have had their SM57's for several years. If you need a reliable snare mic, look no further than Shure's SM57. 
PROS: THINGS WE LIKED
Industry-standard snare mic
Highly affordable
Durable
CONS: THINGS WE DIDN'T LIKE
How do you mic a drum set for live performance?
Most live gigs will have a sound engineer that runs the show from a mixing desk. To mic a drum kit for live performances, you'll set up some drum mics and then run them through to the mixing desk. The sound engineer will then mix and EQ the sound to get a great overall drum sound for the venue. 
How Many Mics do you need for live drums?
Typically, only 2 mics are needed. The most important mic would be the kick mic. It's important for a crowd to feel the drums and this comes from your kick drum. The second mic would be an overhead to get a complete sound from the drums. 
However, multiple mics are needed if you want to get a great clear sound from every drum. If you have a standard 5-piece setup, then 7 mics would be needed including the overheads. 
What kind of mic is used for drums?
Dynamic mics are used for close placement on drums and condenser mics are used for overheads. Dynamic mics are used for individual drums because they have high sound pressure levels. Condenser mics are used for overheads because they do better in picking up sound from larger spaces. 
What is the best sounding microphone?
This depends on the personal preference of drummers. Some drummers will like a Shure SM57 on the snare while others will prefer an Audix i5. They both do the same job and produce similar sounds.
Microphones that cost more tend to sound better. So, an Earthworks TC25 will sound miles better than a Samson C02. 
Conclusion
It's important to remember that your choice of microphones won't make you magically sound better as a drummer. The most important sound factor is your technique. The way you hit the drums is going to affect how they sound. The microphones are just tools to amplify that sound. 
With that being said, it's important to have good tools for live gigging.