For Live and Studio Recording
Drum machines are an essential tool in the hip hop world. When it comes to making beats and loops, drum machines make it really easy to develop and create ideas. A rapper or musician can sit with a drum machine and create a base loop to rap or sing over. So, which drum machines work best for making hip hop music? Let's have a look. 
What Makes a Great Drum Mic Kit?
A great drum mic kit will have all the mics you need to get a full sound from the drums. Although you can achieve this with some expensive overheads, a selection of dynamic and condenser mics will make it easier to achieve.
A great drum mic kit will have mics for the snare, toms, bass drums, and cymbals. Some mic kits may even have a dedicated microphone for the hi-hat. However many mics it has, a great mic kit is designed to get a fantastic sound from your drums.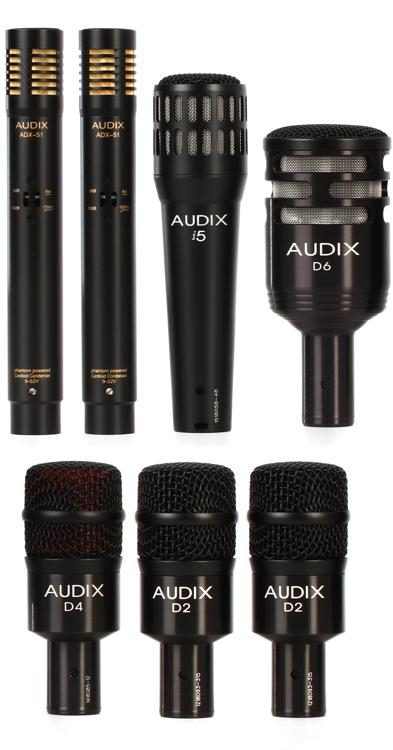 Audix and Shure are the two most popular drum mic brands. We'll get to Shure later, but for now, let's focus on this Audix DP7 mic kit. Included in this package is an Audix i5 for the snare, D2s and a D4 for the toms, a D6 for the kick drum, and a pair of ADX51s to use as overheads. 
The standout mic in this pack is the D6 kick drum mic. It's a beloved mic from Audix that is used by so many professionals in the industry. It's designed in a way that isn't dependent on finding a sweet spot, meaning it's easy to use. 
The i5 snare mic is very versatile, allowing you to get a great sound in many different tunings. The D2s work wonderfully with rack toms, bringing out warm punchiness. The D4 floor tom mic caters more to low-end, making your floor tom sound beefy. 
The ADX51 overheads are reliable and pull a fantastic overall sound from your kit. Every single one of these mics has fantastic build-quality and works well in situations separate from each other. 
The mic pack costs a fair bit, but it will be a great investment in the long-run.
PROS: THINGS WE LIKED
Includes highly sought-after Audix D6 kick drum mic
All the mics are versatile
Great studio-quality sound
CONS: THINGS WE DIDN'T LIKE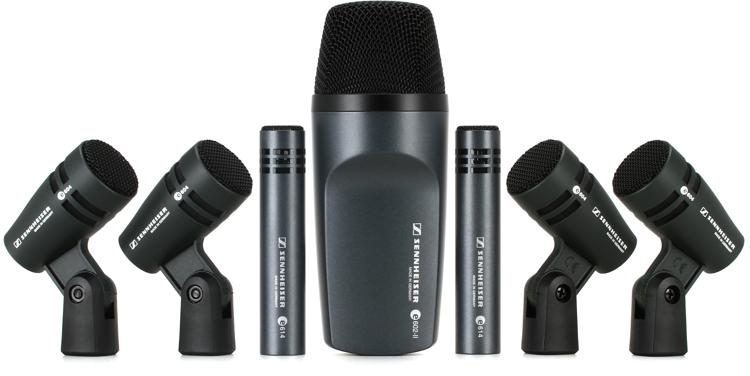 The Senheiser e600 mic kit is another top-tier package that will allow you to easily get studio-quality sound from your drums. Included in the kit is an e602, four e604s, and two e614. Each Senheiser mic has that classic Senheiser quality that many drummers have come to expect. 
The Senheiser e604 is a fantastic kick drum mic, catering to low and boomy frequencies. It does a great job in amplifying the punch of your bass drum, letting you feel it as you play. 
The e604 mics are intended for toms and snares. Although there is no dedicated snare mic included like other mic kits, the e604 does a perfectly good job in bringing out the tight crack and musical overtones from your snare drum. The toms sound punchy with these mics as well. 
The e614s are the standout mics in this kit. They have extremely high sound pressure levels and they capture cymbals immaculately, giving you a handy set of overhead mics. 
Similar to the Audix mic kit, the Senheiser e600 mic kit comes just under $1000. It's a hefty price to pay, but well worth it for getting a great drum sound in the mix. 
PROS: THINGS WE LIKED
Provides studio-quality sound
The e614 overheads are really good for the price of this mic kit
Very durable quality
CONS: THINGS WE DIDN'T LIKE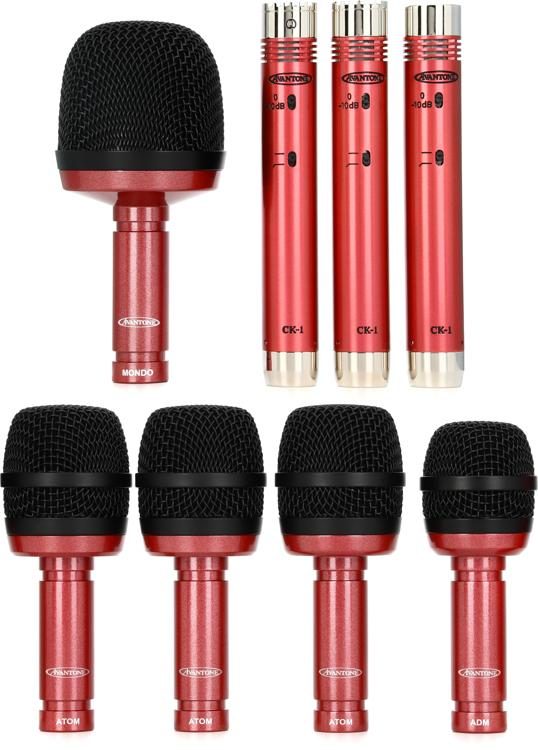 These Avantone Pro mics are immediately recognizable by their red and black color scheme. They have such a powerful appearance that makes you assume they have powerful performance. They're actually not as well-known as the other brands on this list, but they definitely should be. 
This is one of the few microphone kits on the market that includes an extra condenser for your hi-hats. Included with the package are 3 condensers and 5 dynamic mics for the snare, toms, and bass drum. 
The overhead mics are cardioid condensers while the hi-hat mic is a hyper-cardioid condenser, allowing you to get that crisp hi-hat chick to come through. 
These mics are extremely durable. They're pretty heavy-duty as all the parts are made of metal, even the mounts. So, they won't be getting damaged anytime soon. Along with the heavy-duty quality comes an extremely firm and solid case to protect them in. 
When it comes to sound, these mics really make the drums shine no matter what style you're trying to achieve. They're fantastic mics to use for your drum kit. The fact that they're mostly metal does make them slighter heavier than usual, which may be cumbersome when traveling. 
PROS: THINGS WE LIKED
Heavy-duty
Package includes a hi-hat microphone
The included case is extremely solid
CONS: THINGS WE DIDN'T LIKE
Slightly heavier than other mic packages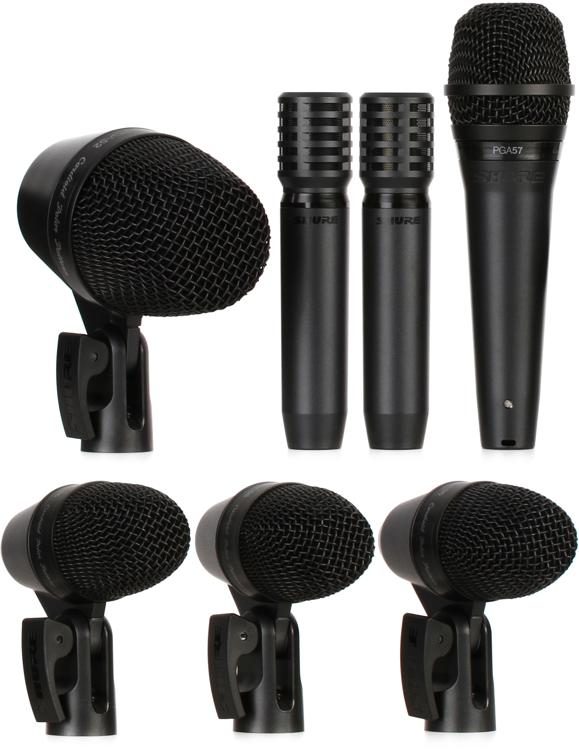 We alluded to Shure earlier. Now, enter the Shure PGA 7-piece microphone kit. This is one of the most popular mic kits on the market as the mics provide great sound and the package is very affordable 
The PGA52 is a classic microphone that many people use for bass drums. It does such a great job in accenting the thickness of your kick drum sound. The PG56 mics are the go-to mics for toms when you're on a budget. Similar to the PGA52, they bring out a great thick tone. 
The PGA57 snare mic takes a lot of influence from the industry-standard SM57 mic. It excels in bringing out a rich tone from the snare. The PGA81s are solid overhead mics that wonderfully capture the full tone of the kit. 
Overall, you won't find a better mic kit for the price. It has everything you need to get a great sounding drum mix. 
PROS: THINGS WE LIKED
Fantastic value-for-money
PGA52s are the standout mics
The mics bring out rich tone and character
CONS: THINGS WE DIDN'T LIKE
You could potentially find better mics at a slightly higher price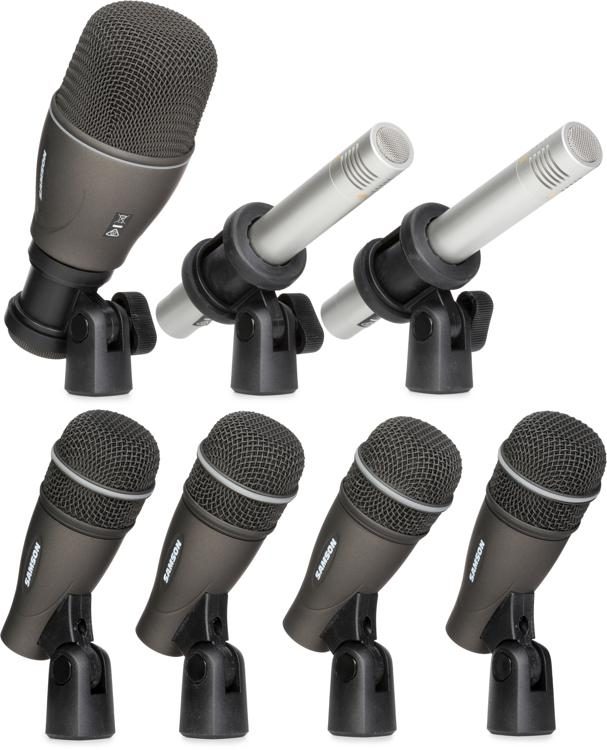 If you're on a strict tight budget, look no further than the Samson DK707 microphone kit. These Samson mics are well-known budget options in the industry. They often get recommended for people who are new to using drum mics and need something solid that won't break the bank. 
The kit includes a Q71 kick mic, four Q72 dynamic mics, and a pair of C02 pencil condensers. Each mic does a great job in picking up a clear drum tone. They're easy to use and don't take long to learn how to mix and EQ. 
As they're budget mics, you won't have as much control over the sound as you would with higher-quality mics. However, someone on a tight budget may not be looking for that just yet. 
PROS: THINGS WE LIKED
Some of the best affordable mics on the market
C02s work great as hi-hat mics as well
CONS: THINGS WE DIDN'T LIKE
You could potentially find better mics at a slightly higher price
What is the best drum mic kit?
From the list above, the best mic kit would be the Audix DP7 microphone kit. Every mic in there has so much character and would be a great choice to buy individually. The fact that they all come together means it's a wonderful deal. 
What kind of mic is used for drums?
Condenser microphones are used as overheads to pick up the whole drum kit sound while dynamic mics are placed near the drums to get more detail. 
What are the best overhead mics for drums?
Any condenser mic with a high sound pressure level and good pickup pattern will work great as an overhead. From the list above, the Audix ADX51s would arguably be the best. 
How Many Mics do you need for live drums?
The amount of mics depends on the quality of the mics as well as the size of your kit. If you have some high-quality overheads, you won't need extra dynamic mics to pick up the details of the drums. If they're not immaculate quality, you may need to place a few more microphones on the toms and snare.
Conclusion
If you're new to using microphones on drums, don't worry about getting the most expensive ones around. It's better to learn how to use them and mix and EQ with some affordable mics first. As your skills improve, you'll find yourself needing some higher-quality options.