For Live and Studio Recording
So, you want to start recording your drums. This could be to make videos or to track drum parts. You're going to need a set of microphones.
Tom mics aren't the most important mics on the list. You need a set of overheads and a kick mic. However, tom mics will help you get a distinct drum sound that you'll have a lot of control over. We're here to give you a list of some of the best tom mic options. 
These are Our top Picks Summarised For:
19th October 2021
What Makes a Great Mic Toms?
There are two types of mics to choose from, dynamic and condenser mics. Dynamic mics don't require external power and have high SPL levels. Condenser mics require phantom power and are mainly used as overheads. However, they can be used for toms. 
A great tom mic is going to be one that will truly reflect the sound that your tom makes. It will also give a lot of control over the sound. It should have a build quality that ensures it will last a long time. 

If you need a high-quality microphone, look no further than the AKG C414 XLII. It's a large-diaphragm condenser mic with 9 switchable polar patterns. The ability to switch between so many polar patterns makes it widely versatile and able to pick up all kinds of tuning ranges. 
The clarity of this mic makes editing, mixing, and mastering a seriously easy process. It picks up your toms and gives a true reflection of color and tone.
It works well as a drum overhead mic as well. So, it's up to you to choose where to place it. It is fairly expensive, meaning it may cost a lot to get one for each tom in your setup. However, it will produce unrivaled sound quality. 
PROS: THINGS WE LIKED
9 switchable polar patterns
Extremely clear sound
Works well as a overhead as well
CONS: THINGS WE DIDN'T LIKE

Shure has a great reputation for producing high-quality mics that are great for drums. The KSM32 is a large-diaphragm cardioid condenser with a transformer-less preamp and a highpass filter. 
Its low-mass diaphragm produces a high transient response and an extended low-frequency response. The responsiveness to low frequencies makes it a great option for recording toms. 
It has a bunch of pro features that make ensure quality use. It has an internal shock mount and a 3 stage protection grille that reduces subtle noises. It's also built like a truck, ensuring that it can survive all kinds of environments. 
It works well as an overhead mic, giving you versatility in its uses. There are some cheaper mics out there that would work almost as well. However, the KSM32 is a great choice if you can afford it. 
PROS: THINGS WE LIKED
High transient response
Extended low frequency response
Highly durable
CONS: THINGS WE DIDN'T LIKE
There are some cheaper options out there

The Audio-Technica AT4033 is a large-diaphragm cardioid condenser microphone that has been a main player in the mic game for decades. It's great for recording any instrument. However, it does a particularly good job of recording toms. 
It has a lot of silkiness on the high end. It's quite flat, yet incredibly transparent and natural with a subtle warm feel. This mic produces a wonderful tone without any EQing to begin with. That says a lot about its quality. 
It has an 80Hz roll-off switch which greatly helps with eliminating self-noise. It also does a fantastic job of eliminating bleed from different sources around the kit. 
The shock mount is a bit tricky to use, but it's an effective way of isolating the mic from the environment. 
Overall, the AT4033 is a great mid-range option for your toms. 
For more about the Audio Technica  Mic, check out customer reviews.
PROS: THINGS WE LIKED
Has been a popular mic for decades
Minimal EQ needed for a great sound
Silky high end
CONS: THINGS WE DIDN'T LIKE
Shock mount is a bit tricky to use

The Beyerdynamic M 201 TG is a low-profile hypercardioid dynamic microphone that is well-suited for recording snares and toms. It captures sounds extremely accurately while being a low-maintenance workhorse. 
The hypercardioid design is perfect for toms. It stops the mic from picking up any bleed from around it, giving you versatility in placement options. It has a smooth and balanced bottom end. The tone of your toms will sound extremely natural. 
The one downside to this mic is that it costs about 3 times as much as the Shure SM57, a mic that it often gets compared to. However, the quality of the M 201 TG greatly surpasses the SM57, being superior in almost every way. 
Get a few of these for your toms and you'll be good to go.  
For more about the Beyerdynamic  Mic, check out customer reviews.
PROS: THINGS WE LIKED
Highly durable
Hypercardioid design stops bleed
Smooth and balanced bottom end
CONS: THINGS WE DIDN'T LIKE
Costs 3 times as much as the Shure SM57, a mic that it often gets compared to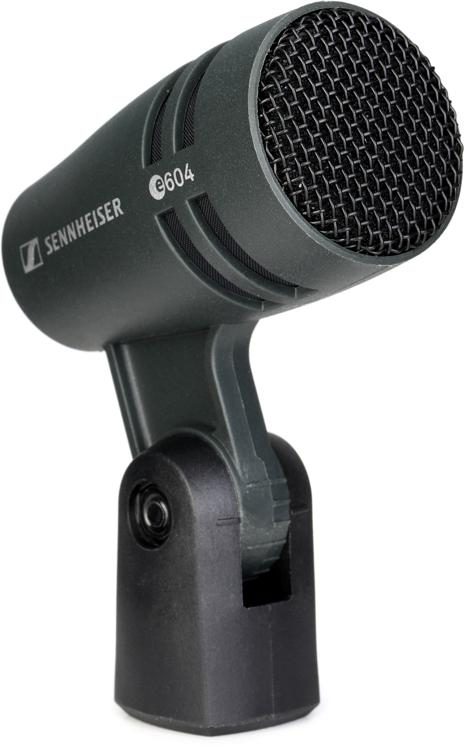 The Senheiser e 604 is specifically advertised for being a tom or snare mic. It has a clip-on design that makes it extremely easy to place anywhere on a drum, giving you many placement options and easy use. It's a dynamic cardioid mic that doesn't cost too much and delivers great quality. 
It brings great attack and sustain from the toms for such a small microphone. It also expresses great highs and lows. You can easily get a clean and deep tom sound that many people love. 
One of the best features is the clip-on function. Too many mic stands will often get in the way when you're recording a drum kit. So, the clip-on feature allows you to attach the mic to a tom in a fast and easy way. It's very sturdy, meaning the mic won't fall off once it's tightened. 
This is the most affordable mic we've put on this list. So, if you need a set of budget microphones for your toms, the Senheiser e 604 is a great option. It's also part of great mic kit for drum from Sennheiser. 
For more about the Sennheiser  Mic, check out customer reviews.
PROS: THINGS WE LIKED
Affordable
Can clip onto drums
Great attack and sustain
Easy deep tom sound
CONS: THINGS WE DIDN'T LIKE
Sound quality isn't as good as some higher priced options
How do you mic a floor tom?
Mic placement generally depends on what sound you want from the drums. Placing a mic close to the drum skin will generate more low-end while reducing bleed from the other drums. Moving the mic back a bit will provide an open sound from the floor tom. If you aim the mic towards the center of the drumhead, you'll hear more attack. If you aim it at the edges of the drumhead, you'll emphasize the overtones. 
Just remember to place the mic in a position that will keep it safe from any stray drum sticks or cymbals. Microphones cost a fair bit, so hitting them with sticks is something all drummers have to be wary of. It's generally a good idea to place the mic the furthest position away from you on the floor tom. 
What is a good room mic?
If you're picking a mic from the above list, the Shure KSM32's work extraordinarily well as room mics. They provide a lot of clarity and ambiance, providing the perfect amount of atmosphere from a room. 
Room mics aren't essential when recording drums. However, they can greatly improve the overall atmosphere of the recording, providing natural reverb to the sound. 
What is the best mic brand?
There are several popular mic companies which each having their own strengths and weaknesses. Some popular names are Shure, AKG, Audix, Audio-Technica, Rode, Senheiser, and Neumann. 
Any set of mics from these companies would work well for drum setups. Most of them sell full drum kit mic packs. 
Conclusion
Drum tracking can be quite daunting. Recording is a skill that has to be developed, just like playing the drums. The more you do it, the better you'll get. If you're new to drum recording, make sure to get some overhead microphones first. 
Tom microphones will be the next step to achieving a clear and true drum sound. Remember that you're going to need a recording interface to go along with all of your drum mics.
If you found this buying guide useful check my articles on hi hat mics, drum mics for live sound and snare drum mics.  
Recording drums is a great skill that any drummer can benefit from. So, get yourself some mics and get tracking.