It can be argued that the snare drum is the most important part of any drum kit. So, it's important to have a microphone that will make it sound good and pick up on all of its nuances. There are many microphones that work for snare drums, each of them having qualities that set them apart. 
What Makes a Great Snare Drum Mic?
A great snare drum mic will be able to pick up on all of your snare drum's frequencies. The ability to pick up on those frequencies will allow you to record all the specific tones of your snare drum whether it's tuned high or low. 
A great snare mic will also have great value for money. Some microphones are extremely expensive and for a good reason. However, there'll be no use in getting an expensive microphone that doesn't cater to a snare drum very well. 
The 5 Best Snare Drum Mics

The Neumann KM 184 has a high sound pressure level, allowing it to capture loud snare drums with ease. It's also very sensitive, meaning it will pick up on the softest of ghost notes as well. 
This mic has an excellent balance of accuracy and polish, meaning it doesn't need much EQ changing when you're recording. The lows are strong but balanced, meaning you can get a thick snare sound. 
The sound it produces is quite big for such a small mic. With this mic having such high quality, it comes at a steep price. 
The one downside is that it doesn't come in a bag. This may be because Neumann assumes that the mic is going to be used in studios and not moved around a lot. 
This mic is also our first pick in the best hi hat mics guide. 
For more about the Neumann KM184, check out customer reviews.
PROS: THINGS WE LIKED
Great balance of accuracy and polish
Strong lows
Big sound
CONS: THINGS WE DIDN'T LIKE

The Beyerdynamic M 201 TG is a low-profile dynamic condenser that works for snares as well as toms, making it a versatile option.
This microphone makes your snare drum sound beefy, meaning it's great for lower tunings. Many drummers like to get a low and fat sound with their snare and the M 201 works well for that. You don't need to do too much EQ tampering, allowing you to have a snare drum that sounds very natural, especially if you place the mic 6 inches from the drumhead. 
When it comes to durability, the M 201 doesn't disappoint. It's built to last, having a firm outer casing. 
It's expensive, meaning you're going to have to drop a fair amount of cash on it. However, it's highly worth it if you can afford it. 
This mic is also one of the best mics for toms.
For more about the Beyerdynamic M 201 TG, check out customer reviews.
PROS: THINGS WE LIKED
Durable
Doesn't need much EQ
Beefy sound
CONS: THINGS WE DIDN'T LIKE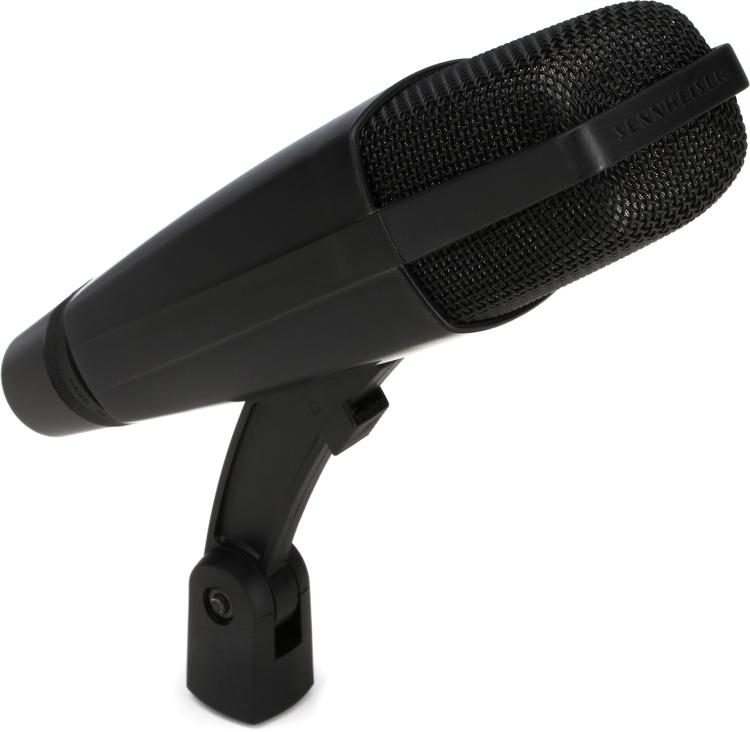 The MD 421 is one of Senheiser's most popular microphones. It works well for several different instruments including snare drums. It handles high sound pressure levels very well and has a full-bodied cardioid pattern with a 5-position bass control.
The selling point of this mic is its price. It's an affordable option to get a pro studio sound. It's a solid workhorse microphone that will allow you to get the best tone out of your snare drum. It's quite versatile, allowing you to have your snare drum in any tuning and still get a great sound. 
This mic is silky and soft, having a shimmery and smooth tone without any shrillness or harshness. It has a great midrange and sizeable lows. 
Many people say that this mic is best for toms. However, it works just as well for snare drums. 
If you want studio-quality sound at an affordable price, the Senheiser MD 421 is a great option. 
For more about the Sennheiser MD 421 – II, check out customer reviews.
PROS: THINGS WE LIKED
Smooth tone without any harshness
Versatile
5-position bass control
CONS: THINGS WE DIDN'T LIKE
The clips tend to create a buzz

The Telefunken M80 gives a clean response that makes it a great option for recording drums in a studio. The sound is balanced, allowing you to control the output a fair amount. 
A key part of this mic is how much sound rejection it has. You don't experience any bleed from other drums, making it a wonderful snare drum mic. It has a small casing that allows you to place it anywhere comfortably. This makes it great for placing under snare drums as well.
It works well for live but shines in studio environments. If you're going be tracking drums in a tight space, the Telefunken M80 is a great option. It's fairly expensive but well worth the price.
For more about the Telefunken M80, check out customer reviews.
PROS: THINGS WE LIKED
Gives a lot of depth
Small casing makes it easy to position
Balanced sound is great for studio
CONS: THINGS WE DIDN'T LIKE

The Shure SM57 is regarded as one of the best microphones for snare drums. It's loved by many and has become the industry-standard snare mic. This is thanks to its versatility and ease-of-use. 
It responds to dynamics very well, picking up all the subtle nuances of your snare drum. Ghost notes will be heard clearly and rimshots will sound cracking and powerful. 
It rejects bleeding sounds very well, isolating your snare to get a focused sound. This makes it great for recording as well as playing live. 
The SM57 is a highly durable microphone that is built to last for years. This makes it a great investment that isn't expensive. 
The price of this mic is unreal. The affordability is one of the things that makes it so popular. If you want a trusted product that most recording engineers use and love, the Shure SM57 is the drum mic for you. 
PROS: THINGS WE LIKED
Industry standard
Durable
Affordable
CONS: THINGS WE DIDN'T LIKE
What is the best snare mic?
There are so many great snare drum mics on the market. They all will work well and bring out the best from your snare drum. However, the industry-standard snare drum mic is the Shure SM57. It's the snare drum mic that most recording engineers use, providing excellent value to your recording setup. 
Where should a snare mic be placed?
The sound you get from the snare depends on where you place the mic. Different mic placements work for different situations. It also depends on how many other microphones you have in your setup. The two main placements would be close to the drumhead and slightly raised from the drumhead. 
If you place the mic close to the head, it should almost touch it. This placement will emphasize the initial attack from the snare drum. It will also let you hear ghost notes very clearly. This placement only works if you have other mics for the kit like overheads. 
When raised six inches, the mic should point to the center of the drumhead. This placement will capture some of the overtones of the snare, giving you a natural snare drum sound.  
What are the best drum mics?
The best drum mics for you will depend on your budget. There are some seriously expensive drum mics out there that most people will never be able to afford comfortably. So, those may be the best drum mics but they won't be the best for you. 
You should decide what your budget is and then look for the best set of drum mics that fits into it.
Why is the sm57 good for snare drums?
It's highly versatile as well as affordable, making it one of the most accessible mics around. It's known for being a great snare drum mic, meaning it's a trusted product. It also makes it quite easy to get a great snare sound with minimal mixing. 
What's the best bottom snare mic?
This will depend on the type of snare drum and how it's tuned. Generally, any top snare mic will work well for the bottom as well. So, mics like the Shure SM57 and Audix i5 are great for the bottom of your snare. 
Conclusion
The sound quality of a recorded snare drum also greatly depends on how you mix and EQ the sound. You could have the most expensive snare mic on the market, yet it won't sound great if you don't mix properly. So, it's important to learn mixing skills if you're going to be recording your drums. 
Some mics make it easier to mix than others. There are plenty to choose from. Get yourself a great snare mic and start recording.