Best Cymbals for Recording
When it comes to recording in a studio, you need to have a top-quality set of cymbals. There are so many aspects that go into the process of recording such as microphones, rooms, and drums. Having a great cymbal set will just make the process of mixing and mastering a lot easier for a sound engineer. So, we're going to go through some of the best cymbal sets to get the job done.
What Makes a Great Cymbal for Recording in Studio?
A great studio cymbal should make it easy to mix and master in the context of a song. Cymbals without a lot of sustain and harsh frequencies tend to work better. Too many overtones will be picked up from microphones and make it difficult to mix.
Typically, drummers would use brighter cymbals for heavier music. It's a bit different in studios as warmer and darker cymbals actually sound better. Even if they don't naturally cut through the mix, a sound engineer will be able to work with them. However, there's still a place for bright cymbals occasionally.
The 5 Best Cymbals for Recording in Studio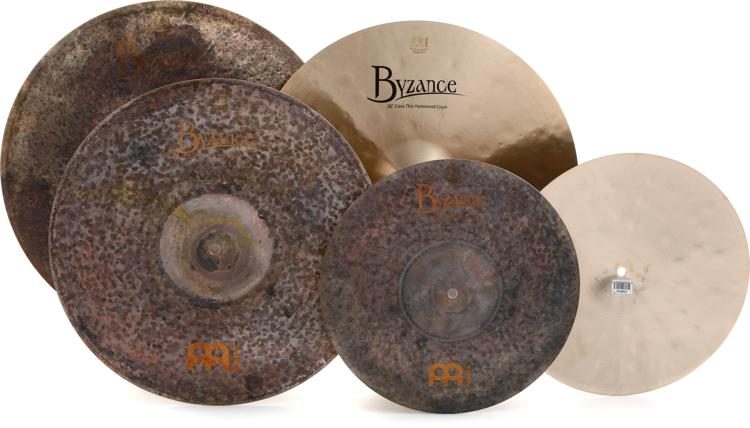 Mike Johnston is one of the most famous drum educators in the world at the moment. He worked along with Meinl to produce this cymbal set that provides great sounds along with a lot of versatility. Each Byzance cymbal in this set has a dry tone that is great for recording.
Included in the set is a pair of 14" hi-hats, 18" and 20" crashes, and a 21" ride cymbal. 
The hi-hats have a tight chick sound along with a beefy full tone. The dryness really comes out when they're played open. This means that they have very little sustain when played hard and washy. The 18" crash is part of the same series of cymbals from Meinl. So, it has a lot of the same qualities. Short sustain with a powerful sound makes it a great recording tool.
Mike Johnston refers to the 20" as the "bwoosh" crash. It has a huge sound that is great for playing at the end of drum fills. The Transition ride is the highlight of this set. It has an extremely versatile tone and feels great to crash on. The bell has a distinct sound as well. 
Overall, the dryness is what puts these cymbals on the list. They'll be very easy to mix. 
PROS: THINGS WE LIKED
Transition Ride is wonderful
Easy to mix
Short sustain across every cymbal
CONS: THINGS WE DIDN'T LIKE
Not every drummer is a fan of very dry cymbals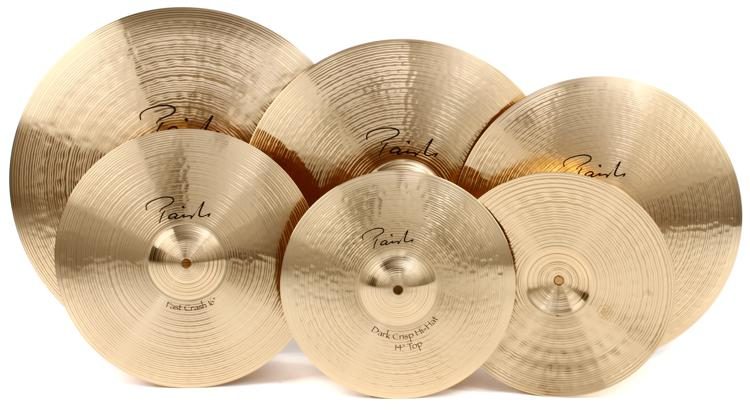 The Paiste Signature Classics are some of Paiste's highest-quality cymbals. When thinking of great sounding cymbals, not much can beat them. This makes them a great choice for using in a studio environment. The cymbal set comes with 5 cymbals with a huge array of sound between them. Included is a pair of 14" hi-hats, 16", 18", and 20" crash cymbals, and a 22" ride cymbal. 
The 14" Dark Crisp hi-hats have an extremely focused tone with a chunky vibe. The focused tone makes grooves sound very intentional and tight. The chunky vibe gives a sense of fullness to the sound. 
The crashes have a good range of sound between them. The 16" is the highest-pitched while the 20" is the lowest. Each crash has a sense of authority and effectiveness when played. The 20" crash can double up as a ride cymbal. 
The star of the show is the 22" Full ride. Most Paiste artists are absolutely in love with this thing as it produces a great balance of clarity, definition, and sustain. 
Paiste cymbals are known for being fairly pricey and this cymbal set is no different. So, you'll be spending a bit of cash on it. 
PROS: THINGS WE LIKED
Seriously great tone
The set includes 5 cymbals
The 22" Full ride is the standout cymbal
CONS: THINGS WE DIDN'T LIKE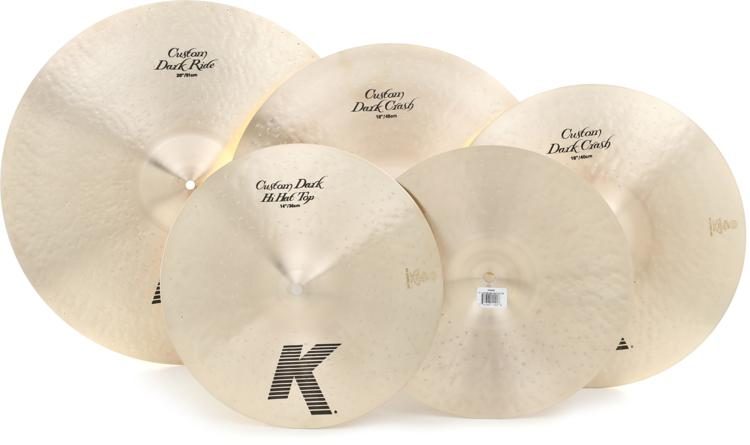 The K Custom Dark cymbals have a mellow tone with a quick decay. This combination of cymbal qualities makes them perfect for studio recording. Included in the set is a pair of 14" hi-hats, 16" and 18" crashes, and a 20" ride. 
The hi-hats tend to blend into grooves and sit somewhere in the middle of a mix. They have a warm tone when played open that isn't too aggressive. The crashes exhibit similar qualities and sound very mellow when crashed hard. They're great for mallet rolls. 
The ride cymbal can be crashed to get a very full sound over the kit. The bell has a distinct tone that is earthy and loud. 
Overall, these cymbals are great for any type of music that is laid back such as jazz or worship. The short sustain makes them easy to mix. 
PROS: THINGS WE LIKED
Mellow tone
Easy to mix
Great for jazz and worship bands
CONS: THINGS WE DIDN'T LIKE
May be too mellow for heavy music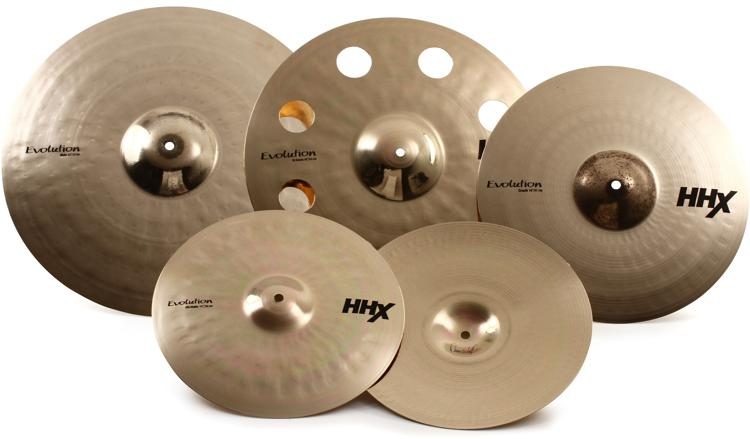 The Sabian HHX cymbals are the top-of-the-range cymbals over at Sabian. These cymbals are unique in that they have a dark tone with explosive power. The set comes with a pair of 14" hi-hats, a 16" crash, an 18" O-zone crash, and a 20" ride. 
The hi-hats are penetrating with clean stick definition and a clear cut. Their open sound is warm while the closed sound will cut through mixes easily. The 16" crash is explosive, providing a great tool for hard hits and accents. The 18" O-zone crash has holes drilled into it that give it a trashy tone. It's loud and effective. The 20" ride has a smooth tone with a hard-cutting bell. 
These cymbals are great for recording in a band with a heavy sound. The dark tone is easy to mix while the explosive power will cut through the band. One downside is that the cymbal pack doesn't come with a standard 18" crash. Some drummers may be missing that and have to purchase one separately. 
PROS: THINGS WE LIKED
Dark tone with explosive power
Great for heavy bands
Easy to mix
CONS: THINGS WE DIDN'T LIKE
May be too mellow for heavy music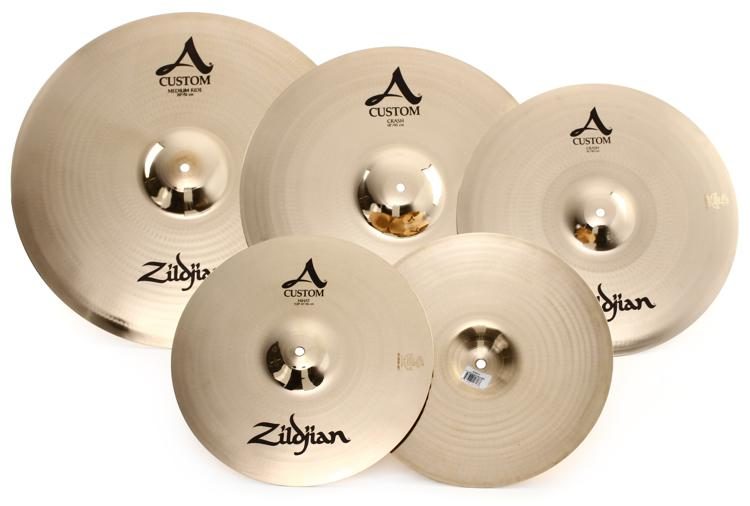 The Zildjian A Customs have a brighter sound compared to the K Customs. The brighter tone is better for high-energy styles like rock and pop. These cymbals will cut through mixes very easily. Included in this set is a pair of 14" hi-hats, 16" and 18" crashes, and a 20" ride. 
The crashes get out of the way fast while the bell on the ride has a wonderful ping tone. The hi-hats have a defined chick sound that is great for grooving. There's a suitable tone difference between every cymbal, creating a musical outline. 
These cymbals are very loud, meaning they're not as easy to mix as dark cymbals. However, they're still a great option for recording, especially for heavier bands. 
PROS: THINGS WE LIKED
Bright tone
Great for heavier styles of music
Very loud
CONS: THINGS WE DIDN'T LIKE
May be too mellow for heavy music
What cymbals are best for rock?
Rock bands have heavy instrumentation, meaning you need cymbals that will add to the energy as well as be heard clearly. The best cymbals for this would be ones that are loud and bright. Higher-pitched cymbals tend to cut through mixes instead of blending into them. They're perfect for that heavy-duty rock sound on a live stage. 
In terms of studio recording, warmer and darker cymbals will also work well for rock. 
Which Zildjian cymbals are best?
The best line of cymbals from Zildjian are their K Custom series. There are several types of cymbals in this line and each one has fantastic sounds and qualities. Zildjian K Custom cymbals are arguably the most famous cymbals in the world. 
Many drummers love the brighter sounds of their A Customs. So, you'll often see a mixture of A Custom and K Custom cymbals in a Zildjian setup. 
How do you record cymbals?
The main tool for picking up cymbal sounds would be the overhead microphones in a mic setup. These mics are designed to pick up the overall sound of the drums as well as the nuanced tones of the cymbals. 
Sometimes, just having two overheads isn't enough. So, sound engineers will place a mic specifically for the hi-hat. This could extend to other cymbals if the setup is big. The more cymbals you have, the more mics you will need.  
What are the best Sabian cymbals?
The top line of cymbals from Sabian would be their HHX series. They fall under the same category as Zildjian's K Customs. Many drummers have a preference between these two cymbal brands and lines of cymbals. It's all personal opinion as both are fantastic. 
Conclusion
You'll find that most recording engineers have more than one set of cymbals. There are so many different sounds from different bands that not one set will fit everything. So, if you're going to do a lot of recording, it would be best to get as many different types of cymbals as you can. The sets from the list above would be a great place to start.