Best Cymbals for Jazz & Funk
As a jazz and funk drummer, your cymbals are the most important part of your whole setup. They say that a jazz gig can be played with only your cymbals. Although that's not entirely true, it does speak volumes of just how important the cymbals are. These two styles generally require a similar cymbal sound. So, we're going to present to you some of the best cymbals for jazz and funk. 
What Makes a Great Cymbal for Jazz and Funk?

These styles cater to the more artistic sounding cymbals. Your classic bright and loud cymbals will be too aggressive. A great cymbal for these styles will have a dark, dry, or earthy tone. It should blend within a mix instead of cutting through it. 
A great cymbal will have enough stick articulation that can be heard over the wash. You're going to be playing on the ride cymbal a lot, meaning stick articulation is hugely important. 
The Best Cymbals for Jazz & Funk
Best Cymbal Set for Jazz and Funk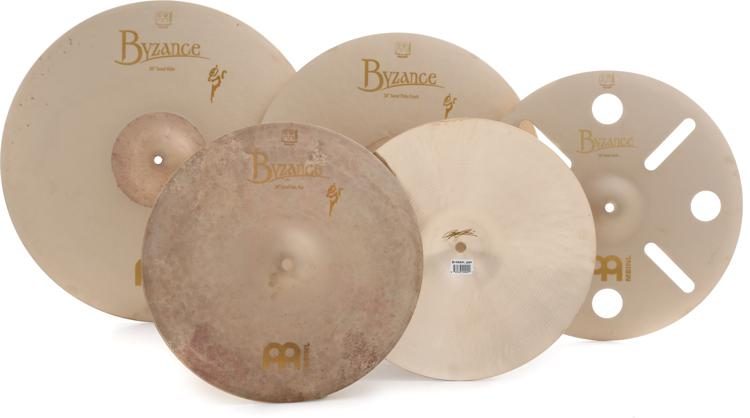 This cymbal pack was designed with the help of legendary groove drummer, Benny Greb. Benny is a highly accomplished drummer that loves a very dry sound with his cymbals. So, the Sand Series is a representation of that. 
The pack includes a pair of 14" hi-hats, a 16" trash crash, an 18" thin crash, and a 20" ride cymbal. 
Overall, these cymbals are perfectly balanced with wash, color, tone, and musicality. They're versatile enough to fit with pretty much any style of music. However, they really shine in jazz and funk settings. 
The hi-hats have a sweet tone that doesn't overshadow anything. They blend into the sound of the kit, almost resembling a shaker. The lower hi-hat is quite thick, allowing for a heavy sound when you press the pedal down. 
The crashes have a fast response and respond well to delicate playing. The 16" trash crash is great for accents while the 18" thin crash can be doubled-up as a second ride option. 
The 20" Sand ride has a thick and resonant bell. It dramatically changes in tone as you play towards the edge from a tight center ping to a deep growl. 
The one downside to this cymbal pack is that it's fairly expensive. However, it will be a seriously high-quality investment.
For more about the Meinl Cymbal Set, check out customer reviews.
PROS: THINGS WE LIKED
Great balance of wash, color, tone, and musicality
Versatile
Blend within a mix
CONS: THINGS WE DIDN'T LIKE
Best Ride Cymbal for Jazz and Funk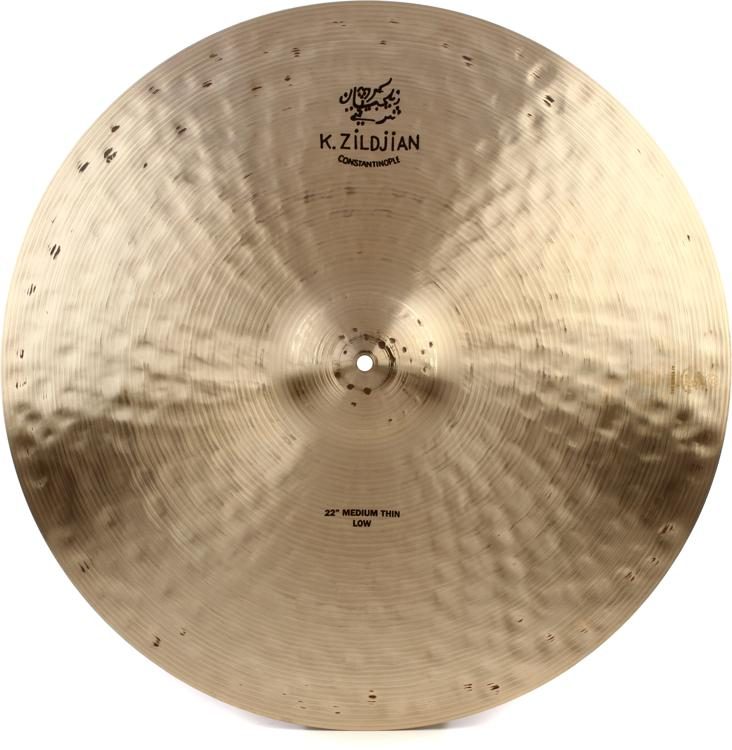 When it comes to luxury cymbals, the Zildjian K Constantinoples are high on the list. This 22" Medium Thin ride has a dark and warm tone that screams musicality when you play it. It has a vintage feel and sound that the jazz greats such as Elvin Jones used to love. 
It has dry overtones with a smooth decay, making it perfect for swinging and frequent riding. It has a warm wash that sings when you crash on it. It isn't too heavy, meaning crash riding won't overpower your overall sound. 
If you need a high-quality ride cymbal with a significantly low pitch, the Zidljian 22" K Constantinople is one of the best. It will work well for both jazz and funk music.
For more about the K Constantinople, check out customer reviews.
PROS: THINGS WE LIKED
Dark and warm
Sounds great when crashed on
Vintage feel
CONS: THINGS WE DIDN'T LIKE
Best Hi Hat Cymbals for Jazz and Funk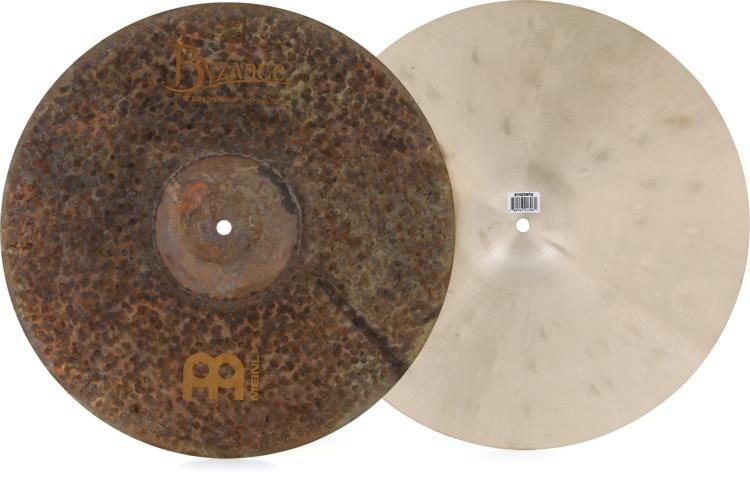 At first glance, you'll see that these hi-hats look very different from your conventional bright metal cymbals. Meinl has made a name for themselves with their raw and unlathed surfaces on certain series of cymbals. 
The 16" Byzance Extra Dry Medium Thin hi-hats produce a distinctively dry and defined tone. They have a heavy bottom, allowing for a fat chick sound. The light top allows for articulate stick definition. You get a good amount of wash when open and a crisp stick sound when closed. 
These hi-hats work well in live settings as well as in the studio. They're very easy to mix and get a great tone. Their 16" size allows you to get a large deep sound that is great for funk and jazz.
For more about the Meinl Hi-Hat, check out customer reviews.
PROS: THINGS WE LIKED
Unique raw and unlathed look
Fat chick sound
Articulate stick definition
CONS: THINGS WE DIDN'T LIKE
Best Crash Cymbal for Jazz and Funk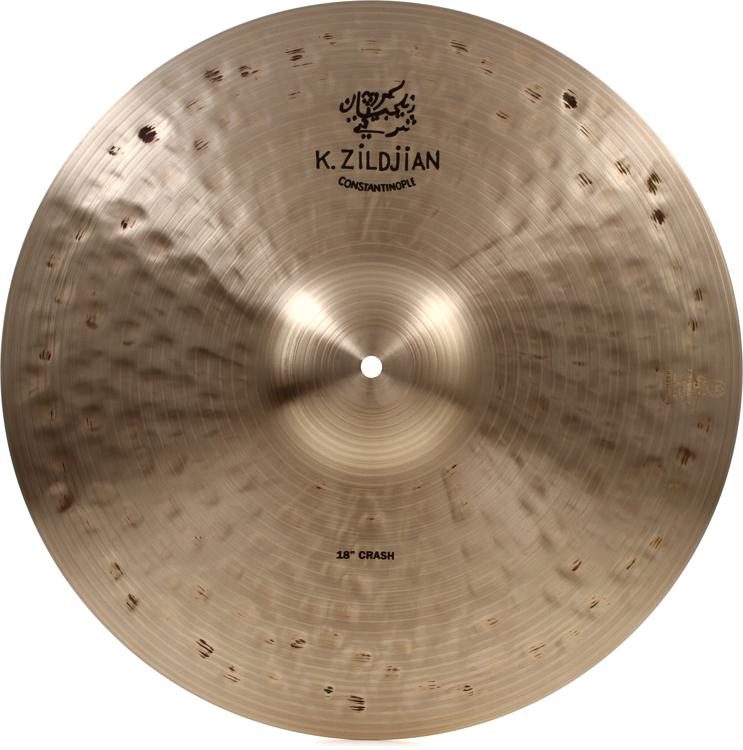 As stated previously on this list, the Zildjian K Constantinoples are the highest of high-quality cymbals. This 18" crash delivers a dark and warm tone that fits perfectly within a jazz or funk setting.
It has a vintage feel and tone that allows you to play the bow of the cymbal like a ride cymbal. This is great in a jazz setting when you want to have different voices while swinging.
It responds extremely well to dynamics. It produces a full and musical tone when played softly. It then explodes into a warm wash when hit hard, still blending into the mix.
You can't go wrong with the 18" K Constantinople. It's a musical cymbal that will last you a long time and add a great sound to your setup.
For more about the Zildjian Constantinople Crash, check out customer reviews.
PROS: THINGS WE LIKED
Vintage feel and tone
Dark and warm sound
Responds well to dynamics
CONS: THINGS WE DIDN'T LIKE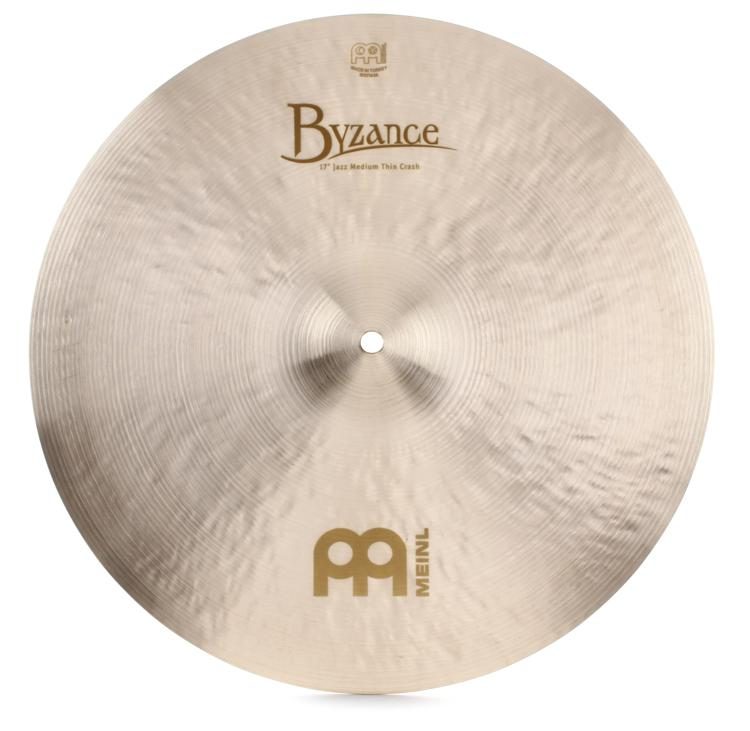 The Meinl 17" Byzance Jazz Medium Thin crash has a fast and explosive attack. It's unique in that it has a dark and warm tone whereas explosive cymbals are typically quite bright. 
This cymbal has a complex frequency range with a quick decay, making it a perfect option for jazz and funk. The dark tone makes it great for riding on, allowing you to have a second ride option that is a bit lighter than your standard ride. 
It feels very smooth to play. It's quite thin but durable enough to be hit hard. It's not the loudest cymbal out there, meaning some people may find it lacking, especially if you're playing in a loud environment. 
For more about the Meinl Thin Crash, check out customer reviews.
PROS: THINGS WE LIKED
Fast and explosive attack
Complex frequency range
Provides second ride option
CONS: THINGS WE DIDN'T LIKE
What is the best jazz ride cymbal?
There are many ride cymbals out there that fit well within a jazz setting. Jazz is a complex style of music with many sub-genres. One ride cymbal may be better for bebop than it is for big band playing. So, when it comes to overall quality tone for jazz, we've chosen the Zildjian K 22" Constantinople Medium Thin as one of the best ride cymbals for jazz. Its dark and warm tone provides a lot of musicality and its stick definition is great for swinging. 
What are the best sounding cymbals?
This depends on what style of music you're playing. Certain cymbal qualities are better for different styles. If you're playing metal, rock, or punk, then bright and loud cymbals will sound the best. 
If you're playing jazz, funk, or indie, then dark and warm cymbals will fit those styles better. 
Every cymbal company has different levels of cymbals that cater to every budget and environment. 
What are the best Zildjian cymbals?
Zildjian's top lines of cymbals are the K's, K Customs, and K Constantinoples. Every cymbal in those lines has a high-quality tone and exhibits exceptional build quality. 
However, many drummers love the Zildjian A Series. Those cymbals produce a bright tone that is great for rock and metal. 
What size ride cymbal should I get?
When playing jazz, your ride cymbal is the most important piece of your whole setup. So, you need a cymbal that you're going to love and want to hear all the time. The size of the ride is a big choice that you have to make. 
Ride cymbals range from 20" to 24". The bigger the cymbal, the darker the tone, and the more wash it has. If you want a darker cymbal with a lot of wash, then a 22" or 24" would be a good option. Otherwise, a 20" or 21" would be a standard choice.
Conclusion
The great thing about cymbals is that they can be easily switched out. This means that you don't have to have one set of cymbals that you use all the time. You can have different cymbals for different situations. 
Certain cymbals and drum kits work better for jazz, so get yourself a set that you can take with you when you play small gigs in pubs and clubs. Those cymbals will work for funk settings as well.