Jazz has been around for about 100 years. It used to be the main style of music that you'd hear. People would dance to it, bands would jam out in speakeasies and modern music would evolve along with it. 
It's still around, but not played as often in a mainstream setting. However, a lot of musicians still love and play jazz. As a drummer, you're going to need a drum kit that best reflects the style. This buying guide will go over the best jazz drum sets. 
These are Our top Picks Summarised For:
19th October 2021
What makes a great drum set for jazz?
Jazz drumming generally calls for high tuning and drums that resonate strongly. So, a great drum set for jazz will be one that sounds great when tuned high and has toms that sing. The drums should be articulate and responsive. 
The types of drum kits that exhibit these qualities are usually smaller in size than the average kit. Jazz drum kits are small. Some are called "compact kits".
The 5 Best jazz Drum Sets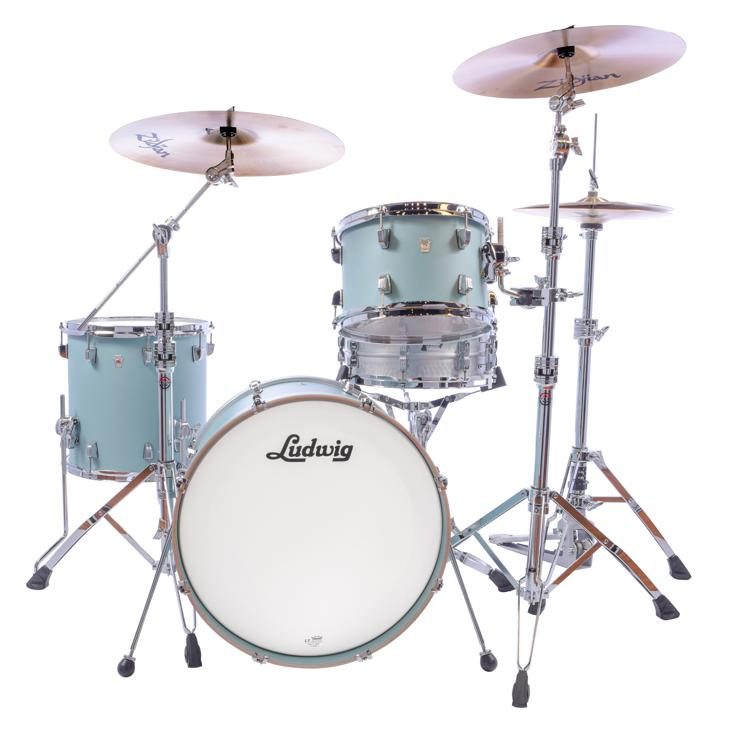 Ludwig kits were huge when jazz came onto the scene in the 1920s. So, it's a no brainer that we've put a Ludwig kit on this list. The NeuSonic is a 3-piece shell pack that comes with a 12" rack tom, a 14" floor tom and a 20" kick drum. 
The shells are made from a mixture of maple and cherry wood. The maple gives the drums a punchy sound, while the cherry wood adds projection. 
These drums sound very rich and warm. The toms boom and the kick drum has a huge presence. 
There are several different finish options, meaning theres a lot of colors to choose from. They all look really good! 
Just note that this shell pack doesn't include a snare drum. 
For more about Loudwig Neusonic, check out customer reviews.
PROS: THINGS WE LIKED
Many colors to choose from
Drums sound rich and warm
Great price to value ratio
CONS: THINGS WE DIDN'T LIKE
Doesn't come with a snare drum
Sonor is known for producing professional quality drums for and has been one of the leading companies when it comes to compact kits for quite a while. They recently renewed their compact series and now call them the AQ2 kits. The AQ2 Martini is a compact kit that includes an 8" rack tom, a 13" floor tom, a 12" snare drum and a 14" kick drum. 
The shells are made from maple wood. They sound very musical and are seriously responsive. The 12" snare drum is made from steel. Compact kits usually come with some really low quality snare drums, but this Martini snare is really good! 
This kit is really small, meaning it's great for playing jazz in small bars and clubs. It will fit on very small stages. If you play in a jazz trio, it will be perfect. It may not be loud enough or have a big enough presence for playing in a big band though. 
For more about the Sonor Martini, check out customer reviews.
PROS: THINGS WE LIKED
Great snare drum
Fits in tight spaces
Great for clubs and pubs
CONS: THINGS WE DIDN'T LIKE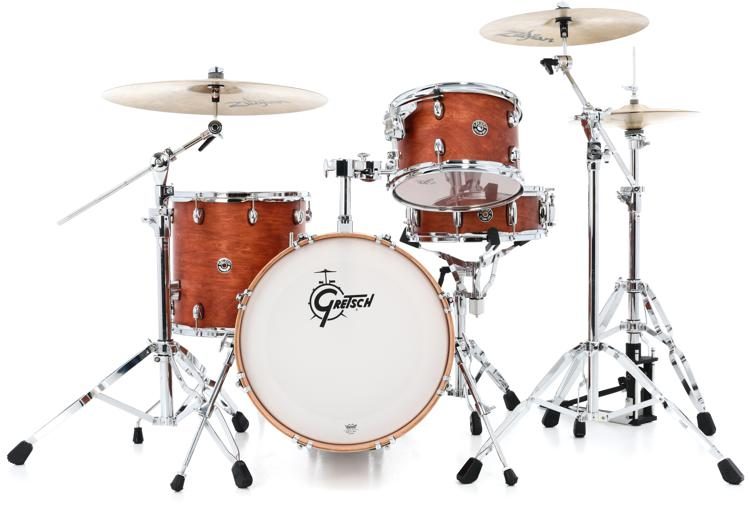 Gretsch are one of the most beloved and supported companies by jazz drummers all over the world. It's no surprise then that we've added a Gretsch kit to this list. The Catalina Maple 4-piece comes with a 14" snare, 12" rack tom, 16" floor tom and 22" kick drum. 
These drums are made from 7-ply maple shells. These shells have a super wide range of tuning options. They can be tuned high for bop playing and they can be tuned low for a large big band sound. 
The large sizes of these drums make the Catalina Maple a great choice for playing drums in a big band setting. You'll be bale to bust out some Gene Krupa-style floor tom solos and get the crowd dancing. 
For more about the Gretsch Catalina, check out customer reviews.
PROS: THINGS WE LIKED
Gretsch kits are known for being great jazz drum kits
Wide tuning range
Great for big band playing
CONS: THINGS WE DIDN'T LIKE
The Tama Club Jam kit is one of the smallest drum kits on the market. It was designed specifically for gigging in small venues and light travel. The shell pack includes a 13" snare, 10" tom, 14" floor tom and 18" kick drum. These shell are all quite shallow, which is what makes the kit so compact. 
Although this kit is small, it produces a big sound and holds its own when playing with a band. The shells are made from poplar and mersawa wood. The poplar gives it a vintage tone and the mersawa brings warmth and liveliness. 
The shells have triple-flanged hoops with give the drums a fat attack. 
The size of this drum kit makes it extremely easy to travel around with. If you're going to be playing jazz frequently in different venues, the Tama Club Jam is a great option for a drum kit to use. 
For more about the Tama Club Jam, check out customer reviews.
PROS: THINGS WE LIKED
Big sound for such a small kit
Easy to travel with
CONS: THINGS WE DIDN'T LIKE
Snare drum isn't the greatest
Best jazz drum set for Beginners
The Pearl Roadshow is undoubtedly the best jazz drum kit for beginners. Jazz isn't something beginners would typically learn, but if you do, the Roadshow is the way to go. It's an entry level drum kit that comes in bop sizes and includes cymbals and hardware. 
It comes with a 13" snare, 10" rack tom, 14" floor tom and 18" bass drum. It also comes with a pair of 14" hi hats and 16" crash/ride cymbal. Lastly, it includes all the hardware to hold these things together. Pearl makes some high quality hardware, and the included pieces of hardware definitely live up to that standard. 
The shells are made from poplar wood, giving the drums a vintage sound. The quality is aimed towards beginners, meaning more experienced players will want more out of a drum kit. 
The included cymbals aren't the best sounding things around, so you may want to upgrade your cymbals once you get this kit. They're pretty cheap sounding. 
You get a lot for the price of this kit. It's a great starting point for anyone who doesn't have a drum kit yet. 
For more about the Pearl RoadShow, check out customer reviews.
PROS: THINGS WE LIKED
Big sound for such a small kit
Easy to travel with
CONS: THINGS WE DIDN'T LIKE
Snare drum isn't the greatest
What is the best wood for jazz drums?
The 3 best woods for jazz drums would be birch, maple and poplar. Poplar wood gives the drum a vintage sound, similar to the drum sounds of the 20th century. If you're playing big band jazz, the poplar wood will help you achieve that big vintage sound. 
Birch and maple are both used in creating high quality drum shells. They will both make the drum kit produce a great sound that has a wide range of tuning. You may have a small kit, but the birch or maple will allow it to sound huge even when tuned low. 
What types of drums are used in jazz?
Small drum kits are generally used in jazz. Kits that have 16" or 18" kick drums, since jazz requires higher tunings. However, some subgenres of jazz, like big band music, require larger drum kits. 
Gretsch is one of the main drum manufacturers of jazz drum kits, but a lot of other drum companies also make drums for jazz. 
Why does my hi hat sound bad?
The hi hat and the ride cymbal are the two most vital parts of your drums when playing jazz. They're the two things that help you keep the time. You could play a whole swing gig with just those two things. So, it's important that they sound good. 
If your hi hat is sounding bad, it could be because it is too heavy. Jazz drumming requires cymbals that are darker in tone and that blend into the mix of instruments. A hi hat that sounds too heavy and bright is not going to fit. 
You need a hi hat that is either dry or dark, and that has a solid chick sound when you play it with your foot. 
Who are the greatest jazz drummers of all time?

 
Music is very subjective. Everyone has different opinions of who is better than who. However, there are some legendary jazz drummers that shaped the music as the years went by. One of them is Buddy Rich. Many people argue that he's one of the greatest drummers of all time. He played in big bands.
Another legendary drummer is Gene Krupa. He also played in big bands and featured in a lot of old school films with his drums. 
Other legends would be Tony Williams, Max Roach and Elvin Jones.
Conclusion
The most important part of a jazz drum setup is the ride cymbal. It's the heartbeat of your whole kit. We have a list of the best ride cymbals, the best hi-hat cymbals or a buying guide on cymbal packs. 
If you're going to play jazz, it's important that you get a drum kit that will help you spark your creativity. It should resonate and sound really good when tuned high. The drum kits on the above list are among the best drum set brands and all exhibit those qualities. 
So, choose one and go make a great investment!