Best Electronic Drum Sets
Are you looking for the best electronic drum set for your budget?
No matter if you're buying your first set, switching from an acoustic drum set or just adding a new kit to your collection, It's always important to do in-depth research before making a definitive choice.
We've made this buying guide in an effort to show you the best options available on the market that belong in different price brackets.
Now that you've had a glance at our top picks, let's dig into the detailed reviews. This buying guide is rather long, so make use if the table of content to see the best contenders under a particular price.
What Makes a Good Electronic Drum Set?
There are several things you need to consider, with these aspects being determined by your budget.
Generally speaking, you need to pay attention to these 4 key points:
SOUNDS:
You're going to need to look for a manufacturer that has done the proper job of recording different types of drums in real situations. Typically you will find sounds for different playing styles, but the quality of this samples is what matters the most.
QUALITY:
Quality generally improves as the cost of kits increases. However, we have included the best brands in this list, no matter how much you are willing to pay.
HEADS:
There are two types of heads and we cover the difference between them in the guide section. But essentially, try to pick a kit with mesh heads. These types of heads have a more natural feel when playing. If you come from an acoustic drum, set you will be grateful for them.
MODULE:
This is the brain behind the machine. You will find better and more complex modules when you are looking at high-end e-drums. They are harder to understand, and aimed at more experienced musicians.
Don't worry, in this buying guide we will cover these aspects in detail for each of the electronic drum sets, so you can make a truly educated decision.
The 11 Best Electronic Drum Sets
Roland's new TD-50KV drum kit pushes the limits of electronic kits to a whole new level. Where TD-30K hit the wall, TD-50KV just keeps going. The whole new module, with its advanced Prismatic Sound Modeling engine, is bringing electronic kits to the level of quality acoustic sets. Those who want the best of the best will find their answer in Roland TD-50KV.
QUALITY
No matter how advanced a kit is, a lot of its performance will be based on the quality of materials and hardware used. With TD-50KV, you are looking at impressive levels of reliability, stability and overall aesthetics. This kit doesn't only sound like an acoustic set, it looks like one as well.
SOUNDS
The all new Prismatic Sound Modeling engine absolutely pushes the limits of digital drum sampling. Roland has included a number of realistic sounding drum presets, which you can alter in so many different ways. The end result is an electronic drum kit that sounds like a quality acoustic set.
HEADS
As you would expect, the pads on the new flagship kit from Roland belong to the V-Series. However, these are a bit different compared to the previous generation. Not only do they look like real drum heads, but the sensitivity and feedback are almost the same. On top of that, you can customize the performance of each pad in many different ways.
MOBILITY
Considering how complex the design of TD-50KV is, it is fair to say that mobility was not something Roland was focused on when designing this thing. It is heavy, large and full of hardware components that need precision adjustment. Using this kit for frequent gigging is not ideal.
MODULE
The all new TD-50 module from Roland brings a number of important changes compared to its predecessor, the TD-30. For starters, it comes with XLR support which means that you can hook it up to a PA system. However, its strongest side is its versatility. TD-50 allows you to customize the output for various environments, change the response of the pads and so much more.
THE KIT FEATURES:
Roland's all new TD-50 drum module
Impressive new Prismatic Sound Modeling engine
Highly realistic 14″ Roland PD-140DS snare drum
Supreme quality of samples
Incredible versatility and customization options
Roland TD-50K is the new standard. That is the only real way we can describe this impressive drum set. They have taken the performance of TD-30 series and pushed them to a whole new level of excellence.
We recently made a full review of this beast right here.
If you need a professional kit and have an unlimited budget, TD-50K is the only real way to go at the moment.
PROS: THINGS WE LIKED
Impressive performance
Sounds as close to an acoustic set as it is possible
Versatile and flexible in any way imaginable
CONS: THINGS WE DIDN'T LIKE
Pearl's e/Merge Hybrid electronic drum kit aims to compete with other products as one of the top-of-the-range electronic kits on the market. It was designed along with Korg, a company known for their innovation when it comes to synthesised sounds.  You can check our full review here.
QUALITY
The e/Merge has quality written all over it. Pearl is known for their stable hardware, with the e/Merge utilising it to its full potential. This kit is big and solid. It looks like a real acoustic kit, it feels like one and it also plays like one. The pads are extremely durable, so you'll be beating on them for years before they show any signs of wear and tear. 
SOUNDS
The acoustic drum kit presets on the module come from top-of-the-range Pearl drum kits that have been recorded in a high quality studio. There's a lot of drum kit options, ranging from birch to maple kits. The electronic sounds on the module come from Korg, with a lot of their classic sounds from over the years being included.
HEADS
The snare is built with Korg's Wavedrum technology. It has realistic and gentle response. The sensors on the snare cover its whole surface, making playing feel very real and you won't have to worry about not triggering sounds. 
The toms are built with Pearl's PureTouch technology, which also ensures high quality feel and response. 
MOBILITY
This kit is a similar size to a standard acoustic kit, adding all the cables along with that. It wasn't designed to be mobile. It would be better suited to stay in one space, like a practice room or studio. If you're going to gig a lot, it won't be the best option for that.
MODULE
The MDL-1 module combines qualities from Pearl and Korg. It offers hundreds of sounds and has an interface that is very easy to use. The top feature of the module is the ambience slider that allows you to play around with the way the drums are mic'd. This allows you to act as a sound engineer and add in things like reverb. 
PROS: THINGS WE LIKED
The dual-layer mesh heads
High versatility
Organic feeling
CONS: THINGS WE DIDN'T LIKE
It does not support brushes
The ATV ADrum rivals the Roland series of V drums. For beginners and advanced users, it is quite easy to use and super high quality. They are definitely on the right track and currently in Roland's shadow.
If you're shopping around for a great device that guarantees quality sound and an incredible acoustic-like feeling, then the ATV aDrums should be at the top of your choices.
This version gives room for adjustments. You can purchase more kits to expand the sound outputs, although the custom kits work pretty fine.
The main difference you will notice between the ATV drums and Roland's kits are the Cymbals. Other than that, both deliver an incredible drumming experience.
QUALITY
They didn't compromise on quality when manufacturing the ATV aDrums. The two-ply mesh gives it a classic finish.
You will love the three cones in the shell of the drum. The main purpose of this cool feature is to eliminate hot-spotting when playing at the center.
The snare drum includes a secondary rim, which is connected by a sensor. When you hit the rim, the sensor transmits the perfect sound you'd want.
Unlike other ATV aDrums, the expanded version comes with a module. Its structure is super stable for energetic performances. The stand features rubber feet to reduce crackling sounds when setting up.
The final polish used displays black gloss lacquer of quality. This protects the metal parts from rust while giving it an authentic finish.
SOUNDS
This drum set has a 14" hi-hat cymbal, with the two crashes being 16" and 18". (removed sentence about crash sound being optimum)
The hi-hats are very sensitive as they have no moving parts. The cymbals have three zones for different sound capabilities, which function as a bow, bell, and edge.
And the other thing about these cymbals is the 360-degree spinning, which produces even sound tones. The aDrums are ideal for recording. 
ATV engineered the aDrums to deliver a supernatural feeling for all genres. Its drum sizes vary in size, allowing room for different styles.
(removed line about bass drum being unique)
 You will love the vintage, purely acoustic, and metallic sounds that come from the ATV drum combination.
The drum and cymbal pads have multiple sensors. This allows for consistent sensitivity when you strike the drum or cymbal surface, thus giving you the freedom to control a range of sound dynamics.
HEADS
ATV features a very tunable mesh head that is characterized by a double layer of sturdy mesh. It offers the most sensitive trigger response through a 45-degree shell bearing.
Sensors allow for better control and precision. The life-like 13" snare works concurrently with the sidestick sensor to fill apparent gaps in rhythms through grace notes.
MOBILITY
A cool thing about the ATV ADrums is that they don't take up a lot of space. The kit consists of double braced hardware that makes it easy to install.
The drum set uses a multi-purpose stand that doubles up as a ride and tom support. It also has an adjustable snare stand that fits in with different components.
This drum set has only five pieces, making it lightweight. So, you do not have to worry about moving it to different locations.
MODULE
The simplicity of the aD5 drum module is unrivalled. The whole idea behind this module is to be simplistic and easy to use.
If you want to build upon the sounds, they offer an opportunity to buy more kits and cymbals to suit your preferences. However, the five custom kits deliver a variety of sounds without requiring a quick upgrade.
PROS: THINGS WE LIKED
The dual-layer mesh heads
High versatility
Organic feeling
CONS: THINGS WE DIDN'T LIKE
It does not support brushes
Following the well-known tradition of TD series, the TD-27KV-S Electronic Drum continues to deliver A quality under a brand that has been leading the industry for quite some time.
It is an excellent choice for professional drummers who value quality. Furthermore, the price to value ratio is outstanding.
Most importantly, the kit offers an opportunity to access the kind of quality and drum experience you can expect from its bigger brother the flagship TD-50 series.
QUALITY
The TD-27KV-S drum set is one of the most advance e-drums on today's market. Delivering fantastic sounds, beating many similar products in the market. Its hardy mesh heads make the kit feel super comfortable, which helps the transition from acoustic to electric kit.  
The cleverly designed cymbals produce customized tone variations. The knobs on the module and reverb technology complement the cymbals to find the exact sound you are looking for.
The kick trigger pad has a cloth-like material on its surface, which feels very natural. The pads are accommodative to single or twin pedals. 
A steady rack holds together all the components to withstand high-frequency drumming. 
SOUNDS
Expect a moment of explosive performance when using the TD-27KV-S drum set. It features a collection of attributes that guarantee a melodic experience.
With the three PDX-100 Tom Pads, KD-10 Kick Pad, two Crash Cymbal Pads, VH10 Hi-Hats, and the Digital Ride Cymbal Pad, you have very versatile set combined with 700 sounds. The possibilities are endless. 
If you intend to launch a top-notch studio, then this drum set won't disappoint.
It uses reverb sampling tech for quality recording. With its onboard sampler, it is easy to fine-tune vocals around an array of discrete sounds. 
HEADS
The Roland TD-27KV-S head features a sturdy mesh top that tunes resonance to an ideal sound spectrum. Cleverly arranged floor toms, snare drum, bass drum, and mounted toms enable easy access by the player.
It comprises a nine-piece kit enhanced with V-pad technology that offers a more natural feel when playing. You can customize the pads to achieve the best acoustic and realistic sound outputs.
The snare drum has a three-ply composite that produces sharp staccato sound blends. The toms work well with a two-ply composition.
MOBILITY
At only 103 pounds, it is lightweight and made for portability.
The rack that holds all components is collapsible, making it easy to move the drum set. Assembling it back in place is a quick job. 
MODULE
This drum set comes with an easy-to-use module that integrates seamlessly to the drum system. It picks accurate sounds when the drummer hits the toms, snare drum, bass drum, or the cymbals.
Additionally, it connects to Bluetooth. This feature allows you to stream audio from your favorite devices directly to the module.
Embedded on the module are direct editing knobs that are a convenient modification of sound. With the knobs, you can play around with the level, instrumental, tuning, and muffling functionalities.
The level knob allows you to change the volume of each pad individually. Its tuning knob helps you to dial up the pitch you want.
Furthermore, the module has three trigger inputs, auxiliaries and two direct outputs that are great for live mixes and performances. You can control the master, phones, and backing happens from a central point.
The module includes a USB port to connect to a computer. The metronome makes it an excellent practicing tool.
If you are looking for a 9-piece drum kit, then this is a suitable selection for you.
PROS: THINGS WE LIKED
A+ Quality
700 sounds
Cool mesh heads
CONS: THINGS WE DIDN'T LIKE
This 5-piece electronic drum set is made by Yamaha, another well-established brand.
The quality that Yamaha offers with this kit can be seen in just about any of its elements, no matter how tiny they are. Because of this, it's one of the kits professionals trust the most.
A relatively high price tag brings a whole bunch of advanced features that help with sound quality, as well as feedback you experience when you play. One such feature is the DTX technology along with mesh-heads, which aim to bring the most natural feeling during use.
Let's check out what this kit has to offer.
QUALITY
Yamaha's higher end electronic drums are built like tanks. You are looking at really sturdy hardware with joints and mounts which are rock solid. We expect nothing less, considering the price of this kit. Yamaha's use of quality materials for every component of DTX750K makes it one of the most reliable sets you can get.
SOUNDS
The quality of sounds delivered by Yamaha DTX750K is pretty impressive. They have included 50 factory presets, a whole array of effects and a very versatile EQ section that has two layers. What is great about the presets on this Yamaha, is the fact that you can edit and overwrite all of them. This gives you the full freedom to customize the sounds and samples in a way you see fit.
HEADS
One of the main benefits of DTX750K, compared to other Yamaha models, are the DTX pads. This proprietary technology allows you to use advanced drumming techniques which are almost exclusively reserved for acoustic sets. The feedback and versatility are impressive. When put against their immediate competition, Yamaha's DTX pads are ranked among the best ones out there.
MOBILITY
Similar to other electric kits, the Yamaha DTX750K wasn't really built with mobility in mind. The whole kit can be disassembled and transported when necessary. However, this process takes both time and effort. This is the type of drum set you keep in a studio or use on stage with professional support.
MODULE
Yamaha used the very same DTX700 module we have already seen. The processing power of modern modules has reached a level where they have plenty of headroom for hardware to catch up. That is exactly the case with this Yamaha. DTX700 is very powerful and potent unit that will do anything you need it to do.
THE KIT FEATURES:
DTX-PADs – For Quiet Playing and Practice
Yamaha's New Natural Sound Gives You Authentic Feedback
Import Your Favorite Samples With Ease
Comes With Songs Suitable For Beginner Practice
Packed With Tools To Enhance Your Technique
Realistic Cymbals That Offer Authentic Feedback
Hi-Hat System that Allows For Subtle Details
AUX INPUT For Track Streaming
Yamaha's Exclusive Trigger Function
The whole kit feels super natural to play and is packed with superb technology with all kinds of features. This kit easily belongs in the top tier group.
Unfortunately, the bass drum pad isn't a mesh head.
This option isn't for all budgets, but it is worth the value.
If you have no budget restriction, this is one high-end kit that won't let you down.
For more about the Yamaha DTX760K check out customer reviews.  
PROS: THINGS WE LIKED
Amazing engineering
High versatility
Organic Tone
CONS: THINGS WE DIDN'T LIKE
Some users report minor sound issues
Best Electronic Drum Set Under $2000
Here we have a Flagship model from Roland – the brand-new TD-17KVX-S drum kit. It sets the standards for sound and playability of electronic kits. While it is visually similar to the KV-S model, it goes one step further and brings the ultimate playing experience to the player who can afford it. The nearly flawless reviews only confirm that you're getting what it says on the packaging. Let's take a closer look.
QUALITY
Whether you are going to use this kit in the studio or live, you will have a sturdy tool that will endure all kinds of styles and playing techniques. Playing along with music or backing tracks has never been easier, due to the great connectivity settings that you get with the module. This includes standard stereo in and Bluetooth. If you are a drum teacher, you can integrate the coach mode into your teaching routine. You probably won't have a lot to learn from it as far as drumming goes, but you might get a better feeling for what your students want and need to learn, which is a great way to improve as a teacher.
SOUNDS
Let's take a look at the numbers first. 300 different instruments – 50 preset drum kits – room for a total of 100 presets. Versatility is certainly not a problem with the TD 17 KVX S. What about the tonal qualities? The kit is somewhat tuned to modern pop sounds by default, but if that is not your cup of tea, you can quickly and easily edit almost every parameter of the sounds. This includes ambiance, bass, treble, and of course volume.
HEADS
As the description by Roland states, the pads and pedals used in the TD-17 series are engineered to take a beating. You can assign individual sounds to the rim and head separately. Playability and expressiveness are guaranteed because of that. 
MOBILITY
Considering how complex the design of this model is, mobility is not one of its strengths. The many different parts are heavy, large and there are many hardware components that need to be transported and properly set-up. Don't expect this to be your main travel kit, unless you have a roadie.
MODULE
The preset sounds that the module provides are easily customizable, from muffling to up or down tuning, getting the sound you desire is easy, intuitive and flexible. The TD-17 is phenomenal and you can look up hundreds of videos demonstrating its variety of sounds. In short, the sounds are based on the legendary TD-50. You can import and record over SD, record audio and trigger virtual instruments and stream songs and MIDI over Bluetooth.
THE KIT FEATURES:
The TD-17 includes a variety of expressive modeled drum sounds inherited from the flagship TD-50
Highly realistic 14′′ Roland PD-140DS snare drum
High-quality parts: Snare: PDX-12 x 1; Tom: PDX-8 x 3; Hi-hat: VH-10 x 1; Crash: CY-12C x 2; Ride: CY-13R x 1; Kick: KD-10 x 1; Drum stand: MDS-4KVX x 1
Incredible versatility and customization options
All in all, this is the perfect blend of high-end drumming at a steep but realistic price. If you are still not convinced, take out your headphones and listen to the demos.
For more about the Roland TD17KV-S check out customer reviews.  
PROS: THINGS WE LIKED
Versatile and professional module
Comfortable and responsive feel
Sturdy and stable
CONS: THINGS WE DIDN'T LIKE
Comes bundled with a somewhat high price tag
Over the years Alesis has proven to be full of surprises. This brand has started to dominate the value for the money segment of the market. The Alesis Command Mesh Kit is among the latest additions to their spectrum.
Alesis went ahead and put together a great set of Mylar heads, stacked on a well-known rack. All of this is connected to a module that packs one mean punch. Let's take a closer look at this setup.
QUALITY
The hardware that comes with the Command Mesh kit is anything but basic. They have used thick pipes for the rack, making the kit feel like it is anchored to the ground. Alesis demonstrates precision craftsmanship and proper fitting of the elements. Mounts are sturdy and everything fits nicely. In terms of quality, this thing is right up there.
SOUNDS
What really puts Command Mesh kit on the map, is its library of sounds. We are looking at 1047 of 16-bit samples that haven't been treated with any kind of compression. That is 100 presets, which you can overwrite if you want to. With that said, the quality of the samples is fairly decent. The Command Mesh won't replace an acoustic set anytime soon, but it is fairly capable.
HEADS
Alesis discontinued the DM10 variant with mesh heads, offering a Mylar solution instead. The feedback from this type of pad comes across as fairly natural. The stick reacts well to the surface, which you will notice straight away. The pads offer great sensitivity, while cymbals are not too far behind. However, cymbal choking doesn't work too well.
MOBILITY
Being a full sized kit, the Command Mesh is not something you could call portable. The rack is a heavy duty design that takes time to put together and break down. Adjusting every pad and cymbal also takes some finesse. In other words, as long as you don't have to move it too often, the Command Mesh is pretty decent.
MODULE
The Command module packs a lot of heat in a price range where compromises are more or less the standard. Truthfully,  this thing is very responsive. It can handle complex patterns fairly well, while it also allows for a lot of on-site editing. Compared to other Alesis models, the Command's nature makes it great for live performance and recording. 
THE KIT FEATURES:
High-definition drum module with 12 trigger inputs and mixer
RealHead 10″ snare and 4 – 8″ toms; dual-zone drum pads with real mylar heads
DMPad cymbals: hi-hat, 2 crashes, and triple-zone ride
Compact, black aluminum StageRack
Premium sound library of uncompressed samples from real drums and cymbals
Dynamic Articulation changes sound's timbre along with dynamics for realism
Overall, the Command Mesh kit is a great solution in a price range where you don't really see too much diversity. Those Mylar heads give it a very natural vibe, which is what most acoustic drummers are looking for. While it is not a perfect kit by any means, it is one of the better models you can get in it's price range.
For more about the Alesis Command Mesh Kit check out customer reviews.   
PROS: THINGS WE LIKED
Realistic Mylar pads
Great feedback
Solid rack
CONS: THINGS WE DIDN'T LIKE
Best Electronic Drum Set Under $1000
As we mentioned before, we believe all Roland products are high quality. In this case, they've designed a compact kit with rubber pads, a mesh head for the snare and a smaller module.
This makes it a more affordable option, while still maintaining some pro features found in its bigger brothers.
QUALITY
Roland is one of the few rare brands who doesn't cut corners, even when they are fully expected to. The TD-17KL-S V-Compact Series features the qualities of a professional kit. The hardware is solid, offering plenty of support to the whole kit, even if you go hard at it. All of the mounts feel like they are stronger than necessary, which means that you definitely don't have to worry about heads and pads moving around.
SOUNDS
If there is one word we could use to describe the voices and pre-sets this kit delivers, it would be 'versatile'. Roland wanted to offer a good quality of sampling, but also some range when it comes to what you can get from this kit. This type of solution does require some compromises, but Roland seems to have handled them quite nicely.
HEADS
Here's what is really great about Roland – they could have included just about any kind of pads on this kit, yet they chose to go with V-Pads all around. This technically means that you are getting hardware components which can be found on their flagship model, at a much lower price.
MOBILITY
Even though it wasn't really intended to be highly mobile, the way Roland has designed the rack on this kit allows for some portability. You probably wouldn't want to move this thing around too often, but in case you have to do it, you won't run into much resistance. Realistically, it doesn't take long to break TD-17KL-S V-Compact Series down.
MODULE
Roland's TD-17 module is fairly powerful for what it is. Compared to something like the TD-30, you will find that it lacks quite a few features. However, the TD-17 was designed to be a training tool as well. They have included a great COACH feature that will help in your practice times.
THE KIT FEATURES:
SuperNATURAL sound engine that features all new Behavior Modeling
Extensive sound library brings a wide range of samples suitable for all kinds of musical genres
Packed with high-quality backing tracks, ideal for practice
Quick Record/Quick Play practice features, along with unique COACH mode that is suitable for both new and experienced players
Sizable LCD screen and easy to use interface for fast navigation
USB function for connectivity, data and music streaming
Compact MDS-4V rack allows for fast setup
Comes with a mesh-head V-Pad snare (PDX-8)
Don't let the smaller size fool you. This kit is capable of producing some amazing sounds. The bass drum is solid and feels great.We also appreciate a more affordable product from Roland. The downside? We would love mesh heads for the entire drum set.
  For more about the Roland TD17KL-S check out customer reviews. 
PROS: THINGS WE LIKED
Amazingly strong and versatile for this size
Top value for money, affordable price
Good build quality
CONS: THINGS WE DIDN'T LIKE
A bit of mesh heads wouldn't hurt
This mid-range drum kit from Yamaha comes with some interesting features. This new version (predecessor: Yamaha DTX502) comes with improved sound quality, highly expressive playability and user-friendly functionality.
QUALITY
The thing that made DTX502, the previous version of this kit, so good, was the type of quality it offered for the money. Yamaha's policy of going the full 9 yards when it comes to the core of their products definitely shows here. The rack is simple and made of thick tubes. Everything generally inspires confidence.
SOUNDS
In most cases with budget kits, you can't really expect too much in terms of samples and presets. However, Yamaha does things differently. You get 691 great drum samples, which are pretty crisp and clean for a budget kit. We can thank the versatile nature of the DTX502 for that.
HEADS
Here's where things get complicated. The cymbals on the DTX502 are amazing. You can choke them if you want and they also have three zones. However, pads are that typical rubber design. When you play them, the feedback is simply not the greatest. It is worth mentioning that this is more or less the norm for this price range.
MOBILITY
The setup we're looking at here is fairly low-profile. Even so, taking this kit from one location to another might prove to be a pain. DTX502 is a full sized electronic drum set, meaning that you will have to put in some effort if you want to frequently gig with this thing.
MODULE
The absolute best thing about the DTX502 is its module. DTX series are generally pretty far up there on the list, but they come to shine on a more basic kit such as this one. The module handles every input flawlessly, giving you precision and accuracy no matter what.
THE KIT FEATURES:
Comes with iOS Apps which allow easy customization, song syncing, and several training programs
XP80 three-zone silicon textured snare pad with authentic feedback
Three zones expression cymbals
DTX502 Module offers 691 Drum presets and other sounds
Another kit on the mid-range with great value. The DTX module is quick, with excellent results. What we don't like so much are the rubber tom pads.
If you can afford it, we recommend the mesh-head option.
For more about the Yamaha DTX522K check out customer reviews.   
PROS: THINGS WE LIKED
Good sound, clean attack
A responsive kit
Good value for money
CONS: THINGS WE DIDN'T LIKE
Rubber tom pads could be better
Best Electronic Drum Set for Beginners
An extremely affordable kit packed with sound quality from Rolands V-drums system.
This 5 piece kit has lots of great features making it a very interesting option for beginners and drummers that need a compact electronic system.
QUALITY
Roland's affordable kits are extremely interesting. The quality you get for the money beats just about any other brand, except for few heavy hitters. The rack on this kit is simple yet effective, which is a result of Roland using quality materials. On top of that, they've left the door wide open for customization and upgrades.
SOUNDS
The samples you get with TD-1K are surprisingly good for the price. Roland has included 15 drum set presets for you to work with, which makes the TD-1K more than versatile compared to its immediate competition. The quality of the samples is generally high. You won't get the same crisp sound as you would from Roland's flagship models, but the performance of TD-1K is nothing to joke about.
HEADS
Roland's decision to use their incredible V-Pad technology in an entry-level kit is worthy of praise. The four pads that come with the kit are impressive for the price. On top of that, you get a triple zone ride and a dual zone crash cymbal. Having that kind of versatility in a compact kit is fairly rare.
MOBILITY
Considering how light TD-1K is and how simplified its rack is, we can easily say that this kit features good mobility. It still requires some time to break down and put together again, but you won't have too much trouble doing so. Because of this, TD-1K is a great choice for those who need an affordable gigging kit.
MODULE
The TD-1 module is more or less based around simplicity. With that being said, Roland made sure that this entry level module is capable of keeping up with even the more advanced users out there. It can handle just about anything you throw at it, giving you good performance all around.
THE KIT FEATURES:
Quality sounds and samples
Ready to Play
Easy-to-Use Module packed with on board Practice Functions
USB connectivity
Support for a whole array of additional accessories
The kit has a sturdy build for an entry level drum set. We found that the drum bass pedal is really quiet. The kit's compactness makes it easy to move around. 
Overall this kit offers an incredible value for the money. However, it can be difficult to set up and adjust. 
For more about the Roland TD-1MK check out customer reviews.   
PROS: THINGS WE LIKED
Outstandingly sturdy construction for this price
Light weight
Strong, punchy sound
CONS: THINGS WE DIDN'T LIKE
Best Electronic Drum Set Under $500
If you're an absolute beginner and want to enter the drumming world at a super affordable price, this kit may be the solution you're looking for. It's nice to see Alesis has included some of their more advanced technology in this starter kit.
QUALITY
When you are dealing with beginner entry level kits such as the Nitro, quality is an important factor. Fortunately for us, Alesis has created a kit that can take a beating and keep on going. The rack is very sturdy for this segment of the market, providing excellent support to all of the components.
SOUNDS
The Alesis Nitro brings you 40 drum kit presets in total. On top of that, you get 11 MIDI kits and 385 various instruments that include SFX and all kinds of percussion. The quality of the sounds is decent and about as good as you would hope for them to be in this price range.
HEADS
The pads that the Alesis folks ship with the Nitro can be described as basic but reliable. We are looking at a set of rubber heads which aren't all that sensitive, but their core performance is on point. The same can be said about the cymbals. This is the type of kit that you can learn how to play on without having to worry about damaging the hardware.
MOBILITY
The Alesis Nitro isn't a very portable kit. It features a full sized rack that takes some time to assemble and break down again. If you are looking for something to gig with on a tight budget, the Nitro will work. Just keep in mind that moving it takes some time and effort.
MODULE
The Nitro module is a basic but effective solution in the entry-level segment of the market. Its core performance is rock solid, meaning that it will keep up with you no matter what. On top of that, it comes with a decent sequencer and a built-in metronome, which is great for those who want to solidify their timing.
THE KIT FEATURES:
Pads that offer authentic feedback and playing sensation
8-inch high-quality drum pads
Quality kick pad with pedal included
10-inch cymbals, including ride cymbal, hi-hat and crash with choke
Solid aluminum rack for high stability and support
Super inexpensive set that delivers volume sensibility and rimshots on all bodies making the feel and dynamics really a plus for this budget.
It doesn't have the best drum module and the sounds aren't the greatest. But if you're starting out, this kit will meet your needs.
For more about the Alesis Nitro Kit check out customer reviews.   
PROS: THINGS WE LIKED
Very cheap
Great value for the money
Strong, booming rimshots
CONS: THINGS WE DIDN'T LIKE
Beginner kit and that's it
Benefits of Going Digital
The main advantage is the entire new array of sounds you can play with just one drum set. You can also use electronic kits to play various pre-recorded samples, or even whole sections of songs.
Try experimenting with different effects that you can apply easily with a digital system.
Another great benefit is not having to worry about volume when practicing. Just plug your headphones in and you're ready to go.

CHOOSING BASED ON YOUR INTENDED USE
What most new drummers don't understand about electronic drum sets, is that they are very purpose specific. For example, certain kits are made specifically for home practice. While others are made for studio use or live performance. Figuring out what you plan to use your kit for can help you narrow down a lot of options. Not to mention that doing this will tell you exactly which price range of kits you need to be looking at.
DEFINING A BUDGET
Now that you have figured out what you plan on using your electronic drum kit for, you should define a budget for it. This is where things get tricky. Some kits come with everything you need to play them. Others not so much. When setting a budget for an electronic drum kit, you should take into consideration all of the accessories you need to get in order to make the kit complete.
FINDING THE RIGHT MODULE
An electronic drum kit module is the brain of the entire device. That is why most experienced drummers are going to look at the module of any given kit before they move on to other things. And that is why you should to. Getting a better module leaves you with more room for upgrades later down the road. With that being said, making this decision should be based on how long you plan on keeping that specific kit and when you will be able to get a better one.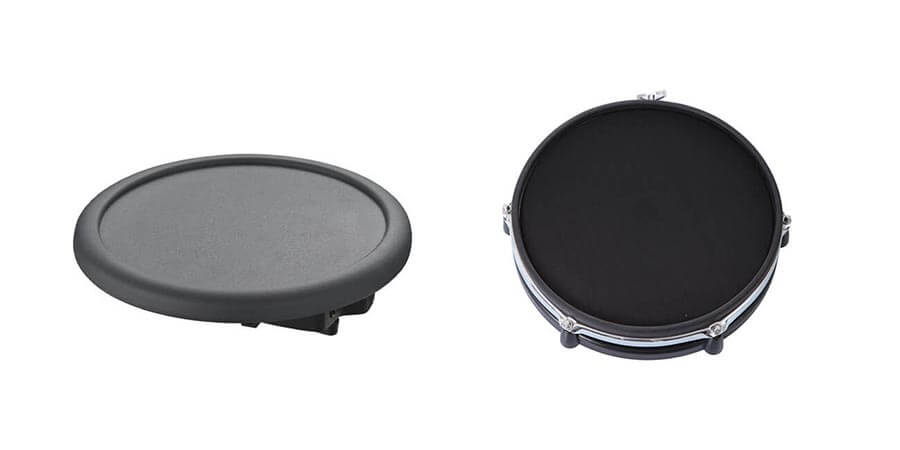 RUBBER HEAD OR MESH HEADS PADS:
There have been many improvements since the first electronic drum set.
At first, the sensation of playing electric drums seemed as if you were trying to play drums on a desk. In turn, this meant that the feedback was completely different compared to a real acoustic set.
Nowadays the feeling and response have been improved with the use of rubber or mesh heads.
The main difference between these two is that rubber heads are similar to a traditional practice pad.
Mesh heads tend to respond to a more acoustic feeling with a little more rebound, making them more friendly to play.
AMPLIFICATION AND MONITORING THE ELECTRONIC DRUM SET:
You should keep in mind that the drum set needs to be connected with an audio cable to an amplification system, especially when playing with other musicians.
It's also important to have good monitor speakers so you can hear exactly what you are playing.
You can find some self-contained systems specially designed for electronic drums.
SWITCHING FROM ACOUSTIC TO ELECTRONIC:
If you are switching from an acoustic drum set or incorporating a new electronic kit, you need to know that the feel and response from traditional drums will change greatly.
One of the most noticeable changes is the stick response. Both the rebound and the attack characteristics differ a lot from the acoustic options.
Although the are electronic drum kits that use mesh heads that let you control tension, keep in mind that you'll need to make some changes to your drumming technique, especially if you're planning to buy a kit with rubber head pads.
Another difference can be latency. Nowadays MIDI is super fast and capable of processing several notes at a time, but you may still encounter a small lag between the stroke and the final sound.
This shouldn't be an issue and you'll get used to it in no time, decreasing this perception.
The last thing to notice is distant sound. If you have experience with acoustic kits , you will know that the sound is produced instantly from every drum body. When you go digital, the sound comes from the speakers placed around the room. One common solution is to use a couple of monitors that will give similar feeling when playing.
Conclusion
Well, there you have it. The best electronic drum set reviews for every budget bracket.
Of course, features will change at different price points, but any of the choices above are really good. This goes both for entry level users and professionals alike.
If you are not sure which route to go, we have some excellent guides about intermediate sets and the best drum set brands for acoustic drumming.
Be sure to check what customers are saying about the products and feel free to leave us a comment with any question you might have.
By the way, don't forget to check our drum lessons section. Getting an electronic drum set is the first step. Now you need improve your skills to make it as a great drummer.
We want to hear from you. What is your dream electronic drum set?