Best Double Bass Electronic Drum Sets
One of the struggles that many drummers have with electronic drum sets is that some of them don't cater to double pedals. Whether it's because the kick pad is too small or because of the module not handling fast notes, it can be quite frustrating if you're a double pedal kind of player. 
So, we've put together a list of some of the best electronic drum kits that will allow you to play fast double pedal patterns.
How to set up a Double Bass Electronic Drum Set?
The first thing to do is make sure that the bass drum pad is big enough to house two pedals. It will be too small if the second pedal isn't able to hit the pad comfortably. If your current electronic kit doesn't have a suitable pad, you can replace it with a bigger one. 
The next thing to do is make sure that the slave pedal fits comfortably next to the hi-hat pad. Thankfully, most electronic hi-hat pads are fairly maneuvrable, making it easy to place the second bass pedal. Some kits are trickier, so do your best to place the pedals in the same way that you would on an acoustic drum kit. 
Best Double Bass Electronic Drum Sets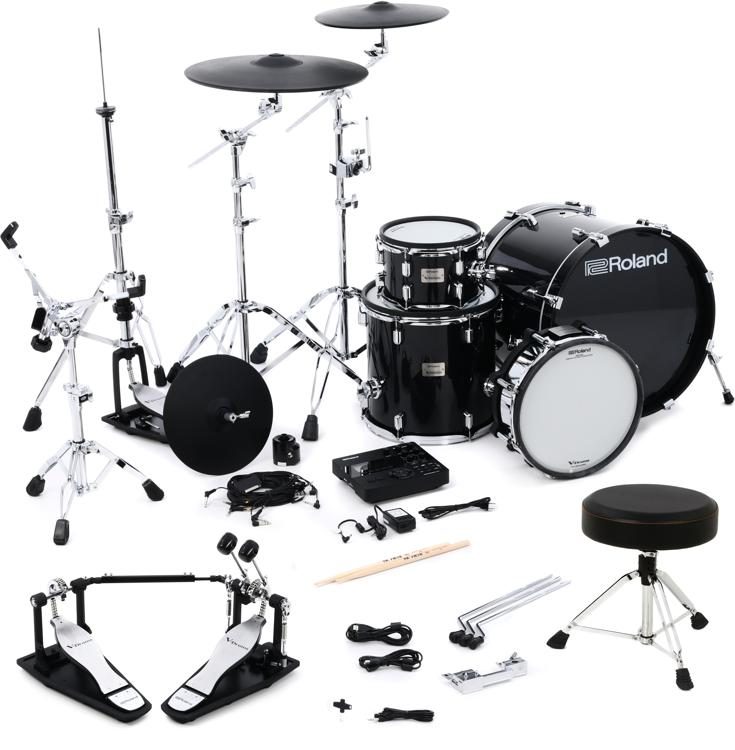 The Roland VAD503 is one of the top electronic drum kits on the market at the moment. It utilizes authentic acoustic drum shells, meaning it has a big bass drum that is perfect for double bass drumming. 
If you're not a fan of the small and thin nature of e-kits, this kit is a great option for you. It resembles an acoustic kit, but it has all the benefits that a drum module has to offer. The TD-27 drum module is incredibly good, including different sounds and editing capabilities. 
Overall, the kit feels very authentic to play on. Having the large bass drum gives you the same feedback that a standard acoustic bass gives you. This arguably makes this one of the best choices on this list. 
PROS: THINGS WE LIKED
Standard acoustic drum shells
Resembles an acoustic kits
Large bass drum
TD-27 drum module is excellent
CONS: THINGS WE DIDN'T LIKE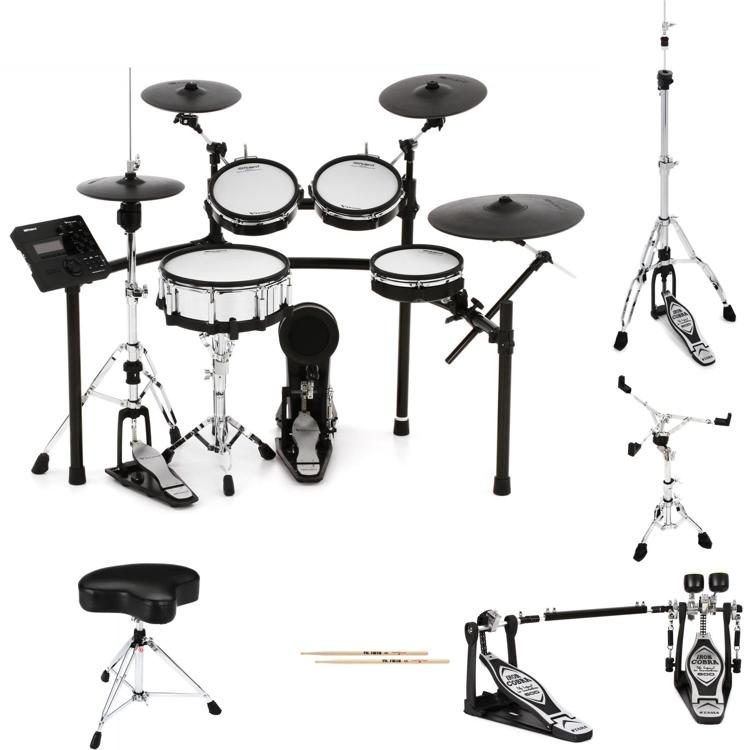 Speaking of the TD-27, the Roland TD-27KV is another top-quality kit on Roland's product list. This kit has the classic electronic drum pad setup, giving you five responsive drum pads to play on. 
The kick drum tower is heavily reinforced, giving you a steady feel when playing the bass drum. It's large enough to use a double pedal with and tends to handle even the fastest playing very well. 
The other great part of this kit is the full-sized snare drum. It fits onto a regular snare drum stand, giving you more resemblance to acoustic snares. It's incredibly responsive as well! 
If you're looking for a top-quality kit that isn't quite as expensive as the VAD, the TD-27KV is the next best thing. Also you can check the Roland VAD706 is budget is not a problem.
PROS: THINGS WE LIKED
Sturdy kick drum tower
Snare drum is 14"
Very responsive pads
CONS: THINGS WE DIDN'T LIKE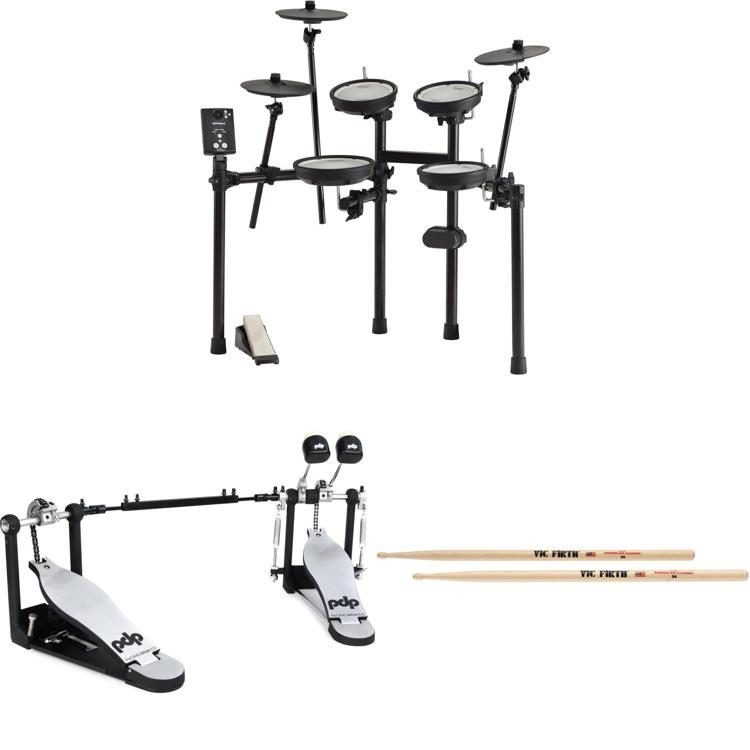 The Roland TD-1DMK is the perfect budget solution. It provides 15 high-quality preset drum kits and responsive mesh pads. If you're not looking for much, this is the kit to get. It's incredibly practical. 
The bass drum pad is quite small, but it's designed to be able to fit a double pedal. It's the perfect practice tool to sharpen up your double pedal skills. 
The kit will work for any level of player. However, some drummers may not like the fact that the hi-hat isn't connected on a stand.
PROS: THINGS WE LIKED
High quality at an affordable price
The bass pad fits two beaters, even though it's small
Simple, yet effective
CONS: THINGS WE DIDN'T LIKE
Hi-hat pad isn't connected to a stand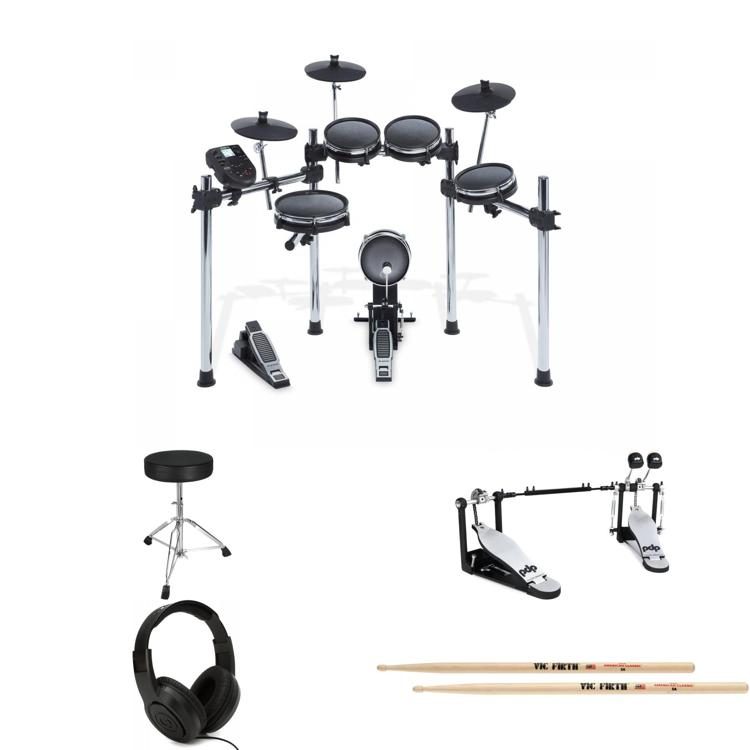 The Alesis Surge is a great electronic kit for beginners. The one benefit that it has over other kits at similar prices is that the pads are larger. The larger pads make it easier to play as their size is similar to acoustic kits. 
The kick pad feels quite sturdy to play on and will comfortably fit with a double pedal. The module has 24 preset drum kit sounds, giving you plenty of options to work with. Similar to the other Alesis kit, the sounds aren't as good as the sounds from a Roland or Yamaha kit. However, that won't make too much of a difference to a beginner. The fact that this kit has large pads and is affordable makes it a great option to go with!
PROS: THINGS WE LIKED
Large pads
Sturdy kick drum tower
Affordable
CONS: THINGS WE DIDN'T LIKE
The sounds aren't the greatest
Adding a Kick trigger pad to an Electronic drum set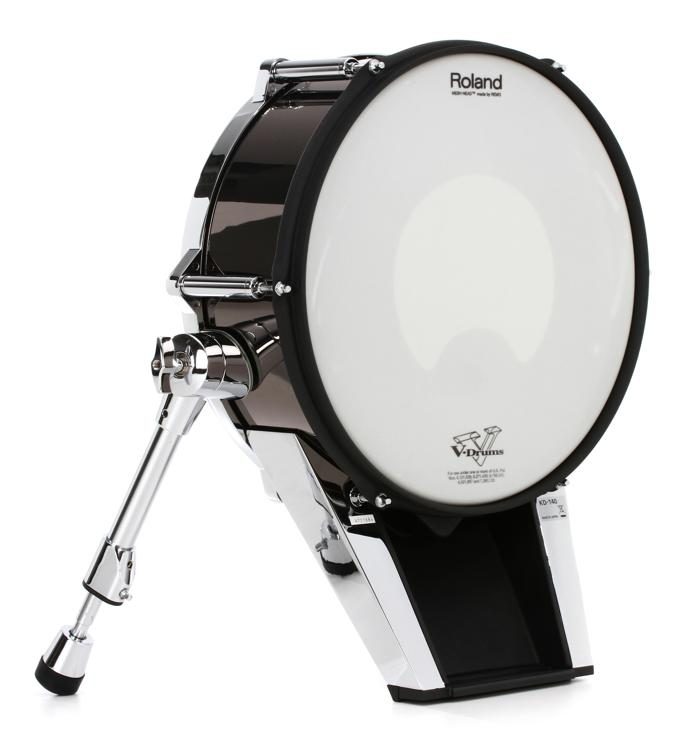 If you're looking for the highest-quality kick pad you can buy, look no further than the Roland KD-140. It's a 14-inch pad that is incredibly responsive. It feels very authentic. When it comes to dynamics, this pad will handle everything you throw at it. 
The large surface has more than enough space to put a double pedal. The bass allows you to mount the pedals very securely. Be warned, though, that this pad is more expensive than some of the kits on this list!
PROS: THINGS WE LIKED
Large surface
Sturdy frame
Highly responsive
CONS: THINGS WE DIDN'T LIKE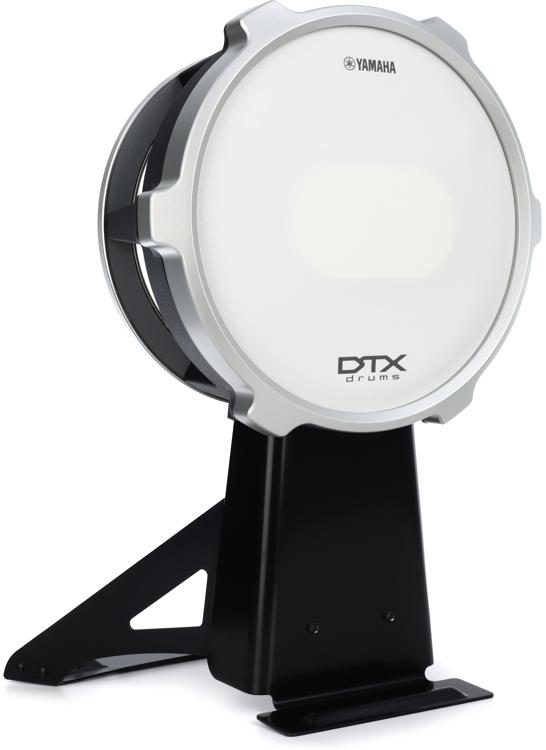 The Yamaha KP100 is another great pad that you should consider getting for your electronic kit. It has a coated head that helps preserve the life of it, meaning the pad will last a long time with heavy use. 
The pad has a little give when it gets hit with a beater. However, it has enough rebound to compensate for that.
PROS: THINGS WE LIKED
Highly durable
Coated head to preserve its lifespan
CONS: THINGS WE DIDN'T LIKE
Has a bit of give when hit with a beater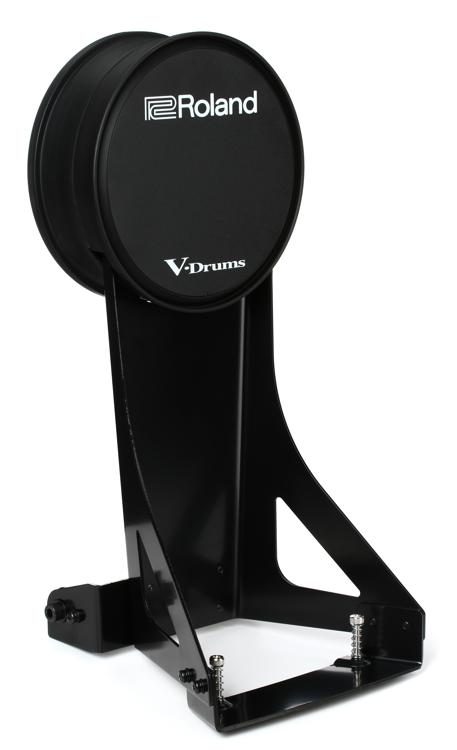 The KD-10 is the kick pad that comes with the Roland TD-27KV. You can buy it separately and attach it to any electronic drum set that you may have. It's a fantastic foot trigger pad and will work incredibly well with double pedals. 
PROS: THINGS WE LIKED
Relatively affordable
Responds like an acoustic kick drum
CONS: THINGS WE DIDN'T LIKE
Can electronic drums have double bass?
Most electronic drum sets are able to work with a double bass pedal. Electronic drum kits have come a long way in recent times. Drum modules are getting better and better, meaning even the cheap electronic kits can handle fast notes being played on the bass pad. 
If an electronic drum kit doesn't have a large enough pad for two beaters, you can buy a separate bad and connect it to the module as a replacement. 
Who is the best double bass drummer?
There's no definite answer to this question. There are so many great drummers in the world that have crazy double bass skills. If you wanted to look for the best double bass players, you'd need to look into the metal drumming scene. 
Metal drummers need to play extremely fast patterns on their bass drum, meaning most of them are very good at playing with double bass pedals. Some good examples of high-level players would be Mike Mangini, Matt Garstka, Dave Lombardo, and Joey Jordison. 
What is the best brand of electronic drum sets?
The top three electronic drum set brands are Roland, Yamaha, and Alesis. Roland is arguably the top player out of these brands. However, the other two provide some tough competition. 
Alesis has many fantastic affordable kits while Yamaha's strength is in their samples. Yamaha electronic drums have samples from high-quality acoustic drums. 
Conclusion
As you can see from the list, there are many high-quality electronic drum kits to choose from that allow you to use a double pedal. You'll need a great double pedal to play with when using these drum kits. 
Now pair it up with a good amp and check this guide on drum amplification.