Alesis doesn't have as big of a reputation as Roland and Yamaha. However, they produce a lot of high-quality drum kits that are well worth looking into. In terms of quality, they have made impressive electronic features affordable and available to the majority of drummers. So, we're going to look at the best Alesis electronic drum kits and show you what makes them special. 
What Makes a Great Alesis Drum Kit? 
The things that make a great Alesis kit are the same things that make any great electronic drum kit. That would be quality, sounds, features, and convenience. A great kit will have a high-quality build structure. It will be durable and last you many years of use. The onboard sounds will be good and pleasing to the ear. Many electronic kits don't have good sounds. So, a great kit will have high-quality sounds. 
Another aspect of a great kit will be all the added features. Rhythm trainers, metronomes, and play-along tracks are all features that are commonly included in great kits. Lastly, a great kit will be convenient to use. Electronic kits are mostly used as quiet sound solutions, so a great kit will allow you to play without making too much noise. 
The 5 Best Alesis Drum Kits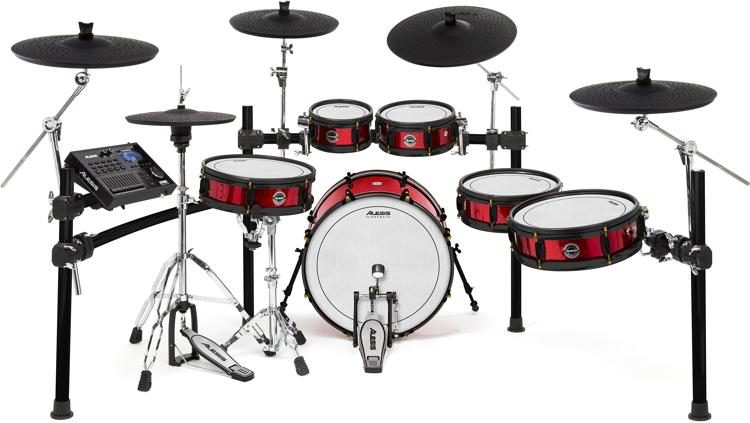 The Alesis Strike Pro is the flagship kit from Alesis. At first glance, you'll notice that this electronic kit strongly resembles an acoustic kit. That's because Alesis has created hybrid wood shells to fit with the mesh heads that connect to the module. This gives you the aesthetic visuals of an acoustic kit to go with all the features of an electronic kit. 
The module has 136 preset drum kit sounds as well as over 1800 onboard sounds. That's a huge variety of sounds to work with and they'll keep you occupied for years. The module allows you to individually mix each drum, allowing you to customize almost everything you can think of. 
The biggest thing that sets this kit apart from other e-kits is the fact that it has 6 drums and 5 cymbals. This huge setup would typically cost a serious amount of money. However, Alesis has made it affordable. 
The drums are tuneable and the cymbals have a realistic feel and response thanks to the dents that make them feel hammered. 
Overall, the Strike Pro is a great kit that will work for any pro drummer. It's the most expensive kit Alesis sells. So, you'll still be spending a fair bit of money on it. 
PROS: THINGS WE LIKED
Big setup for a relatively affordable price compared to other brands
Visual aesthetic of an acoustic kit
Mixer on the module allows a lot of customization
CONS: THINGS WE DIDN'T LIKE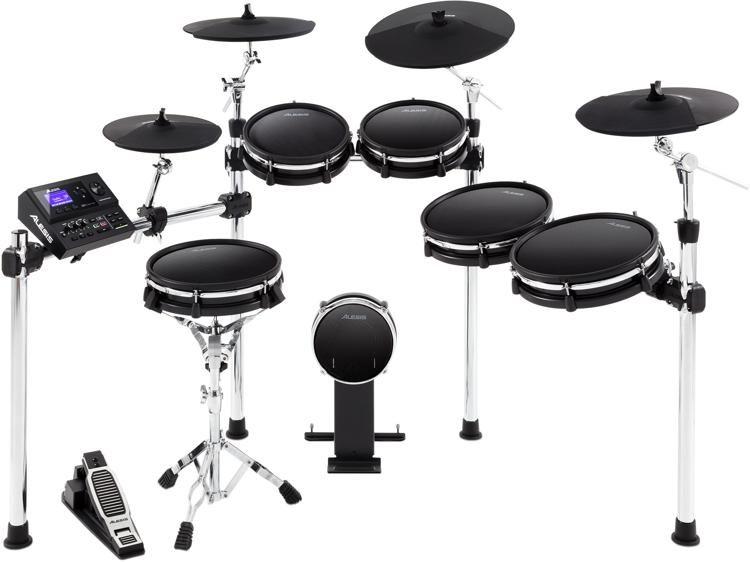 Moving onto a slightly more affordable kit, the Alesis DM10 is a 6-piece kit that has dual-zone mesh pads and realistic response. It has larger pad sizes than your typical electronic drum kit, giving it a high place on this list. A lot of electronic kits have small pad sizes that don't get bigger as you go down the drums. The DM10 has bigger floor toms and cymbals, giving you a similar feeling to playing acoustic drums. 
The module has 50 preset drum kits and over 700 onboard sounds. It also has a sequencer with 100 patterns that you can jam along to. You can record your drumming and play along to tracks through a connected media player. 

One of the best features of the kit is the chrome rack. It's sturdy, looks good, and makes the drums easy to position comfortably. 
The DM10 is a great pro-level kit that comes at an affordable price. 
PROS: THINGS WE LIKED
Large pad sizes
Great chrome rack
Affordable pro-level kit
CONS: THINGS WE DIDN'T LIKE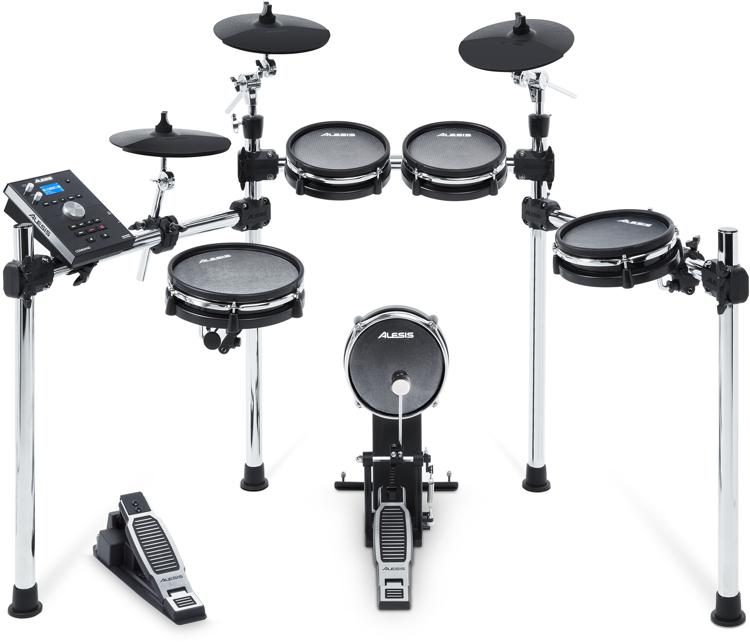 The Alesis Command Mesh is a great product that provides everything you need in an electronic drum set. It has dual-zone mesh head pads along with chokeable cymbals. The module has 50 preset drum kits and over 600 onboard sounds to play around with. 
One of the best things about this particular kit is that the module comes with 70 play-along tracks. These tracks go through a range of musical styles, allowing you to stretch yourself as a drummer. 
Overall, it's a solid choice for an e-kit. The biggest downside is that the ride cymbal isn't a dual-zone pad, meaning you can't play the bell. 
PROS: THINGS WE LIKED
Dual-zone mesh head pads
Cymbals can be choked
70 play-along tracks
CONS: THINGS WE DIDN'T LIKE
Ride cymbal isn't dual-zone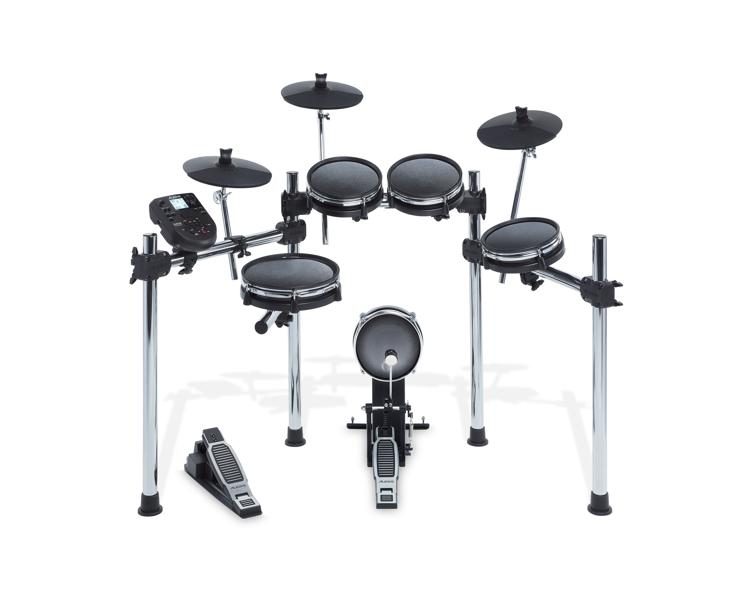 The Alesis Surge looks very similar to the Command Mesh. However, it comes in at a lower price thanks to the simplified drum module. The module has 24 preset drum kits and over 385 onboard sounds. It has space to make 16 of your own drum kits, meaning you can create some creative setups. 
The drums are all dual-zone, meaning each one can produce two sounds depending on where you hit it. This is a great feature for an electronic kit at this price. There's an onboard performance recorder as well as 60 play-along tracks. 
The rack that holds the drums is extremely sturdy and the drum set as a whole has a small footprint. This means that you'll be able to fit it in the tiniest corners of your house. 
The Surge is a great kit for beginners that want a kit that is a slightly better version of the entry-level kit from Alesis. 
PROS: THINGS WE LIKED
Dual-zone mesh pads
60 play-along tracks
Sturdy hardware
CONS: THINGS WE DIDN'T LIKE
Doesn't have as many preset drum kits as the other options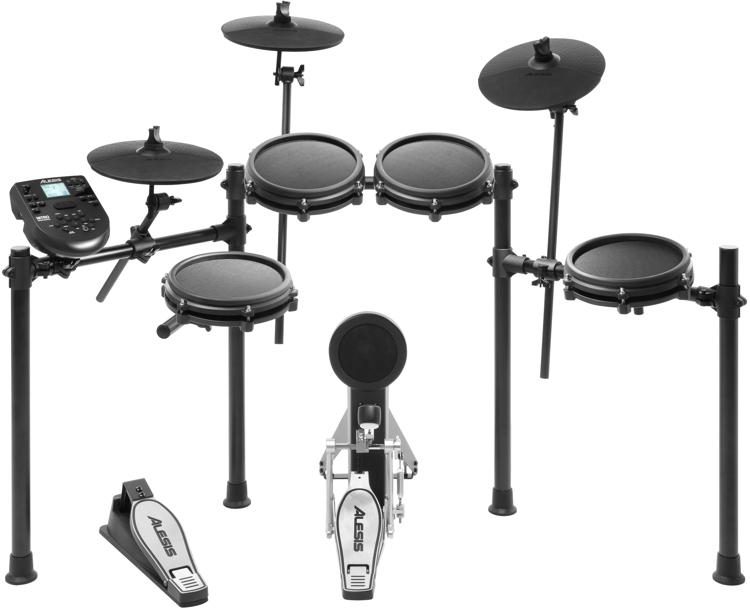 The Nitro Mesh is arguably one of the most popular kits from Alesis. It has everything you need in a kit and is priced specifically for beginners who are buying a kit for the first time. The module has 40 preset kits and 385 onboard sounds. Along with that, it has 60 play-along tracks that are easy for beginners to play to. 
The mesh pads are tuneable, allowing you to change the tension of them to feel like a real kit. You won't find mesh pads on any kit this cheap on the market, making the Nitro Mesh one of the best kits for entry-level drummers. The kit even comes with drum sticks, allowing the buyer to get playing immediately. 
Intermediate and pro drummers might find this kit lacking in many ways. So, you'd be better off getting a higher-quality kit if you're an experienced drummer. 
PROS: THINGS WE LIKED
One of the best kits for beginners
Tuneable mesh pads
The kit comes with drum sticks
CONS: THINGS WE DIDN'T LIKE
Not a good option for pro or intermediate drummers
What is the best Alesis drum kit?
The best kit from Alesis is the Strike Pro Special Edition. It's their flagship model and has every feature you'd need in a pro electronic drum kit. It directly competes with the flagship kits from other brands and it holds its own. It has the most drums and cymbals out of any electronic kit for a relatively affordable price. 
Are Alesis Drums any good?
Alesis drums are great for drummers who don't want to spend exorbitant amounts of money on electronic drums. The company offers mesh heads on some of their cheapest kits, something that the other drum companies don't do. They're great kits for beginners as well. The higher-quality kits from Alesis are also competitive and hold their own against the other drum brands.  
What is the best brand for electronic drums?
The best brand for electronic drums would arguably be Roland. Roland is a company that focuses purely on creating digital instruments, so their e-kits are top-quality. They've been at the top of the electronic drum kit market for decades and continue to innovate and inspire other drum companies to follow what they do. 
Some drummers will argue that Yamaha makes better electronic drums. So, it does come down to personal preference and what you like. 
What is the best electronic drum set for beginners?
From the list above, the best electronic kit for beginners would be the Alesis Nitro Mesh. It's highly affordable and comes with mesh heads. The mesh heads will give a beginner drummer a realistic feel that will transfer over to acoustic drums. 
It also has some useful teaching tools on the module that will help beginner drummers work on their playing. 
Conclusion
If you're looking to buy an electronic kit, we highly suggest you check out some Alesis products. Many of them provide great features at a price that is more affordable than any Roland or Yamaha kit. 
If you do decide to get an Alesis electronic drum set, you won't be disappointed. Get a good pair of headphones or amp and you are good to go. Just check this guide on amplification.
 Whether you're a pro, intermediate player, or beginner, Alesis has something for you.