Ultimate Buying Guide For Drummers on a Budget
The price of a drum kit can often chase away potential buyers. Many people that are looking to start playing drums discover that drum kits are fairly pricey. However, there are some great kits out there that come at affordable prices. 
These kits offer everything you need, especially if you're a beginner. It's important to know that even though they're cheap, they're packed with high-quality features. So, we're going to help you get the best value for your money and point you to some fantastic drum kits. 
These are Our top Picks Summarised For:
25th November 2021
What Makes a Great Cheap Drum Set?
The biggest thing that makes a great cheap drum set is the price-to-value ratio that it has. It needs to offer a lot of valuable parts and features, even though it comes at a price that is lower than most drum kits out there. 
The other thing that makes a great drum set is longevity. You want to make sure that the kit will last you many good years of use. It should be sturdy and very durable. This will save you money in the long run as you won't need to upgrade or buy replacement parts.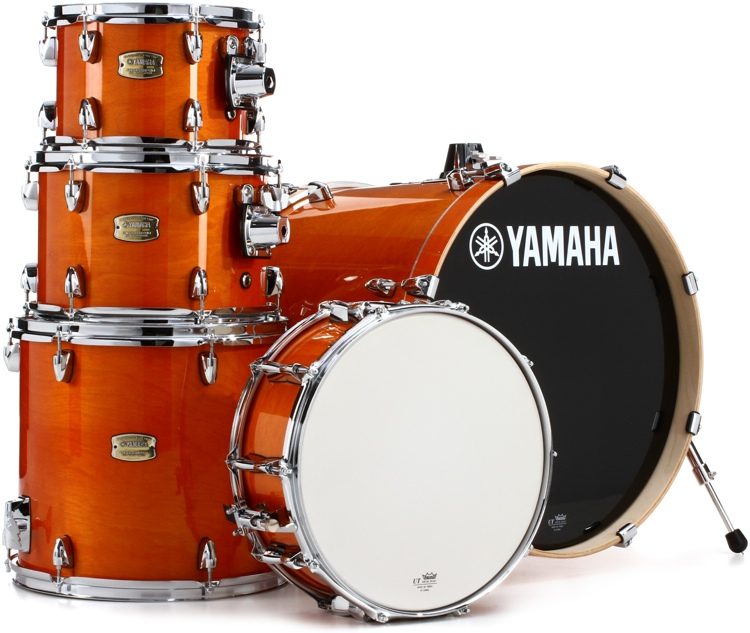 The first kit on the list is the Yamaha Stage Custom. We've put this one first as it's the most expensive. However, it has the most value-for-money out of most kits out there. It's an intermediate kit that comes in at a hugely affordable price. 
The shells are made from birch wood. Birch is typically used in higher-priced kits and gives the drums some seriously punchy tones. The snare drum has a tight crack while the toms sing with force. 
Yamaha's YESS mounting system makes it incredibly easy to portion the rack toms at comfortable angles. It also keeps them locked tightly, meaning they won't move around no matter how hard you hit. 
Many pro drummers use this kit due to how great it sounds. There really isn't a better affordable kit out there. If you're looking for a new kit, you may want to spend a little more than you initially planned and invest in this one. 
Just note that it's a shell pack, meaning it doesn't come with cymbals or cymbal stands. Those would need to be purchased separately. 
PROS: THINGS WE LIKED
Wonderful sounding intermediate kit
High value for the money
Cracking snare drum
CONS: THINGS WE DIDN'T LIKE
Only comes as a shell pack with no hardware or cymbals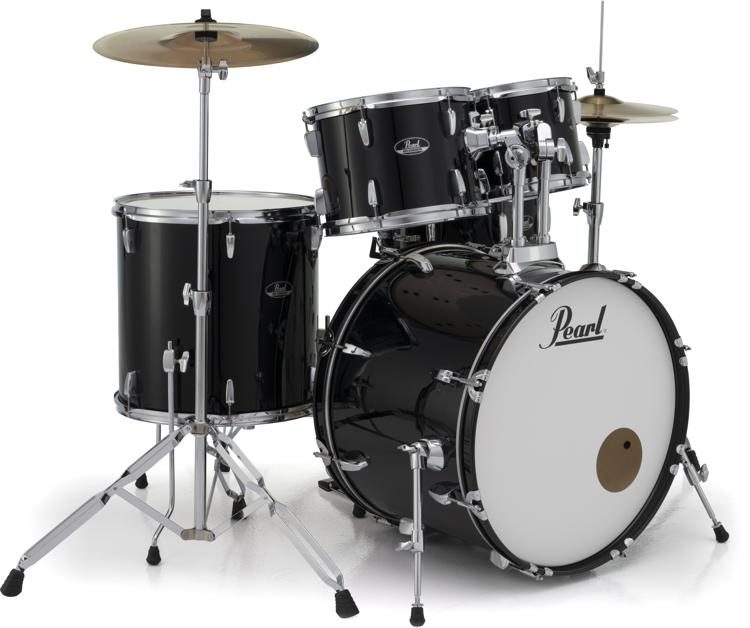 The Pearl Roadshow comes in at about 100 or so dollars less than the Stage Custom. It offers a lot more in terms of equipment. This kit is the ultimate option for beginners as it includes drums, cymbals, and hardware. 
The drums are made of poplar wood, giving them a steady tone that works well in most situations. The stock drum heads don't sound too great, but you can drastically improve the sound quality of the kit by upgrading the heads. 
The kit includes a set of 14" hi-hats and a 16" crash. Along with the cymbal stands, these cymbals allow you to start playing a full drum setup all with one purchase. 
The kit is mostly aimed at beginners. Intermediate and advanced players will most likely not like the tones the kit produces. 
PROS: THINGS WE LIKED
Full drum kit setup in one purchase
The hardware is incredibly sturdy
Great option for beginners
CONS: THINGS WE DIDN'T LIKE
Not for intermediate and advanced drummers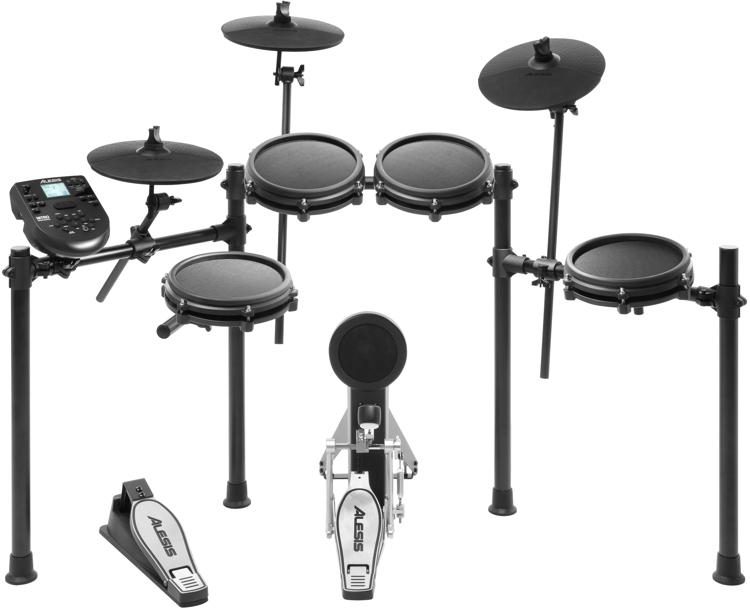 Not everyone is afforded the luxury of being able to play acoustic drums in their houses or apartments. Sound complaints are a real deal for most drummers. So, you may need to look into getting an electronic drum kit. Now is the perfect opportunity to introduce the Alesis Nitro Mesh set. 
Alesis struck gold with this kit. Most electronic kits with mesh heads are fairly expensive, yet this kit comes in at just under $400. Most cheaper electronic kits have small pads to play on, yet all the pads on this kit are 8". 
It's a fantastic kit in terms of hardware. The big limitation is in the sound module. Although there's a lot to play around with, the sampled sounds aren't the greatest. However, you can easily get around that by connecting the kit to a DAW and running drum sounds through a computer. 
Overall, this is one of the best e-kits on the market for anyone with a small budget. 
PROS: THINGS WE LIKED
Cheap electronic kit with mesh heads
8" drum pads
Extremely affordable
CONS: THINGS WE DIDN'T LIKE
The onboard sounds aren't the best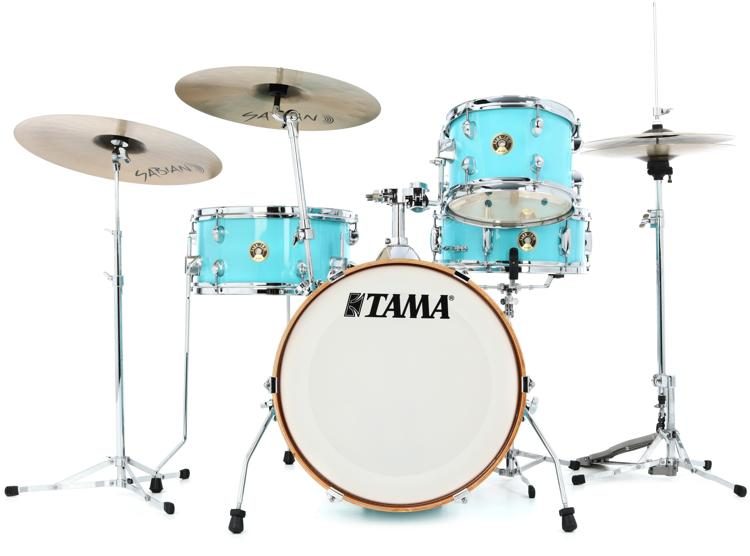 The Tama Club-JAM is a compact drum set, meaning the shell sizes are smaller than the average sizes on drum sets. This makes the kit a fantastic choice for someone looking for a light kit that they can travel easily with. 
Made of poplar and mersawa, the drums produce high-pitched tones that cut nicely through mixes and pack quite a punch. The punchy sounds are thanks to the shallow depths of all the drums. 
One thing that sets this kit apart from other compact kits is the fact that the ride cymbal arm is mounted onto the bass drum. This saves a lot of space and aids in providing the small footprint that the kit has. 
The kit also works particularly well for children as the small sizes cater well for smaller people. You'd just need to get some hardware and cymbals separately as the Club-JAM only comes as a shell pack. 
PROS: THINGS WE LIKED
Excellent compact kit
The shells are very light
Works well as a children's kit
Ride cymbal can mount to the bass drum
CONS: THINGS WE DIDN'T LIKE
No hardware or cymbals are included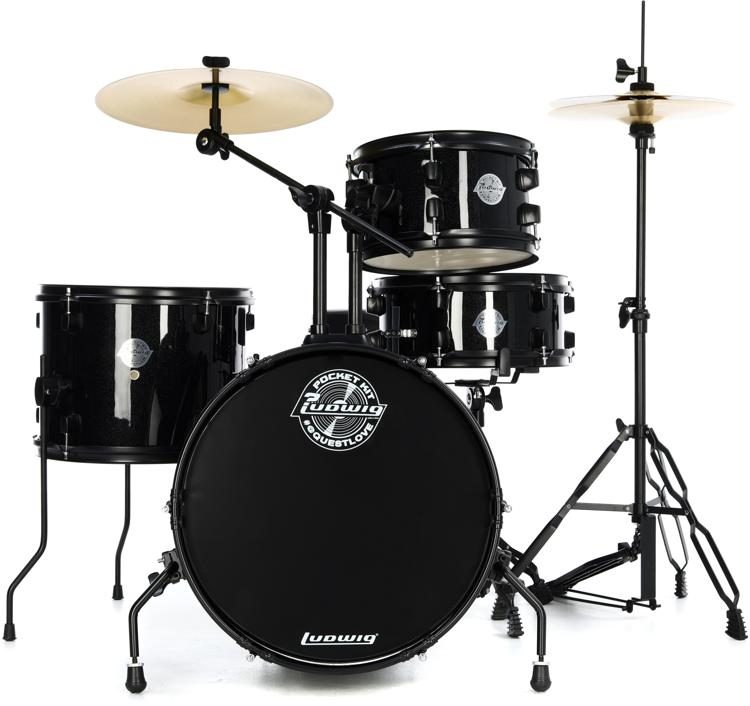 If you liked the sound of the Tama Club-JAM then you'll love the sound of the Ludwig Pocket Kit by Questlove. This kit is an all-in-one package that is aimed at children but works perfectly well for adults as well. 
The shells have small sizes and the included cymbals are small in comparison to normal cymbal sizes. The black hardware gives the kit a strong appearance while the Ludwig artwork on the resonant bass drum head adds a sense of quirkiness. 
The kit is incredibly inexpensive, making it a fantastic choice for children. The sounds may be lacking for more experienced players, but that can be fixed by changing the drum heads out and replacing the cymbals. 
PROS: THINGS WE LIKED
Great kit for children
Includes hardware and cymbals
Also includes sticks and a drum key
CONS: THINGS WE DIDN'T LIKE
Not a great kit for more experienced drummers d
What is the cheapest drum set?
You may be able to find some drum kits for less than $100. However, they're not going to provide the same quality as the kits mentioned above. Many people who buy the cheapest drum sets they can find will end up needing a new one in just a few years. 
One of the best ways to get great kits for cheap is to buy them secondhand. Many people sell drum kits as they realize they're not too interested anymore. You can find some great deals that way. 
How much does a cheap drum set cost?
Cheap drum sets will cost somewhere between $100 and $700. The drum sets that are in the lower range of that ratio obviously don't sound as good as the ones in the higher range. 
What's the best drum kit for beginners?
The best drum kit for beginners is arguably the Pearl Roadshow. There are many reasons for this. Firstly, Pearl is second to none when it comes to hardware in their lower-tier drum kits. They provide such solid hardware, even in their cheapest sets. The hardware from the Roadshow will last you many years. 
Secondly, the kit comes with everything you need to start playing such as hardware and cymbals. Lastly, it sounds really good for the price it comes at. 
Is it cheaper to build your own drum set?
It's not cheaper to build your own set as buying cymbals separately can get incredibly expensive. However, it will suit you better in the long run. Most higher-tier kits only come as shell packs, meaning you'll need to build onto them to have a full kit. 
Conclusion
Don't let the price of the average drum kit discourage you. As you can see from this list, there are several fantastic drum kits on the market that are decently priced. Drum brands tend to make products for every type of consumer out there and the budget consumer is one of the biggest. 
So, get a Stage Custom if you're looking to become a professional one day or get a Nitro Mesh if you can make a big noise. Get a Roadshow if you need a full setup or consider a Club-JAM or Pocket Kit for the smaller situations.