PDP is one of those drum companies that exclusively sell great products. Every one of their drum kits is filled with a high sense of production value and craftsmanship. This is to be expected from a company related to DW.
However, it still fills any drummer with excitement when they're able to play on a PDP kit. We're going to go through a list of the best PDP drum kits and see what makes them so great. 
What Makes a Great Pdp Drum Set?
The things that make great PDP kits are mostly the same things that make all kits great. For a kit to work for you, it should cater to the environment that you play in.
If you play in a large metal band, then a 7-piece PDP would be a great fit. If you frequently play in small clubs, a smaller kit would be better. 
The thing that specifically makes PDP drums a good choice is that they provide the high-quality production of DW kits.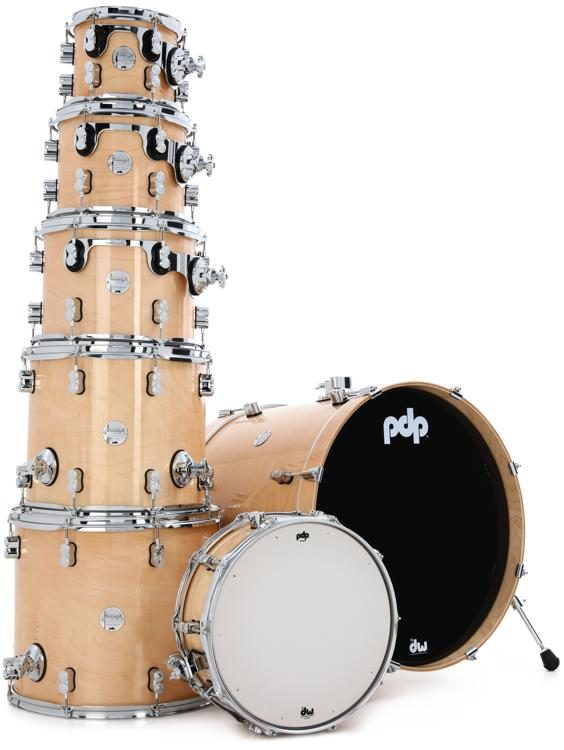 The Concept Maple Series is arguably PDP's most famous line of drums. They're definitely the most accessible. Chances are high that you'll see this kit in any drum store you visit. This specific model is a 7-piece kit, including 8", 10" and 12" rack toms, a 14" snare drum, 14" and 16" floor toms, and a 22" bass drum. 
This kit has a lot of drums for the price it has. The shells are made from maple wood and have a warm tone with a quick attack. This quick attack is loved by many gospel and metal drummers. Your notes on the toms will be articulate and smooth. 
The snare drum has a cutting crack and sounds particularly good when tuned high. It features DW's Mag throw-off which makes it easy to turn on and off in the middle of a song. 
The great thing about having so many drums is that it gives you several configuration options. You don't need to set up every tom if you don't want to. You could turn this kit into a 4-piece setup and then have backup drums for whenever you need them. 
There are several finish options, each looking slick and professional. Appealing on stage under all the lights. 
You can't go wrong with the Concept Maple kit. If you're looking for a versatile standard drum kit setup, this is the kit for you. 
PROS: THINGS WE LIKED
7 drums for a great price
Gives you multiple configuration options
Many finishes to choose from
CONS: THINGS WE DIDN'T LIKE
Stock drum heads aren't amazing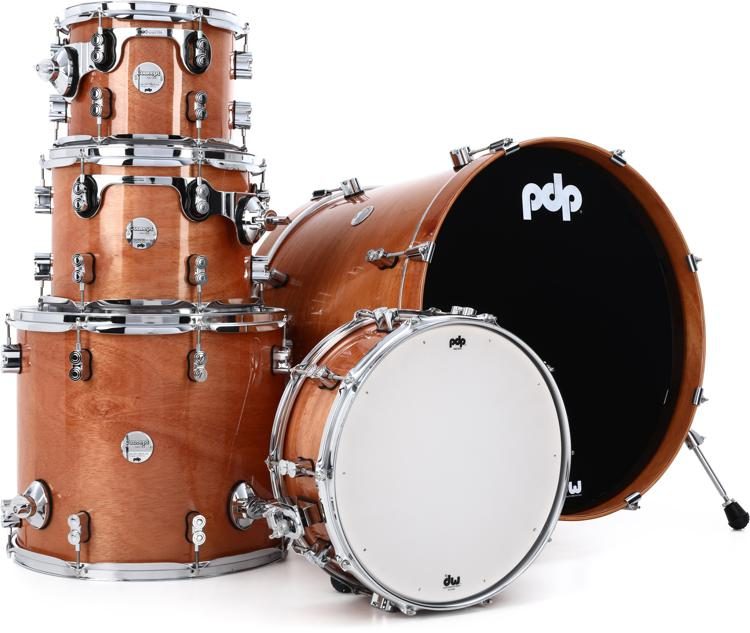 The PDP Concept Exotic exhibits many of the same features of the Concept Maple. However, it differs in that the shells have a mixture of mahogany and maple woods. 
The mixture of woods gives it a different sound as well as a different visual appearance. The mahogany and maple give these drums a powerful tone that projects on stages even with no mics. The kit also performs considerably well in a recording studio. The toms have bass drum have a thick low end that tends to feel bigger the harder you hit. 
The standout quality of the Exotic kit is the finish. The outer layer of mahogany gives the kit a dark woody appearance that is seriously sweet on the eyes. This kit is absolutely gorgeous to look at. 
Included with this shell pack is a 14" snare, 10" and 12" rack toms, a 16" floor tom, and a 22" bass drum. 
The one downside to this kit is that it's a bit more expensive than the PDP Concept Maple.
PROS: THINGS WE LIKED
Beautiful finish
Projects well
Performs well in studio environments
CONS: THINGS WE DIDN'T LIKE
More expensive than the PDP Concept Maple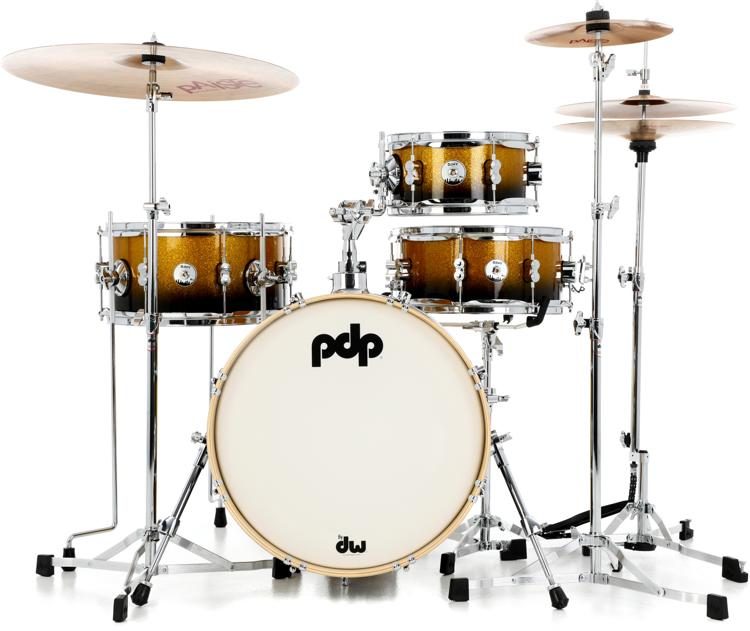 Daru Jones has become world-famous, particularly thanks to his highly unique drum setup. The way he positions his kit has been turning heads for a good while. He has worked with PDP to produce this compact kit that is perfect for frequent gigging and traveling.
These drums are made from a hybrid maple and poplar wood that gives them a warm and resonant tone. They're designed to be versatile, sounding great when tuned high or low.
The selling point of this kit is that it's incredibly light and small. Included with the kit is a 13" snare drum, 10" rack tom, 14" floor tom, and 18" bass drum. It also comes with a pack of DW Ultralight stands and 3 carry cases. The only other thing you'd need would be cymbals!
The one downside of the kit is that the included hi-hat stand is a bit flimsy. However, that can easily be replaced.
PROS: THINGS WE LIKED
Great for frequent traveling and gigging
Versatile sound
Includes hardware and drum bags
CONS: THINGS WE DIDN'T LIKE
Hi-hat stand is a bit flimsy
PDP's Spectrum kit aims to be an upgrade from beginner to intermediate kits. It provides some build qualities that make it a lot better than an entry-level kit. The first thing to note is that it has hybrid shells. It combines maple with poplar, giving it quick response and lightness. 
Included in this shell pack is a 14" snare, 10" and 12" rack toms, a 16" floor tom, and a 22" bass drum. These drums have a lot of power and tend to respond well when hit hard. 
The selling point of this kit is that it's PDP's most inexpensive shell pack. If you're looking for some affordable drums that don't come with hardware or cymbals, the Spectrum Series is a great choice. 
There are 3 finishes to choose from including black, red, and ultraviolet. Each finish looks smooth and professional. 
The drums have DW's True-Pitch tuning rods which make them easy to tune. They also make sure the drums stay in tune for a good while. 
Overall, this kit is a great inexpensive option for anyone looking to upgrade from an entry-level drum kit. 
PROS: THINGS WE LIKED
Upgrade from entry-level
PDP's most inexpensive shell pack
The drums have a quick response
CONS: THINGS WE DIDN'T LIKE
Stock drum heads aren't great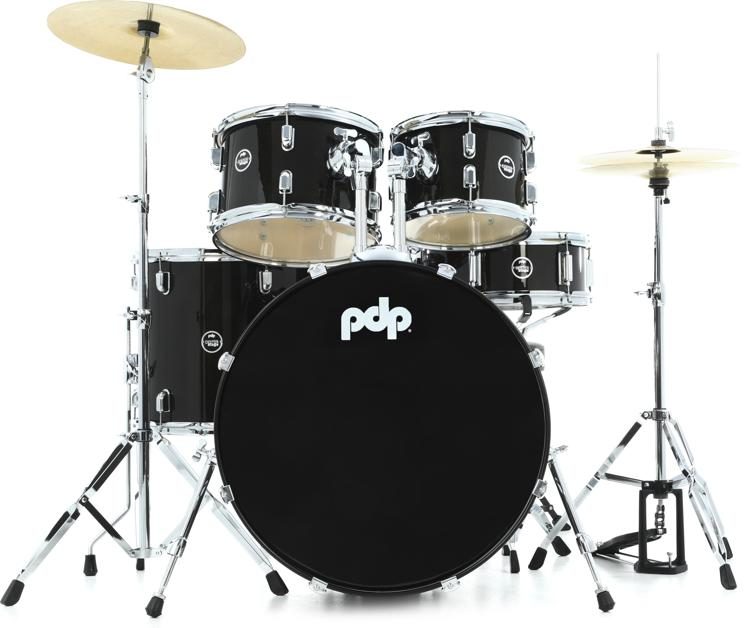 The Centerstage is PDP's entry-level drum kit. It provides everything you need to get started as a beginner. This includes a 14" snare drum, 10" and 12" rack toms, a 16" floor tom, and a 22" bass drum. It also includes hi-hat and cymbal stand along with a pair of hi-hats and a crash cymbal. 
The shells are made from a resonant poplar, giving them a full-bodied tone with a quick decay. They're not the easiest to tune. However, you can muffle them to get a better tone. 
This is a perfect kit for beginners. It sounds great and will get you playing beats in no time. It's not a great kit for intermediate or advanced players. There are some tonal qualities that they'll definitely miss. 
PROS: THINGS WE LIKED
Great for beginners
Includes cymbals, stands, a drum throne, and sticks
Highly affordable
CONS: THINGS WE DIDN'T LIKE
Are PDP drums good?
PDP consistently releases good drum sets. They all sound fantastic and are highly durable, meaning they last drummers many years. Most of their kits are versatile, meaning they'll work in a wide variety of styles and settings. 
PDP sells a few snare drums that are separate from their kits. Those drums are great as well.
Are PDP drums made by DW?
PDP and DW are technically the same companies. PDP kits are designed to be more affordable versions of DW kits. They use the same design technique. However, they streamline the process with machinery to quicken the production process to get more kits faster. This lessens the personal touch given to each kit. 
Certain cheaper materials are used to cut down on prices. However, the tonal quality of DW kits is still very present in PDP kits. PDP kits make the quality of DW kits more available to everyone.
Where are PDP concept drums made?
PDP kits are made in China whereas DW kits are made in the US. They use the same custom drum techniques for production. However, more machinery is used. 
What are the best brands of drum sets?
There are several reputable drum brands out there. Each one has unique strengths and weaknesses. You'll be able to buy a drum set from any brand and the chances are that you'll be satisfied. Every brand has kits in different price ranges for different levels of drummers. 
With that being said, there are a few brands that are more popular than others. The list includes Yamaha, DW, Tama, PDP, Mapex, Sonor, and Gretsch. 
Conclusion
Most drummers learnt to play drums in church. It's an environment that allows you to consistently perform and improve. As a church drummer, you need to be sensitive to where the music is moving and be able to catch on to what the band leader and congregation are doing.
If you're looking to buy a high-quality drum kit at an affordable price, we highly suggest considering PDP. There's a PDP kit for everyone whether you're a beginner or seasoned player. Make sure to complete your setup with hardware and cymbals. 
If you love DW, you'll probably love PDP as well.