Best Electronic Drum Pads
With modern music evolving, drummers are starting to add electronics into their playing. Many drummers need to imitate how the drum parts sound on albums, meaning they somehow need to have electronic sounds in their live gigs. 
Using electronic drum pads is a great way of achieving this. These pads are often small enough to comfortably place within your drum setup, giving you a whole world of electronic options to mess around with. 
We're going to look at some of the best electronic drum pads that you can buy. Let's get cracking! 
These are Our top Picks Summarised For:
18th October 2021
What Makes a Great Electronic Drum Pad?
A great electronic drum pad will have a good combination of durability, expansive sound libraries, and practical usage. Electronic drum pads can sometimes cost as much as a drum kit itself. So, it needs to be packed with value to make it worth it. 
The best electronic drum pads will be able to seamlessly integrate within your acoustic drum setup.
Best Electronic Drum Pads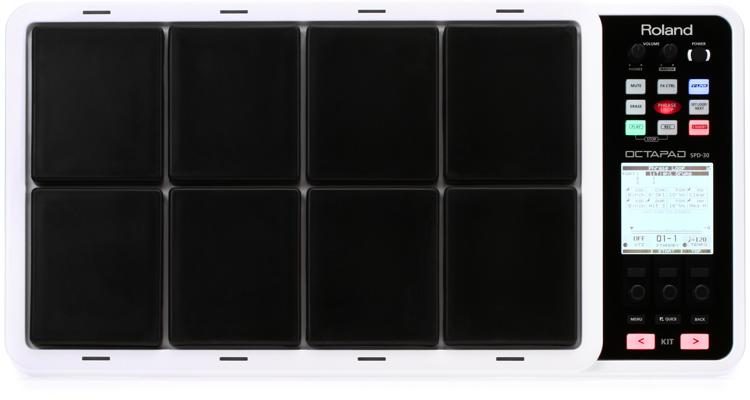 If you've ever watched the Guitar Center Drum Off videos, you would have seen the Roland Octapad and how powerful of a tool it can be within a drum setup. Its main selling point is that it's a loop machine for drummers. 
It has some high-quality looping features that allow you to explore and create with several types of electronic sounds. On top of that, it works very well as an extra percussion pad. There are over 670 onboard sounds with 50 preloaded sound sets. 
The pads are very responsive and you could set up a mini e-kit if you wanted to by adding bass drum and hi-hat triggers. Lastly, there are a few multi-effect features to play around with. 
Unfortunately, you can't sample in your own sounds with the Octopad. You have to use what it has. However, you can edit those sounds extensively to fit your needs. 
PROS: THINGS WE LIKED
High-quality loop station
You can edit the onboard sounds extensively
Responsive pads
CONS: THINGS WE DIDN'T LIKE
You can't import your own samples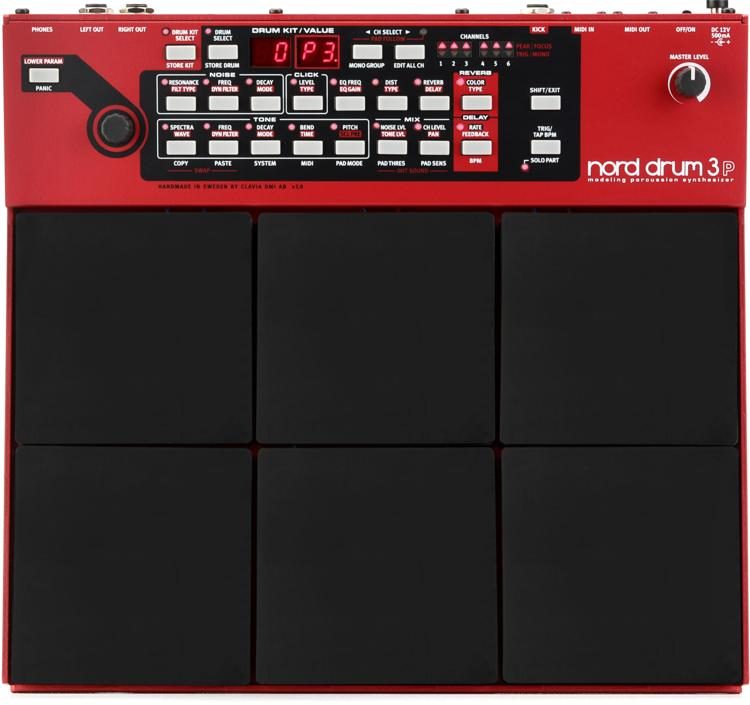 Nord is famous for making top-quality keyboards and other digital instruments. They're not who you'd expect to bring out an electronic drum pad, but here it is. In fact, it's an amazing drum pad with many great features. Think of all the goodness involved in a Nord keyboard. Those qualities transfer over to this pad. 
The first thing to note about this pad is the onboard sounds. We'd expect nothing less from Nord, and the sounds on this pad undoubtedly live up to the brand. You have everything from 808 samples to ambient sounds and pads. You could create a very dynamic and diverse show only using the sounds that are included on the pad. 
The pad also gives you the freedom to create your own sounds. You can edit them in great detail, making the possibilities endless in what you can do. Overall, the Nord Drum 3P was designed with live performance in mind, making it a great pad to get if you want to create an exciting set with dynamic sounds. 
The 3P only has 6 pads on it, which is the least out of all the drum pads on this list. The onboard sounds are unrivaled, though. 
PROS: THINGS WE LIKED
Extremely high-quality onboard sounds
You can create your own sounds
Great for live performances
CONS: THINGS WE DIDN'T LIKE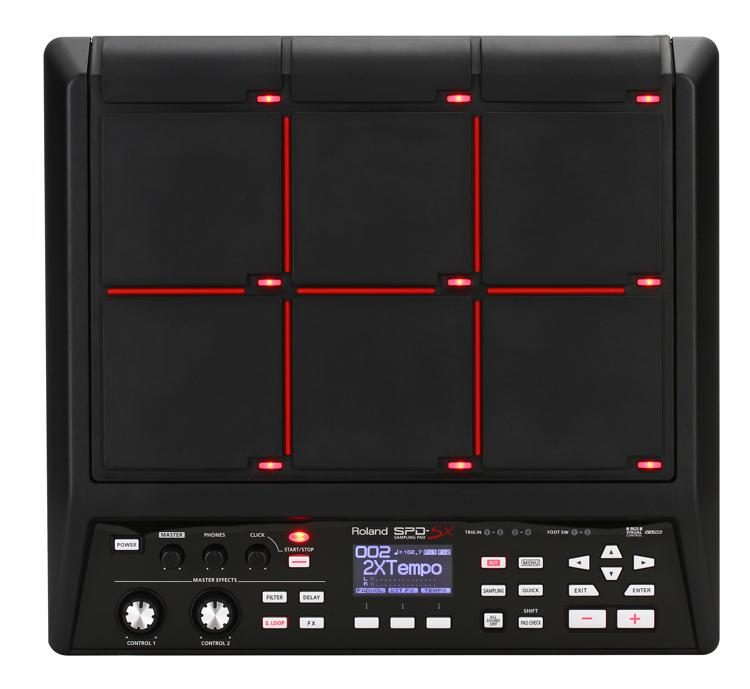 The Roland SPD-SX is arguably the most powerful and diverse drum pad on this list. It's no surprise that it's the industry-standard drum pad for working drummers. You'll see this product in any setup of famous gigging drummers, especially in the pop and R&B scenes. 
The reason it's so popular is that you can do way more than just play sounds from it. It has the power to replace your laptop on stage, letting you run tracks and control lighting rigs with the use of triggers. 
The SPD-SX is one of the best sampling pads you can get. With 4GB of internal memory to store samples, you can get some serious use out of this machine. It has 9 pads, giving you plenty of room to do different things with each pad. 
The onboard sounds are okay, but the real value in this pad comes in what you can do with the sampling and triggering capabilities. 
It has a fairly steep learning curve, so most drummers take a long time to get used to using it. However, once you know all the ins and outs, you'll be a force to be reckoned with. 
PROS: THINGS WE LIKED
Extensive sampling capabilities
You can run a whole live show from it without needing a laptop
9 pads to use
CONS: THINGS WE DIDN'T LIKE
Very steep learning curve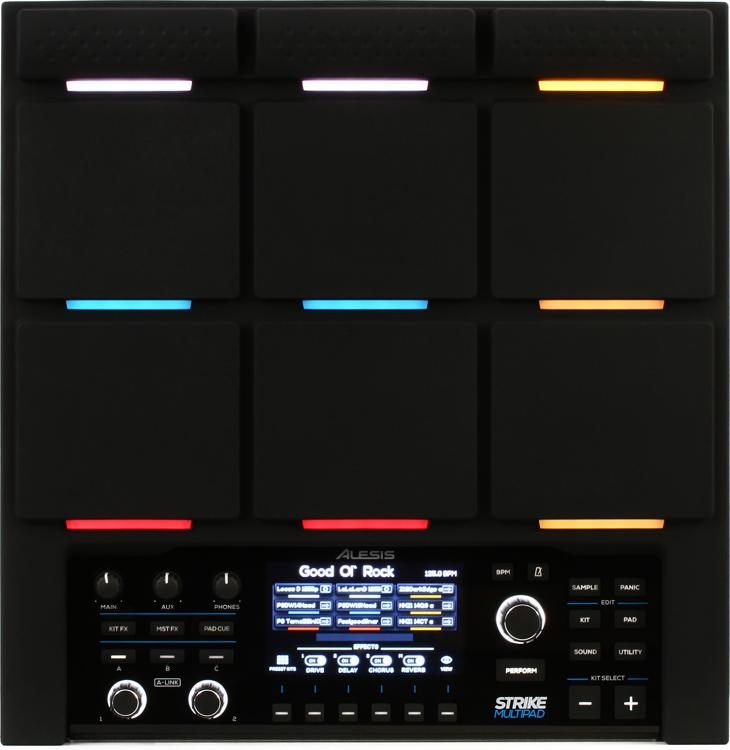 The Strike MultiPad borrows some technology from Alesis flagship electronic drum kit, the Alesis Strike. It combines the best technology Alesis has on offer with some innovative features that challenge the competitor drum pads. 
This pad is similar to the Roland SPD-SX. However, it has some distinct differences, especially in its visuals. One of the coolest features of the Strike MultiPad is that you can assign colors to each pad. This is great for when you're performing on stages with low lighting setups. 
The pad has 28GB to store your own samples. That's a lot more than the previous pads we've looked at. You'll be able to store many sounds and samples before having to put a USB in for more space. 
The pad works well as a MIDI controller as well. The one downside of the pad is that you aren't able to edit sounds as extensively as you are on the other pads on this list. 
PROS: THINGS WE LIKED
You can assign colors to the pads
28GB to store your own samples
The pads feel great to play
CONS: THINGS WE DIDN'T LIKE
Limited sound editing capabilities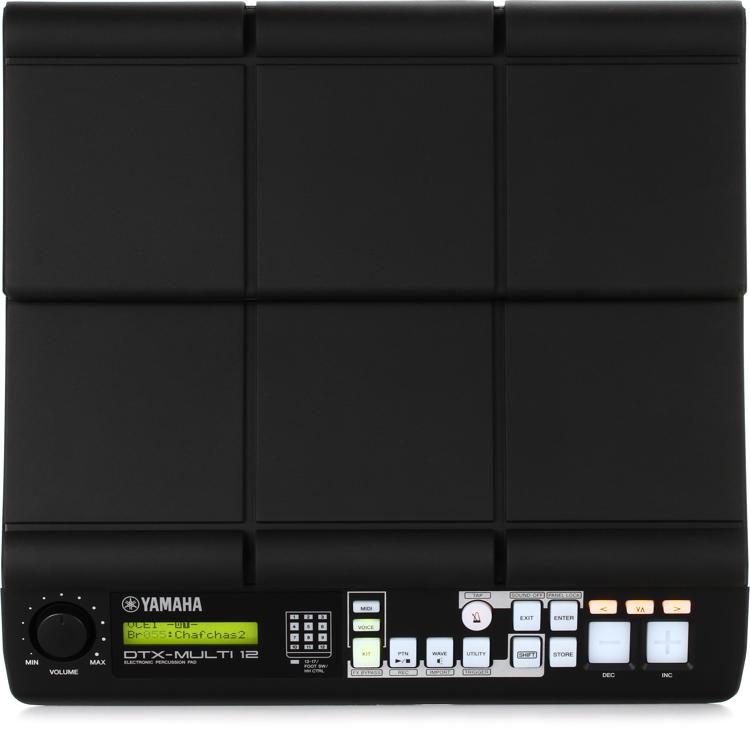 This last drum pad doesn't get as much attention as the others. We think it's because it doesn't look as attractive. However, the DTX-MULTI 12 is a beast in its own right. Firstly, it has 12 pads which is more than any other electronic pad on this list. 
It also has a large sound library that covers everything from drum sounds to world music. It can also import samples, making it a very versatile tool. 
Overall, it's a great alternative to the other pads and worthy of any drummer looking for some electronic sounds in their setup.
PROS: THINGS WE LIKED
12 pads to play on
Large sound library
You can import sounds
CONS: THINGS WE DIDN'T LIKE
Not as attractive looking as the other electronic pads on the list
Are electronic drum pads any good?
It depends on what electronic drum pad you get. All the pads we've mentioned on the above list are high-quality products that have many uses. Electronic drum pads have the potential to add massive diversity to your drum sound. 
Many drummers see themselves as purists, meaning they choose not to integrate electronics into their acoustic drum setups. These drummers wouldn't think electronic pads are good for them. 
What is the best electronic drum pad?
Most electronic pads offer very similar features, meaning they're all usable in professional situations. However, the industry-standard electronic drum pad is the Roland SPD-SX. This may be thanks to its extensive sampling and backtrack features, allowing drummers to control sets right from their drum setup. 
What is the best drum pad to buy?
All the drum pads that we've mentioned have similar features, so it comes down to which one you thought sounded like the best option for you. If you want to sample your own sounds, the Roland Octapad wouldn't be a good choice as it doesn't allow that feature. 
All the others do, though. So, decide on which price you think is the most reasonable for you and which pad you think will fit what you're going for. 
Do professional drummers use electronic drums?
Many professional drummers use electronic drums and drum pads, especially in pop settings. All the huge pop singers like Ariana Grande and Justin Bieber have music that requires electronics coming from the drum parts. 
So, pro drummers who play in these settings will typically own a drum pad like the Roland SPD-SX. 
Conclusion
Electronic drum pads are also great alternatives to acoustic drum sets for certain playing situations. Some drummers like to use an electronic pad in places like restaurants and clubs. You can add a bass drum trigger to it and you've got yourself a makeshift drum set. 
Buying an electronic pad may just be the next step in leveling up your drumming. It will help you be more creative and it will make you more hireable as a drummer. Choose one of the pads from this list and then dive into the world of hybrid drumming! 
If you liked this guide, be sure to check my list on the best headphones and amps for e-drums.