Best Headphones for Electronic Drums
As a musician, it's important that you own a good set of headphones. This is because headphones capture the true sound quality of recordings, giving depth to what you're listening to. This is especially true if you own a set of electronic drums. Since most people use electronic drums for sound-related purposes, you need a pair of headphones that help express the true quality of your drums. 
These are Our top Picks Summarised For:
17th January 2022
What Makes a Good Headphone for Electronic Drums


Drums have a wide range of sounds from low frequencies to high frequencies. This is thanks to the deep tones of kick drums and the high tones of cymbals.
So, a good pair of headphones for e-drums will be able to reflect all those frequencies to get a good drum sound. Some headphones have better bass frequency response while others have better mid or high-frequency response.
A good pair of headphones for electronic drums will sit somewhere in the middle. 
The 5 Best Headphones for Electronic Drums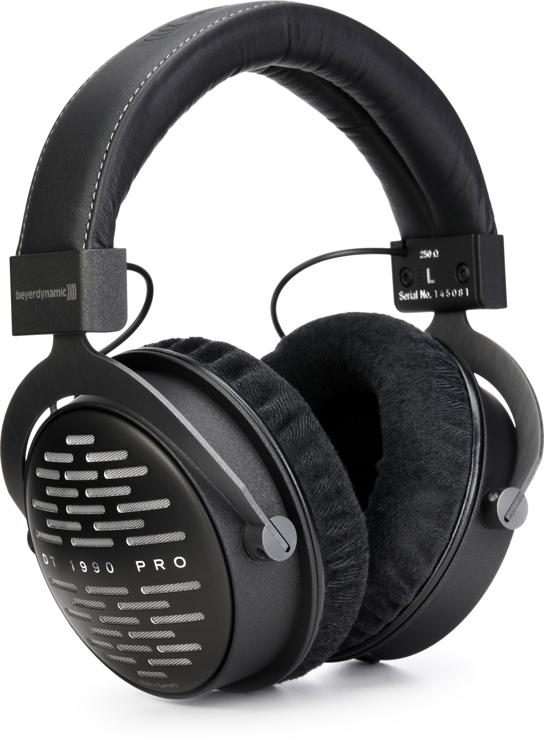 A SHORT OVERVIEW:
The Beyerdynamic DT 1990 Pro headphones are a great pair of headphones for someone looking for some seriously high quality. These headphones are packed with features to get the best sound possible. 
They come with two sets of earpads that exhibit different sound characteristics. They also come with two separate cables with one being coiled and the other being straight. These headphones have great lows, mids, and highs, ensuring that you get the fullest sound out of your drums. 
The only issue is that the headphones have blinding highs. This is so that older people that lose hearing in higher frequencies. It can be a bit much for young people. However, it can easily be fixed in the EQ settings on your electronic drum kit. 
Overall, the DT 1990 Pros are a great choice for anyone looking to invest a fair bit of money into a set of headphones. 
PROS: THINGS WE LIKED
Comes with two sets of ear pads
Great lows, mids, and highs
High build quality
CONS: THINGS WE DIDN'T LIKE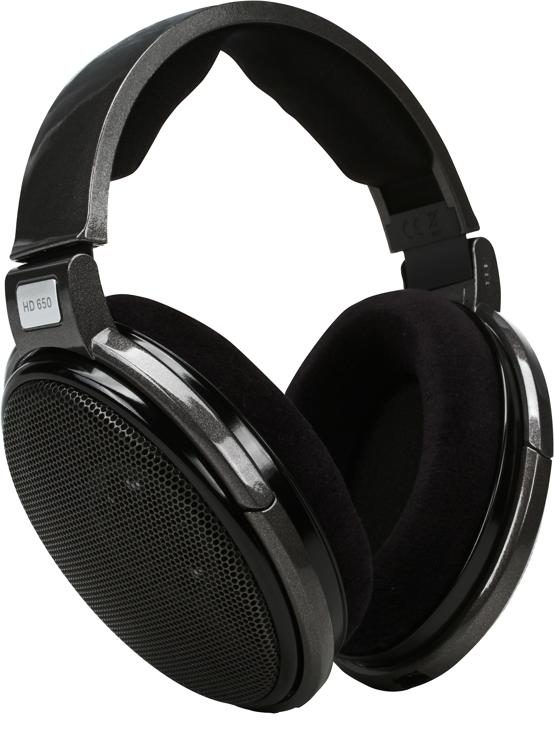 A SHORT OVERVIEW:
The main drawcard of the Senheiser HD 650s is their comfortability. They're extremely comfortable, allowing you to sit and play on your electronic drums for hours without getting sore ears. 
These headphones have a light design with excellent transient response, ensuring that you get a great sound from your electronic drums. They have a flat sound that allows you to create a very personal mix on your drum module. 
There are a lot of people that use these headphones for mixing and mastering audio. This is because they give such a true response from instruments that makes them a great starting point. This works the same for e-kits. So, if you want a great starting sound to work with, the HD 650s are the way to go. 
They feel a bit rigid at first. However, they get looser the more you wear them, getting to the comfortability they're known for.
PROS: THINGS WE LIKED
Very comfortable
Flat response is great for mixing audio
Light design
CONS: THINGS WE DIDN'T LIKE
They feel a bit rigid at first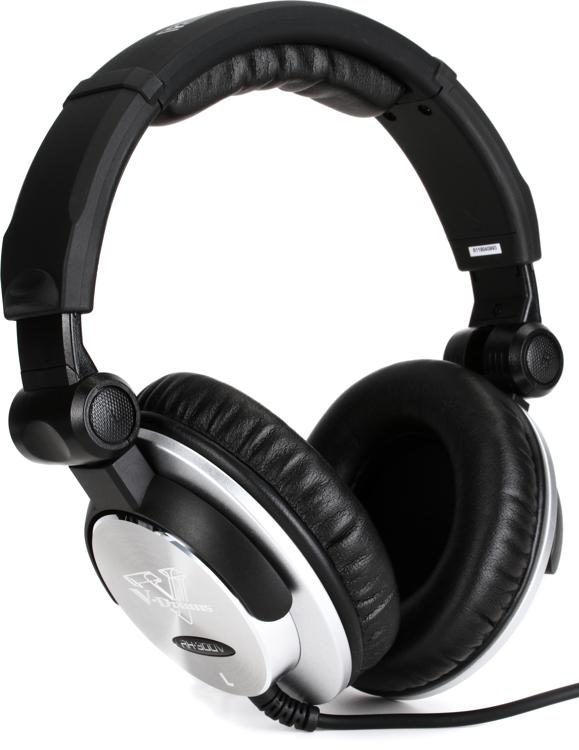 A SHORT OVERVIEW:
Roland is one of the top sellers of electronic drum kits. So, it's no surprise that they've put out headphones that are tailored specifically for their electronic drum kits. The RH-300s are designed to bring out the best from Roland V-Drums. However, they're not limited to Roland products. They sound great with any electronic drum kit you use them with. 
They bring out a fantastic kick sound. The lows feel punchy, allowing you to feel it in your chest when you play the kick. The cymbals also sound crisp and articulate. 
A great feature of these headphones is that they have an extra-long cable. This stops you from feeling tightly connected to wherever the headphones are plugged in, allowing you to move around freely. 
They're comfortable, affordable, and designed to make electronic drums sound amazing. An overall great investment. The one downside is that they don't isolate sound too well, meaning you're going to hear the sticks hitting the pads when you're playing with them. 
PROS: THINGS WE LIKED
Specialized for E-Drums
Beautiful Design
Decently affordable
CONS: THINGS WE DIDN'T LIKE
You can expect minor issues with the cable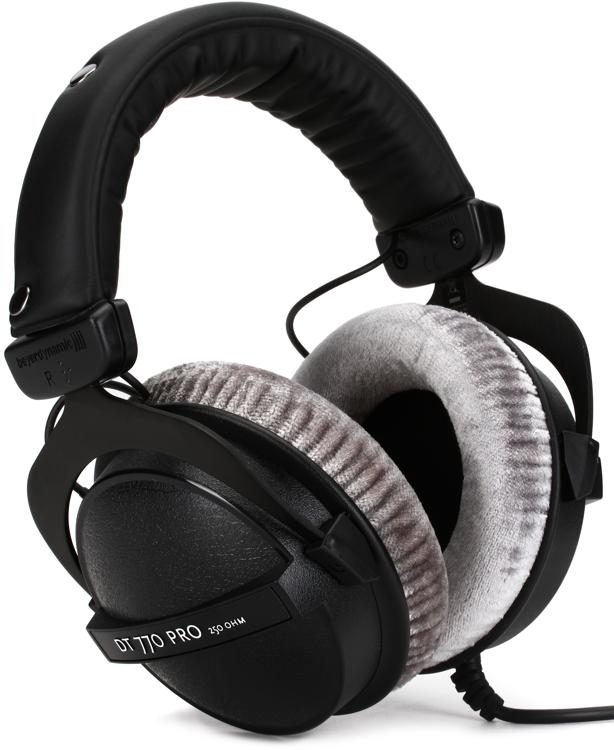 A SHORT OVERVIEW:
Beyerdynamic's DT 770 Pros provide similar quality to the DT 1990s but at an affordable price. These headphones are accurate, comfortable, and translate sound very well. They're made specifically for mixing sound, meaning they give a clear sound that is great for electronic drums. 
They feature a closed-ear design which is one of the features that separates them from the other headphones on this list. The closed-ear design will block out more sound from the environment around you, making you feel more immersed with the sound coming from the headphones. This is great for electronic drums since you won't hear any of the tapping on the pads. 
The one downside is that the cable is quite short. This can be easily fixed by getting an extender. However, it's a bit of an inconvenience. 
PROS: THINGS WE LIKED
Affordable
Closed-back design is great for sound isolation
Very comfortable
CONS: THINGS WE DIDN'T LIKE
Best Headphones for Electronic Drums Under $100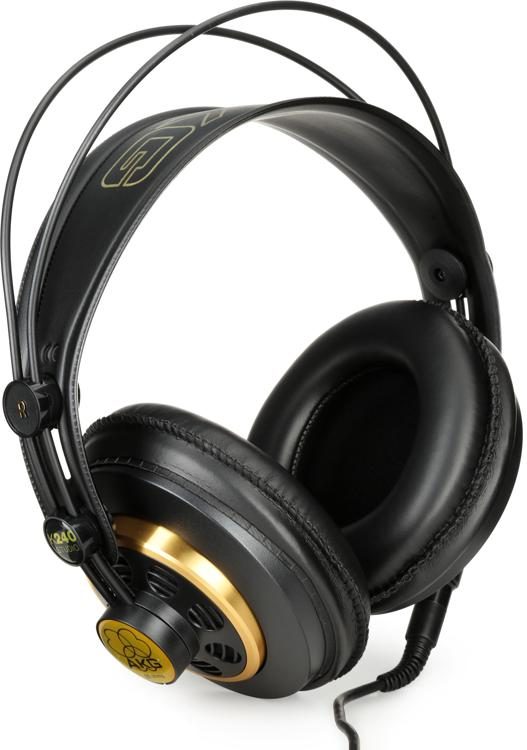 The AKG K240s are one of the best pairs of headphones for anyone on a tight budget. They offer comfortability and clear sound at an extremely affordable price. 
They have a wide dynamic range that expresses great lows, mids, and highs. This means that kick drums and cymbals will sound just as good as each other. This dynamic range is thanks to the unique design of the headphones. They have a mixture of open-back and closed, giving you the best of both worlds. 
They're quite heavy, meaning you may not be able to wear them for extended hours at a time. However, nothing can beat their price. 
PROS: THINGS WE LIKED
Highly affordable
Great dynamic range of lows, mids, and highs
Mixture of open-back and closed design
CONS: THINGS WE DIDN'T LIKE
What are the best headphones for electronic drums?
There are a few qualities to look for in a good set of headphones. When it comes to electronic drums, the best headphones will be ones that are durable, comfortable, and able to reflect ta wide range of frequencies well.
The list above covers a good range of options when it comes to the best headphones for electronic drums.
Can you use headphones with electronic drums?
Electronic drums are designed to work with headphones or amps, meaning headphones are about 50% of the deal when it comes to playing electronic drums. Every electronic drum kit has a headphone port to connect headphones to.
This is why it's so important to have a great pair of headphones. You're going to be hearing your drums through them a lot and high-quality headphones will make it a great experience every time.
For more about E-drums amplifying you can check this guide.
Why do drummers wear headphones?
There are a few reasons that drummers wear headphones. One of them is to listen to music while they play. Playing along to music on the drums is one of the best ways to express yourself and improve. This is why every drummer should have a pair of headphones, no matter what kind of drum kit you're playing on.
Another reason is monitoring. Monitoring is when you're playing with a band and their instrument sound is sent to your headphones. This lets drummers hear the band clearly.
Some drummers wear headphones just to protect their ears. Drums get seriously loud, meaning they can do some damage. So, drummers will wear headphones while they're jamming to prevent any hearing loss.
How can I listen to music while playing electronic drums?
Many electronic drum kits have play-along features on the modules. This means that they come with music tracks to play along to. You just have to plug in headphones and you'll hear the tracks as well as the drums. This is a great practice tool. However, those tracks will become a bit stale after a while.
When it comes to listening to your own music, a lot of electronic drum modules allow you to play tracks through them via USB. This is the best way to play along to music with your electronic drums. When getting a set, just make sure that it has this feature.
HEADPHONES

FOR V

DRUMS
V-drums are, basically, a variation of standard electronic drums (or electronic drum modules). They're made by Roland, and they've gained a massive popularity boost over the course of past few years.
Needless to say, everything we've said about drumming in general applies to V drums, only with some adjustments.
V-drums are the final letter in the alphabet of electronic drumming, mainly due to the fact that they're MIDI-capable. They offer a wider variety of options when compared to a standard electronic drum kit, which is more the reason why you should consider a set of high-quality studio headphones.
Conclusion
A good pair of headphones will make a world of difference when it comes to the sound of your electronic drums. It's important that you invest in a great pair that is comfortable and sounds good. There are great headphones for all budgets. So, choose some and get playing. 
We hope that you've found our review helpful, be sure to check our beginner drum set guide, Best Drum Brands, Our Picks for Double Bass Pedals and top choices for drum thrones. We wish you luck in your search for the best headphones for electronic drums.