The world of electronic drumming has become a lot more inclusive over recent years. Where high-quality electronic kits were once unaffordable, they're now made for every section and budget in the market. 
One great aspect of electronic drums is that you have the option to replace drum and cymbal pads. You can buy a kit and then upgrade the pads somewhere down the road. We've put together a list of the best electronic cymbals to consider when you're looking to upgrade. 
What Makes a Great Electronic Cymbal Pad?
A good electronic cymbal needs to feel comfortable when you hit it with a stick. Some cheaper kits don't have high-quality pads, making it feel unnatural to hit the cymbals. An authentic feel is important in this case.
Another quality that makes it great would be the size. It should be a suitable size for what you're using it for. Ride cymbals are bigger than crash cymbals etc. If you're just using it to trigger electronic sounds, size won't be as important. 
The 5 Best Electronic Cymbals
Best Electronic Hi Hat Cymbals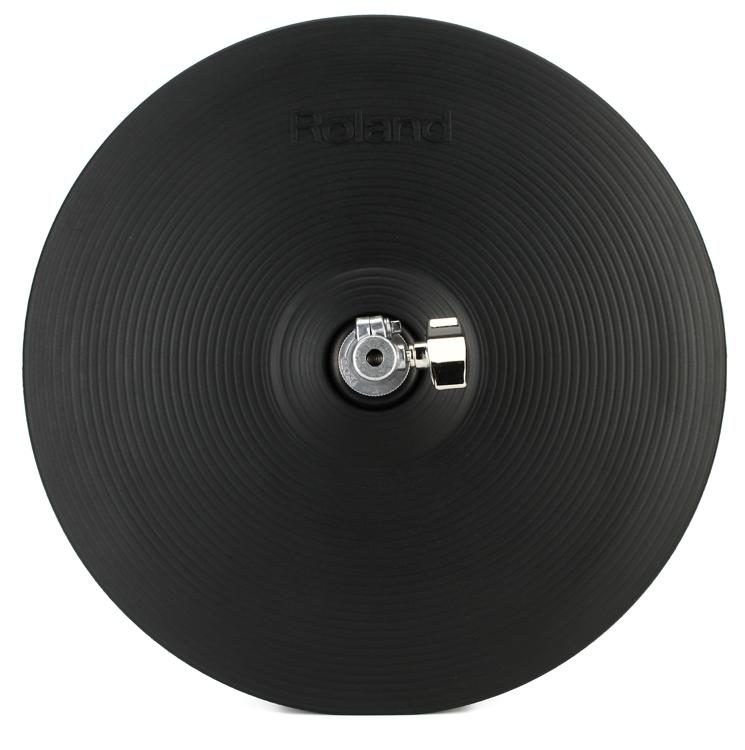 Everyone will agree when we say that hi-hat pads are generally the most underwhelming part of any electronic kit. They're usually just one pad in cheaper kits and don't feel like acoustic hi-hats. The Roland VH-11 is a solution to this issue. It's 2 pads that attach to a proper hi-hat stand, giving you an authentic feel. 
The pad at the bottom gets locked into place while the pad at the top moves up and down. The VH-11 has incredible response, reacting suitably to subtle dynamics as well as aggressive playing. Its 12 inch size is perfect for an electronic hi-hat and the dual-trigger action will leave you smiling while playing. 
The one downside is that you need to buy a hi-hat stand separately to support this pad. However, you can then use that same stand for acoustic drums if you ever need to, meaning it's a good investment. 
Overall, the VH-11 is a great choice if you feel your hi-hat pad is lacking on your electronic drum kit. 
For more about the Roland VH-11, check out customer reviews.
PROS: THINGS WE LIKED
Authentic feel
Attaches to a hi-hat stand
Dual-trigger action
CONS: THINGS WE DIDN'T LIKE
Hi-hat stand needs to be bought separately
Expensive
Best Electronic Ride Cymbal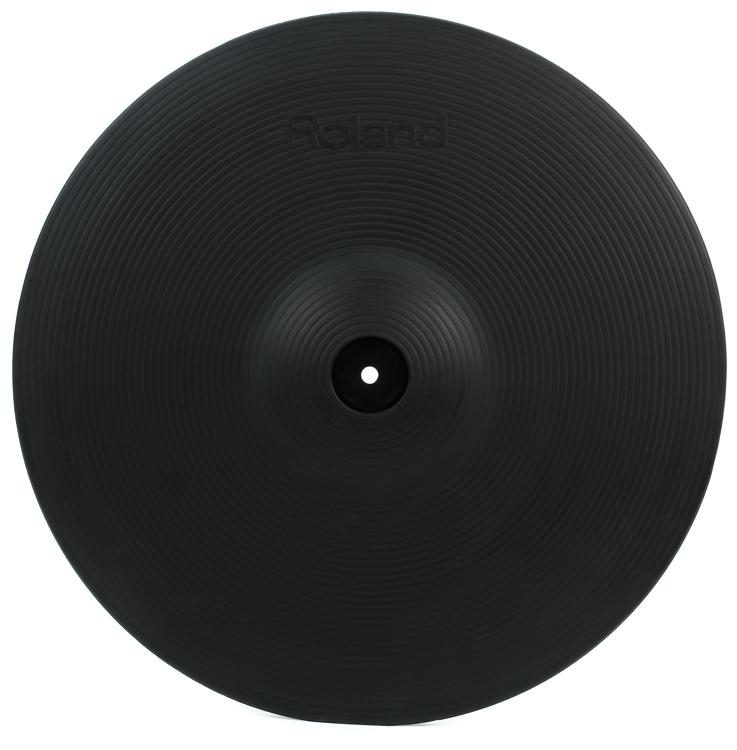 The biggest cymbal on any drum set is most often the ride cymbal. It produces the largest sound and drummers get accustomed to the feel of a bigger cymbal. So, it's a good idea to replace your current electronic ride pad with a bigger one to imitate the feel of an acoustic setup. 
The Roland CY-15R is a 15 inch pad that will make the world of difference in your electronic setup. The larger size will make you feel at home. This pad is made from firm rubber that is highly durable. It's also a bit quieter than standard cymbal pads, meaning you won't be bothering your neighbors when playing hectic swing patterns. 
The setup process for this pad is very easy. You just need to plug it in and it'll work perfectly. Next to the hi-hat, this will be one of the most important upgrades you can make for your electronic drum kit. 
For more about the Roland CY-15R, check out customer reviews.
PROS: THINGS WE LIKED
Larger size imitates a real ride cymbal
Easy to set up
Sound of sticks on the rubber is quiet
CONS: THINGS WE DIDN'T LIKE
May not work with some electronic kits
Best Electronic Crash Cymbal
Alesis products tend to be a bit more affordable than Yamaha. That would probably make you think the quality is lower. Although that's correct in most cases, it isn't with this Alesis Strike 14" pad. The Strike is their flagship electronic drum kit, which tells you this pad is coming right from the top of their range. 
It's a 14" dual-zone cymbal pad with a large bell and choke support. This gives you everything you need from a cymbal. It has a bouncy response to sticks, making it a good option for a ride cymbal. The large bell also enables intricate patterns to be played. This is great for metal or latin styles.
The hammered look is fairly unique since most cymbal pads just have a plain rubber surface. The choke feature gives you loads of options when playing. 
One of the best things about this pad is that it comes with a boom arm. The boom arm is a neat bonus since most cymbal pads don't come with that. It allows you to place the pad on a stand and gives you a lot of maneuverability. 
For more about the Alesis Strike Cymbal, check out customer reviews.
PROS: THINGS WE LIKED
Cool hammered look
Large bell
Choke support
Includes boom arm
CONS: THINGS WE DIDN'T LIKE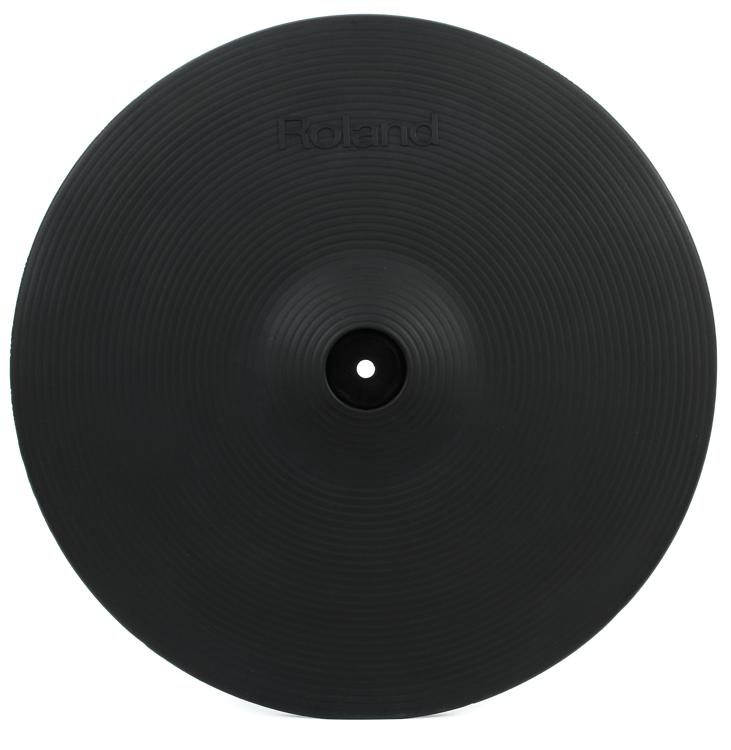 The CY-14C is another product in Roland's CY line of pads. It's a 14" pad that's intended to be used as a crash cymbal. Seeing as how the possibilities are endless with electronic drums, it can also be used as other cymbals. 
The main selling point of this pad is its authentically real feel. It's been designed to have a response that feels similar to a standard crash cymbal. It's very responsive to dynamics and works exceptionally well with nuanced playing. It also allows cymbal chokes if the module it's connected to supports that. 
You can't go wrong with Roland. The CY-14C is a great reliable option for anyone needing an extra cymbal pad. 
For more about the Roland CY-14C, check out customer reviews.
PROS: THINGS WE LIKED
Authentic feel
Dynamically responsive
Supports choking functions
CONS: THINGS WE DIDN'T LIKE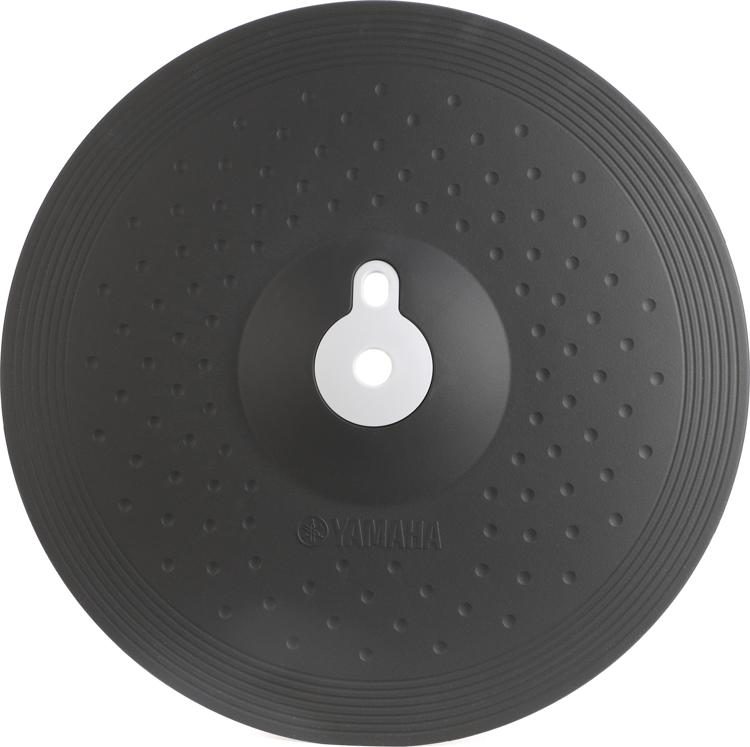 You can't have a list of electronic drum products without mentioning Yamaha. The PCY135 is a 3-zone trigger pad that takes the design quality of their DTX Series drums and makes it accessible anywhere. 
This 13 inch pad gives you 3 sound options, making it a versatile product that you could use for any cymbal in a setup. There are separate sensors on the bell, rim, and bow. 
The rubber doesn't feel as authentic as the other cymbals on this list. However, you're getting a good amount of features for the low price it has. 
For more about the Yamaha PCY135, check out customer reviews.
PROS: THINGS WE LIKED
3 zones
High design quality from the DTX Series
Affordable
CONS: THINGS WE DIDN'T LIKE
Best Budget Electronic Cymbal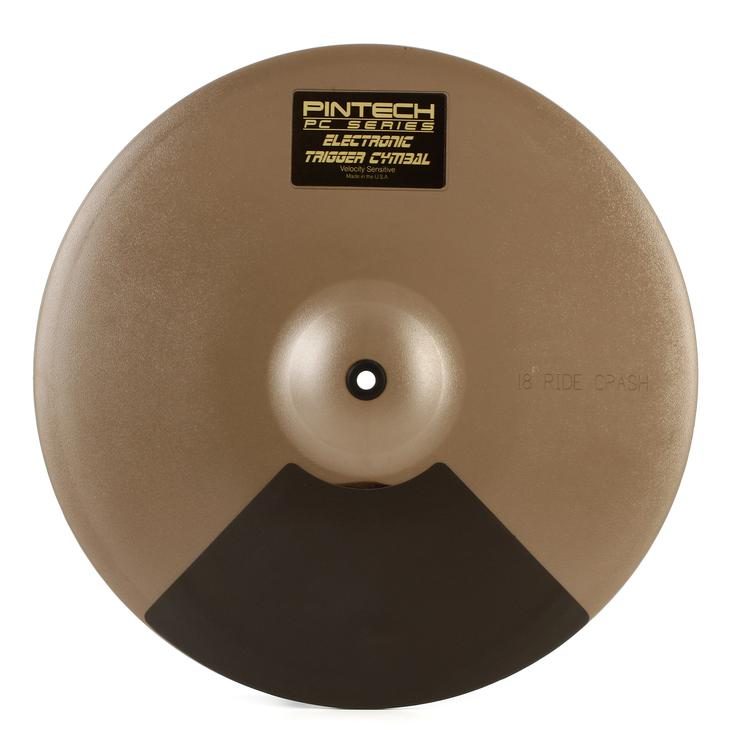 Pintech isn't a name that comes up often when discussing electronic drums. However, the PC18 deserves to be on the list for a few reasons. The first is that the size is 18", making it larger than most electronic cymbal pads on the market. It only has a small rubber playing surface that will actually trigger any sound, but the 18 inch size is great nonetheless. 
The second reason is that this is one of the most durable electronic cymbals you'll ever play on. It uses the same material that is used to make riot shields and bulletproof glass. So, just imagine how much of a beating it can take from drum sticks. 
If you're looking for something a little bit different that is affordable and durable, the Pintech PC18 may be a great option for you. 
For more about the Pintech PC18, check out customer reviews.
PROS: THINGS WE LIKED
3 zones
High design quality from the DTX Series
Affordable
CONS: THINGS WE DIDN'T LIKE
How do you clean electronic cymbals?
Electronic cymbals are made from rubber, meaning you can't clean them the same way you would for acoustic cymbals. They need particular care that prevents them from getting damaged or scratched. So, how do you clean them? 
Firstly, use a soft damp rag and wipe them with warm water. This should take most of the dust off. If they're really dirty, use a non-abrasive cleaner that is water-soluble along with the rag. 
If you want to polish them, it's agreed by most drummers that 303 Aerospace Protectant is the best thing to use. It makes them look almost brand new.  
How do electronic cymbals work?
They work with triggers. Each cymbal has one or more trigger points that send a signal to the drum module every time they're hit. The drum module will pick up the trigger and then play a sound (through a headphone or a an amp system). 
Higher quality cymbals will have more trigger points, allowing more sounds from one cymbal. They'll also be more responsive to dynamics, allowing you to play softs and louds expressively. 
How do you add your new electronic cymbal to your electronic drum kit?
Most electronic drum kits have extra drum inputs. You simply need to find where those ports are on the module and plug the cymbal in. Higher quality electronic kits will have more inputs, allowing you to add more drums. 
If you're replacing a cymbal, just find where the one you're replacing was plugged in and switch the jacks. 
Conclusion
There are so many possibilities in the electronic drumming world. You're just limited to the equipment you have.
If you want to improve the feel, quality, and overall value of your e-kit, upgrade your cymbal pads. Most e-kits only have 1 crash cymbal. This seems counterintuitive as most acoustic kits have 2. So, add on an extra crash at the least.