Best Roland Electronic Drum Sets
It's no secret that Roland is the leading manufacturer of electronic drums in the world.
You can't have a conversation about e-kits without mentioning Roland. All their products are seriously high-quality and they make many different kits for every kind of drummer. Whether you're a beginner or advanced player, Roland has a kit that will work just for you. We're going to look at some of their best kits and see what makes them so good.
What Makes a Great Roland Electronic Drum Set?
A great Roland drum set will fit your situation. If you need a quiet kit that won't bother anyone, a great Roland kit will have pads that don't make a noise and user-friendly controls to make sure sound isn't an issue. Thankfully, all Roland kits follow these designs. 
A great Roland kit will also have great sounds. Roland creates their samples from scratch instead of sampling them from acoustic studio drum kits. This gives you more control over how they sound. Every Roland kit has some immaculate sound quality and fantastic preset drum kits. 
The 5 Best Roland Electronic Drum Sets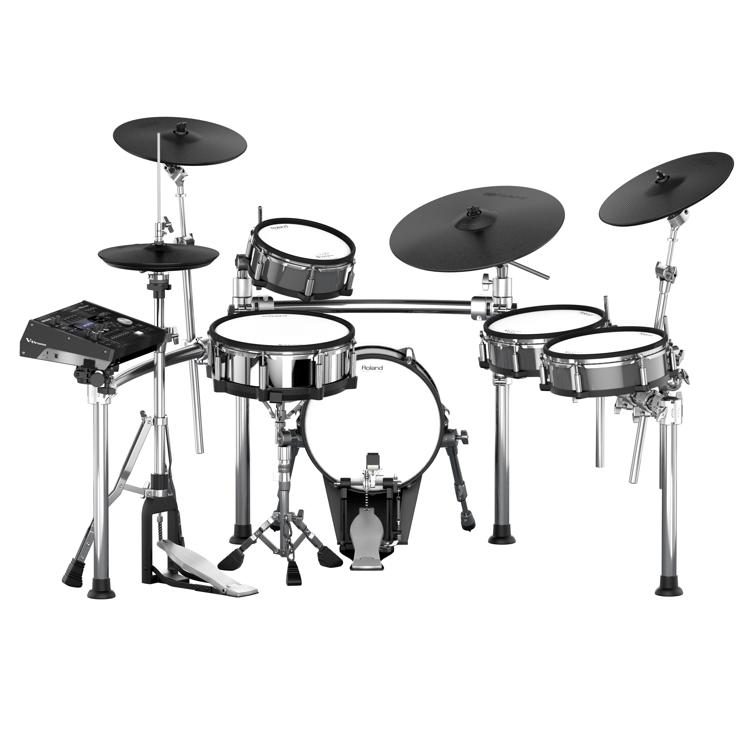 The TD-50KV is the current flagship kit from Roland. Every single bit of their latest innovative technology is included with this model, giving you the modern top-quality electronic drum set. The cymbals are large as well as the kick drum. This isn't common with electronic kits. These larger sizes give you a similar feeling to playing on an acoustic drum kit. 
The TD-50 sound module has absolutely everything you can think of. It has several preset kits as well as many onboard sounds to work with. Its main drawcard is the Prismatic Sound Modeling Engine. It allows you to tweak every sound with 30 built-in FX features. 
The kit has drum shells which further add to the acoustic drum kit feeling. The mesh heads are all multi-zoned, meaning you can play many sounds from one drum. Each one is highly responsive. 
Overall, this is one of the best electronic kits on the market. It's extremely expensive, so you'll be spending a fair bit of money if you decide to get it. 
PROS: THINGS WE LIKED
Prismatic Sound Modeling Engine
Realistic drum shells
Large bass drum and cymbals
CONS: THINGS WE DIDN'T LIKE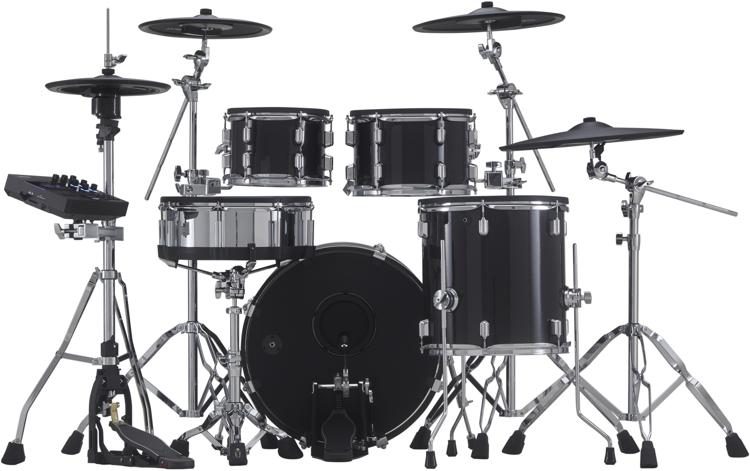 Roland has pushed boundaries even further with this kit, creating an electronic drum set that looks almost identical to an acoustic kit. The idea behind this kit is to have an acoustic aesthetic with all the electronic features of an e-kit.
The full-depth wooden shells are equipped with Roland's classic mesh heads. They're tunable, allowing you to get the tensions that you're accustomed to from your acoustic drum set.
The kit also uses Roland's Prismatic Sound Modeling technology. The kit comes with the Roland TD-27 module. It's not as advanced as the TD-50 module. However, it still packs a serious amount of features and sounds.
The kit has full-sized cymbals, meaning the only difference it has from an acoustic set is that the sounds are electronic.
It's a fantastic kit for anyone wanting the stage presence of an acoustic set with the innovation of an electronic one.
PROS: THINGS WE LIKED
Looks like an acoustic drum set
Prismatic Sound Modeling Engine
Full-sized drums
CONS: THINGS WE DIDN'T LIKE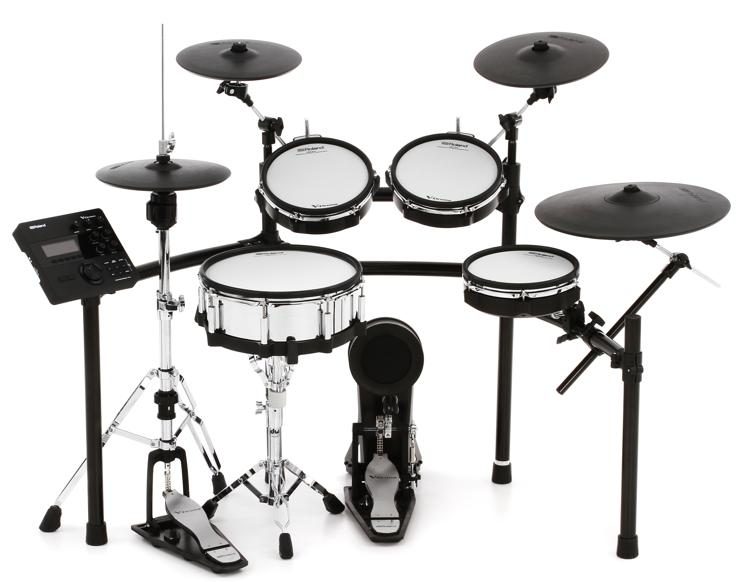 The TD-27KV is advertised as Roland's mid-level flagship kit. It has most of the features of the upper-tier kits, yet it comes at a more affordable price. It has the classic look of the electronic kits that everyone has come to know and love. 
The two best features of this kit are the snare drum and the ride cymbal. The snare drum has 8 sensors, allowing you to play all kinds of dynamics and accented notes. It even sits on a snare stand. The ride cymbal is one of Roland's best cymbal pads, having multiple playing zones and great responsiveness. 
This kit is great for anyone who wants the professional quality of a high-end kit but doesn't want to pay the excessive price of the top models. It's still fairly expensive. 
PROS: THINGS WE LIKED
Top-of-the-range features at a more affordable cost
Excellent snare and ride pads
TD-27 module is fantastic
CONS: THINGS WE DIDN'T LIKE
Still relatively expensive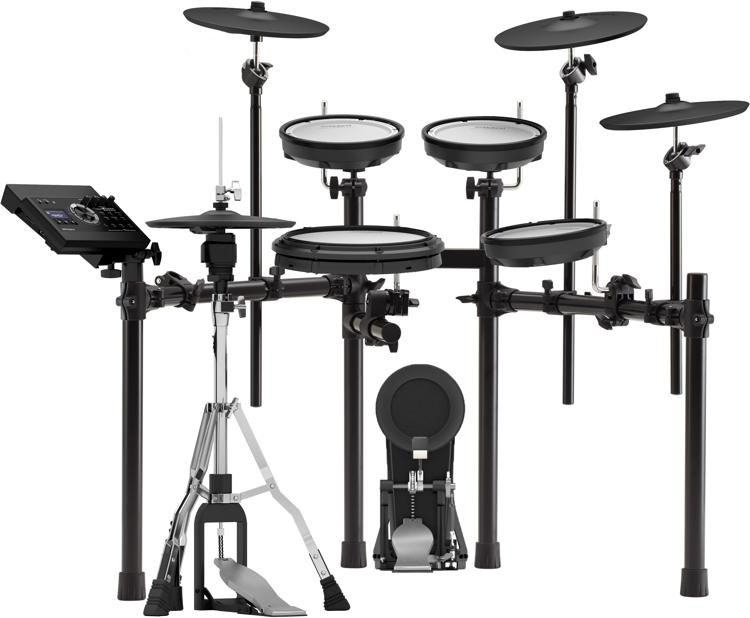 The TD-17KVX is another kit from Roland that is packed with many great features. It comes with the TD-17 module which has many sounds that derived from the TD-50. With 50 preset kits and over 300 onboard sounds, you have a lot to work with.
The kit has a fairly standard electronic setup with mesh heads. However, the three notable parts are the PDX-12 snare drum head, the KD-10 kick pad, and the VH-10 hi-hat. The snare pad has dual-triggers and produces lifelike responsiveness. The kick pad feels very similar to an acoustic kick even though it's small. The hi-hat pad mounts to a standard hi-hat stand, something that isn't commonly seen in electronic kits at this price. 
Overall, it's a great intermediate kit that will work in most professional situations. 
PROS: THINGS WE LIKED
50 preset kits and over 300 onboard sounds
Hi-hat pad mounts to hi-hat stand
Many innovative features
CONS: THINGS WE DIDN'T LIKE
You can't replace the heads with other brand's heads
Best Roland Drum Set For Beginners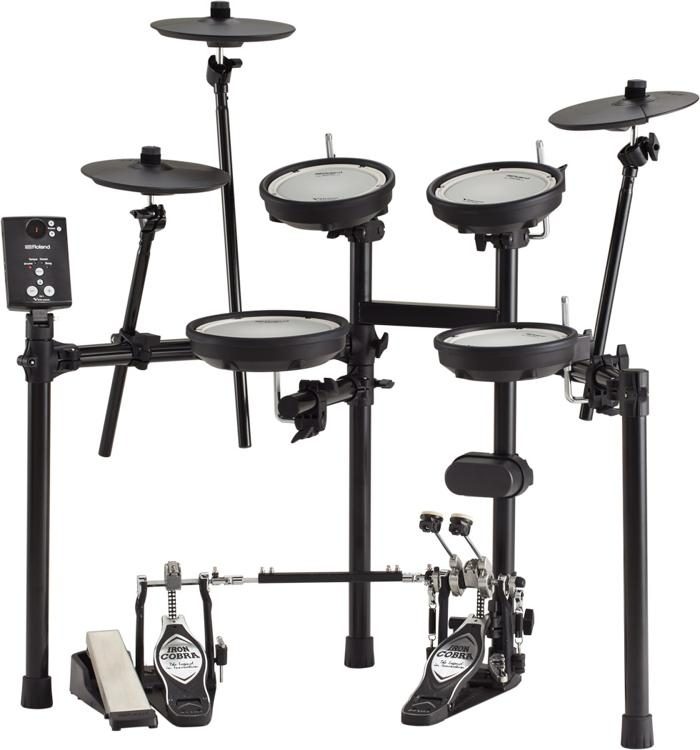 The Roland TD-1DMK is the most affordable electronic drum kit on the market that mesh heads on all the drum pads. It has a fairly simple design that makes it a great kit for beginners to use. The mesh heads will help in maintaining and developing technique while the basic module won't confuse anyone with too many functions. 
There are 15 preset kits and a few practice features that will help with learning and getting better on the kit. There are also 15 jam tracks to play along with, ranging in musical styles. 
The mesh heads are tuneable, allowing you to change the tension to suit your playing style. It's a fantastic kit for beginners or anyone looking for a very affordable electronic kit that still sounds and feels great. 
Unfortunately, the bass drum pad is very small and it connects to the rack, meaning it doesn't feel very similar to a standard acoustic bass drum.
PROS: THINGS WE LIKED
Basic design that is conducive to beginners
Mesh heads at an affordable price
Cool practice features along with 15 jam tracks
CONS: THINGS WE DIDN'T LIKE
Bass drum pad is underwhelming
What is the best Roland electronic drum kit?
The best Roland kit would be their flagship electronic drum set, the Roland TD-50KV. It's packed with a serious amount of useful functions as well as quality sounds. It also feels extremely realistic to play on, blending the worlds of electronic and acoustic drumming. It's very expensive, yet the quality is well worth the hefty price. 
What are the best electronic drum sets?
The best electronic drum sets are the ones with many features and good sounds. They also have realistic mesh pads that are responsive and tuneable. They're durable, lasting you many years of use. 
Every company that sells electronic kits have top-quality models on offer. The most popular brands of electronic kits are Roland, Yamaha, and Alesis. Some other companies that sell electronic kits are Pearl and Medeli. 
Which is better Roland or Yamaha electronic drums?
This is a great debate that will never have a concrete answer. Roland and Yamaha are undoubtedly the two main players in the electronic drum kit market. The two companies have some differences in their product designs. 
Firstly Roland kits have mesh heads while Yamaha kits have silicone heads. Both are intended to feel like acoustic drum heads and have realistic response. Mesh and silicone heads feel fairly different from each other, but they have the same goal. 
The second big difference is that Roland creates their own samples while Yamaha uses samples from their established lines of acoustic drums. 
Some drummers prefer Yamaha kits while others prefer Roland kits. There's something for everyone from both brands. So, it comes down to personal preference. 
Are electronic drum sets any good?
Electronic drum kits aren't as good as acoustic drum kits. However, they're great tools for quiet practicing and using sounds that you wouldn't otherwise be able to produce. Every drummer would benefit from having an e-kit. They'll allow you to practice late into the night. 
Hybrid drumming has become a huge thing in modern drumming. Mixing electronic and acoustic drums seems to be the way of the future. So, electronic drum sets are great for getting into that. 
Conclusion
Electronic drum kits have become a lot more accessible in recent times. Although the products on this list have been very expensive, there are a lot of affordable high-quality electronic drum kits out there.
They won't offer the same sound quality and features though. So, if you're looking for the best of the best from Roland, consider buying one of the kits from the list above. 
Once you decided what drum kit is for you check a good amp and this guide con amplification.