Best Electronic Drum Amps and Monitors
One of the unfortunate factors in playing electronic drums is that most electronic kits on the market require the use of either headphones or an amp to hear sound. 
While headphones will give you a fantastic audio experience, amps will allow others to hear your playing as well. Amps are also more comfortable to use as you won't need weighty headphones holding you down. 
With so many amps available, it can be daunting to pick one for your electronic drums. Luckily, there are several amps that are designed specifically for e-kits. We're going to have a look at some of the best ones. 
These are Our top Picks Summarised For:
14th September 2021
What Makes a Great Electronic Drum Amp and Monitors?
A great electronic drum amp needs to have a wide frequency range. Since a drum kit produces so many different sounds, the amp needs to accurately reflect the highs as well as the lows. 
A great amp will enhance the beefiness of a kick drum while also accurately reflecting the sharp attack of a crash cymbal. 
While the main determining factor of a great amp is sound quality, it should also be well-priced, durable, and ready for performances. 
Best Electronic Drum Amps and Monitors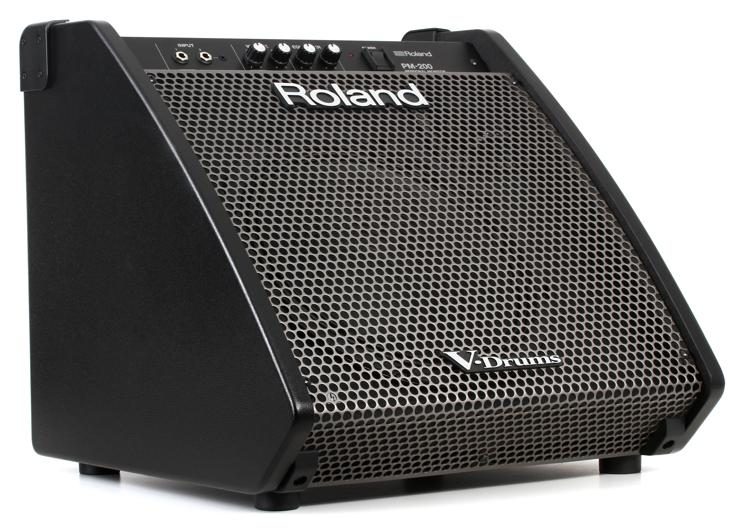 The Roland PM-200 was designed to work flawlessly together with Roland V-Drums. It shines when hooked up to a Roland drum kit. However, it works fantastically well with other brands of e-drums as well. 
It has great lows, crisp highs, and a serious amount of volume. You'll be able to perform in large venues with this amp and it will be loud enough with some room to spare. The amp has a second sound source, allowing you to plug in your cellphone or media player. 
The second sound source also allows another musician to plug their instrument in, further adding to the gigging capabilities of the amp. The amp is incredibly sensitive to hard and soft touches, reflecting the musicality of the drummer very well. 
This is a high-quality drum amp that is loved by pros. It costs more than most of the amps on this list, but it's highly worth it. 
PROS: THINGS WE LIKED
Sounds great, especially with Roland V-Drums
Second sound source
Sensitive to dynamics
Can get very loud if needed
CONS: THINGS WE DIDN'T LIKE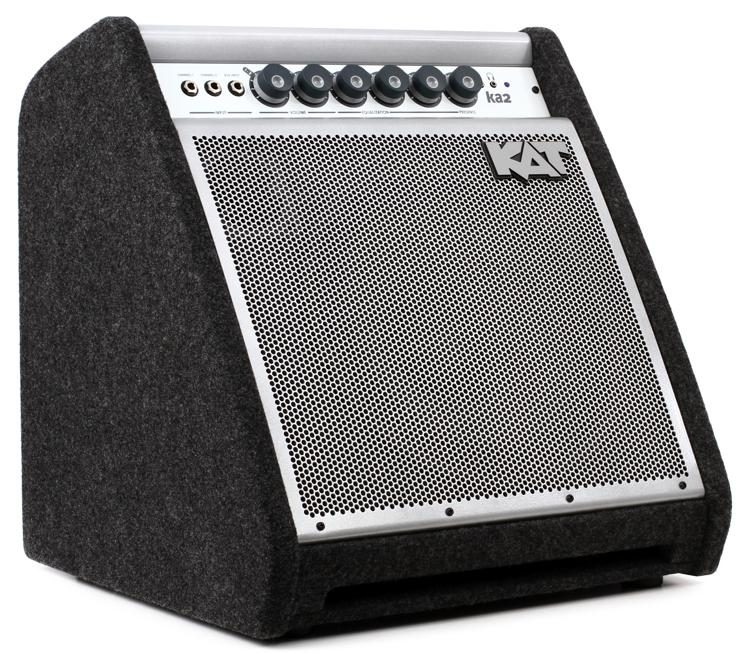 While you may think twice before buying a KAT electronic drum kit, the reputation in no way extends to their amps. The Percussion KA2 drum amp is a serious contender on this list, providing A-class sound with several nifty features. 
The amp has an onboard equalizer that allows you to tweak the sounds to get the best drum tone possible. This feature will let you dial in the frequencies to get punchy low-end sounds as well as cracking high-end tones. 
If you're planning on using this amp for live performances, it offers a few useful features. The first one is the aux input. You can change your personal mix through this input without affecting the main EQ of the stage. 
The amp also has a stereo input that allows you to play music through it. The one downside of this amp is that it's fairly heavy and awkward to carry around. This won't affect you if it's sitting in a practice room, but it will if you play gigs often. 
PROS: THINGS WE LIKED
Onboard equalizer allows you to tweak drum tones
Aux input which bypasses EQ
Great tone quality
CONS: THINGS WE DIDN'T LIKE
Heavy and awkward to carry around
The Strike is the flagship kit from Alesis. It's their best product on offer, giving the user a top-quality drum kit to play on. You'd assume that a drum amp that shares the same name will also deliver. Good thing it does! 
This amp is a workhorse, putting out a massive 2000 watts of power. It massively amplifies your drum kit with thudding bass tones and cutting high-range frequencies. It almost lets you feel the e-kit as you play. 
The tones are extremely clear, allowing you to hear every detail of what you're playing on the connected electronic drum kit. The tone quality is the same no matter how hard or soft you play. 
Overall, the Strike Amp 12 is a reliable monitor to use for all situations. Many drummers prefer to purchase two of these to get a stereo setup. A good idea to look into! 
PROS: THINGS WE LIKED
2000 watts of power
Clear tone across all dynamics
Very reliable
CONS: THINGS WE DIDN'T LIKE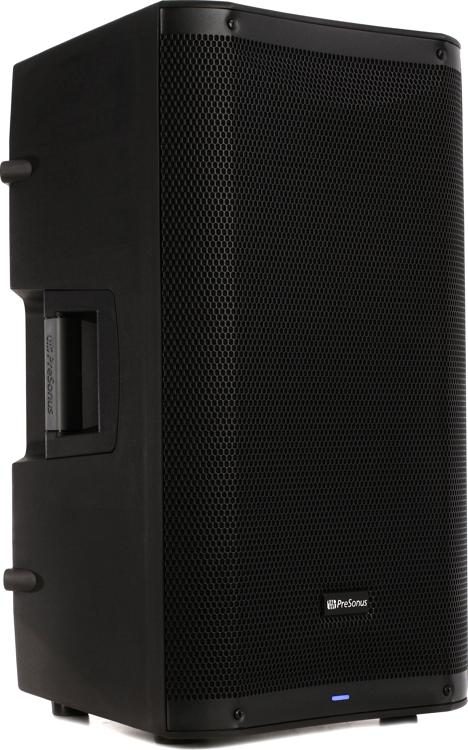 While the PreSonus AIR12 isn't designed to be a dedicated e-drum amp, the versatility in frequency ranges it produces makes it a great contender on this list. It's arguably the most high-quality amp on this list as well, making it a great choice for those wanting the best possible amp they can get their hands on. 
The sound it produces is incredibly crisp, allowing you to hear the subtlest of notes played on your drum kit. The speaker has a monitor setting on the back that optimizes the settings to produce a great personal sound. The setting is there as the amp can also be used as a front-of-house speaker. 
The amp isn't cheap, but the high-quality features and sounds make it a great choice for an electronic drum kit monitor. It's also a great amp for anyone that plans on using it for reasons other than connecting an e-kit one day. 
PROS: THINGS WE LIKED
Very versatile
Extremely high-quality
Has a monitor setting that will optimize it for e-drums
CONS: THINGS WE DIDN'T LIKE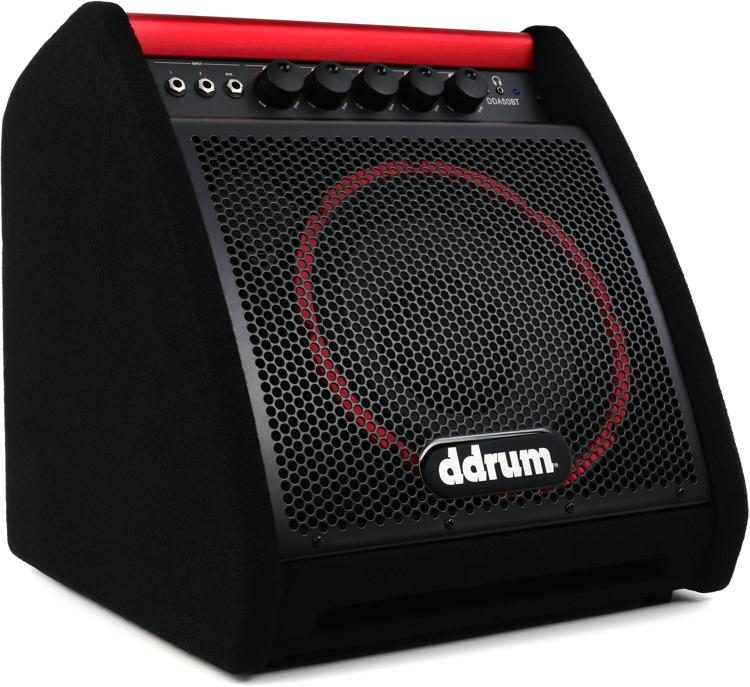 This amp is a fantastic compact alternative to the previous amps on the list. It's perfectly designed to sit comfortably next to your electronic drum kit setup. It'll provide you with top-quality sound and as well as sound customization. 
One unique benefit of this amp is that it has Bluetooth capabilities. Your drum kit probably won't be able to connect wirelessly, but your phone will be able to. You can jam along to tracks from your phone without needing to plug it in. Incredibly convenient. 
Even though the amp is small, the output is powerful, meaning you can use this amp for gigging on stage with no issues. It's just not as powerful as some of the amps on this list with higher wattages. 
Overall, it's a worthy option with neat wireless capabilities that make playing along with tracks easiest to set up. 
PROS: THINGS WE LIKED
Can connect devices via Bluetooth
Small and easy to carry
Powerful output
CONS: THINGS WE DIDN'T LIKE
Can't get as much volume as some of the beefier amps on this list
What amp is best for electronic drums?
Every amp that was mentioned in the previous list will work very well for electronic drums. They all have diverse frequency ranges with powerful output potential. However, the amps that are designed by electronic drum kit brands tend to be more trusted as they're specifically designed with e-drums in mind. 
The best amps on the list above would arguably be the Roland PM-200 and the Alesis Strike Amp 12. 
Can you use any amp for electronic drums?
Any amp will work for electronic drums. However, some amps won't sound as good as others due to the different frequency ranges that are highlighted. You need to use an amp that has a wide frequency range to get the best sound from your electronic drums. 
Can you use a bass amp for electronic drums?
Since bass amps focus on lower frequencies, they're going to hone in on the drums with deep tones. Your bass drum and floor tom are going to sound great, but your snare and crashes will lose some tone quality. 
It's not advised to use a bass amp for electronic drum kits because of this reason. However, you'll still get a decent enough sound from them if you do decide to use one. 
What is the best speaker for electronic drums?
We highly advise that you use an amp for your electronic drums. Amps are designed to take on the heavy load and produce audio at loud volumes. Using a standard speaker won't allow you to play loud enough on most occasions. 
If you have no other choice, you'd need to use a speaker that can have the volume loud enough for everyone to hear the drums clearly. 
Conclusion
Most electronic drum kit players will benefit from having a good amp as well as a great pair of headphones. The amp will allow you to play with other musicians while the headphones will allow you to practice without disturbing anyone. Check this guide on amplification. 
If you're in the market for a good amp, any pick from the above list will be a good choice. Choose which one you think would suit you best and enjoy playing your drums through it!