Best Drum Machines for Beginners
Drum machines are small sequencing tools used to make beats and grooves. They're packed with electronic sounds that allow the user to mix and match kits and loops, creating a workspace that is great for producers, DJs, and anyone needing some easy drum loops to play music along to. 
Their popularity has decreased over the years thanks to built-in drum machines in digital audio workstations. However, they still have their place in the music industry as many people prefer to work with physical pieces of equipment rather than software on a computer. 
What Makes a Great Drum Machine for Beginners?

A great drum machine should be loaded with several useful features. It should allow you to customize beats and samples with different sound settings, giving you a full workstation to work from. 
The sounds it produces should be of high quality. There are loads of drum machines out there with poor quality samples. So, high-quality electronic drum sounds are what you need to look for. 
Great drum machines also have high price-to-value ratios. If it's expensive, it should have all the best features and sounds available. If an expensive drum machine doesn't offer that, chances are that it's not the greatest option out there. 
The 5 Best Drum Machines for Beginners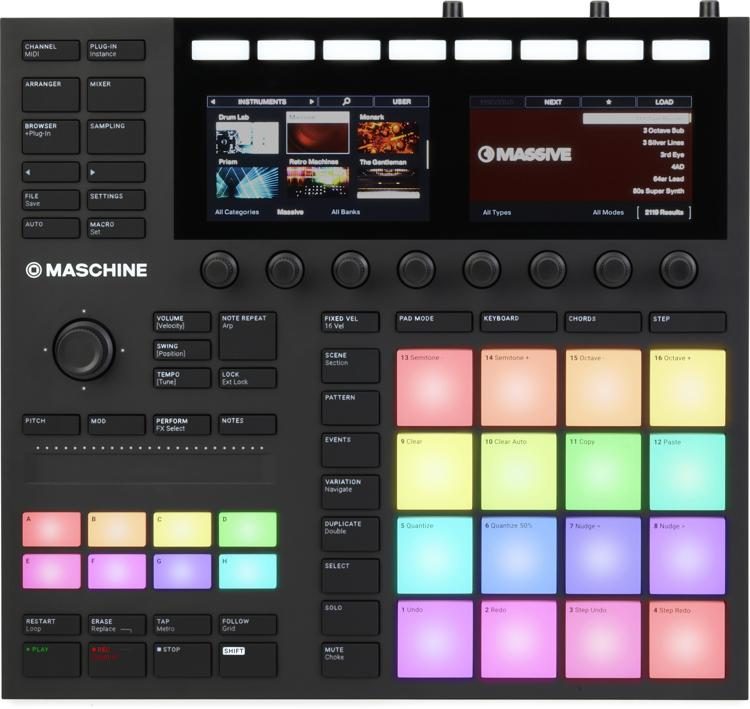 When talking about digital audio workstations and software, Native Instruments will most likely come up. They provide high-quality software that will enhance any producers ability to make great sounding music. The Maschine MK3 is a drum machine that combines physical and digital. It's a software instrument and controller packed into one product. 
This machine allows you to create patterns, tweak sounds, and sequence full songs. It includes 8GB of sample content. It's loaded with sounds and samples that will get you producing quickly and easily. 
It has fairly large pads, making drumming an easy task. You won't need to worry about missing pads and playing wrong notes. The touch-sensitive knobs make browsing the interface a breeze and the full-color display is easy on the eyes. 
A great benefit to this machine is that it comes with Komplete Select software. Connect it to a DAW, install the software, and you're good to go. It does have a steep learning curve, you'll need to be patient with it. 
For more about the Native Instruments MK3, check out customer reviews.
PROS: THINGS WE LIKED
Includes Komplete Select software
Works as a software instrument and controller
Large pads and colorful interface
CONS: THINGS WE DIDN'T LIKE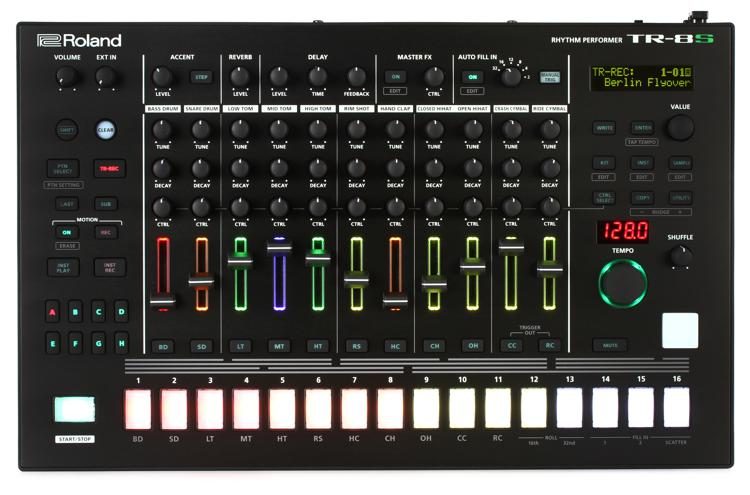 No name is more famous than Roland when it comes to electronic drums and sampling. They've consistently put out wonderful electronic products for years and maintained their place at the top of the market. The TR-8S Rhythm Performer combines analog modeling with supporting samples to give you a beast of a drum machine. 
It provides all the TR sounds that previous drum machines have had and gives you even more flexibility by allowing you to import samples from an SD card. This gives you a huge playing field of sounds to use.
The TR-8S allows you to play one pattern while constructing others, making it a useful tool for live performances. The color-coded buttons gave you a great idea of what's going on with the interface. 
Overall, it's one of the easiest drum machines to use and it provides several features to create compelling grooves and performances. One downside is that it doesn't have triplet support, meaning you can't use or play triplets in any of the drum patterns. 
For more about the Roland TR-8S, check out customer reviews.
PROS: THINGS WE LIKED
Combines analog modeling with sample support
Can construct one pattern while another is playing
Great for live performances
CONS: THINGS WE DIDN'T LIKE
Doesn't have triplet functions
The Arturia DrumBrute is a simple sequencer with 17 drum sounds and 64-step pattern sequencing. The selling point of it is that it's a purely analog workhorse. The drum sounds are highly authentic, giving you a platform to create some great sounding beats. 
A unique feature of this drum machine is the ability to create diverse polyrhythms. Typically, a drum machine will have set subdivisions that only allow notes in certain places. The DrumBrute allows drum tracks to have different lengths, giving you the option to make complex patterns. 
The layout and functionality of the setup is intuitive and easy to use, allowing you to improvise as well as use it as a tool to jam with. The DrumBrute is also priced somewhere in the middle of most machines, making it a good option for anyone not wanting to spend too much. 
One downside is that the buttons don't feel as natural to push as some higher-priced drum machines. 
For more about the Arturia DrumBrute, check out customer reviews.
PROS: THINGS WE LIKED
High-quality sounds at an affordable price
Allows polyrhythms
Buttons don't feel as natural as the ones on other drum machines
CONS: THINGS WE DIDN'T LIKE
Buttons don't feel as natural as the ones on other drum machines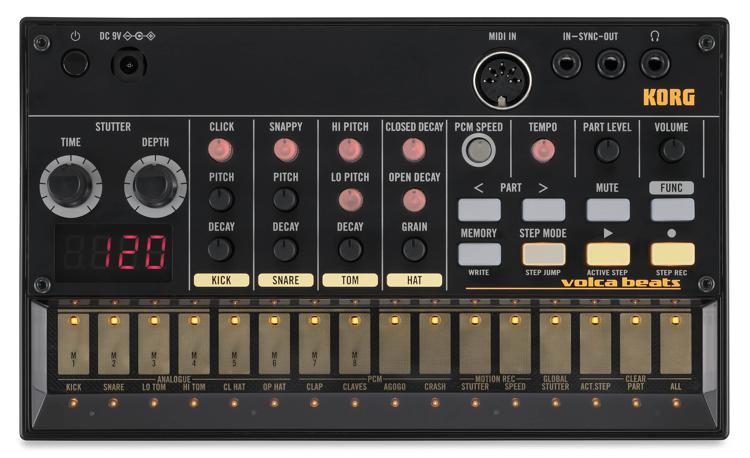 At first glance, you'll notice that the Korg Volva Beats is way smaller than the other drum machines on this list. It's designed to be portable, letting you whip it out wherever you go to make some sick beats. 
It's been marketed as an affordable 808, giving you hip-hop drum sounds to use in a sequencer. It has 6 analog parts and 4 PCM parts. These are all fully editable, letting you create anything that your creativity allows. You have the option of saving the 16-step patterns you've created to play them at a later stage. 
If you're new to drum machines, the Korg Volca Beats is the perfect place to start. It doesn't have too many functions, meaning you won't be overwhelmed. The simplicity of it makes it easy to learn and create. The portability is a great benefit as well. Unfortunately, the size of it makes it difficult to turn the knobs in the middle of the interface. 
For more about the Korg Volca Beats, check out customer reviews.
PROS: THINGS WE LIKED
Simple and easy to learn
Portability
CONS: THINGS WE DIDN'T LIKE
The size makes it difficult to turn the knobs in the middle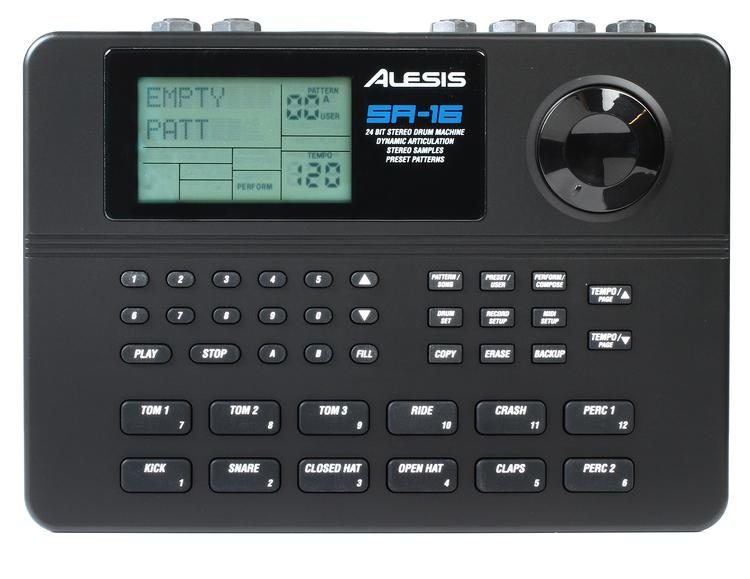 The Alesis SR-16 puts a bit more emphasis on being an accompaniment solution than the other drum machines on the list. It has 50 preset patterns played by real drummers. Each pattern has 2 variations as well as a 2 drum fills to go with them. This makes the SR-16 a great tool to use in solo gigs where you need some rhythmic backing. It's also great for practicing at home. 
The sequencing aspect of this machine is fairly simple. There are 12 velocity-sensitive pads that you can play rhythms directly into. It'll record what you just played and then run it on a loop. You can do detailed editing of the sequencing on the machine. However, you don't have as many features as you would in higher priced machines. 
The Alesis SR-16 has been around since the 90s and it continues to be a reliable drum machine for anyone to use. It does tend to have some issues with MIDI connections. However, most people wouldn't buy it with MIDI in mind. 
For more about the Alesis SR-16, check out customer reviews.
PROS: THINGS WE LIKED
50 preset patterns to play along with
Simple to create sequences
Durable
CONS: THINGS WE DIDN'T LIKE
The size makes it difficult to turn the knobs in the middle
What is the easiest drum machine to use?
The Korg Volca Beats is arguably the easiest drum machine to use. The simple layout and lack of too many functions make learning how to use it an easy task. You won't become overwhelmed and have to read through convoluted manuals to understand how it works. 
Which drum machine is best?
The Native Instruments MK3 Maschine is the highest-quality drum machine from the list above. It's loaded with useful features, great samples, and even comes with DAW integration software to improve the user experience. If you're serious about drum machine usage, this is the one for you. 
Is a drum machine worth it?
It depends on what you want to use it for. If you're simply looking for something to play beats while you play guitar, it might only be worth it if you're playing a lot of solo gigs. Otherwise, you could just find some beats online. 
If you're interested in music production, it's highly worth it as you'll be creating a lot of beats and sequences. It's easier to have a physical piece of gear rather than creating the sequences with a mouse and keyboard. 
What is the best drum machine for hip hop?
The most important drum sound in hip-hop is the 808 sound. The best machine that will accurately reflect that is the Korg Volca Beats. It has some great hip-hop sounds on it that will benefit your production of the style. 
Conclusion
If you're a drummer that has an interest in music production and beat-making, a drum machine will be a great investment for you. It's so useful to have something that allows you to create things on the fly, giving you freedom to express quick ideas.