Best Drum Machines for Guitarists
Playing guitar can be a great hobby. It can also lead to a solid career. One downside of playing guitar by yourself is that you have no rhythm to back you when you're jamming out. You could get a drummer friend to play some beats.
However, not everyone has a drummer friend. So, drum machines are a great solution to this problem. They give you a platform to run beats and loops from so that you can shred on the guitar with some rhythmic backing. 
What Makes a Great Drum Machine For Guitarists?
A great drum machine should provide a lot of innovation. It will supply you with many beats to play and some cool features to mess around with. When playing guitar, you don't want to worry about sitting with the drum machine and fiddling around for too long. 
So, a great drum machine should be easy to use and have reliable working systems. The sounds should be good and the loop functions should work well. A great machine should also provide high value for the money. 
These things can get quite expensive, so you should get what you're paying for. 
The 5 Best Drum Machines for Guitarists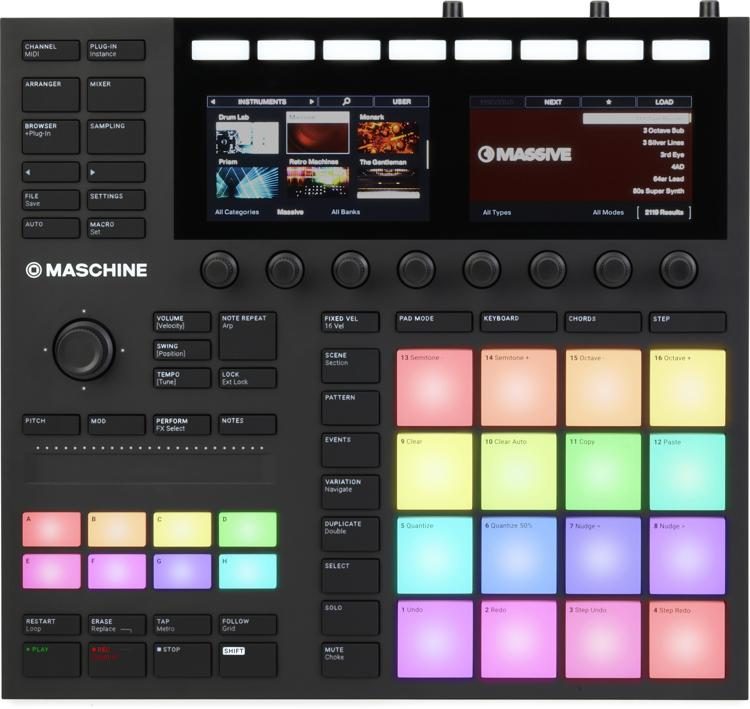 The Native Instruments Machine MK3 is a powerful tool that acts as a controller and instrument in one device. You can make beats and loop samples on the machine, but you can also connect it to a computer to run it through a DAW. This gives you a serious amount of uses and features to mess around with. 
The biggest thing that sticks out is the brightly lit display with several large colored pads. These large pads allow you to play beats very easily with your fingers. You can sample in a beat and then play over it with your guitar. 
There are several touch-sensitive knobs that allow you to control different sound settings, making remixing and EQ editing very easy. The machine comes with over 8GB of sample sounds. There are plenty of fantastic drum sounds to make beats with, as well as chord loops. 
The machine does have a very steep learning curve, meaning you'll need to sit for hours to learn how it works and how to best utilize it. However, it's well worth all the effort in the end. 
PROS: THINGS WE LIKED
Controller and instrument in one package
Brightly colored finger pads
Over 8GB of sounds
CONS: THINGS WE DIDN'T LIKE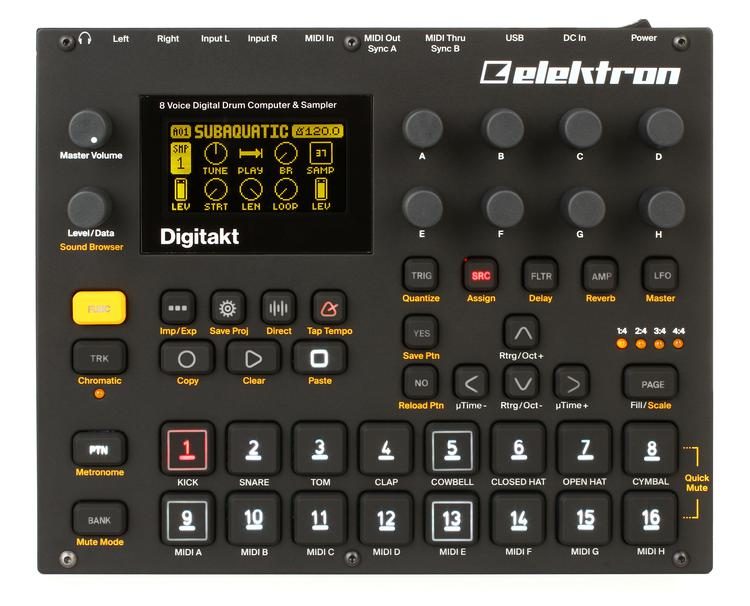 The Elektron Digitakt is a fantastic drum machine that will instantly inspire you once you start using it. It combines a super sequencer with a hands-on sampler, giving you a seriously powerful groove box to play around with. 
It's a great option for sound designing and drum programming as it gives you all the tools you need to make fantastic backing tracks to play guitar along with. The sound engine is extremely reliable and gives you plenty of control over all the sounds. 
If you like to have extended control over your sounds, this is the machine for you. One downside is that it doesn't have much memory, limiting how much you can do on the machine itself. You can plug it into a DAW to have a bit more room to work with. 
It's undoubtedly one of the best groove boxes around, so don't sleep on it! 
PROS: THINGS WE LIKED
Inspires creativity
Combines a super sequencer with a hands-on sampler
Provides a serious amount of control over sounds
CONS: THINGS WE DIDN'T LIKE
Doesn't have a lot of memory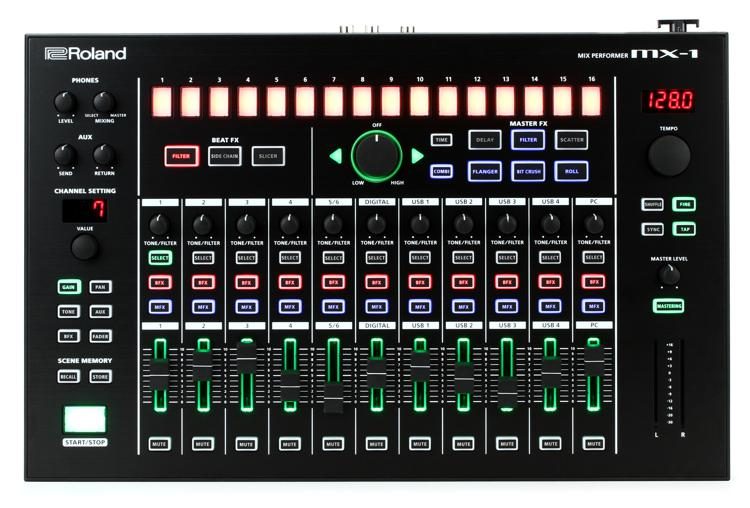 The Roland AIRA MX-1 is a tad bit different from the other machines on this list. This product primarily acts as a mixer. It works as a hub to plug all your analog instruments into and then have control over them from one place. It works fantastically well and provides such a great sense of control. 
However, it's a mixer with a twist. It can be used as a drum machine as well, making it one of the coolest mixers around. It has beat and master effects along with a variable filter, side chains, and slicers. Everything you need to make some cool beats. 
If you take those features and combine them with other input sources, you have a force to be reckoned with. The MX-1 can control the tempo of all its inputs with just one setting. It can also save all of your settings to one scene, allowing you to have the same sounds every time you set up with different inputs. 
Overall, it's a wonderful machine to have if you have other analog instruments to connect to it. It may be too much if you're just looking for a beatbox to provide some rhythms. 
PROS: THINGS WE LIKED
Extremely versatile mixer that can also be used as a drum machine
Can control all input tempos with one setting
You can save scenes from different inputs in one place
CONS: THINGS WE DIDN'T LIKE
It can be overwhelming if you're just looking to make a few beats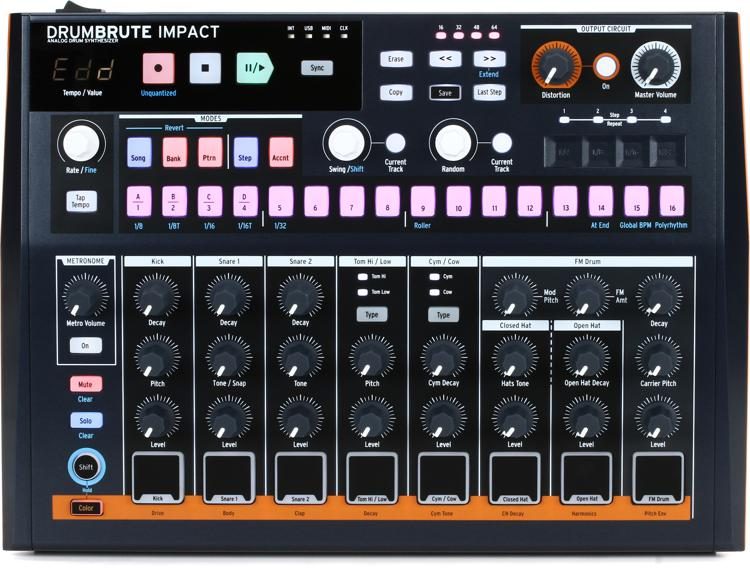 If you need something a bit more affordable, the Arturia DrumBrute is a great option to go with. It has 10 analog drum sounds that sound immaculate along with 64-step sequencing, providing you with a powerful machine to get your rhythms from. 
The drum sounds are all typical ones you'd find from an acoustic drum kit along with a few synth percussion sounds. The machine has the ability to create complex polyrhythms as well as change patterns with cool effects. 
If you're purely looking for a machine that can lay down some beats the will support your guitar playing, the Arturia DrumBrute is the perfect option for you. It has a simple layout that is easy to learn. It doesn't have that infamous steep learning curve like other drum machines. 
The one downside is that this machine doesn't have as many drum sounds as other drum machines. It also doesn't have any melodic tones or voices. So, it may be too limited for some people. 
PROS: THINGS WE LIKED
Very affordable
Allows complex polyrhythms
No steep learning curve
CONS: THINGS WE DIDN'T LIKE
Doesn't have as many sounds or features as the other drum machines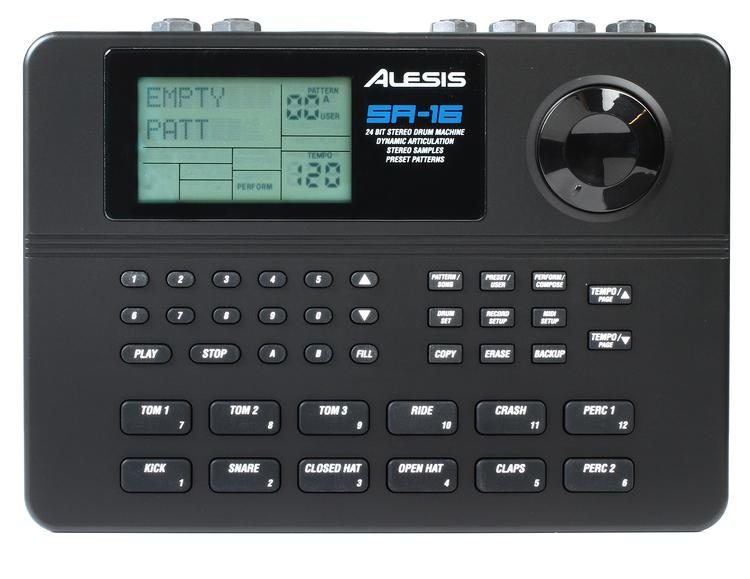 If you're looking for something even more affordable than the DrumBrute, the Alesis SR-16 is something to look out for. Alesis are famous for providing high-quality electronics at affordable prices. The SR-16 is second to none when it comes to that. 
This drum machine has 12 performance pads, a 24-bit sound engine, and 233 drum sounds. With so many drum sounds, you have the potential to create some extremely creative patterns to play along with. 
The machine also has 50 preset patterns, meaning you won't need to create all the patterns from scratch if you don't want to. 
The pads are velocity sensitive, meaning you can play dynamically to get some musical patterns. Many cheaper pads don't have this feature, so it's a huge benefit. You can further edit the sounds by choosing to have them sound dry or with reverb. 
This drum machine is very limiting for someone who does a lot of analog audio things. However, it's perfect if you just need something to play rhythms for you while you're strumming. 
It's the best drum machine to get if you're on a tight budget. 
PROS: THINGS WE LIKED
The most affordable drum machine on this list
50 preset patterns to choose from
233 drum sounds
CONS: THINGS WE DIDN'T LIKE
Doesn't offer as much as the more expensive drum machines
What is the most realistic sounding drum machine?
The most realistic sounds would have to go to the Native Instruments Maschine MK3. Since the machine is highly integrated with DAWS, it means it has the best sounds thanks to all the high-quality software. 
What is the easiest drum machine to use?
The easiest machine to use would be a tie between the Arturia DrumBrute and the Alesis SR-16. Both of these machines are affordable and have basic layouts that are easy to learn. They don't have steep learning curves like the other more expensive drum machines. 
What is the best drum machine for live performance?
The Roland AIRA MX-1 is the best machine for live. This is because it offers so much more doubling as a mixer. You can run a whole live setup from it. 
What is the best drum machine for hip hop?
Every machine on this list would work wonderfully in live situations. Your choice would just depend on exactly what you're doing as each machine has its own strengths and weaknesses. You can also check my guide on hip hop machines. 
Conclusion
Getting a drum machine is a great thing to do as a guitarist. It will provide you with that much-needed rhythmic backing when you play. Many guitarists have a few timing issues as they don't practice with metronomes or beats. 
The drum machine will fix that and make your practice sessions more fun. It will also allow you to play a solo gig and still have some drums to go with your playing.