Best Beat Machines for Hip Hop
Drum machines are an essential tool in the hip hop world. When it comes to making beats and loops, drum machines make it really easy to develop and create ideas. A rapper or musician can sit with a drum machine and create a base loop to rap or sing over. So, which drum machines work best for making hip hop music? Let's have a look. 
What Makes a Great Beat Machine For Hip Hop?
A great beat machine will have many useful features. It will allow you to easily customize beats and sounds, giving you a valuable tool to make music from.
It will produce high-quality sounds that will be suitable to use in professional situations. These sounds will have been sampled from professional recording environments. 
A great beat machine that is expensive should offer features that are well worth the price. If you pay a fair amount for it, it should be loaded with tools that will help you make the best music possible. 
The 5 Best Beat Machines for Hip Hop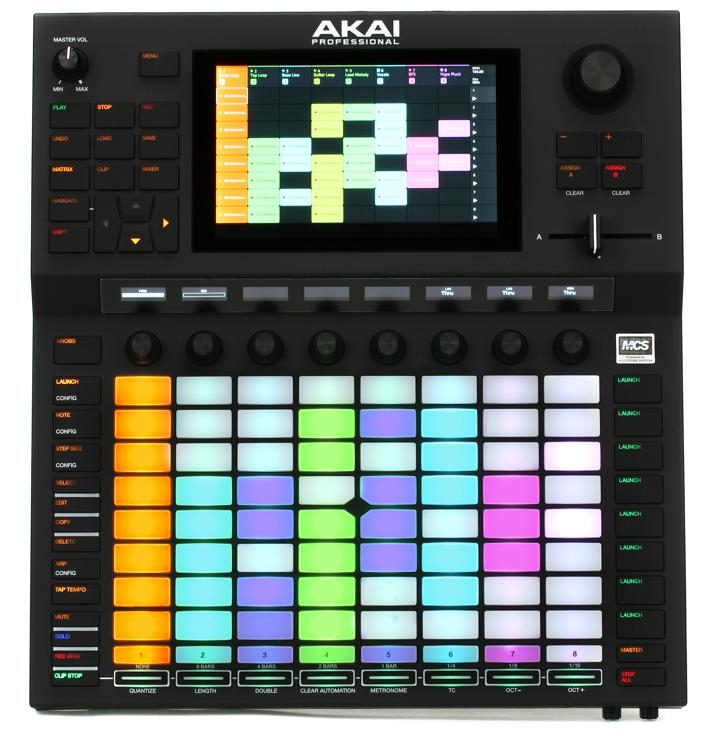 The Akai Professional Force Standalone Sampler is an absolute powerhouse in the drum machine world. It's packed with so many high-quality sounds and features that you don't ever need to use it in conjunction with a laptop. However, connect it to a digital audio workstation and you'll almost be able to take over the world. 
It has fantastic sampling capabilities that include being able to shift pitch and time while playing music. It has 4 built-in synth engines, giving you a huge amount of power to work with. It's loaded with 10GB of sounds along with the ability to import your own via USB. This machine even has some DJ features that will allow you to play a DJ set.
Overall, it's one of the best samplers you can get and it will give you more than enough power to create the best hip hop beats possible. It's pretty expensive, so you'll need to save up to get it.
PROS: THINGS WE LIKED
4 built-in synth engines
10GB of sounds
DJ capabilities
CONS: THINGS WE DIDN'T LIKE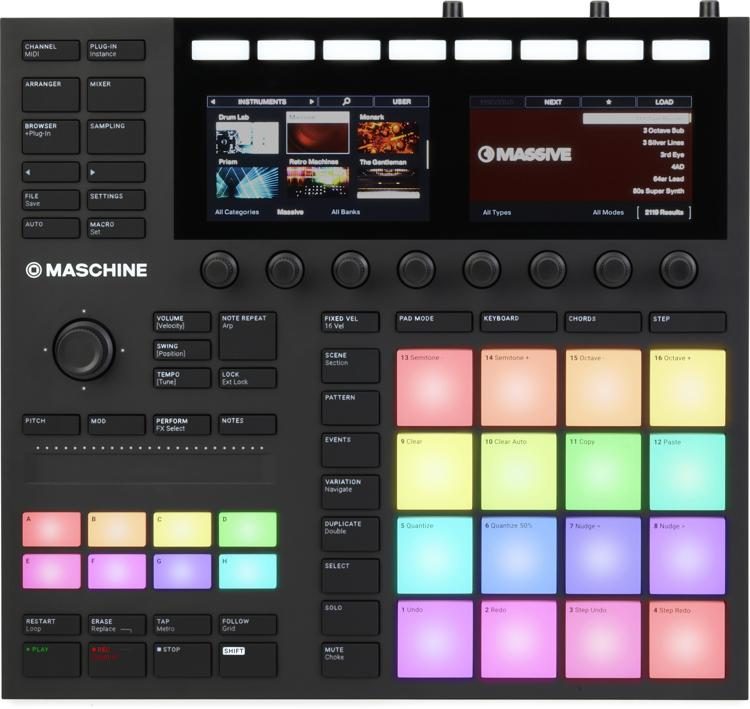 Native Instruments is one of the biggest companies in the world of digital audio workstations and electronic samplers. They mostly produce software, but the Maschine MK3 is a drum machine sampler that combines physical tools with digital sounds. It's a controller and software instrument all in one.
It lets you create songs, customize patterns, and tweak sounds. It's packed with about 8GB of sample content that will allow you to make all kinds of hip hop beats and patterns. 
The pads are large, meaning you'll easily be able to drum out patterns without missing any of the pads. The knobs are touch-sensitive and browsing the interface is easy on the eyes thanks to the color display.
This beat machine comes with Komplete Select software to use along with a DAW. It has a steep learning curve. So, it will take some time to get used to.
PROS: THINGS WE LIKED
Physical and digital tool
8GB of sample content
Large pads
CONS: THINGS WE DIDN'T LIKE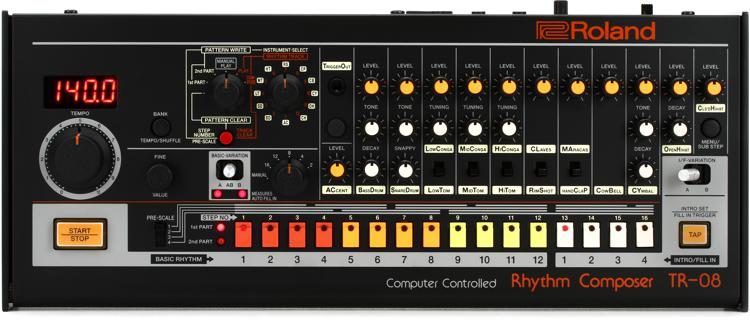 The Roland 808 is the most famous drum machine that has ever existed. The sounds originating from that device have been used on thousands of studio albums and live stages. When people think of electronic drumming, it's very common to associate it with the sounds of the 808. The TR-08 Rhythm Composer is a Boutique Series version of the 808 and provides all the sounds that it's famous for. 
It takes the influence of the 808 and adds some modern touches like a 16-step sequencer and a sleek LED display. It's a vintage beat machine created for modern producers who will use those classic sounds. 
It has 10 separate audio outputs, allowing you to connect it to many different sources. The design of the machine is very durable, meaning it will last you many years to come. 
If you're a fan of the 808, as everyone should be, you'll love this beat machine. The one downside is that it's not as easy to set up as other synths and beat machines are. 
PROS: THINGS WE LIKED
Classic 808 for a modern producer
Smart LED display
10 audio outputs
CONS: THINGS WE DIDN'T LIKE
More difficult to set up than other beat machines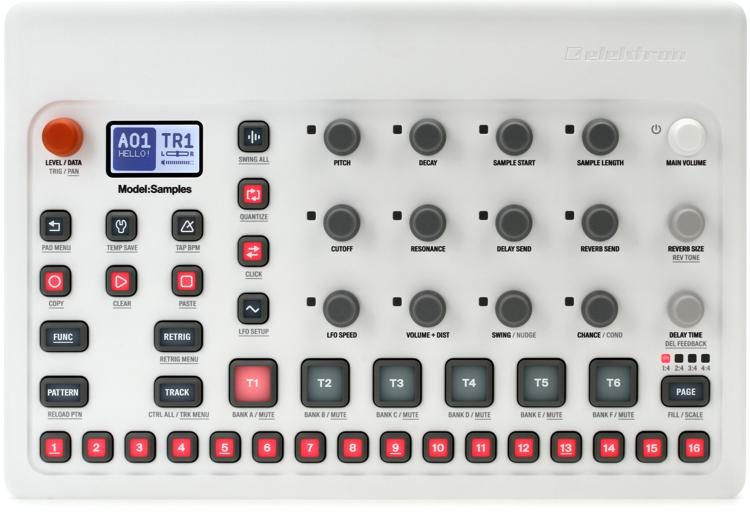 This beat machine looks very different to the others on the list. However, it provides a wonderful platform for creating great hip hop beats. It has 6 tracks and 300 high-quality sounds taken right from a sampling website called Splice. 
Every function on the machine has a dedicated knob, making it very easy to control while playing on the fly. There are 6 velocity-sensitive pads to play patterns on, giving you an easy way to record your hip hop beat ideas. There is also a sequencer to use that allows you to make all kinds of patterns. 
You can store your own samples on the machine with the provided 1GB of storage space. The sounds that are included with the beat machine are seriously high-quality, meaning you may not even need to store your own sounds on it. 
Overall, it's a great tool for making beats and patterns. It's affordable as well, meaning it won't be breaking any banks. One downside is that it can take a while to learn how to use all the onboard functions. 
PROS: THINGS WE LIKED
Affordable
Easy to make patterns on the fly
High-quality samples included
CONS: THINGS WE DIDN'T LIKE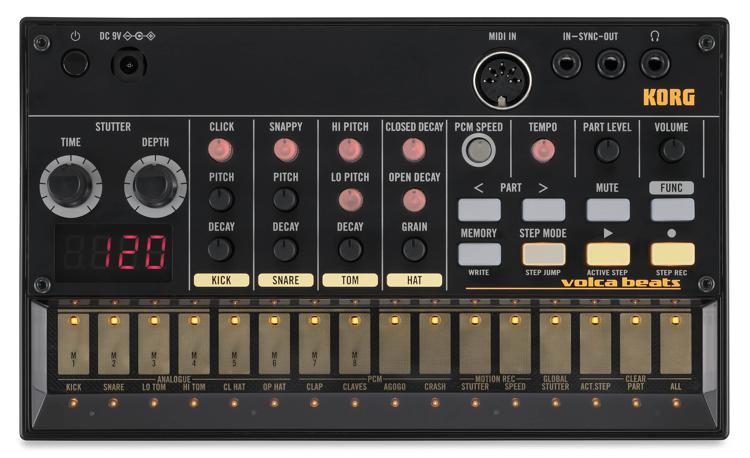 The Korg Volca Beats is a small beat machine that is designed to be portable and light. It's a lot smaller than most beat machines. It's also a lot easier to use.
People often make the comparison to an 808. This means that the Volca Beats is the perfect tool for making hip hop beats and loops. It has 6 analog parts and 4 PCM parts. Every sound is fully editable, letting you create anything your mind can think. You can save patterns and play them at a later stage. 
The Korg Volca Beats doesn't have many functions, stopping you from getting overwhelmed. The simplicity of it makes it easy to create things and learn along the way. The small size of the machine makes it a bit difficult to turn the knobs. However, you get used to them after a while. 
Overall, it's a great portable beat machine for beginners. 
PROS: THINGS WE LIKED
Light and portable
Great 808 sounds for hip hop
Simple layout is great for beginners
CONS: THINGS WE DIDN'T LIKE
Knobs are small and difficult to turn
What is the most realistic sounding drum machine?
Most electronic drum machines produce sample beat sounds. These sounds are mostly electronic, meaning realism doesn't come into the picture. However, quality of sound does. So, the machines with the highest quality sounds will be all the expensive machines on the market. They're expensive for many reasons and sound forms a big part of that. 
What beat machine does Kanye use?
One popular beat machine that Kanye West has used is the Akai MPC. This small and unassuming machine has been the catalyst to many successful productions over the years. It's a valuable tool in and producer's studio, giving you many sound options to work with. 
What is the easiest drum machine to use?
The Korg Volca Beats is arguably the easiest drum machine to use. It has a simple layout and straightforward design. If you're new to using drum machines, you'll be able to start making beats straight away on the Volca Beats. 
What machine makes beats?
All drum machines allow you to make beats. Some are more complex than others and allow you to add more layers. Other machines will allow you to vary in several subdivisions and create complicated grooves. 
If you want a tool to make beats and loops, any drum machine will work. Just be careful in choosing one as some machines are easier to use than others. 
Conclusion
Hip hop is a great entry point for anyone wanting to become a producer. The beats and patterns are repetitive, making them easy to make. They can get more complex when you start adding layers. 
Beat machines are great tools to have as drummers as you can extend your rhythmic creativity over to a digital instrument. Try to make beats that you can play on both the drums and the beat machine. 
If you're looking to buy a beat machine, check out the ones we put on this list. All of them offer features that might greatly benefit you and your situation.