Ludwig Element Evolution Review
The Ludwig Element Evolution is a trusty beginner-to-intermediate kit from Ludwig. There are some fantastic features on this kit that can be utilized by new and old drummers alike, making it a worthy choice for anyone looking to buy a new drum set. 
Ludwig has a rich history of making high-quality drum sets and the Element Evolution reflects that rich history in an affordable package. Let's get into some of the features as wells as the pros and cons of this set. 
Key Features:
The most notable feature of this set is that it comes as a complete package that includes drums, cymbals, and hardware. Ludwig has teamed up with Zildjian to include a set of I cymbals with the kit. 
These I cymbals deliver bright tones with attacking accents, making them great for heavy-hitters and players looking for loud sounds. When it comes to entry-level cymbals, they're some of the best options out there. They're an updated version of the famous ZBT cymbals from Zildjian. They sound mostly the same, they just have a different name. 
The drums are made from poplar shells that provide heavy resonance with well-milled edges and excellent tone control. The snare drum has a fair bit of overtones that can be subdued with some dampening. 
PROS: THINGS WE LIKED
Includes cymbals and hardware
Stands are double-braced
Well-milled edges and great tone control
Great price-to-value ratio
CONS: THINGS WE DIDN'T LIKE
Stock drumheads need to be replaced to get the best possible tones from the drums
 Ludwig Element Evolution Review:
What To Expect from This Kit
Wood and construction 
The drums are made with poplar wood. This wood is used in a lot of entry-level drum kits thanks to its affordability and accessibility. Some great kits are made with poplar and the Element Evolution definitely falls into that list. 
The sizes of the shells are fairly standard with the rack toms being 10" and 12" while the floor tom and bass drum are 16" and 22". The 22" bass drum packs quite a beefy punch. 
The snare drum is 14" and as said previously, has a few nasty overtones to begin with. Using a better drumhead or strapping down some tape will do the trick to eliminate those. 
The included cymbals are a pair of 14" hi-hats, a 16" crash, and a 22" ride. The hi-hats have a very strong chick sound and sound quite large when played open, so large that it can be a little overbearing at times. 
The 16" crash has a classic crash tone while the 22" ride has a huge presence. These cymbals are fantastic for beginner drummers. More experienced players might want something a little warmer and darker.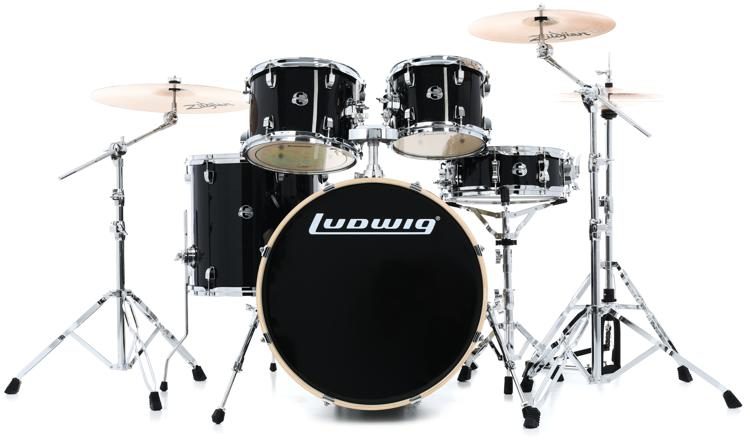 Hardware
The hardware is one big factor that separates this kit from many other kits in the same price range. It's fairly heavy-duty and keeps the drums firm and secure in position without any permitted movement. This provides a secure platform to play from. 
The cymbal stands are double-braced, meaning they feel very secure in place and the tom mounts allow for a lot of resonance without choking the toms. 
The lugs on all the drums have a square shape that is reminiscent of many vintage Ludwig drum sets. Some drummers love these lugs while others prefer the more modern and smooth lugs. 
Price to Value Ratio
The price-to-value ratio of this kit is outstanding seeing as you get drums, hardware, and cymbals all together for less than $1000. There are some other drum kit options on the market that are similarly priced. However, they don't sound as good or don't include as much as the Ludwig Element Evolution. Let's have a look at them. 
Ludwig Element Evolution 6 Piece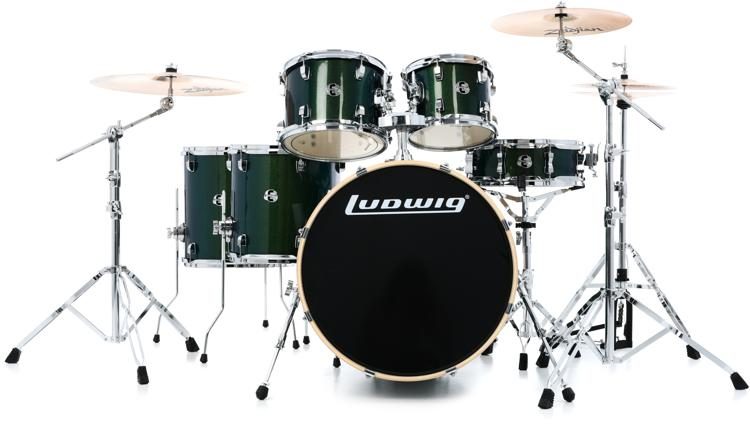 The set comes in two main configurations. The 6-piece version has an extra 14" floor tom that provides more voices in the lower range. Having this extra floor tom allows you to either have a larger drum kit or it allows you to swap out floor tom sizes depending on the gig you're playing. 
It's always fun to have two floor toms, so this configuration is a great option to go with. Just know that it comes in at about $100 more than the standard 5-piece version of the kit. 
Ludwig Element Evolution 5 Piece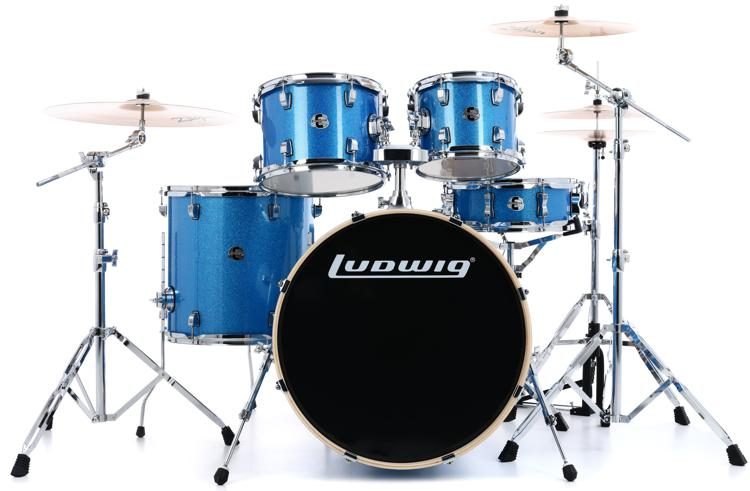 The 5-piece is the most popular version of the kit. It has everything you need as a drummer to get playing. The sizes are great for playing several styles of music, meaning it's quite versatile. 
Both configurations have 4 different finish options which are Black Sparkle, Blue Sparkle, Emerald Green Sparkle, and Gold Sparkle
Tama Imperialstar IE62C
The Tama Imperialstar is a kit from Tama that is very similarly priced to the Element Evolution. However, you can get a 6-piece version of the kit for about $50 less, meaning it's the cheaper option. 
Some key features of this kit are that it's made from poplar wood, includes a set of Meinl HCS cymbals, as well as a full set of hardware that includes a drum throne. It's one of the ultimate kits for beginners. 
In terms of sound quality, it doesn't sound as good as the Element Evolution with its stock drum heads, but it does provide more value in terms of price and affordability. The Imperialstar also has a huge selection of finishes compared to the 4 finishes of the Element Evolution.
Pearl Export EXX725S
Being the most sold drum kit in the world, the Pearl Export obviously offers some wonderful qualities that can't be slept on. It's a great competitor to the Element Evolution as the 5-piece EXX kit comes at a similar price. It just doesn't include cymbals. It does come with hardware, though!
The shells are made from a mixture of poplar and mahogany, giving them strong tones that are effective in most situations. The standout features of this kit are all the hardware sections. Firstly, the drums use Pearl's Superior Shell Technology, making them more durable than most drums on the market. 
The cymbal stands are incredibly strong and durable and they'll most probably last you a lifetime with proper care and careful use. The sounds quality of this kit is slightly better than the Element Evolution, you'd just need to buy cymbals separately. 
Yamaha Stage Custom Birch 
The Stage Custom Birch shell pack is the most affordable kit option that we've mentioned so far. However, it doesn't come with hardware or cymbals, making it less affordable in the long run. This is a kit to get if you're looking for a professional sound that will work in live settings and studio situations. 
The reason that this kit is so popular is because it's the most affordable professional-quality kit on the market. The birch shells are incredibly punchy and the drums have a seriously wide tuning range. The kit screams versatility. 
The YESS tom mounts keep the rack toms very securely in place and make positioning them an easy task. Overall, this is the kit to get if you're looking to break into the upper-tier professional sound needed for certain playing situations. 
Ludwig Element Evolution in the Studio
As this kit is aimed at beginners and intermediate players, you won't commonly see it being used in studio recording environments. Poplar shells aren't desirable in those situations as they have a tone that can be considered boxy and flat. 
This means that the Element Evolution isn't a great kit to use for recording, especially in professional settings. However, it could work in a grungy punk setting where immaculate tones aren't the main goal. 
Ludwig Element Evolution for a Live Gig
The kit works way better for live gigs as the drums are fairly loud and bellowing. The 22" bass drum has a great amount of "oomph" to it, allowing the microphones to pick it up easily and pump it to the crowd. 
The bright cymbals cut smoothly through mixes and produce attacking tones that work well in rock, metal, and funk settings. You may need to use different cymbals if you're playing a jazz or smooth indie gig, though. 
The kit has great aesthetics to it with the vintage Ludwig lugs and the bright sparkle finishes. This means it will look great on a stage with lights and a heavy atmosphere. 
Helpful Resources
Ludwig Element Evolution Review
Build Quality

Performance

Value
Final Thoughts
The Ludwig Element Evolution is a fantastic option to go with if you're looking for a high-quality kit that comes with cymbals and hardware as well. It's catered to beginner and intermediate drummers, meaning advanced players may find it lacking in a few areas. 
The Zildjian I cymbals are great and so are the double-braced cymbal stands. Overall, it's a wonderful kit that you won't regret buying. If you're not entirely convinced, check out the competitor kits that we also mentioned in this review.