Metal and jazz are two styles of music that have a seriously large amount of subgenres. The common requirement across all styles of metal is to have a loud and punchy drum kit. Whether it be metalcore, death metal, or slash metal, a big drum sound is absolutely necessary. So, we've put together a list of some of the best drum kits for metal. 
These are Our top Picks Summarised For:
19th October 2021
What Makes a Great Drum Set for Metal?
Drum sets for metal will generally have larger sizes. A great drum set will have deep tones with a powerful punch. Since you'll be hitting the drums quite hard, it's important to have a kit that is very durable. The most important aspect would actually be the hardware. The stands should be secure and ready to take a beating. 
In terms of shell material and specifics, most drum sets would work pretty well for metal. You would also typically want a large amount of drums and either a double pedal or two bass drums. 
The 5 Best Drum Sets for Metal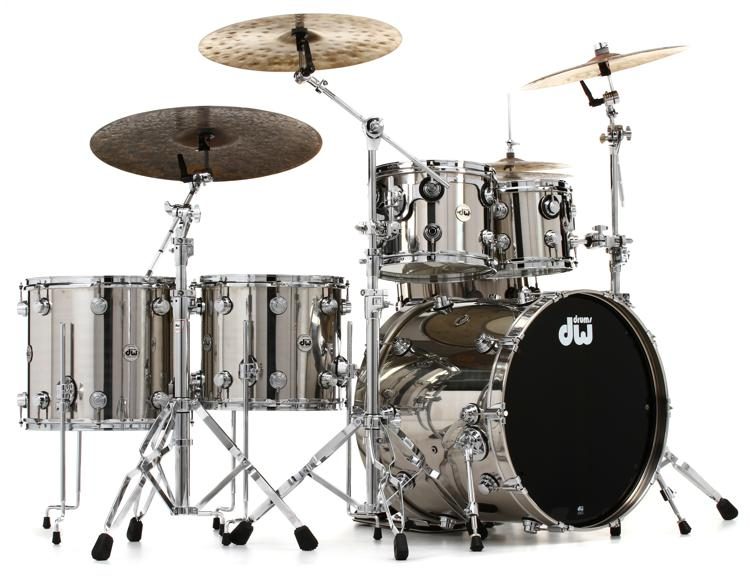 What better to fit the musical style than having an actual metal drum set. You'd typically only see snares that are made of steel. DW has taken innovation to a new level in providing a full shell pack made of stainless steel. 
These drums have a tremendous amount of punch and power, producing a loud sound that will fill any room very easily. The kit incorporates all of DW's build features including STM tom mounts and folded bearing edges. 
The kit comes as a shell pack that includes 10" and 12" rack toms, 14" and 16" floor toms, and a 22" bass drum. 
This heavy-duty kit has great sounding toms, a booming bass drum, a cool aesthetic look, and it's easy to tune. The downsides are that it's very heavy and incredibly expensive. 
For more about the DW Collector, check out customer reviews.
PROS: THINGS WE LIKED
Wonderful sound
Heavy duty
Easy to tune
CONS: THINGS WE DIDN'T LIKE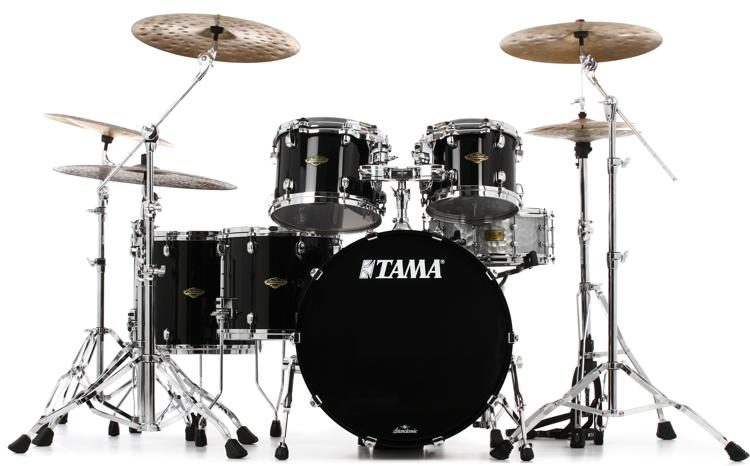 Tama Starclassics are well known for being some of the best sounding drum kits on the market. This specific kit comes with shells that are made from a mixture of walnut and birch woods. The birch provides warmth while the walnut produces heavy attack. This mixture creates a powerful sound that works wonders in a metal setup. 
The kit has a standard 5 piece setup that includes 10" and 12" rack toms, 14" and 16" floor toms, and a 22" bass drum. 
The shells are supported by premium zinc die-cast hoops which allow easy tuning and a lot of resonance. The drums tend to stay in tune for a good while as well. 
A great aspect of Tama Starclassics is that there are several finish options to choose from. If you're going to play metal, try  to find a finish that fits the aesthetic of a metal band. 
For more about the Tama Starclassic, check out customer reviews.
PROS: THINGS WE LIKED
Warm tone with heavy attack
Easy to tune
Many different finish options
CONS: THINGS WE DIDN'T LIKE
Doesn't include a snare drum
Best Electronic Drum Set for Metal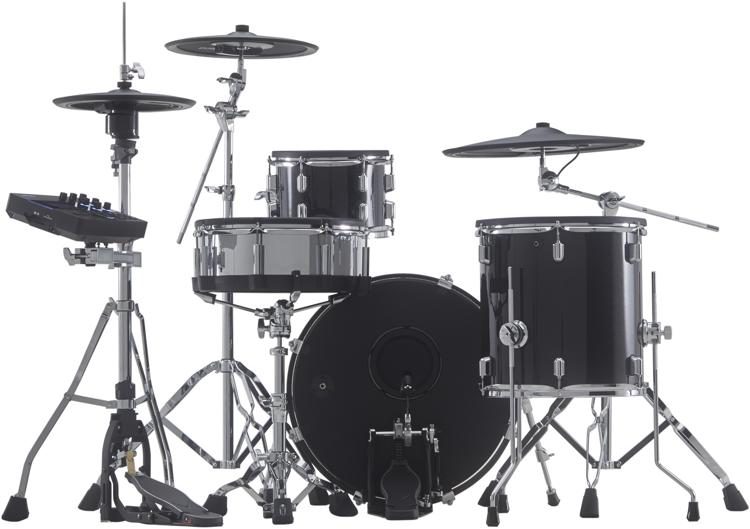 The VAD503 is Roland's latest innovative electronic drum kit. Companies have been trying to bring electric kits close to resembling acoustic kits for years and this product is arguably the closest thing. It combines the look and feel of an acoustic kit with all the extra features that electronics bring to the table. 
The real wood shells combined with unable mesh heads give you a seriously great drum kit to play around with. The kit uses Roland's TD-27 sound module which is jam-packed with many features. It has 55 preset kits that all sound incredibly authentic.
The biggest selling point of this kit is the ability to express dynamics. The softest note will be heard as well as the hardest stroke. The pads handle fast notes well, meaning quick metal beats will be no problem.
Overall, the VAD503 is a great option for any metal drummer wanting to play with an electronic drum kit.
For more about the Roland VAD503, check out customer reviews.
PROS: THINGS WE LIKED
Look of an acoustic kit combined with features of an electronic kit
Roland TD-27 module
Handles quick notes well
CONS: THINGS WE DIDN'T LIKE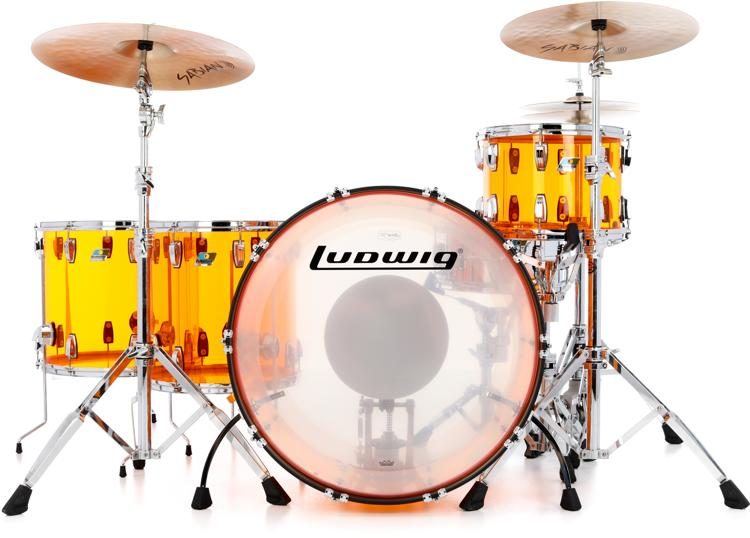 With a name as famous as John Bonham attached to the name of the kit, you know it's going to be good. The Ludwig Vistalite Zep kit is an acrylic drum set with huge sizes. It's loud and in-your-face, perfect for playing metal. 
Included with the shell pack is a 14" snare, 14" rack tom, 16" and 18" floor toms, and a 26" bass drum. 
The amber acrylic shells along with the large sizes make these drums seriously loud. They produce a warm tone that sits somewhere along the low end. They sound better when tuned low, making them great for deep metal styles like grindcore. 
A bonus is that the kit comes with a Ludwig Supraphonic snare drum. Supraphonic snares have been the top snare drums on the market for decades. This snare produces a tight crack and is able to reflect anything you throw at it. It has a wide tuning range and works well for any genre. 
The Vistalite kit is pretty expensive. However, it will suit your metal band well and look great on stage. 
For more about the Ludwig Vistalite, check out customer reviews.
PROS: THINGS WE LIKED
Cool aesthetic
Big sound
Includes a Ludwig Supraphonic snare
CONS: THINGS WE DIDN'T LIKE
Difficult to position rack toms around the large bass drum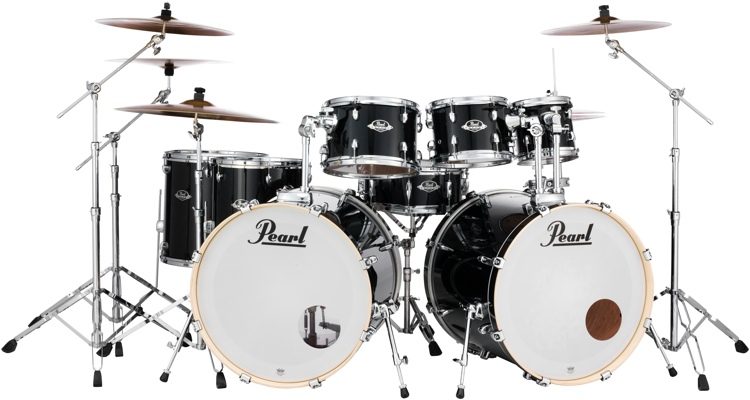 The Pearl Export is the most sold drum kit in drum history. Pearl has been at the top of the drum production game for a good while and the Export is one of their key products. There are so many variations of the Export that have been sold over the years and this specific setup has been designed for metal drummers. 
The Export EXX Double Bass Drum Set comes with two 20" bass drums, 8", 10", and 12" rack toms, 14", and 16" floor toms, and a 14" snare drum. This is probably one of the only affordable drum sets that you can buy that comes with two bass drums, making it a perfect option for metal drummers. 
The shells are made from poplar and mahogany, giving them a punchy tone and extended durability. 
The kit also comes with a full set of Pearl's 830-series hardware as well as two P-930 bass drum pedals. 
Everything you need to shred some metal songs is right here. You would just need to add some cymbals. 
For more about the Pearl Export, check out customer reviews.
PROS: THINGS WE LIKED
Very high value for money
Includes hardware
Very durable
CONS: THINGS WE DIDN'T LIKE
Stock drumheads aren't great and it will cost a fair bit to replace them on every drum
What are the best drum sets?
Drum sets come in all shapes and sizes. They're also designed for specific markets and purposes. There are loads of sets that are great for beginners, intermediate, and advanced players. 
There are several brands out there that make really good drum sets. These include DW, Tama, Pearl, Yamaha. Gretsch, and Sonor. 
There isn't a definitive answer to which kits are the best. However, each drum brand has different ranges of kits and the most expensive ones would be the best sounding. 
What is the best drum kit for intermediate?
Intermediate drummers would probably be looking at kits between $1000 and $2000. The best kit for an intermediate player would be the best sounding kit in that price range. There are a few of them that are worth mentioning. 
The first would be the Pearl Masters Maple. It's a no-nonsense kit with a very warm tone. The next would be the DW Design Series kit. It provides all the high-quality production of DW at an affordable price. 
These are just 2 of many great kits out there. It comes down to personal preference on which kit you'd like the best. Any kit under $2000 would be a good place to look. 
Who makes the best drum hardware?
The first company that comes to mind is Gibraltar. They're a dedicated drum hardware company, meaning all their resources go into making great hardware products. Most of their hardware is also fairly affordable. 
Pearl is also known for making very stable and secure hardware. Even their budget kits like the Exports come with heavy-duty hardware. 
Other companies like Yamaha and DW also make some seriously great hardware. Again, it's just a personal preference thing for every drummer.
Who is the best metal drummer?
Music and art are very subjective, meaning there isn't one drummer out there that is better than the rest. However, there are some famous names that come to mind when thinking of metal. This would include Dave Lombardo, Mike Portnoy, Mike Mangini, Ray Luzier, Matt Gartska, and Joey Jordison.
Conclusion
If you're thinking of buying a drum set for metal, just make sure that it's one that you're going to absolutely love. It's important to get an instrument that reflects you and your playing. It should be loud, aggressive, and have a great appearance.