Best Snare Drum For Metal
If you're going to play metal music, you're going to need a good snare that can handle all the blast beats and breakdowns. While most snares will do a great job, there are certain qualities that make some snare drums work better in heavy metal environments. 
The majority of snares that work well in metal have metal shells instead of wood. They're louder and more responsive to the fast playing. So, we're going to take a deep dive into some great metal snare drums that are well-suited for metal music. 
These are Our top Picks Summarised For:
14th September 2021
What Makes a Great Snare Drum For Metal?

A great snare drum should be highly responsive. There are so many dynamics that you can play on a snare, so the snare needs to be able to accurately reflect everything you put into it. 
When thinking about metal music specifically, the snare should be loud enough to cut through all the distorted guitars and screaming vocals. The louder the snare, the better it is. A great snare should also sound really good no matter how high or low you have tuned it. 
The 5 Best Snare Drum for Metal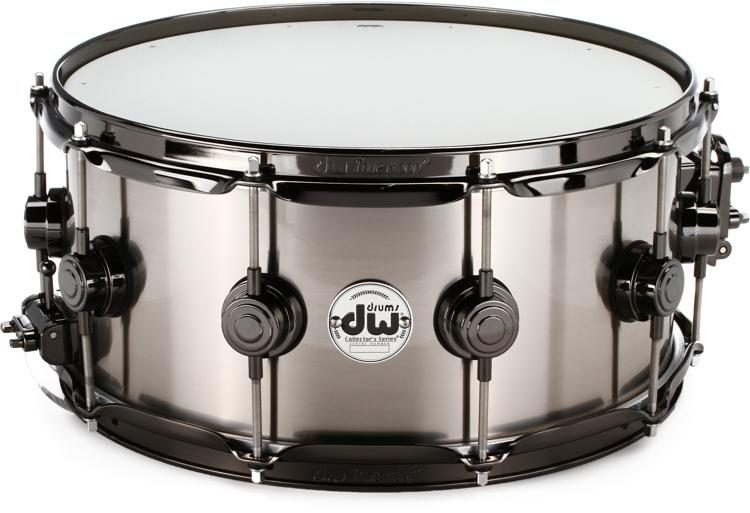 DW Collectors Series snares are famous for being some of the best sounding snare drums in the world. This particular snare has a titanium shell, giving it a sound that is slightly less metallic than most other snares. 
It has fantastic low end with plenty of crack. The tone is incredibly deep with heaps of volume when you hit it in the center. The rimshots are cannon-like, roaring through any mix you put the snare drum in. 
The snare also has a piercing tone if you tune it high. It has such a rich and beautiful sound that any drummer would be blown away when hearing it. 
It looks really great with the black-nickel hardware. The dark edges give it a sense of high quality. Since the snare comes from the DW Collectors Series line, it comes at a hefty fee. It's one of the most expensive mainstream snare drums that you can get your hands on. 
PROS: THINGS WE LIKED
Sounds less metallic than other metal snares
Black-nickel hardware looks amazing
Beautiful and rich tone
CONS: THINGS WE DIDN'T LIKE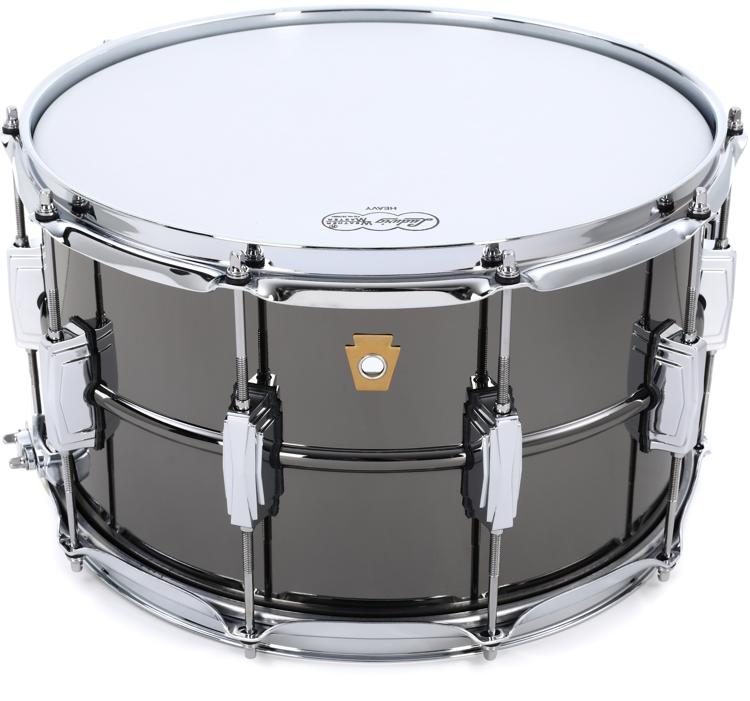 The Black Beauty is a legendary snare drum from Ludwig. They don't make many of these things, meaning they're very scarce and in high demand. The reason this snare is so legendary is because of the buttery sound it has.
The 8" depth gives it a serious amount of power, meaning it fits extremely well into metal music. Although the snare is powerful, it shines when it comes to sensitivity. The slightest ghost notes can be heard very clearly, meaning all the notes in blast beats will be distinctly heard.
The snare is made of brass which is what gives it the power it's so famous for. Similar to the DW Collectors Series snare, it's very expensive. However, it's well worth every penny you pay for it. It's such a good snare drum!
PROS: THINGS WE LIKED
Legendary reputation
Extremely sensitive to ghost notes
Loud and powerful
CONS: THINGS WE DIDN'T LIKE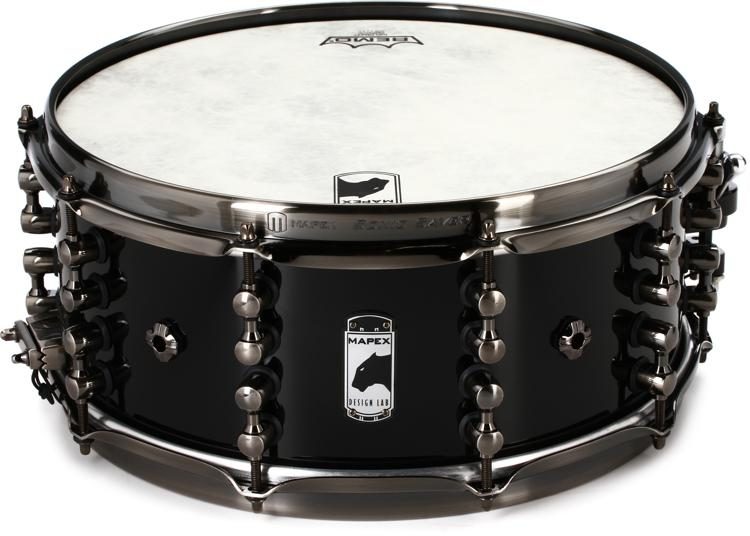 This snare was designed by the legendary Jeff Hamilton. It's actually a jazz snare drum that is made from mahogany wood. It sounds incredibly warm and full, lending well for expressive playing. You may be wondering why a jazz snare drum is on a list of snares for metal? 
Well, it tends to work very well in studio environments. The warm and woody characteristics are easier to mix and EQ in the studio, even for metal drummers in metal bands. The snare also works well for softer and less aggressive styles of metal such as progressive metal. 
The snare has all the goods from Mapex's top drum kit lines such as the SONIClear bearing edges and the Sonic Saver hoops. Overall, it's a great change of pace from the heavy metal shell snares that are on the rest of this list. 
PROS: THINGS WE LIKED
Warm and woody tones
Great for studio recording
SONIClear bearing edges and Sonic Saver hoops are fantastic
CONS: THINGS WE DIDN'T LIKE
Some drummers will only want a metal shell snare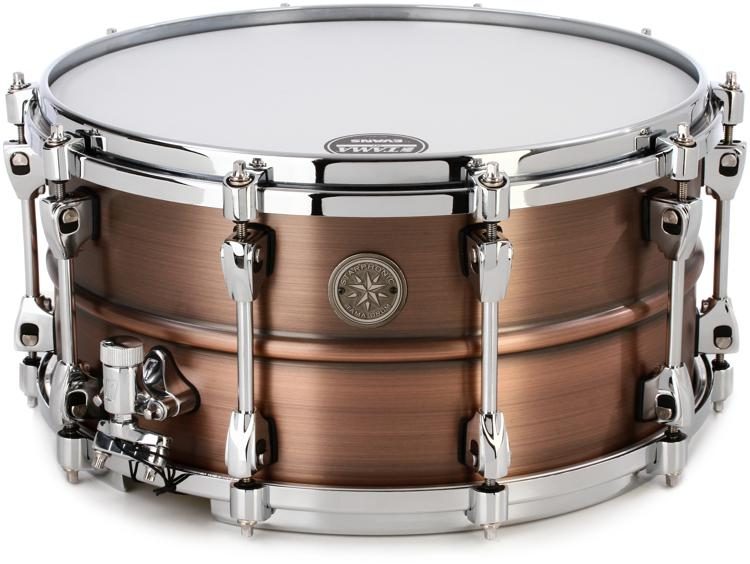 Before we talk about how it sounds, you just need to admire how absolutely beautiful this snare drum looks. The light brown satin finish looks so incredible on any drum kit you put this snare with. The snare has a copper shell, so the brown copper color matches the design exceptionally well.
Moving onto the sound, the Starphonic Copper snare is a truly unique entity. No other snare drum sounds like it. It boasts a throaty dark tone that fits perfectly into metal music. The roar it bellows when you hit the center of the snare echoes through the mix, creating a powerful backbeat. 
It's not the most versatile snare drum in the world. That throaty dark tone sounds a bit weird in many situations. So, it's purely a snare that does a specific job very well. That job is to add complex and dark depth to your drum sound. 
The snare is pretty 'in your face' when you hit it. However, it gets out the way quickly thanks to the short sustain. If you need some complexity added to your drum setup, this is the snare drum to get. 
PROS: THINGS WE LIKED
Throaty dark tone
Gorgeous satin finish
Loud impactful sound with short sustain
CONS: THINGS WE DIDN'T LIKE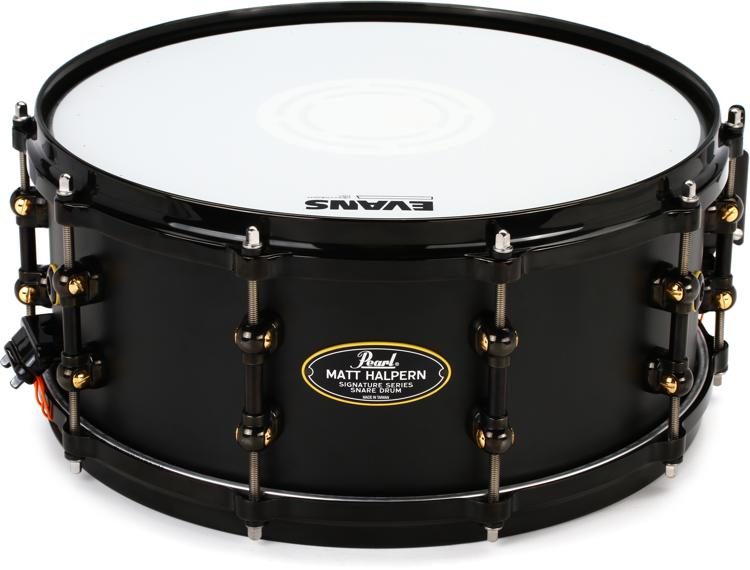 Matt Halpern is one of the best progressive metal drummers in the world. His drumming in Periphery is iconic and the source of inspiration to many aspiring metal drummers. So, his signature snare drum is one to definitely check out. 
The snare is made of brass and it has an incredibly bold sound. The tones are fairly complex, representing Matt Halpern's complex playing style. You can tune the snare high to have it cracking or you can tune it low to have it booming. Both tunings sound excellent. 
The hardware on the snare is fairly upper-tier. The snare has Pearl's low-mass swivel lugs, allowing the drum to vibrate freely. It also has the MasterCast hoops, giving the drum a seriously strong attacking tone. Rimshots sound absolutely killer. 
The snare strainer uses a clicking mechanism, giving you peace of mind when turning the snare on and off. Overall, it's a great snare to have for all the Matt Halpern fans out there. There are many of them. 
PROS: THINGS WE LIKED
Bold tone with complex character
Wide tuning range
Great hardware
CONS: THINGS WE DIDN'T LIKE
Is a snare drum a metallic sounding drum?
Snare drums will only sound metallic if the shell is made from metal. Most drums, including snares, have wooden shells. They use woods like maple, birch, and mahogany to make drums. 
Sometimes drum manufacturers will make snares that are made out of metal instead of wood. These snares are generally louder and have more high-end tones, causing them to sound more metallic. 
What is the best snare drum on the market?
The answer to this is highly subjective. There are so many great snare drums available and they all offer unique qualities, sounds, and features. The DW Collectors Series snare drums are extremely popular. They have excellent tones and versatile uses. 
Another highly popular snare drum is the Ludwig Supraphonic. It's been one of the most popular snare drums in the world for decades. 
Are steel snare drums good?
Steel snare drums are loud. If you need a loud snare drum for a loud band, then a steel snare drum is great. If you're playing in a church and need to keep the drum noise down, a steel snare won't be the best option. 
This means that steel snare drums are good. You just won't be able to use them in certain situations. 
What is the loudest snare drum?
Any snare drum that is made from metal will be louder than one that has a wooden shell. There are so many metal snare drums on the market, all of them being loud. However, one that is particularly loud is the Pearl SensiTone Brass snare. That thing is a monster. 
Any snare drum that has an acrylic shell will also be louder than all the others. 
Conclusion
The snare drum is the drum that you play most on the kit. It's important that you get a good one that you love. You'll be hearing it a lot. Many drummers choose to upgrade their snare before any other drum or cymbal on their kit. Perhaps your next snare upgrade will be one of the products from the above list. 
Every one of these snare drums works fantastically within metal songs. They cut nicely through mixes and they handle fast blast beats exceptionally well.