Best Drum Hardware Cases & Bags
Drummers have the unfortunate reality of having the most equipment in the band. Drum kits are large instruments that are packed with multiple twists and turns. A drum kit consists of drums, hardware, and cymbals. Each one of these components needs to be kept safe when traveling. 
Every drummer should have a hardware case or bag to pack hardware into when traveling. The hardware of a drum kit includes tom stands, cymbal stands, kick pedals, and any metal mounting device used to set the drums up. 
What Makes a Great Drum Hardware Case or Bag?

A great hardware bag will be big enough for all of your hardware. There's no point in having several cymbal stands and then a bag or case that can't fit them all in. A great hardware bag will also be able to comfortably hold all of your hardware. It should be secure and durable so that the weight of the hardware doesn't break the straps or rip the bag. 
There are several types of hardware cases and bags. The best cases will be ones that fit your situation and drum setup. 
The 5 Best Drum Hardware Cases & Bags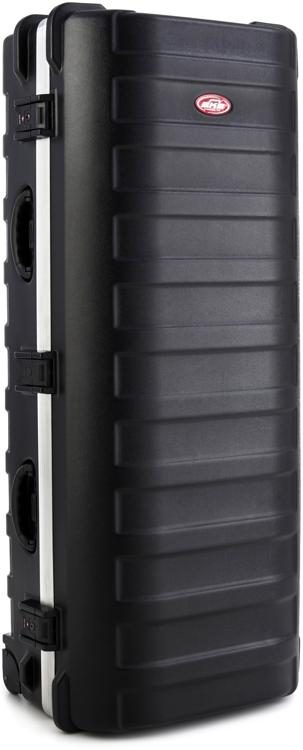 This extra-large case is bigger than most standard hardware cases, meaning it will work perfectly for drummers that have a large amount of equipment. It's quite long, allowing you to comfortably store extra-tall cymbal stands. 
It's constructed from SKB's roto-molded polyethylene which gives it a tough exterior. It's light enough for one person to use even though it's largely sized. It has a pull-out handle that allows you to drag it easily thanks to its wheels. 
The heavy-duty straps ensure that the top lid stays securely in place when traveling. 
If you have lots of cymbal stands, this is the hardware case to consider. It can fit several stands as well as double pedals, making it a great option for metal drummers.
PROS: THINGS WE LIKED
Great for drummers with big setups
Tough exterior
Pull-out handle and wheels
CONS: THINGS WE DIDN'T LIKE
This case takes design inspiration from OGIO, a company that designs bags for extreme sport. This tells you that this drum bag can withstand any environment and keep your hardware safe. 
It's a soft case bag that is made from weather-resistant polyester fabric. This makes it quite light to carry around. It has retractable handles and oversized wheels, allowing you to pull it like you would with travel bags. The handles at the top make it easy to pick the bag up and put it in a car.
The inside of the bag provides plenty of space for hardware. There's an extra bit of space up top that lets you place odd-shaped items such as pedals or stick bags. 
Overall, this is a great soft case option that is easy to carry and will keep your hardware safe. It doesn't provide as much protection as a hard case bag would. However, that's the price to pay for having a bag that is easier to transport around.
PROS: THINGS WE LIKED
Oversized wheels allow smooth dragging
Handles make it easy to lift up into a car
Spacious
CONS: THINGS WE DIDN'T LIKE
Doesn't provide as much protection as a hard case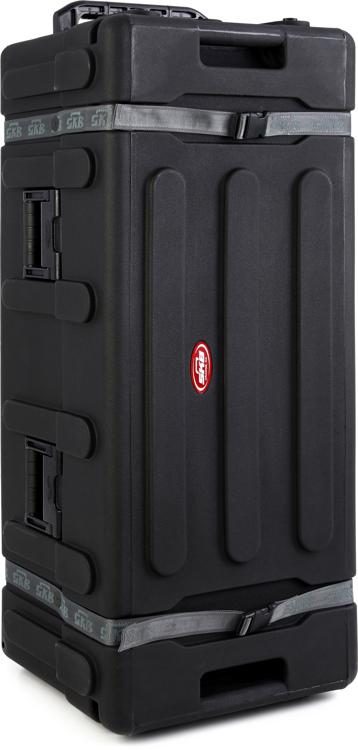 This case is the little brother to the larger SKB case that we've already mentioned in this list. It's a bit smaller, yet still quite large. It's a standard hard case that allows you to place all your drum hardware into. 
The biggest drawcard of this case is that it's easy to move. It has straps that keep it closed and a lid that opens up to pack the hardware into. The wheels and straps allow smooth movement between your drum studio and the gig. The flip-open lid is a unique feature of these SKB cases. It opens up the case and provides plenty of room to put hardware into. 
The one downside to this case is that it gets too heavy for one person with too much hardware. If you've packed a huge amount of stands into it, you're going to need two people to load it into a car. 
PROS: THINGS WE LIKED
Easy to roll around
Flip open lid
CONS: THINGS WE DIDN'T LIKE
Requires two people to lift into a car if there is too much hardware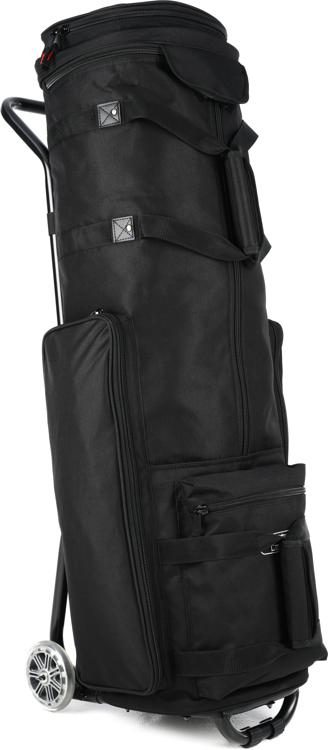 This Gator hardware bag resembles a golf bag. It's a unique design that allows you to push your hardware around while keeping it all safely together. It's made from a durable nylon material that is protective and will last a long time. 
It has plenty of space inside, allowing you to pack cymbal stands, tom mounts, bass drum pedals, and any other drum accessory. It also has side pockets to pack sticks or practice pads. 
The thing that separates this bag from the others on the list is that it stays upright when packing and unpacking. This could be hugely beneficial to drummers with back problems or any injury that makes it difficult to lift heavy objects. 
The one downside is that the wheels don't tend to hold up as long as the bag will. This means that you'll need to replace the wheels eventually. This is a minor inconvenience that doesn't take away too much from the sheer quality of this hardware bag. 
PROS: THINGS WE LIKED
Stays upright when packing and unpacking
Spacious
Can push around like a golf bag
CONS: THINGS WE DIDN'T LIKE
Wheels will need to be replaced eventually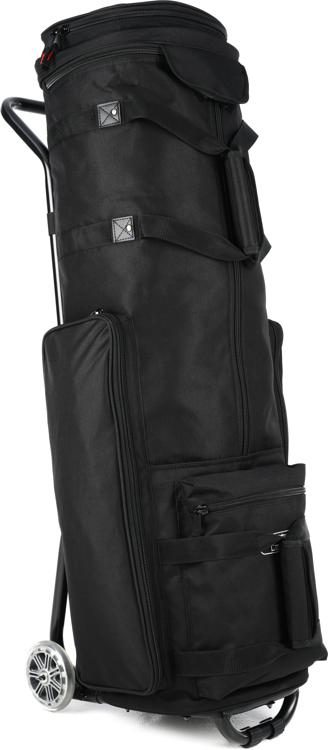 This bag is a great option for anyone looking for a hardware bag on a budget. It's made from a strong nylon material that keeps the hardware safe and secure. It's a soft case bag, meaning it has a zipper that closes the top of the bag over the hardware. 
The zippers are quite large, making it easy to pull them. It also makes it easy to find them when trying to pack or unpack on a dark stage. 
The bag has wheels on the one side, making it easy to pull around with you when walking. It also has two straps that connect on the top, allowing you to carry it like you would a briefcase. This may be too heavy to do if you have too much hardware in the bag. However, it's a great way of picking the bag up to lift into a car. 
One downside to the bag is that it may not last as long as a hard case will. The soft material may break eventually. However, this is a great bag if you don't want to spend too much money. 
PROS: THINGS WE LIKED
Inexpensive
Large zippers
CONS: THINGS WE DIDN'T LIKE
Not as durable as a hard case product
How do you store drum hardware?
Every hardware case or bag has space in it to store hardware. To store the hardware optimally, you need to collapse all the stands to the smallest possible option. This will give you space when packing them in as well as keep safe when moving around. 
The one thing to worry about is the hi-hat rod. This is the small pole that the hi-hat clutch attaches to. This should be stored somewhere safe so that it doesn't bend. 
Which is the best drum hardware case or bag for the money?
The best drum hardware case for the money would be the Gator GP-DRUMCART. It provides so many storage options along with an easy way to transport your hardware around. It's fairly inexpensive considering how much it offers. 
How to travel with your drum hardware safely?
The first step to safely traveling with hardware is having a bag or case. If you don't have a case, you'll have to place the hardware securely in places where it's not likely to move around. There's a high potential for it to get damaged this way. This is why it's essential for every drummer to have a hardware case or bag. 
When you have a bag or case, you just need to place the case somewhere where it won't fall. The case will keep the hardware safe. It will also make it easy to carry all your hardware at once when going to set up at a gig.
Conclusion

If you don't have a hardware bag or case, you should invest in one as soon as you can. As drummers, it's important that we take care of our equipment. A case is the best way to take care of your hardware. 
There are different types of bags and cases. So, you need to decide which one best suits your situation.