Best Handpans and Hang Drums
There are so many unique and wonderful percussion instruments from around the world. One of these is the hang drum. Another name would be the handpan. Hang drums and handpans have an ethereal sound that creates a beautiful atmosphere of harmonies.
It's a small instrument that you can hold in your lap on tap with your fingers. It's easy to play, making it a desirable instrument for any percussion fans and people who want unique sounds to add to their arsenal.
These are Our top Picks Summarised For:
19th October 2021
What Makes a Great Hang Drum or Handpan?
A great handpan or hang drum will be one that has a high-quality production process. It will have beautiful sounds that make you want to sit with it and create music. Each handpan is designed to play a different scale. So, a great handpan will have notes that are in tune with each other, allowing you to play music without hearing any off-key notes. 
Most handpans and hang drums are fairly expensive. This is because a lot of work goes into them. They are well worth their price though. This means that great handpans and hang drums will cost a fair bit. 
The 5 Best Handpans and Hang Drums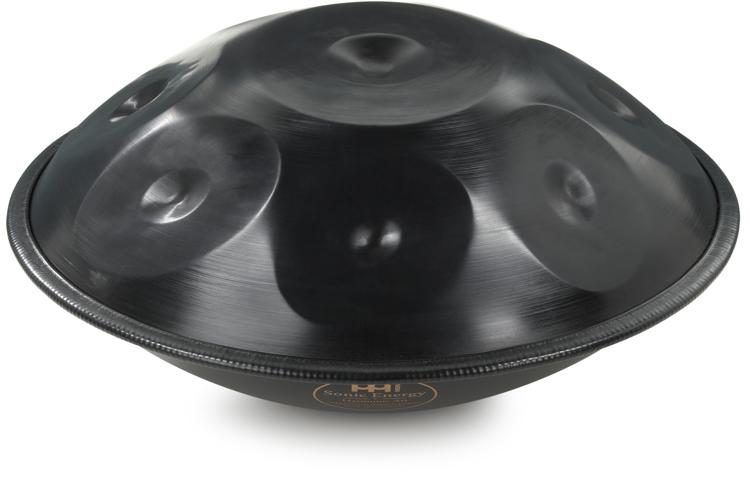 Meinl is one of the top cymbal companies in the business. They make a lot of high-quality cymbals that many drummers love. Meinl Percussion is a smaller branch of the company that specializes in making high-quality percussion instruments that are practical as well as musical. Their percussive instruments are well-known for being reliable. 
This Sonic Energy Handpan is one of the beautifully crafted products, giving you visuals, sound, and comfort all-in-one. It has sweet tones and haunting sustain, allowing you to express yourself with different musical ideas. 
It's made from fine German steel that keeps it in tune for long. The fixed tuning makes it a reliable instrument that both beginners and seasoned players will love. On this handpan, the notes you can play are D#, G, A#, C, D, D#, F, and G. 
The handpan comes with a heavy-duty bag to keep it secure in, ensuring that it stays protected when you're not playing on it. 
The one downside to this handpan is that it's very expensive. 
For more about the Meinl Sonic Energy, check out customer reviews.
PROS: THINGS WE LIKED
Sweet tones and haunting sustain
Highly durable
CONS: THINGS WE DIDN'T LIKE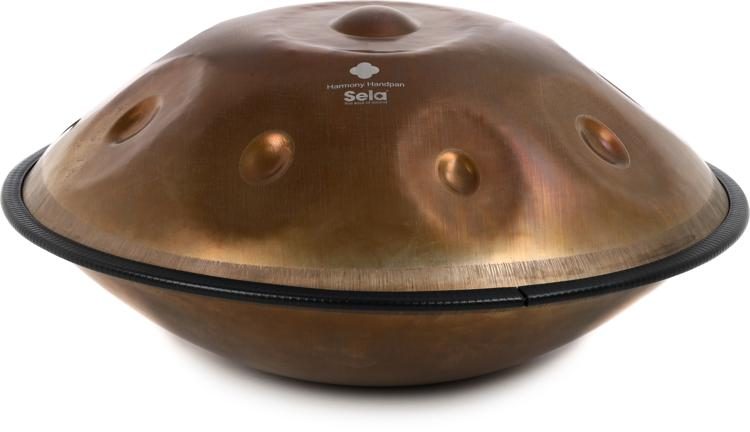 This handpan has notes that are bright and long-lasting. It's designed in a way that stops metallic sounds from disturbing that ethereal sound that handpans are known for. 
This handpan is made from corrosion-resistant stainless steel, which helps it fight off moisture damage, humidity, and anything else that may damage the instrument. This makes it a great option for traveling with and playing wherever you go. 
The Sela company advertises this handpan as being a good option for playing around a fire or at a yoga event. The sounds it makes are very soothing to hear. 
It's tuned to the key of D and its notes are D, A, Bb, C, D, E, F, G, and A. This is one of the most common scales, meaning you'll be able to play along with people who are beginners on other instruments. 
This handpan also comes with a heavily padded bag. It has a brownish color that some people may not like as much as the standard black of other handpans. 
For more about the Sela Harmony, check out customer reviews.
PROS: THINGS WE LIKED
Made of corrosion-resistant stainless steel
Notes lie on a common scale
CONS: THINGS WE DIDN'T LIKE
Some people may not like the brown color
The Lark Music Handpan is a great option for people looking to purchase their first handpan. It's a lot more affordable than some other options, allowing you to test out the instrument without spending as much money on the others. 
This handpan is visually stunning, having a steel surface that looks very clean and sophisticated. It's tuned to the key of D minor and the notes are D, A, Bb, C, D, E, F, G, A. 
It doesn't resonate as much as handpans the are more expensive. However, it still has a sound that creates a smooth atmosphere that relaxes listeners. The carry bag also isn't as sturdy as the ones that come with higher-quality pans. 
Overall, this is a great handpan for beginners. Most people tend to end up having several handpans. So, the Lark Music Handpan will be a good start to your collection. 
For more about the Lark Music hand pan, check out customer reviews.
PROS: THINGS WE LIKED
Affordable
Visually stunning
CONS: THINGS WE DIDN'T LIKE
What is the best hang drum?
There is no set answer for which hang drum is the absolute best. However, some hang drums are obviously better than others. They have higher-quality production processes that make them sound better and last longer. 
The best hang drum is going to be one that fits into your musical vision. Does it have a sound that you are absolutely in love with? Is it a good size for your practice space? Can you comfortably afford it? If you answer yes to these questions, then that is the best hang drum for you. 
How do I choose a hang drum?
The first thing to do when choosing a hang drum would be to listen. Listen to as much hang drum playing as you can so you can discover what kind of sound you're going to like. Every hang drum and handpan has unique qualities. You need to make a decision on which qualities you love and want. 
The next thing to do is establish a budget. Hang drums can get pretty expensive. So, you need to decide how much money you're willing to spend and then find an instrument that fits within that frame. 
Hang drums work in scales. Different drums have different scales, meaning you'll have to choose one that has a scale that you can work with if you're going to play with other instruments. There'll be no use in getting a drum that doesn't fit together with other instruments sound-wise. 
What is the difference between a hang drum and a Handpan?
Hang drums and handpans are visually and sonically similar. The one big difference is in the name. In the year 2000, a company in Switzerland developed a new instrument called the Hang. It is sometimes referred to as a hang drum. However, the company that made it discourages people from calling that because they think the name associates with other drums like bongos and djembes. 
The Hang is meant to be played delicately with your fingers. Having the term 'drum' in its name could lead people to think that it needs to be played hard and aggressively. 
In summary, Hangs are produced by PANArt from Switzerland. Every other pan produced by different companies is called a handpan. 
There are a few small differences other than the name. Hang drums are generally smaller than handpans. The sizes of Hangs make them easy to travel around with. The bigger sizes of handpans allow for a wider range of tones. 
Hangs and handpans are made differently in factories. Hangs use a heating process called gas nitriding, enabling sturdy tuning and giving very stable notes. Some handpans don't heat treat their steel. 
Is it hard to learn hang drum?
Handpans and hang drums are one of the easiest instruments to learn. This is thanks to the way that they produce notes. All the notes on the instrument form scales or modes, meaning that they're all in tune with each other. This stops you from playing any wrong notes. 
Literally, anyone could sit with a hang drum and play a beautiful sounding tune by tapping around on it. The tricky part of the instrument is learning to play different rhythms. If you're a drummer, this won't be a problem. It may take a bit longer to learn different rhythms if you're not a drummer. 
Another aspect of learning to play a hang drum is the way that you strike the notes. The more you play, you'll start to figure out how different finger pressures affect the sound. So, a seasoned hang drum player will sound a lot more proficient than a beginner because they've mastered the way to hit the drum. 
Conclusion
If you're a drummer that is looking to add some unique sounds to your setup, a hang drum could be a great option. It's one of the best instruments to have as a percussionist. The ethereal sounds that it makes just add such a unique aspect to what you're playing. 
If you are into percussion you can also check other instruments like the Cajon or Djembes.
They're not the cheapest instruments around. However, it would suit you well to get a few of them. This would give you sound options with different music scales to work with. 
So, get yourself a hang drum and go play it by the seaside with no shoes on.