Djembes are of the most diverse percussion instruments to play. They originated in West Africa and have a rich cultural history.
The sound that comes from a djembe is very similar to a drum kit since you can play a deep bass note as well as an attacking high note. This resembles a snare and kick. There are so many great djembes out there, so we're going to look at some of the best ones.
If you are in a Hurry these are Our top Picks For:
17th January 2022
What Makes a Great Djembe Drum
The main things that make a great djembe are tone and build quality. Firstly, it needs to have a great tone. It's important that it sounds good and makes you want to play it and use it with your band. 
It should also have immaculate build quality. It should be durable and last many years of heavy use. Hand percussion instruments need to be constructed well in order to survive the constant hand bashing. 
Best Djembe Drum Under $300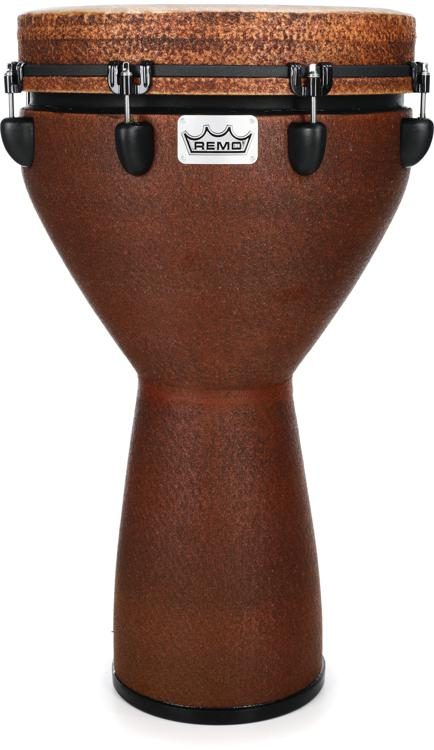 Although Remo is mostly a drum head brand, they do dabble in some percussion instruments. The best thing about this djembe is that it has a weather-resistant Acousticon shell that is made from 100% recyclable materials. This means that you can play it in any rainstorm and it will come out fine on the other side. 
It has an earthy finish that looks great on any stage and it's sized at 14" x 25". Remo has made sure that every one of their Mondo djembes has a consistent tone between them. With a warm sound and dry slap, this djembe is a great instrument to use. 
It uses a standard drum key for tuning, making it an easy process to raise or lower its pitch. Overall, it's a seriously responsive djembe that anyone would love.
PROS: THINGS WE LIKED
Made from recycled materials
Earthy aesthetic look
Warm tone and dry slap
CONS: THINGS WE DIDN'T LIKE
Sits on the more expensive side of the djembe range
This djembe has the look of a classic djembe drum. When people talk about djembes, this is what everyone pictures in their minds. It's shaped like a traditional African djembe, adding to the classic look of it. 
It has a Siam Walnut shell that produces an incredible bass tone. It also projects really loudly, meaning you don't need to hit it too hard to be heard clearly. It's tuned via a rope and the system is called the Ever-Tune rope system. It makes tuning easy. So, any novice djembe player will be able to tune it from the get-go. 
If you're looking for a traditional African-inspired djembe, this is a great choice to go with. It's sized at 12.5" x 25". 
PROS: THINGS WE LIKED
Traditional African-inspired djembe
Great bass tone from the Siam Walnut shell
Ever-Tune rope system makes tuning easy
CONS: THINGS WE DIDN'T LIKE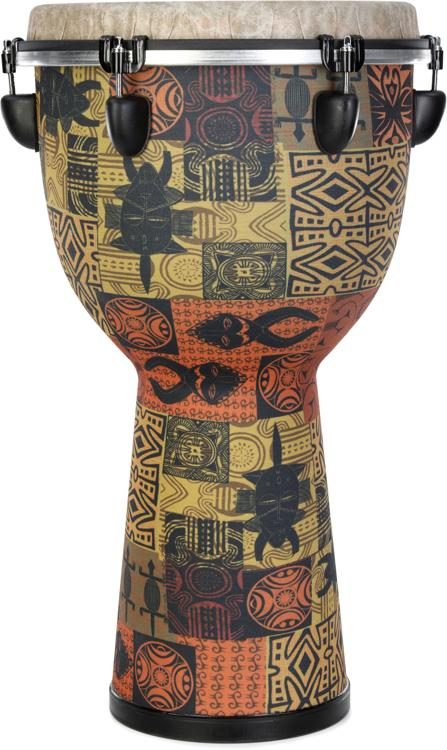 Another great product from Remo to add to the list, this one has striking visuals. The first thing you'll notice about it is the finish on the shell. It has tribal patterns, creating a cool aesthetic. The Remo Designer Series Apex djembe has molded-ABS plastic construction, making it extremely light to carry around. 
It also has a Skyndeep synthetic drum head from Remo. This head is a lot more durable than a standard skin head, meaning it will take a lot of beating as well as face the elements with no problem. Similar to the other Remo djembe, it can be tuned with a drum key. 
This djembe is much lighter than one that is made of wood. The head sounds almost as good as an animal skin head, except it doesn't have the risk of popping. 
PROS: THINGS WE LIKED
Light and great for traveling
Looks really cool
Can be tuned with a drum key
CONS: THINGS WE DIDN'T LIKE
The synthetic head doesn't sound as good as an animal skin head
Best Djembe Drum Under $200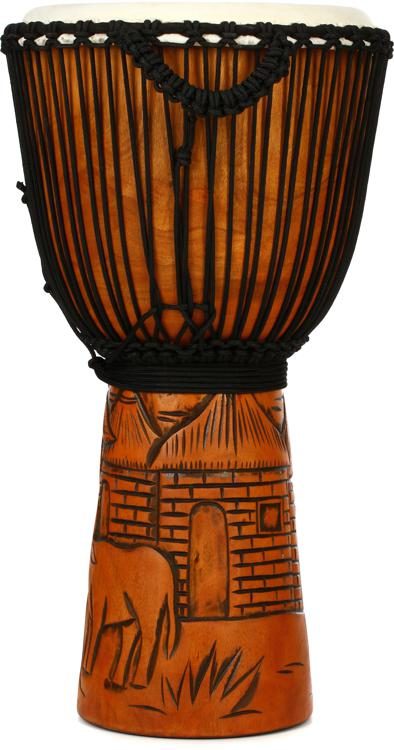 The Pearl Hand-Carved Mahogany djembe stays extremely true to its roots. The standout feature is a picture of a village that has been carved into the side of the mahogany shell. This picture reminds you of Africa and where djembes came from. 
The mahogany wood gives the djembe an immaculate sound with rich tones that are warm and ringing. The goatskin head can be tuned with the use of the ropes. It's not the easiest thing to do, but it's not so bad once you get used to it. The goatskin head feels very authentic to play on, offering great responsiveness and a smooth feel. 
If you want a through-and-through traditional djembe, the Pearl Hand-Carved Mahogany djembe is the one you need to get. It's also fairly affordable!
PROS: THINGS WE LIKED
Traditional djembe
Thoughtful image carved into the side
Mahogany wood produces rich tones
CONS: THINGS WE DIDN'T LIKE
Doesn't sound as great as higher priced djembes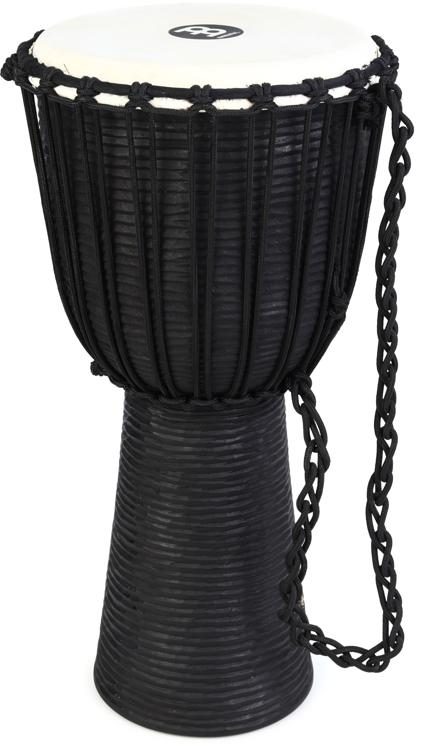 Along with their cymbals, Meinl also has a fantastic range of percussion instruments. So, it's no surprise that they have a good djembe drum on offer. The Headliner Series djembe has a mahogany shell that produces warm deep tones as well as high-pitched slaps. 
The best feature of it is the hand-carved wood. These dents around the drum make it extremely easy to hold between your legs. This means it will be very comfortable to play with. 
It uses a rope tuning system. Similar to the previous djembes, the rope tuning takes a while to used to. However, it will become second nature eventually. 
This djembe is 12" and very affordable, making it a great option for anyone's percussion collection. 
PROS: THINGS WE LIKED
Affordable
Hand-carved wood makes it comfortable to play
Warm deep tones and attacking slaps
CONS: THINGS WE DIDN'T LIKE
Rope-tuning takes time to learn
DJEMBE

DRUMS IN SHORT – SOUND, DESIGN, USES

:
Even though the word "Djembe" might not ring a bell, most people are well acquainted with the sound they make. In short, Africans invented Djembe drums, and a lot of African street performers play on these drums. Since the list of African native instruments is quite long, this may not be enough to clarify the issue.
Let's put it this way – if you've watched any African-themed movie (Indiana Jones might be a good example), you've definitely heard what Djembe Drums sound like. The sound of these drums can be described as exquisite, and somewhat sharp.
As for the Djembe drum playing techniques, we could talk about them for hours, literally. Plainly speaking, the most basic technique involves simple strikes on the surface while intermediate techniques range from sliding across the surface with fingers and hitting the sides.
Now, Djembe drums were invented a long time ago. Some sources indicate that these percussive instruments were first used somewhere around 1300 AD in Africa.
Namely, a certain African tribe called Mandinka (or Maninke) is "responsible" for the invention of this beautiful instrument. Specifically speaking, it was the group of blacksmiths called "Numu" who played Djembe during ore smelting.
Throughout the ages, it was the "Numu" caste who introduced this percussion piece throughout the Western Africa.
HOW TO CLEAN

DJEMBE

DRUM?
Now, cleaning Djembe drums isn't rocket science. Namely, all you have to do is simply a soft cloth. In some cases (if your Djembe drum features a complex design, for example), you should use linseed oil, teak, or similar materials.
Furthermore, there are some cases when the head of your Djembe drum is seriously neglected, so you should expect cuts and bumps in the surface. If this is the case, you should use grit sandpaper to sand the surface until it's smooth.
THINGS YOU SHOULD AND SHOULDN'T DO WITH YOUR

DJEMBE
As with all instruments, there are things you should do as much as possible, and there are things from which you should refrain from whenever possible. We've composed a short list of what you should and shouldn't do based on the tips and tricks of various Djembe veterans:
WHAT YOU SHOULD DO:
Now, drum bags should be used with virtually all kinds of percussion instruments, including Djembe drums. Namely, drum bags protect your Djembe drums from dust particles, impact, heat, cold, moisture, and various other elements.
Needless to say, you should at least consider a drum bag if you want to prevent any and all damage to your Djembe drum.
•
Play your instrument often
Well, this one is pretty self-explanatory. Namely, playing your instruments "keeps them in shape". We often use the term "neglect" when the player simply leaves his/her instrument(s) to gather dust in the studio, so it's highly advised that you play your Djembe drums often.
•
Clean your
Djembe
drums whenever you have the time
We've already mentioned the cleaning part, so, without further ado, just consult the section mentioned above.
•
Tune and detune regularly/weekly (depending on the frequency of usage)
Now, it's only normal that instruments "detune" on their own after a while. Tuning and detuning them manually is healthier, in a way.
WHAT YOU SHOULDN'T DO:
•
Never use sticks, or any other items to play your
Djembe
drums
•
Never
overtune
your
Djembe
drums
•
Refrain from playing with jewelry on your hands/fingers
•
Never moisturize the goat skin (on your
Djembe
drum) directly
What is the best djembe drum to buy?
There are so many great djembe drums available on the market. Each one has strengths and weaknesses. One will work great for a situation while the other won't. So, it comes down to personal preference over which djembe is the best to buy. There are some really good ones to look out for, which we've mentioned in the list above. 
Most percussionists have more than just one djembe. Since djembes are limited in the number of sounds they produce, it's sometimes a good idea to have many of them.
What size djembe drum should I get?
The bigger the drum is, the deeper it will sound. The smaller the drum is, the more high-pitched it will sound. So, you need to get a size that will fit the environment you're playing in. If you need a loud bass tone, a bigger one will be the best option. If you need an attacking tone, a smaller one will be better. 
The standard size of a djembe will be from 12" to 14". Anything in that range will be a good choice. However, you do get some smaller djembes that are 5" to about 8". These will produce a lot of high-end and no bass tones. 
How much is a djembe drum?
Djembes range anywhere from $100 to $500. The ones that are more expensive are built with rarer materials and have a better tone. However, the ones that are cheaper still have the potential to sound really good. 
Which is the best djembe drum wood?
There are many different types of wood used to make djembes. Each wood has unique qualities that make it great. So, there is no definite best wood to use. Some are heavier while others are lighter. Some are darker while others are brighter. 
How do you hit a djembe drum?
The djembe has two main points of impact. The first point is in the center of the drums. This part needs to be hit with the palm of your hand to get a deep bass tone. The second point of impact is the rim of the drum. This part needs to be hit with your fingers to get an attacking tone that is similar to a rimshot. 
Conclusion
If you're looking for an interesting percussion instrument to get that will provide many playing options and enrich you culturally, getting a djembe would be a great choice. There are so many great ones out there. So, check out all the options and choose what would work best for you. 
Well, now you know the basics of Djembe drums, the do's and don'ts, and a bit of African cultural treasure. If you happened to like what you've seen so far, be sure to check our buying guides for drum sets and different percussion instruments like the hang drum.