Best In Ear Monitors for Drummers
Drums are between the hardest instruments if you consider the learning curve , but what if we told you that there are ways to simplify the process?
Looking at the latest gadgets on the market you can find In-Ear monitors for drummers. These little gadgets are, basically, used as headphones which reduce ambient noise and provide you with real-time feedback on your drumming.
We've curated a list for the top 5 best in ear monitors for drummers, enjoy.
these are Our top Picks Summarised For:
17th January 2022
What Makes a Good In Ear Monitor for Drummers
When you are looking for a good in ear monitor you should consider two main things.

Sound, the headphone needs to have a crisp and well defined treble and at the same time be able to handle lows without forcing the limits. That will leave you with a functioning  monitor for a long time. 

On top of a well rounded and loud sound the monitor needs to be adjustable. There's not such thing as a universal ear. It should have a great design that can adjust to a particular drummer and achieve the noice canceling correctly. 
The 5 Best In ear Monitors for Drummers
Best In Ear Monitors for Drummers Under $500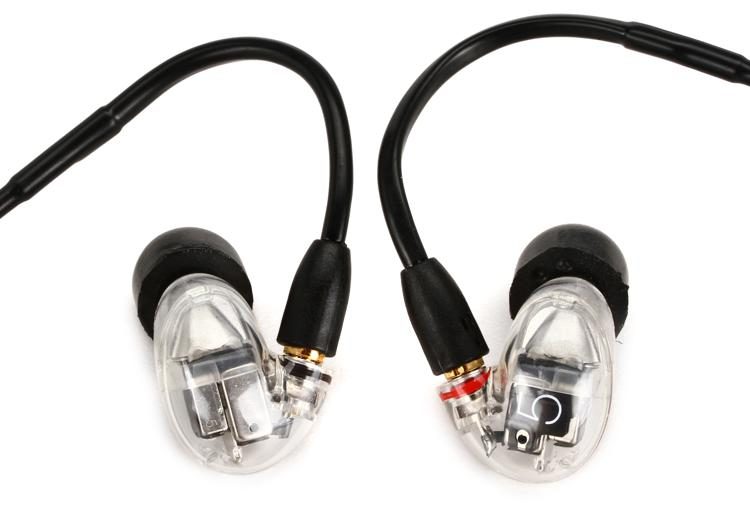 Shure is a company that is well known for providing high-quality audio products. They make some great headphones and earphones. The AONIC 5s are a pair of sound isolating in-ear monitors that are especially great for drummers. 
They have 3 balanced armature drivers. This allows them to produce a spacious sound and a heavy bass. The focus on bass makes it great for a drummer trying to hear a bass guitarist. Even though the earphones have 3 drivers, they aren't very big. This means that they sit very comfortably in your ears. 
The best feature of these in-ears is the amount of sound isolation that they provide. They isolate from up to 37dB of sound, meaning drummers will be able to clearly hear any monitoring over their drums. 
If you need a lightweight, low-profile set of in-ear monitors, the Shure AONIC 5s are the way to go. They're pretty expensive but highly worth it.
PROS: THINGS WE LIKED
High sound isolation
Plenty of bass frequencies
Comfortable in your ears
CONS: THINGS WE DIDN'T LIKE
Best In Ear Monitors for Drummers Under $400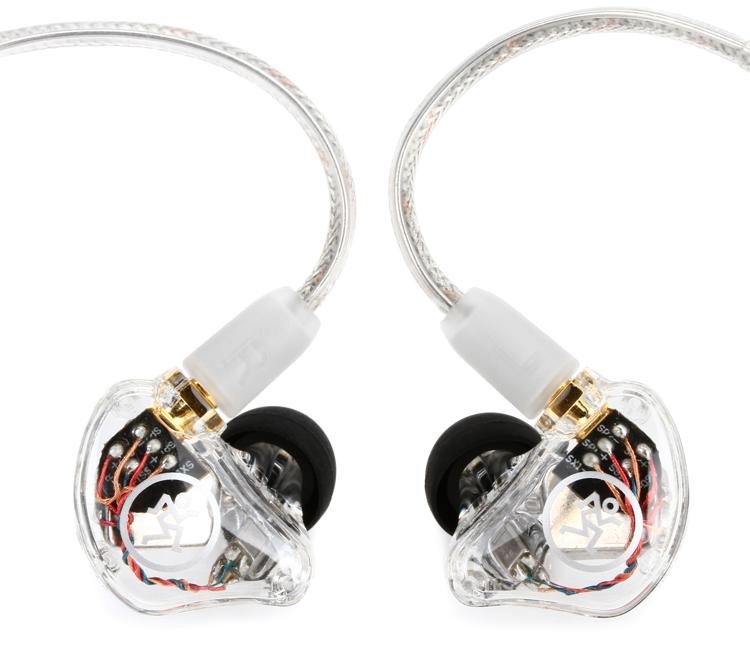 The Mackie MP-360 in-ear monitors also feature a triple balanced armature design. These monitors provide some seriously crisp and clear sound. They simply a wide range of frequencies, allowing you to hear any style of music very clearly. 
They block up to 40dB of sound, allowing drummers to hear everything nicely over the drums in front of them. The sound isolation makes them great practice earphones, helping block out sound to protect your ears. 
These in-ear monitors come in a great package that includes a hard case, cables, different size earpieces, cleaning tools, and a 1/4 inch adapter. It has everything you need to choose what you like and get right to playing. The hard case makes it especially great for traveling. This makes the Mackie MP-360 in-ear monitors a good choice for gigging with. 
They're a comfortable pair of in-ear monitors that will work for most environments. 
PROS: THINGS WE LIKED
Clear sound
40dB sound isolation
Comes with a hard case
CONS: THINGS WE DIDN'T LIKE
Best In Ear Monitors for Drummers Under $300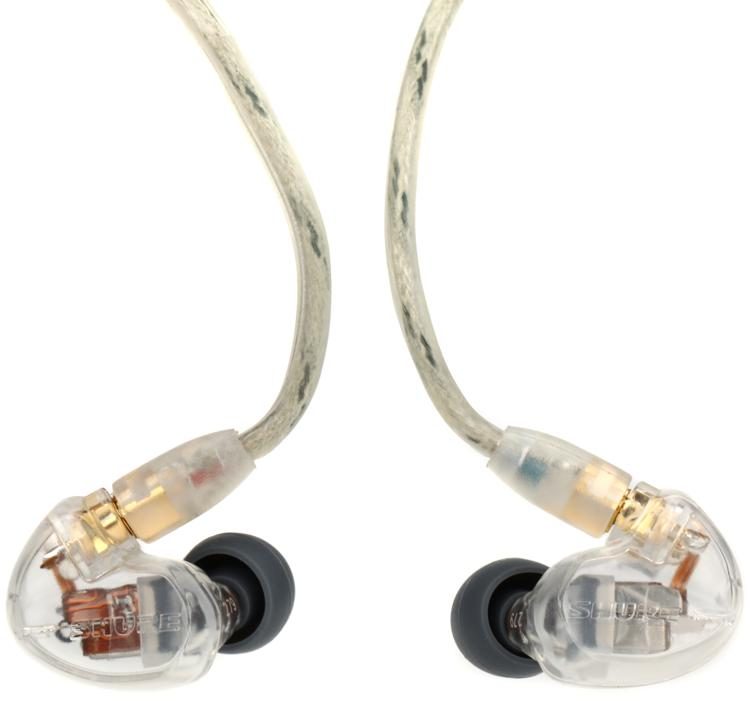 A SHORT OVERVIEW:
The Shure SE425s are the industry-standard in-ear monitor. They're not expensive and they provide everything you need when require in-ear monitors. This is why most people will suggest that you get a pair of these if you're looking to buy some in-ears. 
The dual drivers allow you to easily mix the sound, providing many options for what you want in your ear. They block out a fair bit of sound, making them great for drummers and their hearing. They don't have the most bass presence in the world, instead they giving more depth with mids and highs. If you're playing bass-heavy music, the SE425s won't be your best option. 
These in-ears come with plenty of options regarding earbuds, meaning almost everyone will find a comfortable fit. 
If you need a trusted product that many have used before and loved, the Shure SE425s are a great option. Just make sure that you're not going to be needing heavy bass frequencies. 
PROS: THINGS WE LIKED
Affordable
Dual drivers allow easy mixing
Comfortable
CONS: THINGS WE DIDN'T LIKE
Best In Ear Monitors for Drummers Under $200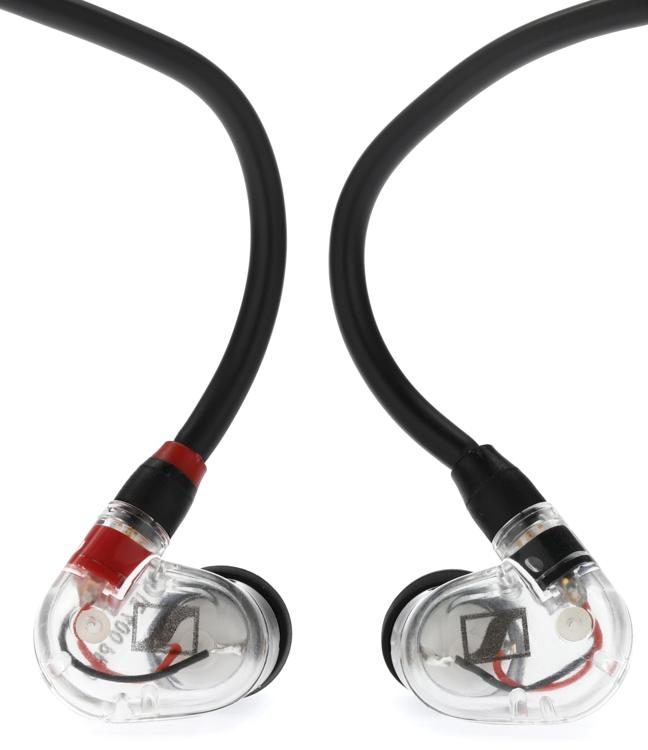 The Senheiser IE 400s are a pair of affordable in-ear monitors that are still useable by pros. They're designed to offer clear sound with an affordable price tag. 
They use Senheiser's SYS 7 driver system with TrueResponse technology. This basically means that they produce a very natural sound from all kinds of frequencies. This makes them great for drummers wanting a clean mix in their monitors. 
You wouldn't expect such great sound from in-ear monitors at this price. However, the IE 400s pull through and give drummers everything they'll need. The lows and highs are evenly balanced and these earphones sit quite comfortably in your ears. 
The one downside to these in-ears is the carrying case. It feels quite cheap and doesn't have space to fit a 1/4 inch adapter inside. This isn't game-breaking, but it can be annoying when you're constantly traveling and playing gigs. 
Overall, the Senheiser IE 400s are an affordable alternative to expensive in-ears with great sound. 
PROS: THINGS WE LIKED
Affordable
Balanced lows and highs
Comfortable
CONS: THINGS WE DIDN'T LIKE

The Bose SoundSport Free earphones are purely wireless, meaning there are no cables to connect to anything. This is great for drummers who want to practice at home without worrying about wires being in the way. 
They deliver a balanced sound that is consistent, meaning you're going to hear every nuanced sound from the tracks that you're playing to. 
These earphones are designed for physical activities like running and cycling. However, they work very well for drumming. We could argue that drumming falls under the category of physical fitness! 
The Bluetooth capabilities mean that you'll have to connect them to a device that has Bluetooth. This limits the use a bit. They won't be great for playing gigs or recording in a studio. 
If you need a pair of earphones just to jam out to songs on the drums, the Bose SoundSport Free earphones are a great choice. You could use them for drumming as well as working out. A great way to save money by having multiple uses for one thing. 
PROS: THINGS WE LIKED
Wireless
Balanced and consistent sound
CONS: THINGS WE DIDN'T LIKE
First of all, different models can be separated in various price point categories. We've started with "expensive" (roughly $200 and more) and we've ended with the "budget" price range (below $15-$20).
Apart from that, you need to consider the durability of your monitors. The last thing you want is to break your monitors before you get accustomed to them.
Thirdly, the performance of your in-ear monitors is vital. Now, some models excel in reducing ambient noise while others emit better sound.
You'll be the judge of what's good for you, but, ideally, you should get a well-balanced set of in-ear monitors if you want to reap full benefits.
Last, but not least, don't forget the complementary features. Since these gadgets are relatively new on the market, most manufacturers throw in a couple of free features, such as a replacement cable, extra ear-tips, chargers, and such.
In light of everything said so far, you're equipped with the knowledge to differentiate good in-ear monitors from bad.
HOW TO USE IN EAR MONITORS
Why do drummers use in-ear monitors?

 
There are 3 main places where a drummer will use in-ear monitors. They include playing gigs, recording in a studio, and practicing at home. Drummers use in-ear monitors to direct sound through to their ears while they're playing drums. The sound would come from other band members or a track played through a device. 
When playing gigs, in-ear monitors are vital for the drummer to hear himself as well as the band. It will give you a clear sound of everything that is going on as well as protect your ears from all the loud noise. 
When recording in a studio, the in-ear monitors will do the same thing. However, it's a more controlled environment, meaning there is generally more control over what comes through the in-ear monitors. 
When practicing at home, drummers will use in-ear monitors to play along to songs. They can also wear the in-ear monitors just to protect their ears when playing with no music. 
How do you mic drums through in-ear monitors?

 
The great thing about in-ear monitors is that you can hear what your drums sound like through the drum microphones around them. To do this, you have to connect the drum mics to an audio interface or a mixing desk. When playing gigs, a sound engineer will have a mixing desk to control your drum sound. He'll then signal that sound through to your in-ear monitors. 
When playing at home, you'll need an audio interface to do this. You have to plug the mics into the interface and then connect your in-ear monitors to the interface. This will allow you to hear the drums coming through the microphones. 
What kind of in-ear monitors do professionals use?

 
There is a wide selection of in-ear monitors with everyone having different preferences. However, professionals generally use in-ear monitors that fit comfortably into your ears and block out a fair bit of sound. The blocked out sound will give you a clear sound coming through the in-ear monitors. 
The top professionals will use custom-molded in-ears. These are a lot more comfortable, but also a lot more expensive than standard in-ear monitors. 
Are in-ear monitors worth it?

 
It's industry-standard to have in-ear monitors. This means that if you play gigs regularly, you're going to need a pair at some point. Musicians and bands in the past used to use stage monitors to hear all the sound from the band. The modern thing to do now is to use in-ear monitors instead, meaning it's worth it to have a pair. 
They're also going to protect your hearing. This is something that all drummers should be conscious about.
What do drummers hear in their earpiece?

 
It depends on what gets signaled through to your earpiece. A drummer will generally want to hear their drums. That's the most important part. So, the drums will get signaled through drum mics into the in-ear monitor. 
The next thing would be the band or track that you're playing with. The drummer should hear the bass, keys, guitars, and vocals. Other important things to hear through your earpiece would be a click track or a crowd. 
It's up to the drummer to decide what he wants to hear in his earpiece. Every drummer has different preferences. 
Conclusion
Now, it's hard to say which ones are the best in ear monitors for drummers, due to the fact that these little gadgets are very useful, no matter how you look at it.
Even the cheapest models are capable of providing decent noise isolation, but professional drummers should consider more expensive ones if they want to expand and grow.
You can also be interested our buying guides for cymbal packs, electronic drum sets and the best double bass pedals.
If you're interested in stepping up your drumming game, feel free to browse some of the models we've prepared for you.